LG G3 vs Samsung Galaxy S5: the weigh-in
Now we know its specs, how does LG's latest flagship phone stack up against Samsung's top dog?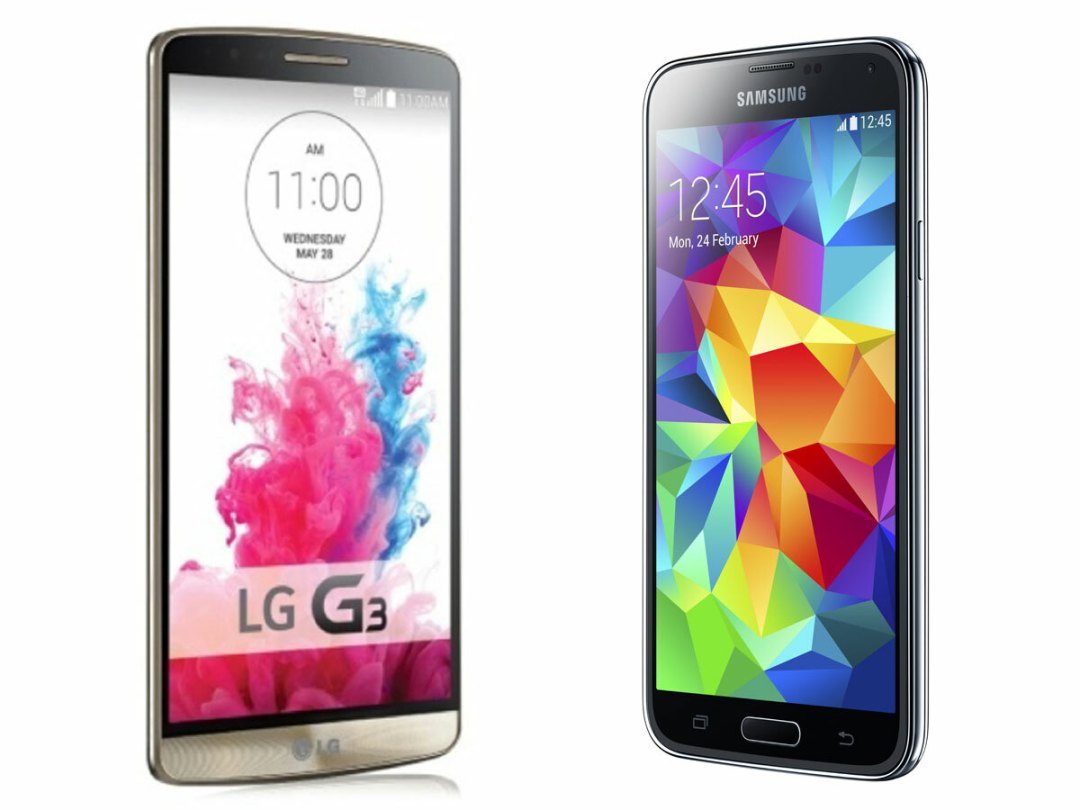 The Samsung Galaxy S5 was, for a brief period, the most powerful smartphone on the planet, but has that reign come to an end with the unveiling of the LG G3? Read on and we'll tell you, as we pull out our rulers and compare the specs and features of these two Korean heavyweights.
READ MORE: Samsung Galaxy S5 review
Screen time
The Samsung Galaxy S5 sports a screen that our review called "an absolute stunner": a 5.1in Super AMOLED panel with a 1920 x 1080 full HD resolution (which, stat-fans, means it has a pixel density of 432 pixels per inch). It's blazingly bright and vibrant, and excels in the outdoors, even on sunny days.
However, we already felt the LG G2's screen (the same resolution and 5.2in in size) had it beat on detail and contrast, so the LG G3's 5.5in 2K IPS LCD screen, which offers the highest resolution of any smartphone on the market at 2560 x 1440, should see it comfortably trounced overall. The pixel density of the G3's display is a staggering 538ppi, which suggests not even the most eagle-eyed of users will be able to spot an individual pixel without whipping out a magnifying glass.
There'll be arguments over whether there's any need for LG to pack so many pixels on to a phone screen, but it's hard to see anyone picking the S5's screen over this trailblazing display.
Winner: LG G3
Plastic population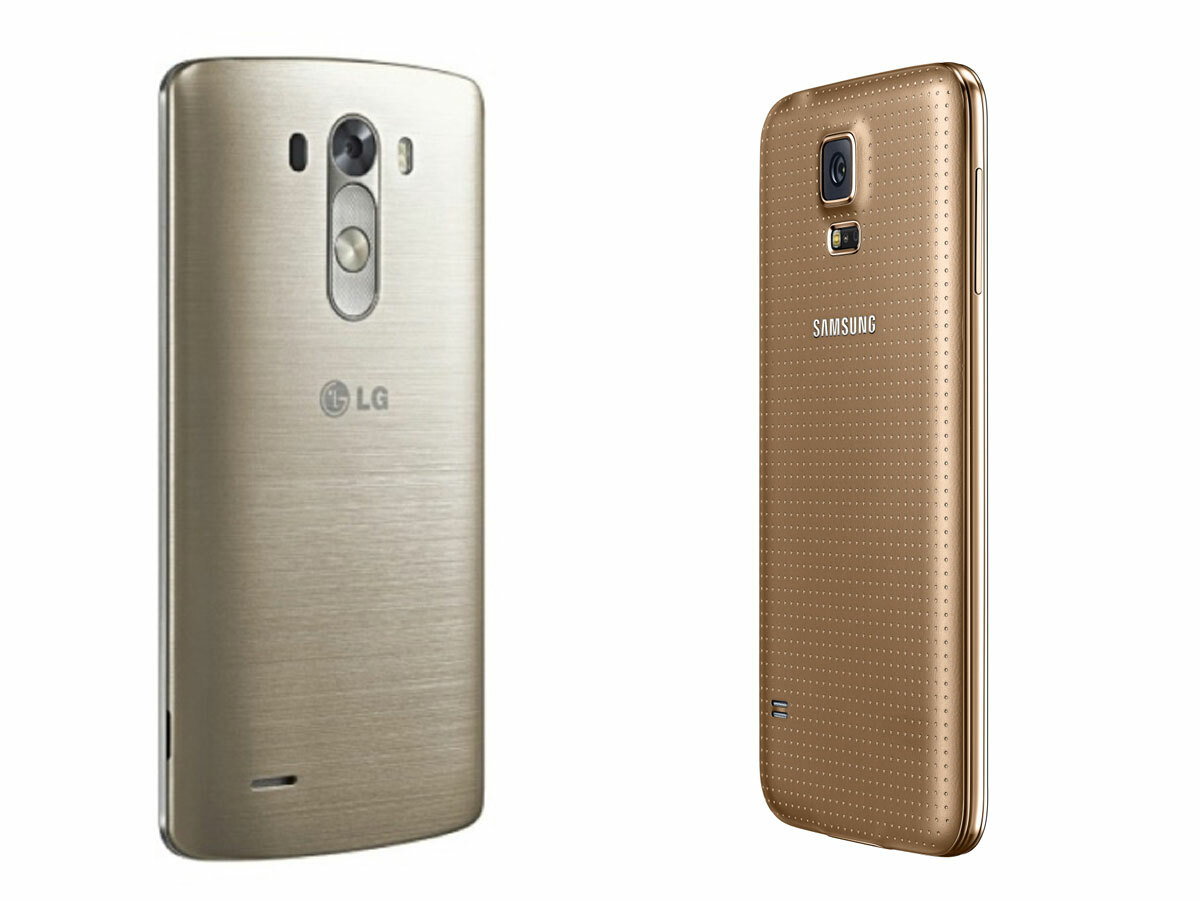 When it comes to high-end smartphone design, it seems that LG and Samsung are two companies that stand apart from the crowd. While most manufacturers opt for metal or glass bodies for their top handsets, both the G3 and S5 favour plastic: the G3's polycarbonate backside is designed to look like brushed metal, while the S5 has a rear fashioned from dimpled plastic. Both phones, however, have screens covered by toughened Gorilla Glass 3.
The G3's larger screen means it's a fair bit bulkier than the S5 (8.9mm thick as opposed to 8.1mm, and a little longer and wider too), so the small-handed among you may find it simply too large to hold comfortably.
As it stands, we reckon the G3 is the better looking of the two phones, while the S5's svelter size makes it a little more pocket-friendly. But we'll have to call this round a draw until we've had a chance to properly get to know the G3.
Winner: Draw

Power play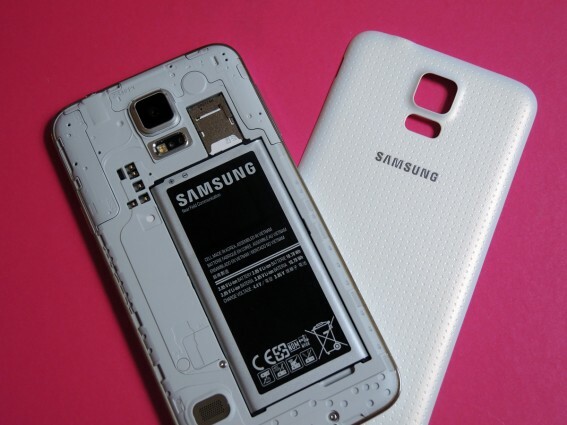 The G3 and the S5 have, as far as we can tell, precisely the same CPU and RAM setup: a quad-core Qualcomm Snapdragon 801 processor clocked at 2.5GHz alongside 2GB of RAM. One of the phones might have a slight performance edge over the other, of course (and if so we'll find out when we test and benchmark the G3), but going by specifications alone we can't call processing power anything but a dead heat. A 3GB edition of the G3 does exist, but there's no solid road map as to when it'll reach the UK (LG suggests that it will, however, arrive on these shores at some point). So we'll ignore it for now.
Storage-wise, the LG G3 has 16GB of space while the Samsung Galaxy S5 offers 16GB and 32GB options. Both have microSD card slots for adding extra space. The non-UK 3GB edition of the G3 features 32GB of built-in storage, but as we said above as there's no release date set for it, we'll ignore it until it actually arrives in this country.
The LG G2 is king of the flagship smartphones when it comes to battery life, offering well over a day's use per charge, and LG claims the G3's 3000mAh will last for just as long. The Samsung Galaxy S5 has a slightly smaller 2800mAh battery and, thanks to its Ultra Power Saving mode (which shuts down non-essential functions and changes the screen to greyscale rather than colour) it can be made to last a few days. Both phones' respective batteries are swappable, so you can carry a spare around if you're planning on a long trip. While we have yet to give longevity a full stress test, we'd bet our mortgage on the G3 offering better battery life than the S5 in normal everyday usage conditions.
Winner: Draw
Camera carve-up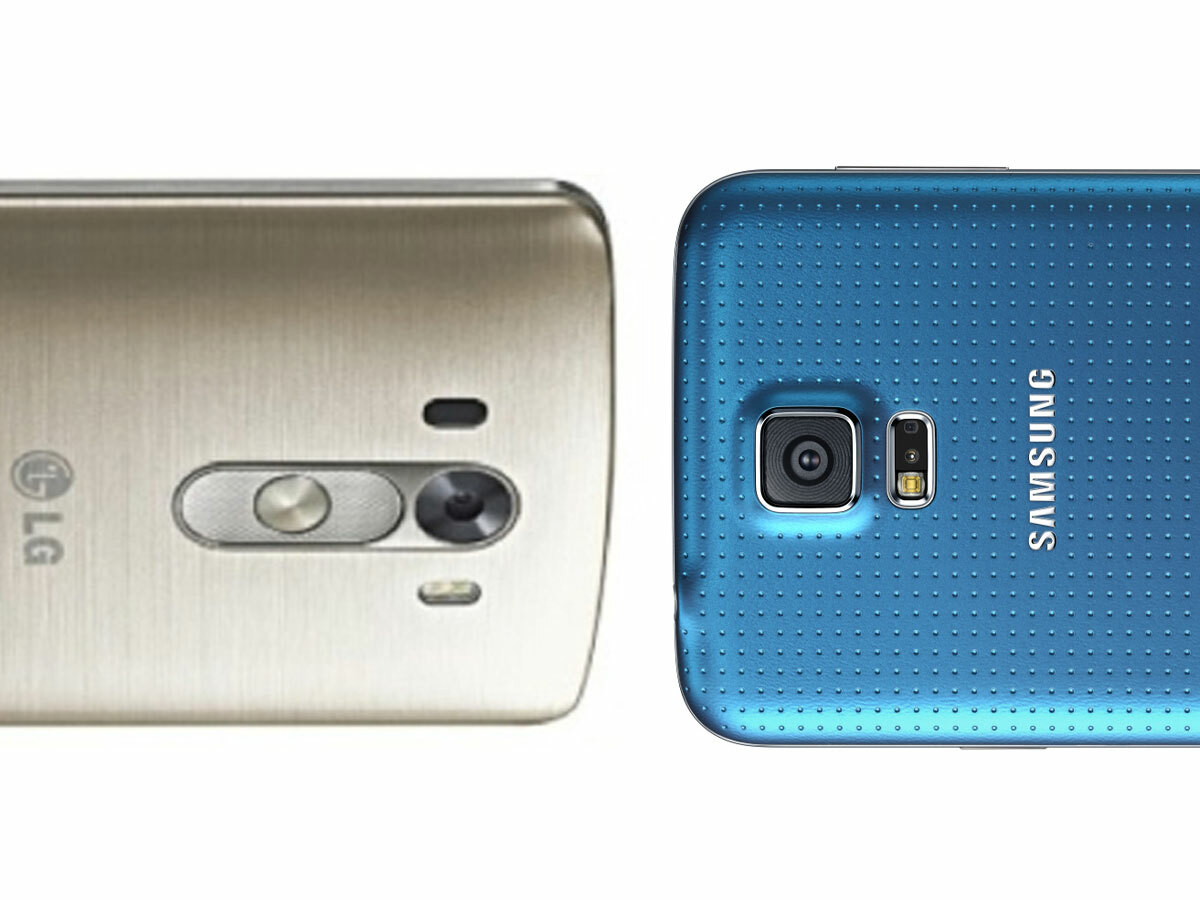 The LG G3's camera comes with a 13MP sensor, optical image stabilisation (which LG claims has been improved over the OIS system on the G2) and a new laser autofocus system which sounds super-fancy but really just means the G3 should focus more quickly and accurately in dimly-lit conditions. The OIS and laser AF should mean great low-light performance, but we can't say for certain how great it is until we've had a chance to take it out for an evening snap session.
Video-wise, the G3 can capture 4K at 30fps, and 1080p at 60fps and 120fps (the latter for super slow-motion playback).
The Samsung Galaxy S5 has a 16MP sensor and, in good light, takes some of the finest photos we've ever seen from a smartphone: accurate colours, bags of detail and punchy contrast. Indoors its performance is less impressive; even the G3's predecessor the G2 is a better prospect than the S5 when the light is failing, so we're sure the G3 will have it comfortably beaten.
Video-wise the S5 can also capture 4K footage at 30fps, full HD 1080p video at 60fps and 720p video at 120fps. The G3 has it slightly beat here on specs, being able to capture 120fps slo-mo at a higher resolution.
Winner: LG G3
KitKats all round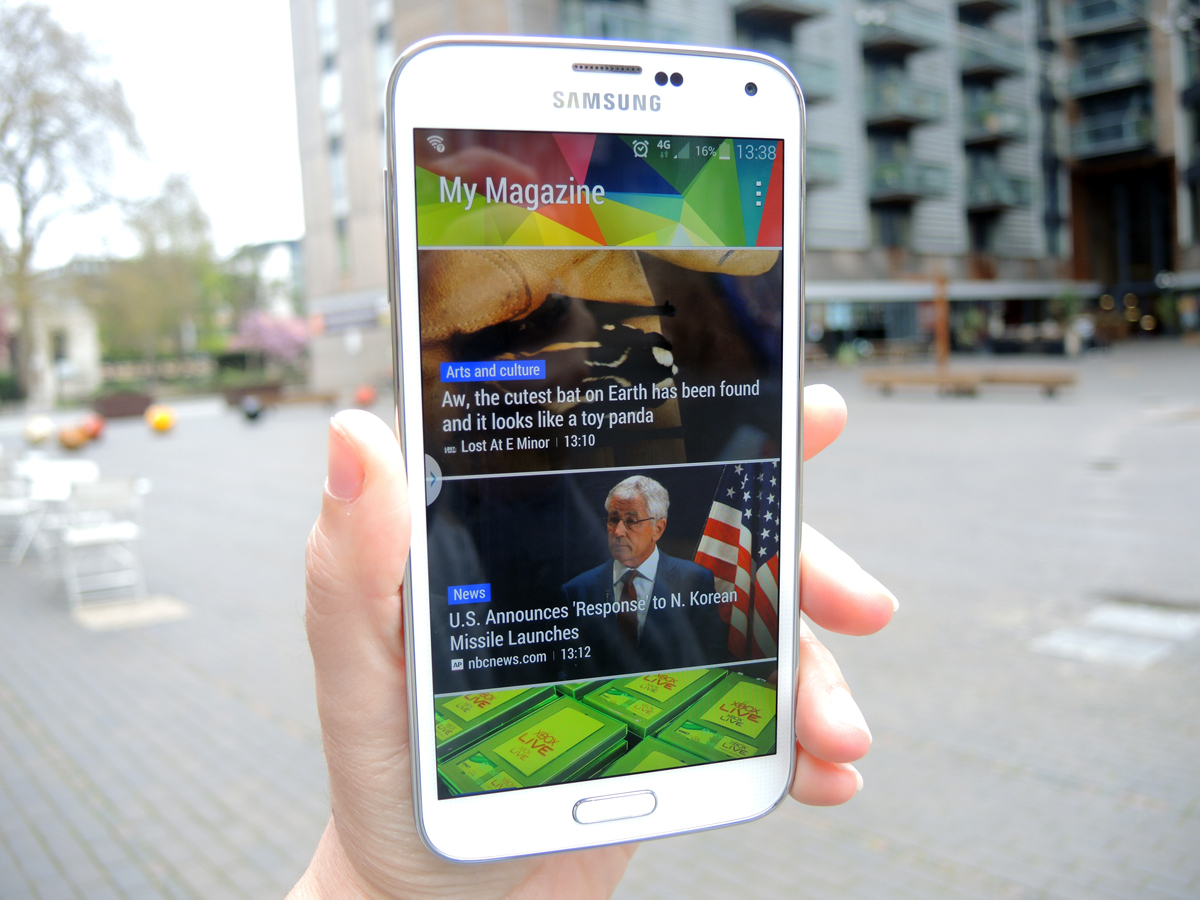 Both phones come with an Android 4.4 KitKat operating system over which the manufacturers have spread their own UI tweaks. While we haven't got deep into the G3's interface yet, even a cursory glance reveals that it's much less cluttered and garish than the UI on the G2 – flatter, simpler and less of an assault on the eyeballs.
Samsung has also de-cluttered its TouchWiz UI of late, and the version on the Galaxy S5 is tidy, clean and nippy, with Samsung's own apps hidden away from sight unless required.
Both UIs are impressive on initial viewing, so for now we won't make a final judgement. Once we've given the G3 a full review we'll revisit this topic.
Winner: Draw
Verdict
Until we've put the LG G3 through the wringer and given it a proper review, we can't say for certain that it trumps the Samsung Galaxy S5, but we have a distinct suspicion that it'll end up proving the better phone – albeit by a small margin.
With a bigger, sharper screen than the S5, likely better camera performance in low light, most likely longer battery life and the same processor and amount of RAM, the tale of the tape suggests that the G3 will follow in the footsteps of its predecessor and prove itself – for a time, at least – to be the best smartphone on the market.
The Samsung Galaxy S5 is a fantastic phone (let's be honest: pretty much all flagship handsets these days are) and isn't likely to disappoint anyone who buys one, but we'd be quite surprised if the LG G3 isn't just a little bit better.
Winner: LG G3