Microsoft Surface Pro 3 vs Apple MacBook Air 11in: the weigh-in
Apple's smallest computer faces off against a new multi-talented challenger: Microsoft's 12in Windows-powered tablet
The MacBook Air has been the king of the small, light laptops almost since it arrived in the shops, and while it hasn't changed a great deal over those five or so years, it seems pretty secure in that position.
But Microsoft wants to change all that, and for the first time it just might have the device to do it: the Surface Pro 3 is both a laptop and a tablet, after all, and it's been priced to compete directly with the 11in MacBook Air, a device that's resolutely just the former.
Without further ado, let's see exactly how these two devices stack up against each other. Folks, it's time for a spec-off.
Build quality and design: thin versus thin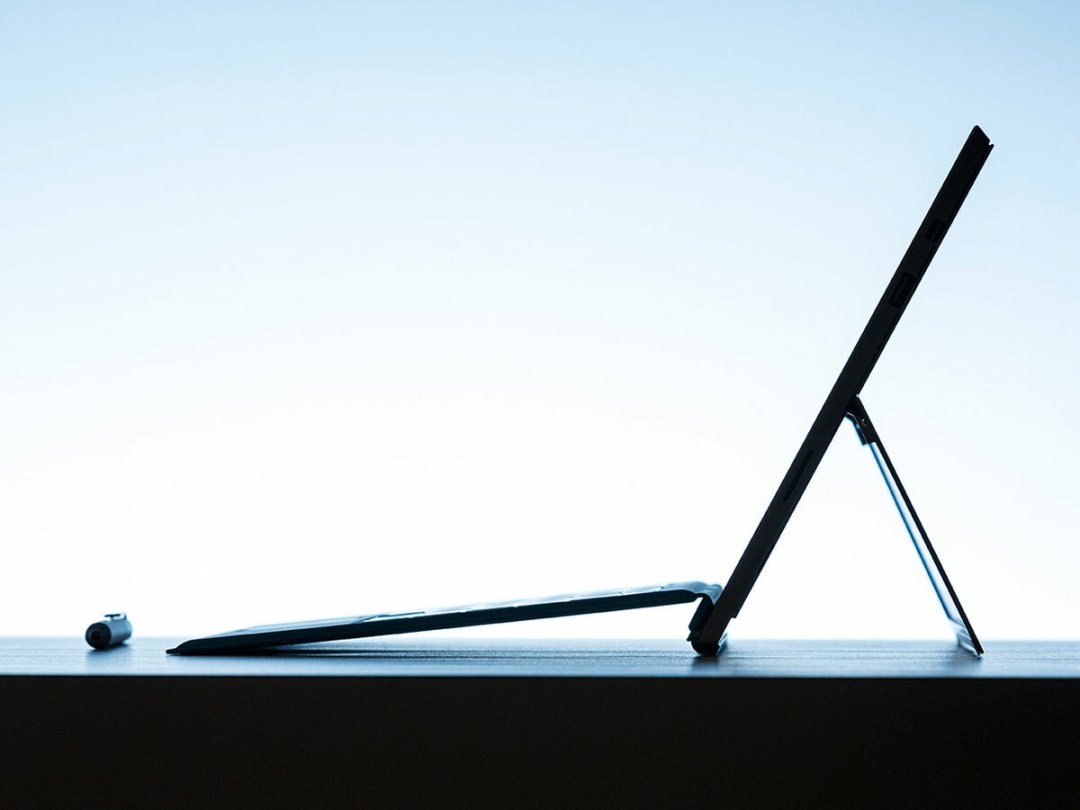 Despite having a larger screen than its predecessors, the Microsoft Surface Pro 3 is the thinnest and lightest Surface yet: in tablet form it's a mere 9.1mm in depth and weighs just 800g.
The 11in MacBook Air looks rather chunky in comparison, measuring 17mm at its thickest point and weighing 1.08kg – but of course, it has a keyboard attached at all times, unlike the Surface.
So in the name of balance, let's assume the new Surface Pro Type Cover is hooked up to the Surface Pro 3. That'll add 295g of weight and 4.8mm of depth, making the Surface 3 14.9mm thick and 1.09kg – pretty much the same weight as the Air and a couple of millimetres thinner.
The Surface, of course, isn't strictly a laptop and its "lappability" (how comfortable and stable it feels when connected to a keyboard cover and sitting on the user's lap) is something Microsoft has struggled with in the past. It now claims the Pro 3 is as lappable as a true laptop, thanks to the hinge and fold with which its Pro Type Cover connects to the Pro 3's body, as well as an improved kickstand that can be set at any angle from 22 to 150 degrees (and will stay wherever you move it).
We haven't yet used the Surface Pro 3, but we strongly suspect it'll be less comfy on your lap than a MacBook Air. However, we also suspect the gulf in comfort between the two devices is smaller than it was previously.
The MacBook Air has one of the best keyboard and trackpad combos of any laptop on the market (or, frankly, any laptop that's ever existed). It's one of the reasons that the Air is so well loved, and it seems highly unlikely that the Pro Type Cover can match this physical interface virtuosity – certainly, previous Surface covers have tried and failed. We'll deliver our verdict when we've tested it properly.
In terms of build quality, both devices are clearly in the top tier of what's currently available in portable computing. The Surface Pro 3 is strong – so strong that Microsoft's Panos Panay had no qualms about dropping it from five feet onto the stage floor at its launch event. We don't know about you, but we wouldn't want to pull that trick with a MacBook Air.
That said, we'll have to call this one a draw for now, until we've had time to ascertain just how comfortable – or otherwise – the Surface Pro 3 is for everyday use. We know that the MacBook Air feels pretty much perfect on the lap.
Winner (on paper): Draw
Screen: the pixels have it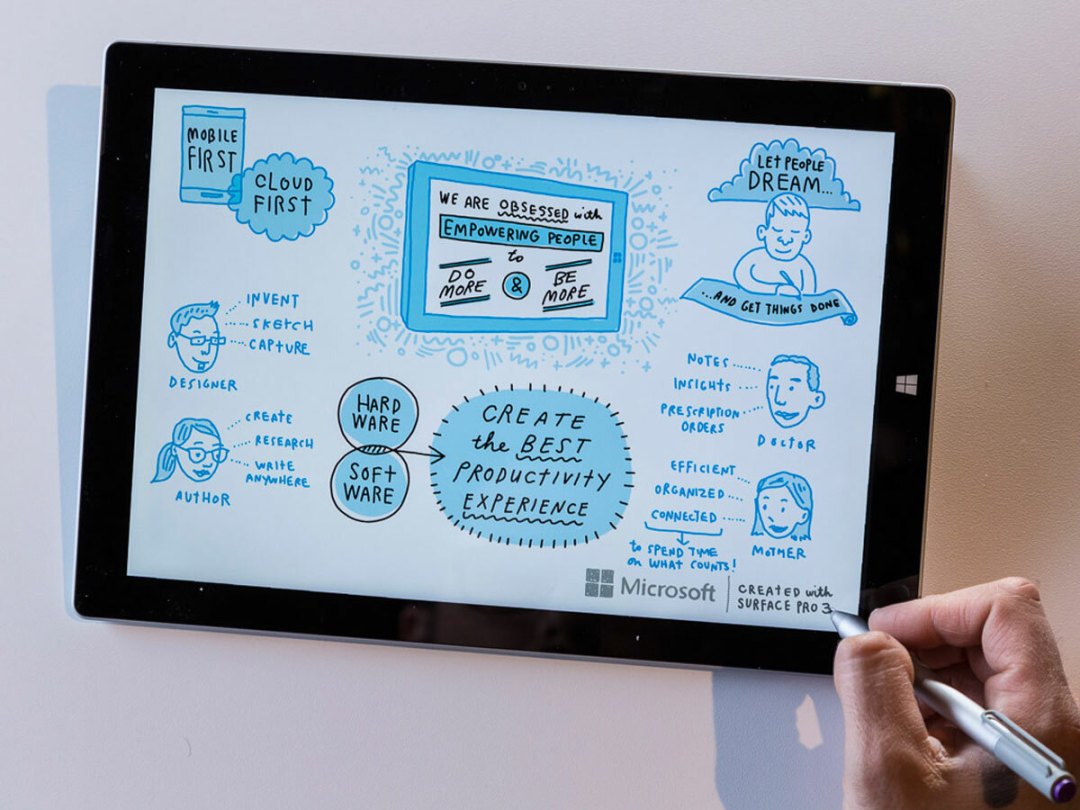 The Surface Pro 3 comes with a new 12in ClearType multi-touch screen with a staggering resolution of 2160 x 1440 and a somewhat unorthodox aspect ratio of 3:2. Microsoft claims it opted for this ratio to offer the most screen real estate for the shape of the tablet – it's kind of a middle ground between the 4:3 ratio of an iPad and the 16:10 ratio of the MacBook Air, and that may make it suitable for both work and play. Oh, and you can write on it using the lovely new Surface Pen.
The MacBook Air comes with an 11.6in, 1366 x 768 screen. There have been rumours about Apple bringing out a Retina display version with a higher resolution, but with the latest batch of Airs being introduced fairly recently that isn't likely to happen until 2015.
No contest. With far more pixels, plus touch capabilities, this round goes to Microsoft.
Winner (on paper): Microsoft Surface Pro 3
Performance: it's close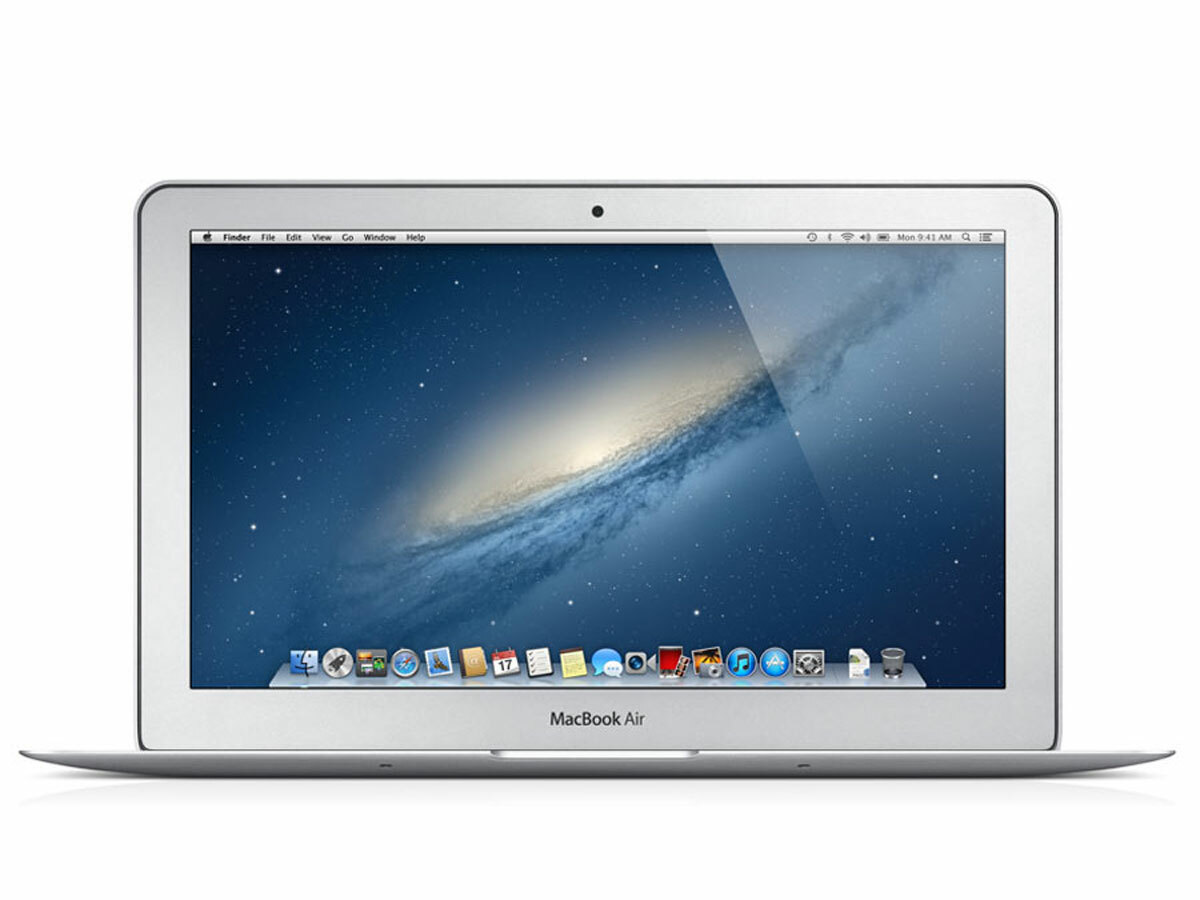 Depending on how you configure a particular model, the 11in MacBook Air is powered by dual-core Intel i5 or i7 processors clocked at anything between 1.4GHz to 1.7GHz (with Turbo Boost increasing that to 2.7GHz to 3.3GHz at times), with either 4GB or 8GB of RAM. Graphics are handled by the Intel HD Graphics 5000 on-board the CPU. Storage-wise, it offers a choice of 128GB, 256GB or 512GB of flash.
The MacBook Air has never been Apple's high-performance line of laptops (that's a role handled by MacBook Pros) – it's more an everyday computer built for relatively undemanding tasks. If you want to encode 4K video or play the latest games, chances are the Air is going to huff and puff – but if your demands extend no further than Photoshopping, indie gaming and a three-hour Orange Is The New Black marathon on Netflix, you're all good.
Microsoft is pitching the Surface Pro 3 as a proper productivity tool. Like the MacBook Air, it runs on proper Intel Core i3, i5 or i7 processors (depending on your configuration choices), has either 4GB or 8GB of RAM and flash storage between 64GB and 512GB. And it runs full Windows 8.1 of course.
That's powerful by tablet standards, but really only the top-of-the-range model has anything you'd say beats the fully-loaded 11in MacBook Air, at least on paper. The highest spec Surface Pro 3 and a Pro Type Cover will set you back £1,760, while the top notch 11in MacBook Air is £1,270 – so you're paying almost £500 for that extra bit of performance (and a much sharper screen, of course).
Both devices offer "up to" nine hours of battery life, according to the manufacturers. Of course, that'll vary depending on how you use them, but we know from use that the MacBook Air will go on and on.
We haven't yet put the Surface Pro 3 to the test, but given its similar spec we're going to call this particular round a draw.
Winner (on paper): Draw
OS: It's Windows versus Mac OS again
This was always going to be a hard round to call, because Windows 8.1 and Mac OS X Mavericks are such different prospects. Some prefer the former, others the latter – and whichever's their favoured operating system will likely go a long way in determining which of these products they buy.
Windows has come in for a lot of stick (including from us) since the unveiling of its 7th incarnation, and while in one mode Windows 8.1 offers the same divisive tile-based interface, a lot of earlier flaws have been ironed out. But it's still inconsistent, switching between the tiles and Windows 7-esque desktop mode as you open software, and hiding menus in hard-to-find places. If you're now familiar with how it operates, no problem – and although the roster of Windows Store apps that work in the tiled mode is limited, there's decades' worth of world-beatinf software that'll run on the Surface Pro, including all of the best games.
We should also mention that Windows 8 has been designed with multi-touch in mind, so using it on a Surface will likely be a bit more enjoyable than it is on a non-touchscreen PC.
The MacBook Air comes with Mac OS Mavericks (it'll soon come with Yosemite, of course), which has a far more traditional approach to a computer UI. It's spare, slick and beautifully but sensibly designed. Is it more user-friendly than Windows 8? Probably. And if you're already a Mac user, it most certainly is. It, too, has more software than you can shake a PC World warehouse at, but can't match Windows for its roster of games.
To be honest, this is really a case of apples (no pun intended) versus oranges. We prefer Mac OS X's more consistent experience, but both OSs are perfectly serviceable and both have aspects that will annoy frequent users of the other. If you're a longtime Mac user, making the transition to the tile-based Windows OS will be tough at first though, we promise you.
Winner (on paper): Draw
Verdict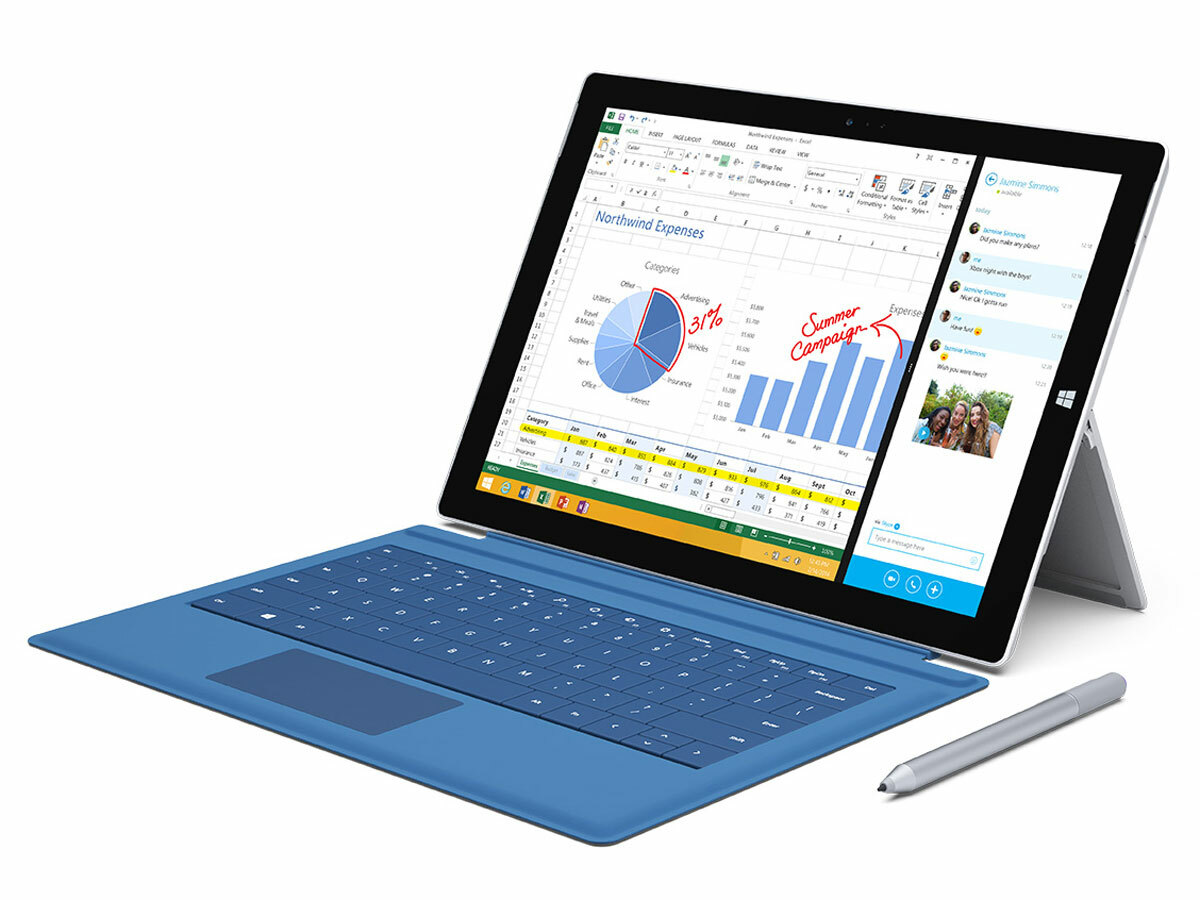 Clearly, it's a close-run thing between these two devices, and that's probably no accident: we get the impression that Microsoft is gunning for the MacBook Air (as well as the iPad) with the Surface Pro 3: it's similarly specced, it's equally well engineered and the pricing is similar. The cheapest Surface Pro 3 with a keyboard is £750 – exactly the same price the cheapest 11in MacBook Air.
The Surface Pro 3 has a couple of big advantages over Apple's laptop: it's a tablet with a touchscreen as well as a laptop (or laptop-style device); and its screen offers a much higher resolution. The MacBook Air's advantage is that it's an actual laptop, and if you're looking for something to write a novel on you're more likely to pick the thing that's most stable and comfortable on your lap.
For now, though, the Surface Pro 3 has the edge. But only just.
Winner (on paper): Microsoft Surface Pro 3