OnePlus 2 vs Samsung Galaxy S6 Edge+
Can a £230 phone really beat a £750 one?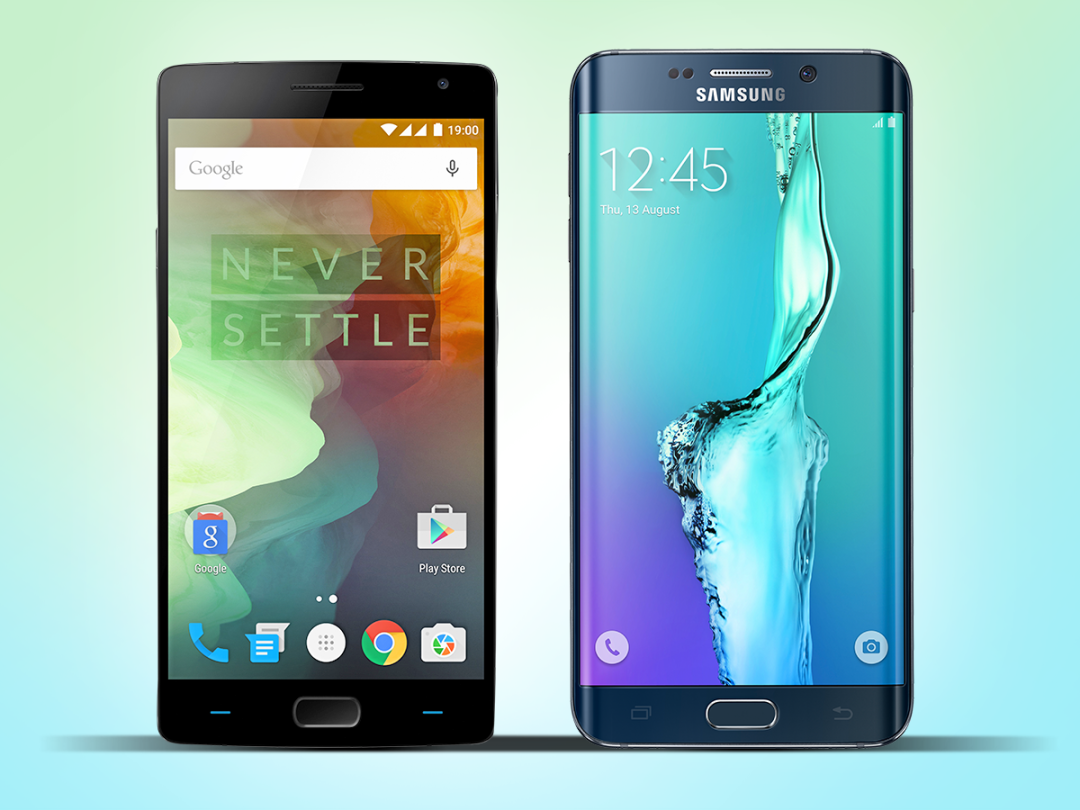 Have high-end smartphones lost the plot? Looking at the price of the Samsung Galaxy S6 Edge+, you could think so. The RRP for its 64GB version is over £800. Madness.
There's an antidote, though. It's called the OnePlus 2, a phone that seems to have similar specs to phones costing upwards of £500, with a starting price of under £250. But is it too good to be true?
We've been using the OnePlus 2 and Samsung Galaxy S6 Edge+ side-by-side, putting our plucky bargain blower against one of the most expensive phones on the high street. You might be surprised at how well the cheaper OnePlus 2 comes off in the comparison.
But what do you lose when you spend just half the price on a phone from a brand no-one without a BA in geek has heard of? Let's find out.
Design: how do these phablets size up?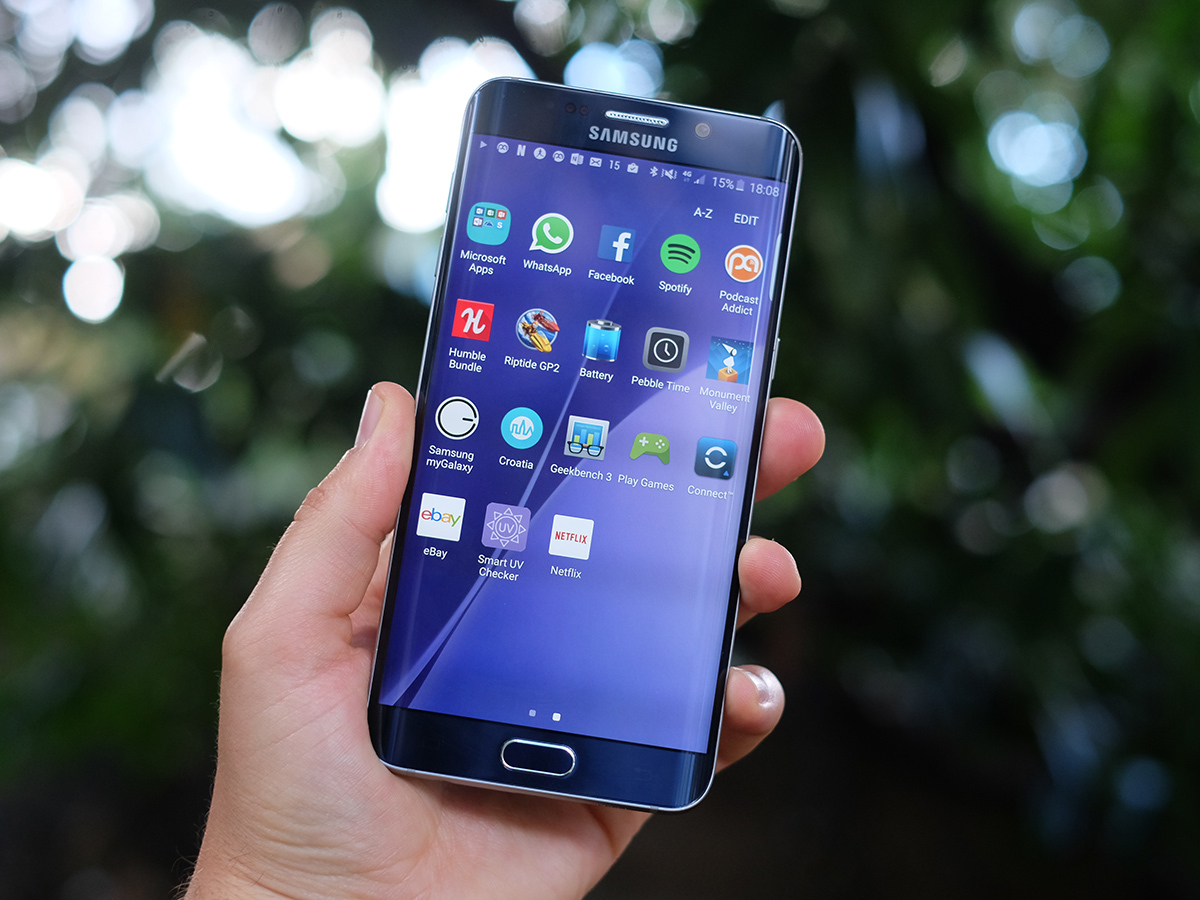 Samsung Galaxy S6 Edge+
One of the most luxurious phones Samsung has ever made, the Samsung Galaxy S6 Edge+ is basically what you'd get if you fed the original S6 Edge growth hormones. Its front curves around perfectly at the sides, earning the phone its name. There are no seams, just a single piece of beautifully-formed Gorilla Glass 4.
This is matched with a flat piece of Gorilla Glass 4 on the back, while a band of smoky-finish aluminium separates the two. Mentioning the particular kind of glass is important. Glassy phones can feel fragile, but the Samsung Galaxy S6 Edge+ has about the best kind of glass available for this purpose right now. It may feel delicate, but it isn't.
It's an incredibly slim 6.9mm thick too, although those who like to poke holes in things will note that the camera lens sticks out from the back a bit. Allowing that to keep the rest of the body pocket-friendly is important, though. This ain't a small phone, thanks to its large 5.7in screen. Being thin makes it a bit easier to handle.
The Samsung Galaxy S6 Edge+'s in-hand feel is a bit severe, but after about 20 mins it's a dream to use. As well as having a thumb-friendly power button, the great S6 fingerprint scanner is back. It's accurate and pretty fast, letting you unlock your phone just by resting your thumb on the Home button.
As long as you're up for a slightly larger phone there's very little to dislike about the Samsung Galaxy S6 Edge+'s hardware. Aside from its lack of an sd card slot, that is. Like the OnePlus 2, storage is non-expandable, so make sure you pick between the 32GB and 64GB versions carefully if you side with team Samsung.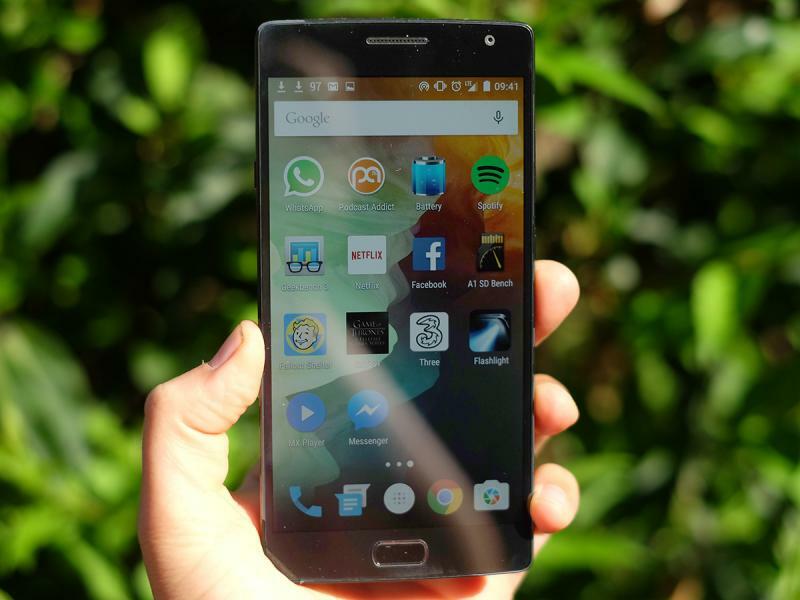 OnePlus 2
The OnePlus 2 is a much cheaper phone than the Samsung Galaxy S6 Edge+. And if you want a phone to show off, it's less likely to impress your friends unless they know quite how hard a OnePlus 2 can be to get hold of.
It's no cheapo mobile, though. You get a neat band of magnesium alloy around the sides and while the back cover is essentially plastic, its finish feels nothing like it. Kinda rough, kinda furry, the OnePlus 2 feels more like felt than plastic.
There are also several other options thanks to the OnePlus 2's removable rear. You can get, direct from OnePlus, back plates finished with various kinds of real wood, or even kevlar. Pick your look, pick your feel: the OnePlus 2 gives you more options than a Samsung Galaxy S6 Edge+, which just comes in a few colours.
The OnePlus 2 is a good ideal thicker than the Samsung at 9.9mm thick, but as it's also less wide thanks to its smaller display, the size more-or-less evens out. This phone feels a bit less vulnerable too, but most of that's in your head. Both phones rely on the strength and scratch resistance of Gorilla Glass 4. That said, once you've well and truly scratched the back to death, at least you can replace the one on the OnePlus 2.
Like the Samsung, this phone has a fingerprint scanner. And it's great too, to an almost eerily similar level. We wouldn't be surprised if they use the same underlying tech. Here the fingerprint scanner doesn't sit on a click button but a immovable touch-sensitive pad. However, it still has thumb-friendly contours so is just as easy to use.
Winner: Samsung Galaxy S6+
Screen: can OnePlus match Samsung's pixel perfection?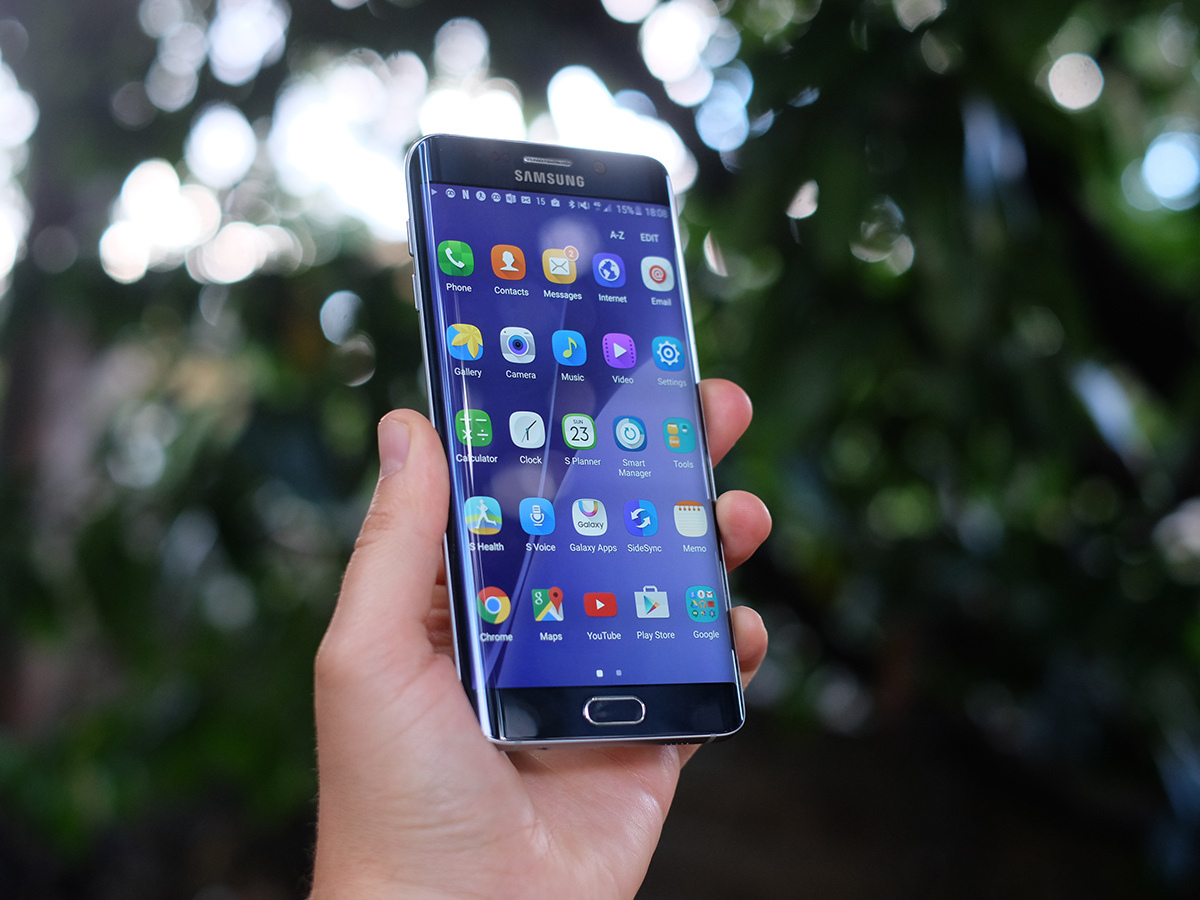 Samsung Galaxy S6 Edge+
Samsung is the true master of mobile phone screens. No-one can really touch it, not even Apple. Phones like the Samsung Galaxy S6 Edge+ have cemented this status for 2015, maybe beyond.
The phone has a 5.7in 2560 x 1440 pixel (QHD) display and it is among the best Samsung has ever jammed into a phone. Get ready for the roll call of awesome.
First, it has amazing contrast. This is something you get with the Super AMOLED tech used here, as each pixel lights itself, meaning blacks can stay perfectly black.
As the OnePlus 2 uses a backlight, it blacks just aren't quite as… black. Colour is terrific too. The Samsung Galaxy S6 Edge+ offers you a bunch of modes, ranging from the eye-meltingly saturated to one that's very natural and accurate: our favourite. You can have a play to see what suits your retinas best.
What we appreciate the most, though, is the phone's amazing outdoors visibility. It's just a star at dealing with super-bright sunny days, more so than just about any other phone. There's just one tiny little gremlin left to squash. Like lots of other OLED phones, the Samsung Galaxy S6 Edge+'s screen goes a little blueish when you tilt it. Does it matter? Not really.
We've not even touched on the main event yet: the curve. Looks great, doesn't it? The way it distorts reflections is a real eye-charmer. It has some uses too, although don't expect to make it turn you away from flat-front phones forevermore.
A flick on the curve brings up a quick-fire drawer of apps and contacts, for easy access. It's neat, although nothing you can't mimic with a well-customised home screen and shortcut dock.
OnePlus 2
Screen quality is one of the areas that shows us at least partly why the Samsung Galaxy S6 Edge+ costs twice the price of the OnePlus 2. This phone has a great screen, but it's not quite at the level of the Samsung. The OnePlus 2 display is a little bit smaller too, to the sum of a grand 0.2in.
Rather than a Super AMOLED screen, the OnePlus uses a more commonplace IPS LCD one, the kind used on iPhones. And most other phones, in fact, these days. You get around 90-95 per cent of the image quality of the Samsung, but real screen snobs will be able to tell the difference with a glance.
First, while contrast is great, in a dark room you'll be able to see that the OnePlus 2's blacks are ever-so-slightly greyish. It's the fate of any LCD phone.
Resolution is a lot lower too. The OnePlus 2 has a 'mere' Full HD screen rather than a QHD one, so its pixel density is 401ppi rather than the jaw-dropping 518ppi of the S6 Edge+.
From a metre away you'd be hard pressed to notice, but get your eyeball right up close to the screen and text will look that bit sharper, smoother and cleaner in the Samsung Galaxy S6 Edge+. Outdoors visibility isn't quite as good either. It'll cope with sunny days just fine, but you do lose a bit more clarity in tricky conditions.
Winner: Samsung Galaxy S6 Edge+
Speed: Are these phones lag-free?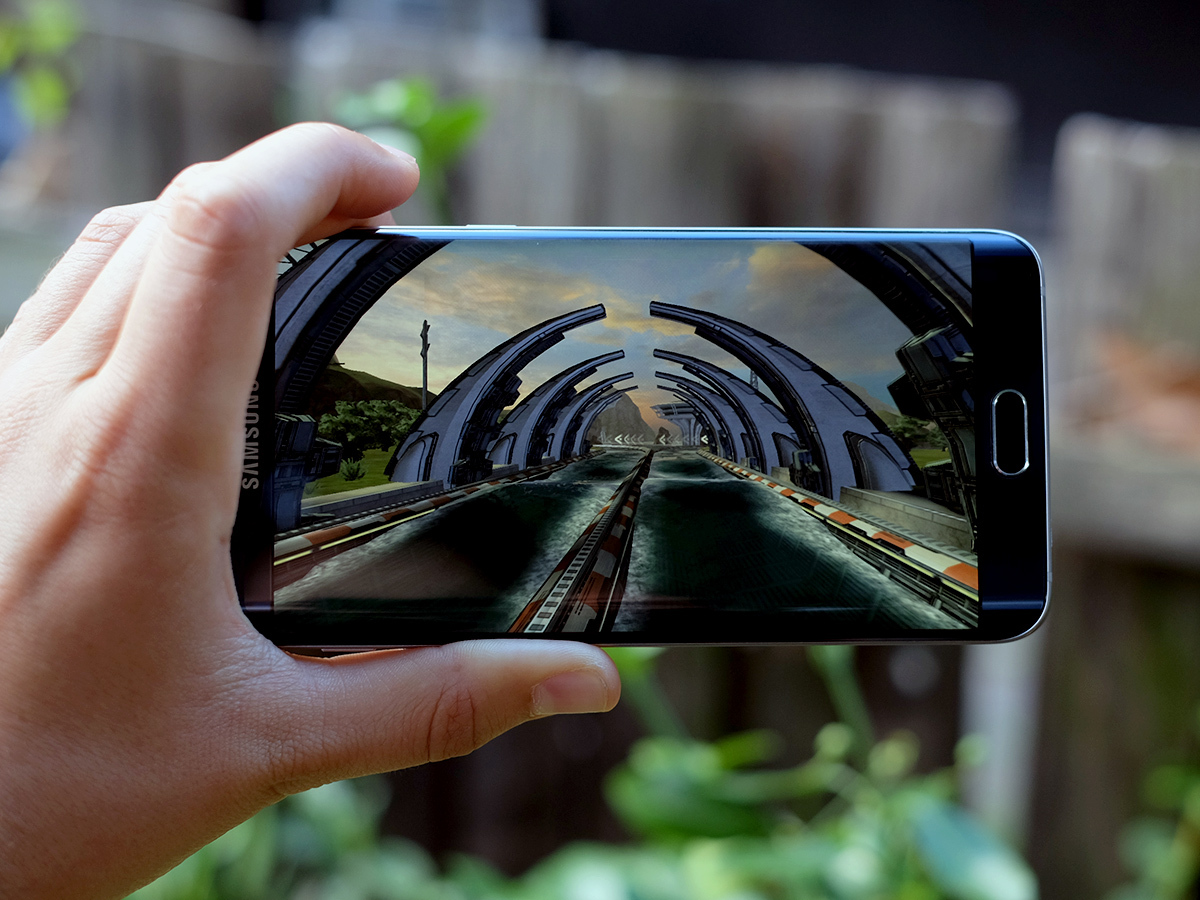 Samsung Galaxy S6 Edge+
Right now, there's little to challenge these two phones in terms of speed and pure number-crunching power. They are at the top of the Android league, with octa-core CPUs and 4GB RAM a piece.
However, the hardware they use is far from identical. The Samsung Galaxy S6 Edge+ has a special Samsung-made brain, one you'll also find in the original S6 Edge and plain old S6. It's called the Exynos 7420 and features an eight-core CPU, four of which are clocked at an impressive 2.1GHz.
That's a faster clock speed than the OnePlus 2 manages. Why? It all comes down to efficiency. Samsung has slimmed down the CPU's transistors to 14 nanometers (the OnePlus 2's are 20nm) a piece so it can afford to push the chip even harder without the phone giving you third-degree burns.
Enough of the tech-speak, though. Does it feel fast? Absolutely. Like the OnePlus 2, the Samsung Galaxy S6 Edge+ is pretty much lag-free, getting you a phone that feels as high-end as it should do, given the price.
As it runs custom software, Samsung has also managed to speed-up some of the interface elements, seemingly turbo-charging how fast some things scroll to get you more an impression of speed. Raw power is not the best reason to pick a Samsung Galaxy S6 Edge+ over an OnePlus 2, though.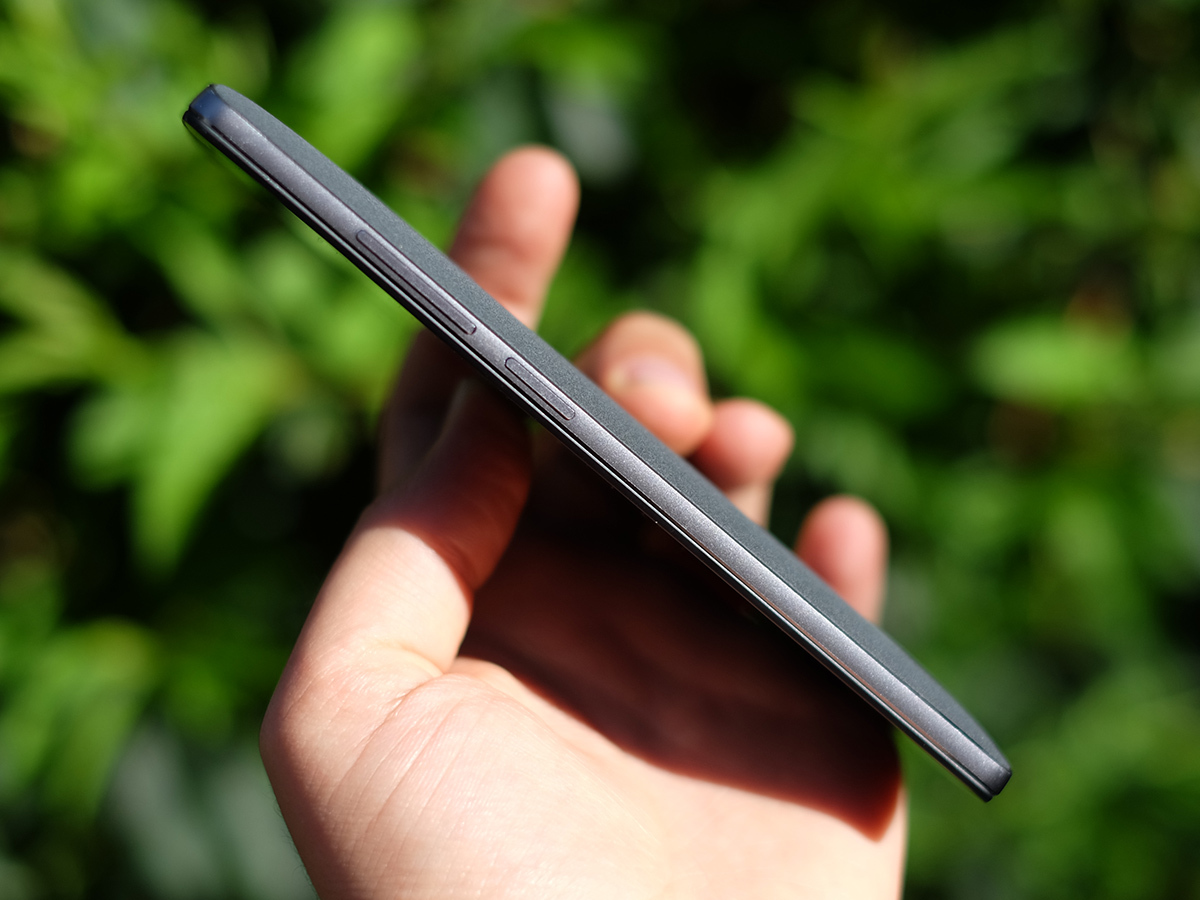 OnePlus 2
The OnePlus 2 uses a brain we've seen a few times before in phones. It has the Snapdragon 810, Qualcomm's top-end mobile processor, used in the Sony Xperia Z3+ and HTC One M9.
However, it was the first phone we had used to have 4GB of DDR4 RAM. Sure the Samsung Galaxy S6 Edge+ has this too, but fitting this into a phone this affordable is pretty remarkable. Where the RAM of today's cheaper phones can juggle data at around 2500MB/sec (pretty fast, right?), the OnePlus 2's RAM revs up to 8000MB/s. Amazing.
What does having 4GB RAM actually add? The jury's out on that one, but it does mean the OnePlus 2 should be guaranteed good performance no matter how much more memory-hungry Android becomes over the next 18 months.
What's really worth giving OnePlus some props for is how it has handled the Snapdragon 810 CPU. This chipset has become infamous for causing overheating, but here the temperature never seems to get beyond 'warm'.
Sure, it gets warm more readily than the Samsung Galaxy S6 Edge+, but there's no hint of flat-out overheating here and you'll generally only notice that the thing is getting warm if you look for it. There's plenty of power on tap too.
The Snapdragon 810 gets you eight cores, four muscle-flexing Cortex-A57 cores at 1.8GHz and four lower-power ones for day-to-day chores. For the most part the OnePlus feels just as lag-free as the more expensive Samsung.
The one part that isn't quite as fast is the camera. It's just not as quick or slick, but this may improve a bit as OnePlus tweaks the software with updates. Given how much cheaper the OnePlus 2 is, its performance all-round is seriously impressive.
Storage/Battery: Which lasts longest?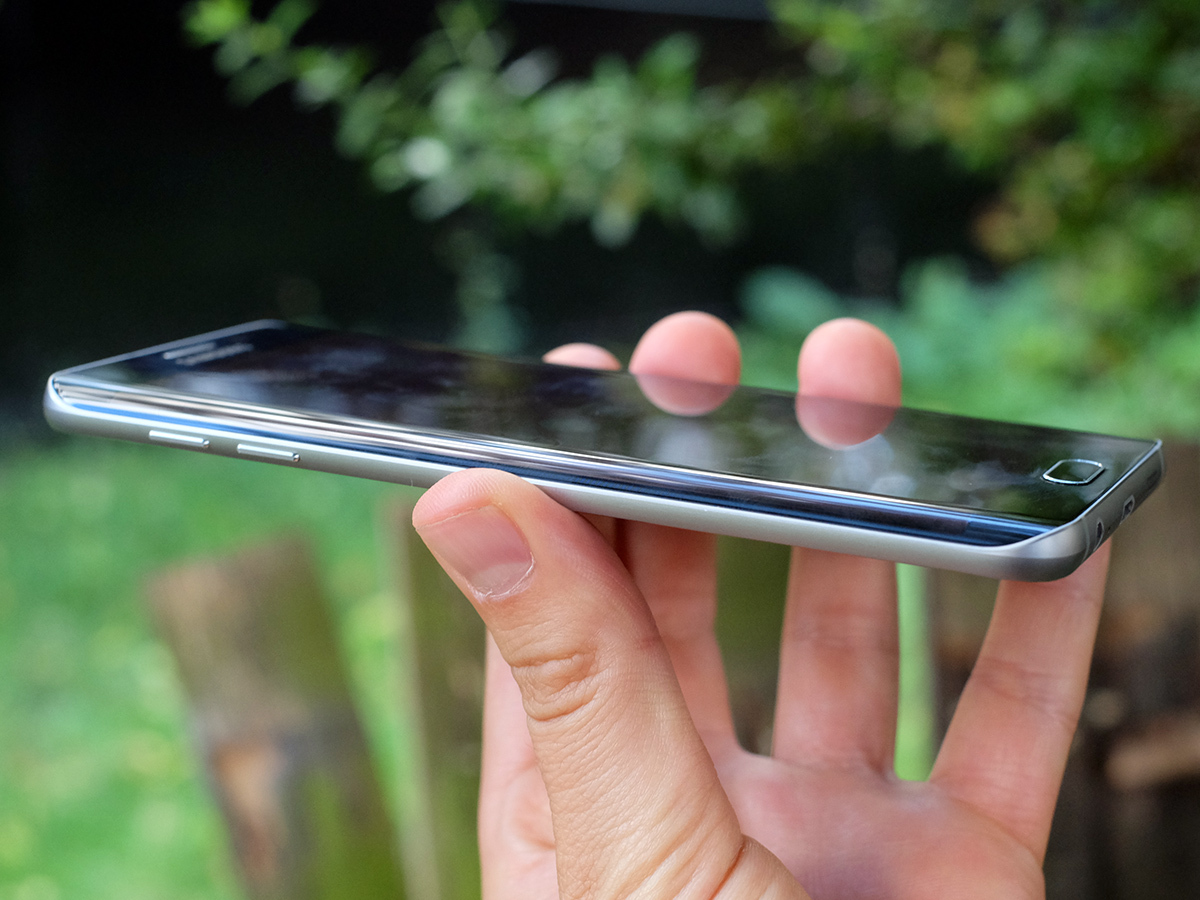 Samsung Galaxy S6 Edge+
Samsung is one of the few companies to have made a 128GB phone. However, this is not one of them. You can get the Samsung Galaxy S6 Edge+ with either 32GB or 64GB of storage, and that's an important decision because, like the OnePlus 2, there's no adding to it.
You'll have to pay around £80 extra to upgrade to the higher-storage version. It's hard to swallow when 32GB memory cards can be had for under £10, but may be worth it for some of you.
On the battery front, the Samsung Galaxy S6 Edge+ initially seems to be worse than the OnePlus 2. It has a 3000mAh battery to the OnePlus 2's 3300Ah, despite having a larger, higher-res screen. However, at times its performance is actually better.
Get this: left playing a 720p video file on loop it lasts almost 16 hours. When playing Netflix over 4G you can get around 7.5 hours of movie goodness off a charge.
So why is the Samsung Galaxy S6 Edge+ so capable? Its processor is pretty efficient, and the phone is pretty aggressive about cutting away background activity nonsense to avoid draining the battery more than is really necessary.
It's not quite as strong in all situations, though. When you're using the phone as normal and doing something that drains battery constantly, like streaming music or a podcast, the battery level seems to drain a little bit more quickly than the OnePlus 2, or at least similar to it.
Other bits it can claim over the OnePlus include super-fast charging when used with the supplied charger, juicing up to 80 per cent in around 30 minutes, and support for wireless chargers. Battery performance and features are pretty remarkable for a phone under 7mm thick.
OnePlus 2
There are two flavours of OnePlus 2. You can get one with 16GB storage, or one with 64GB. We're checking out the 64GB version, and it's probably the best choice for most people.
First, it only costs £289, which is a whole lot cheaper than the Samsung Galaxy S6 Edge+. And as it's just £50 more than the 16GB version while also getting you an extra gigabyte of RAM, it's a better-value upgrade than you'd get from either Samsung or Apple.
Don't forget: there's no upgrading the storage after you've bought the phone as there's no microSD slot here. You get two SIM slots, but no memory card one.
There's also no access to the battery, even though you can prise the phone's back off. Unless you're going to really test the OnePlus 2, you shouldn't need an external battery to get through the day. It has a chunky 3300Ah unit, which is pretty large for a 1080p phone.
In a straight drag race against the Galaxy S6 Edge+, we get to see the extra software optimisation Samsung has put in place. The OnePlus 2 lasts for around 11.5 hours playing video, around four hours less than the S6 Edge+.
It sounds grim, but this is testament more to how much the Samsung phone really keeps an eye on background processes and how efficient its CPU can be, rather than anything else. In general use, the OnePlus 2's stamina is actually quite similar to that of the Samsung Galaxy S6 Edge+.
Camera: how do these snappers shape up?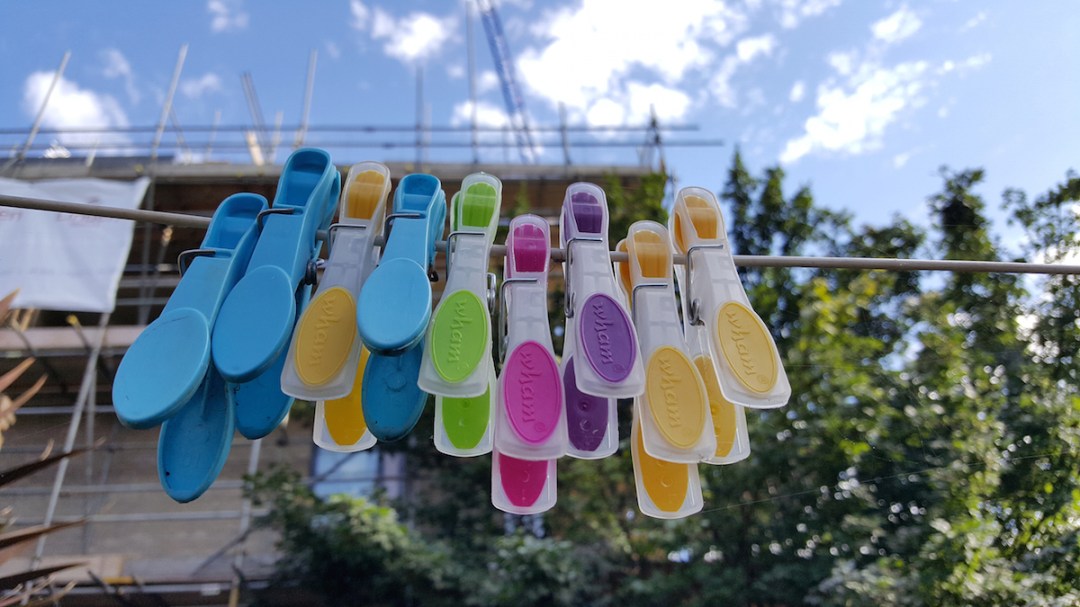 Samsung Galaxy S6 Edge+
As well as being the king of phone screens, Samsung has a pretty good claim to the phone camera crown. The Samsung Galaxy S6 Edge+'s one is something special.
The rear camera has a 16-megapixel sensor, three megapixels more than the OnePlus 2, and it's backed by optical image stabilisation. This helps out in low light.
Specs alone don't tell you about the main thing the Samsung Galaxy S6 Edge+ has over the OnePlus 2, though. It's speed. The Samsung focuses very quickly and can take photos in very quick succession. Even when you use the more processing-heavy HDR mode.
It's bags of fun to shoot with, and image quality is just fantastic. You get oodles of detail, punchy shots, and as ever the HDR mode is about as good as you can get anywhere. Even at night time you can get high-detail shots thanks to the effective optical image stabilisation.
The one teeny-tiny weakness is that the f/1.9 lens can give strong light sources a purply tinge. Other than that, it's hard to see how phone cameras can get much better than this until sensor hardware improves.
Sharing the camera app with the vanilla Galaxy S6, the interface is dead simple and quick to use, while offering loads of extra fluffy modes just waiting under the surface if that's what you're after. The selfie camera is good too, with a nice wide-angle lens that makes fitting a bunch of friends into the frame sans selfie stick easy.
A nod to the more serious photographers out there, the Samsung Galaxy S6 Edge+ can also shoot RAW files rather than plain old JPEGs. This gets you the image before the processing brain has gone to town on it, letting you apply noise reduction and the like yourself on a PC/Mac.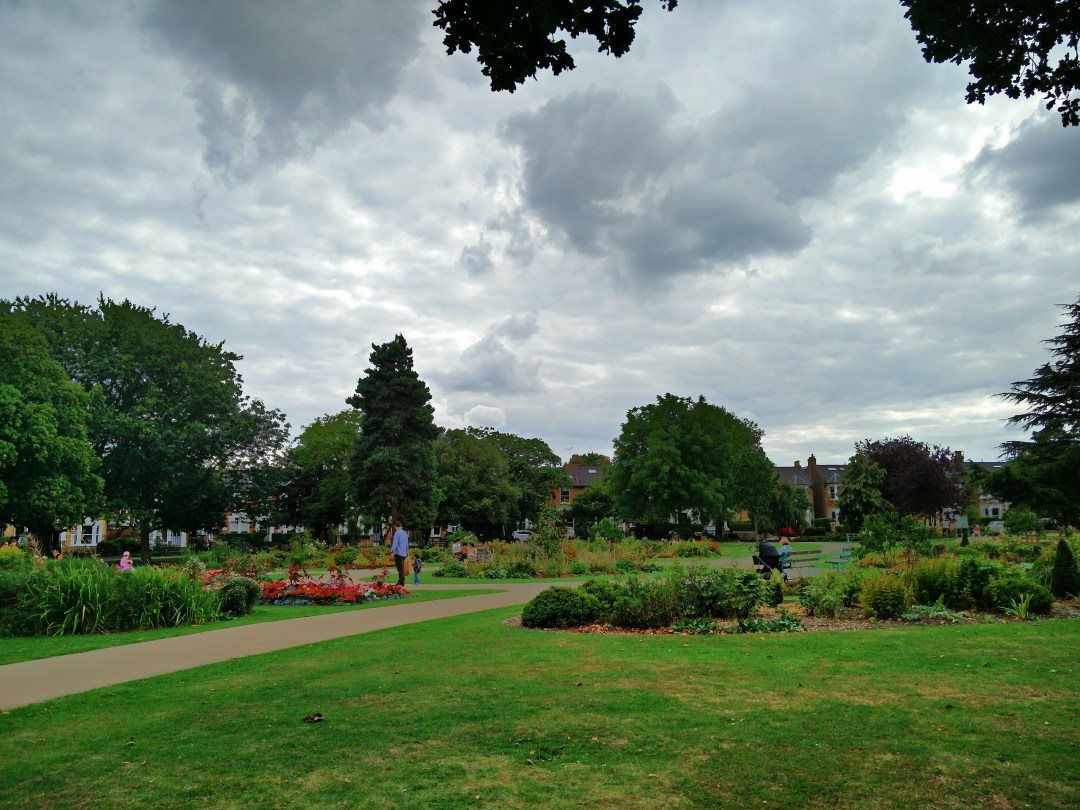 OnePlus 2
The OnePlus 2 may have a lower-resolution main sensor than the Samsung Galaxy S6 Edge+, but it also has more tech up its sleeve than Inspector Gadget. As well as a 13-megapixel sensor, you get optical image stabilisation and laser-assisted focusing. Its laser part sits on the back and uses a laser signal to judge how far away your subject is before focusing.
However, it doesn't actually earn the OnePlus 2 super-speed. The Samsung is far quicker at both focusing and shooting photos, getting you a more responsive feel.
The stabilisation feature does work wonders, though, providing loads of detail at night compared to phones with non-stabilised sensors. You still tend to get a mite more out of the Samsung Galaxy S6 Edge+, but night image quality is pretty comparable.
Detail during daylight hours is great too, and strong contrast plus good dynamic range tells you we're dealing with a high-quality sensor, even if it is one made by the relatively small-fry Omnivision.
Actually heading out and shooting photos, the biggest difference to actual image quality comes down to the HDR mode. Where the Samsung Galaxy S6 Edge+ has excellent HDR that can be used in an Auto mode to subtly tweak photos, the OnePlus 2's mode is either on or off, and in tricky lighting it can ruin an image, blowing up colours and making the scene look unnatural. At times you're better without it.
You just need to shoot with that bit more care.
Around the front the OnePlus 2 has a decent 5-megapixel selfie camera. It doesn't seem to have quite as wide a lens as the Samsung, but it's still higher-quality than the 5-megapixel selfie camera you see so often in more affordable phones these days.
Winner: Samsung Galaxy S6 Edge+
Ease of use: How do these phones handle?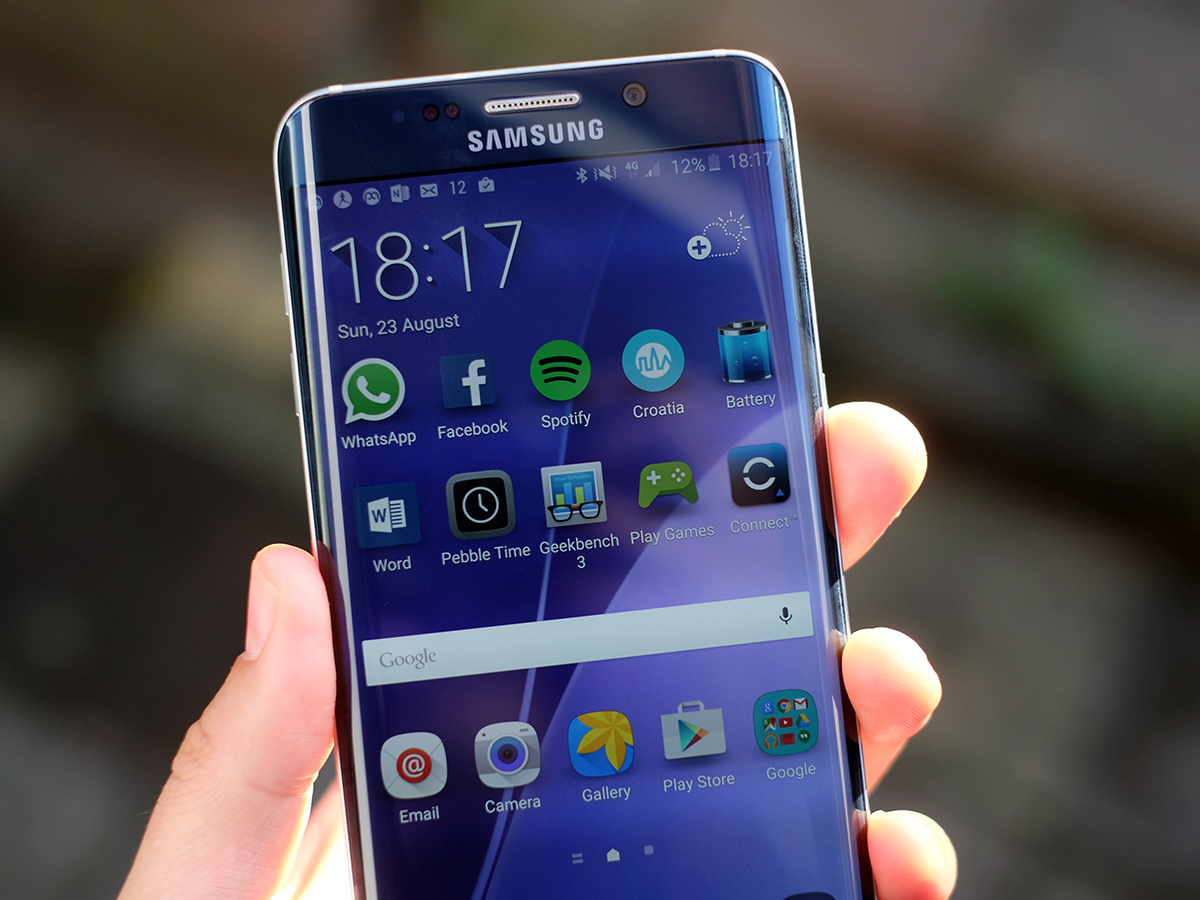 Samsung Galaxy S6 Edge+
Just like its Galaxy S6 and S6 Edge brothers, the Samsung Galaxy S6 Edge+ uses the TouchWiz UI, a custom take on the garb Android wears as standard. These days, it's pretty great. While Samsung took a good few years to get into its current gear, it's now tasteful, fast and easy to use.
It doesn't bombard your eyeballs with too much extra data, keeping the interface pretty simple. Most of what you see is whatever apps and games you load onto your phone. There are a few extra bits, though.
For example, you can give the software an instant overhaul, with themes. These change things like the icon style, wallpaper and font, giving the Samsung Galaxy S6 Edge+ a whole new visual personality. Plenty of the are pretty ropey: choose carefully. We like the default one.
Then there's Samsung Briefing. This is a special extra homescreen that gives you a stream of digital goodies to look through, including stories from the web, when you have an idle minute or ten to kill. This bit is better than the OnePlus 2 alternative, Shelf.
Not everyone is going to like all the extra apps piled into the Samsung Galaxy S6 Edge+, though. As well as a few Samsung staples like S Health, the phone comes with the whole Microsoft Office suite pre-installed. And you can only 'disable' (basically hide) these apps rather than fully uninstalling them. The OnePlus 2 takes a 'less is more approach' here.
If you've been stung by an overladen Samsung phone in the past, though, we still think you'll probably get on with the Samsung Galaxy S6 Edge+ better. While there are plenty of extra features, it doesn't feel overburdened by them. Samsung seems to have finally learned what a classy UI is all about, and that shines through here.
OnePlus 2
The OnePlus 2 doesn't have a standard version of Android 5.1 Lollipop, the software at its core. But you could believe it does from a quick glance.
Its custom interface is called Oxygen, and it's designed to look and feel just like the default version of Google's mobile OS. Same visuals, same icons. So what's different?
The OnePlus 2 offers loads of tweaks and customisations under the surface, giving you the feel of a Nexus-style phone with the features of one made for power users. These include things like being able to fiddle with the position of the soft keys, altering how many apps are crammed onto the homescreen and the style of icons used.
This may all sound a bit messy if you like your phones ultra-simple, but none of these extras sit right on the surface. They hide in the background, only to be found if you specifically seek them out. It's a strong combo.
Is it better than Samsung's TouchWiz? That's a tricky one to call. We think Google's latest UI style is perhaps a bit prettier than Samsung's, but with visual mods available on both platforms, the look doesn't have to stay as it is.
Both feel very fast too, with none of the obvious lag we used to get in some custom Android interfaces. One of the top calling cards of the Oxygen interface, though, is simplicity. That you don't have many apps at all preinstalled, just Google's ones, is a real boon for those who hate the idea of being dragged along by Samsung's wishes.
Funnily enough, though, it's the Samsung UI that actually gives you more control over the apps that appear on your homescreens. You can even hide/disable seemingly crucial ones if you fancy, where you can't do that with a OnePlus 2.
OnePlus 2 vs Samsung Galaxy S6 Edge+ Verdict
Hoping we'd tell you the OnePlus 2 does absolutely everything better than the £700+ Samsung Galaxy S6 Edge+? Sorry, we can't. However, look back and forth at your bank balance and those differences, and you can only conclude the OnePlus 2 is a better buy.
It's less flashy, has a more ordinary screen and a slower, less detailed camera. But at almost every turn it gets you 90 per cent of the performance for under 50 per cent of the cost. We don't think Samsung's suddenly going to catch on and make a gangbuster Android bargain like the OnePlus 2, so maybe it's time to forget the big brands for once and side with the little guy.
The one problem: OnePlus 2s aren't so easy to get hold of. You actually have to get in line online and apply for an invite to buy one.