OnePlus 7 Pro vs Samsung Galaxy S10: Which is best?
Two of 2019's boldest smartphones battle it out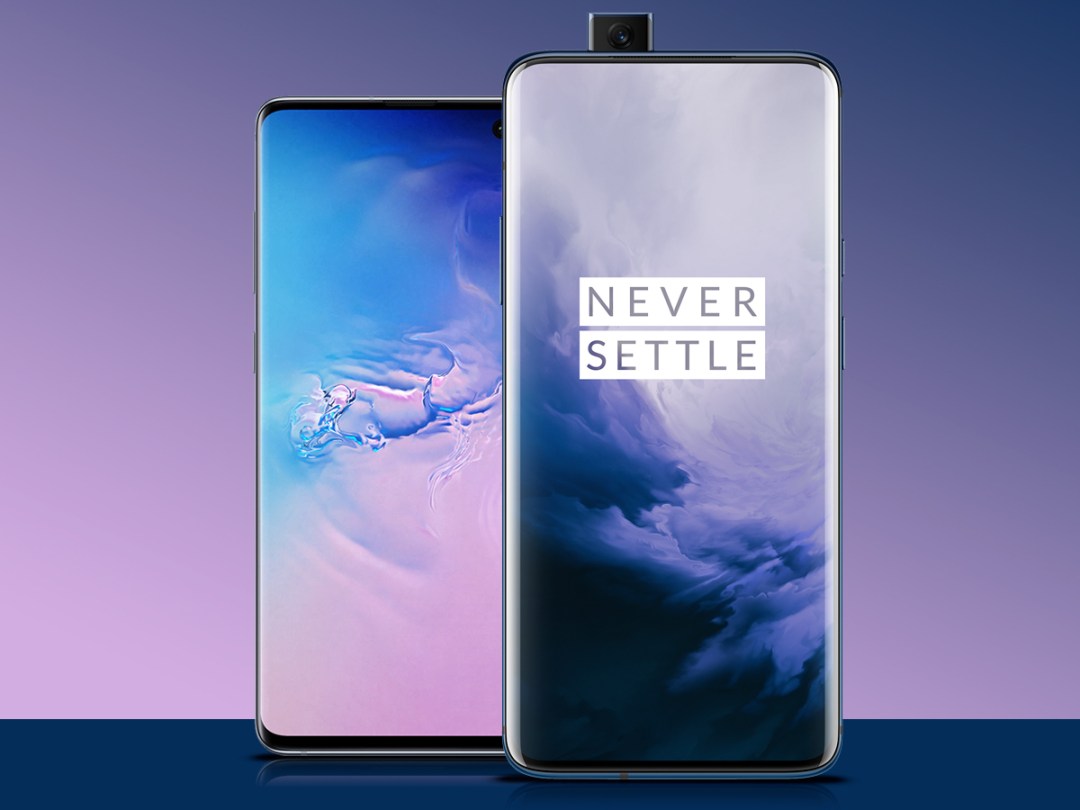 OnePlus phones have always sought to match flagship-level features at a lower price, but top-end flagships have only gotten more and more elaborate and exquisite in recent years. That's where the OnePlus 7 Pro comes in.
Sure, the standard OnePlus 7 is very much a typical offering for the company – and more typical than ever, in fact, with familiar OnePlus 6T styling intact. But the OnePlus 7 Pro is a bold new device, with a full-face screen and pop-up selfie cam, along with plenty of power and higher-end components than we've seen in past models.
That puts the OnePlus 7 Pro against the best of the best of the smartphone world right now, including Samsung's brilliant Galaxy S10. Which prevails in this showdown? Here's what we think, now that we've reviewed the OnePlus 7 Pro.
Design: Hole in one
Neither of these phones has a lot of bezel around the screen. But only one of them poked a hole in the thing – and that's the Galaxy S10, of course.
The punch-hole design is more effective than a proper notch, using the minimum amount of space on the front of the phone to house the selfie camera. But it's still a gap in the screen, which can be awkward at times. The OnePlus 7 Pro has no such thing. When you need the front-facing camera, it just emerges from the top of the phone via motorised contraption.
Both are otherwise sleek, glossy, and curvy, and pretty well on par in that respect. Still, the OnePlus 7 Pro's very cool Nebula Blue backing colour looks like the Northern Lights – another feather in its proverbial cap.
Verdict: OnePlus 7 Pro
Screen: They're stunners
You're looking at a pair of Quad HD-resolution, Samsung-made AMOLED displays. On the Galaxy S10, it's a Dynamic AMOLED screen at 6.1in – and it looks fabulous. On the OnePlus 7 Pro, it's a Fluid AMOLED screen at 6.67in – and it also looks fabulous.
Size and punch-hole aside, what sets these screens apart? Well, the OnePlus Fluid AMOLED screen has a 90Hz refresh rate, which makes for smoother animation across the board as it refreshes more quickly than usual. These screens aren't that far apart, aside from size, but that's a nice little perk.
Verdict: OnePlus 7 Pro
Camera: Photo finish
These phones have very similar camera setups on paper: both pack in three on the back, with a primary lens, telephoto zoom lens, and an ultra wide angle lens. The specs vary, but at the end of the day you'll see pretty close quality between them.
You can dig a little deeper into the individual experiences by reading each individual review (OnePlus 7 Pro and Samsung Galaxy S10), but ultimately each delivers strong everyday snaps, solid nighttime performance, and pretty great video shooting. Each has its own perks: for example, the OnePlus hits 3x with its telephoto lens while the Galaxy S10 opts for 2x, but the S10 delivers a bit more detail with that lens and offers smoother video results with its unique ultra-stabilised mode.
Both are highly versatile and among the best smartphone camera setups around right now, even if neither dethrones the almighty Huawei P30 Pro with its stunning 10x zoom capabilities.
Verdict: Draw
Performance: About the same
We have to call a draw here, even if there's a technicality worth noting. The OnePlus 7 Pro uses the Qualcomm Snapdragon 855 everywhere, and the Galaxy S10 uses the same chip… but only in some territories. In Europe and some other places, it uses Samsung's own Exynos 9820 chip instead. Both processors are flagship powerhouses, of course.
Everyday usage feels totally comparable, although benchmark tests show a bit more speed from the Snapdragon. It's worth noting that the Galaxy S10 offers 8GB RAM across the board, while the OnePlus 7 Pro comes in 6GB, 8GB, and 12GB models. Our 12GB review sample felt amazingly fast, although we're sure the 6GB edition doesn't suffer much given how absurdly large an amount of RAM 12GB is for a smartphone.
Verdict: Draw
Battery and perks: Galaxy of extras
The OnePlus 7 has the larger battery pack at 4,000mAh vs. 3,400mAh on the Galaxy S10 – but it also does have a notably larger screen with a faster refresh rate, and surely uses a bit of extra juice to power that selfie cam mechanism. In either case, both are built to give you a strong day's usage, rather than giving you confidence to try for two days between charges.
Despite all its many flagship perks, the OnePlus 7 Pro hasn't added wireless charging. The Galaxy S10 has that, of course, along with reverse charging used to top up Galaxy Buds, a Galaxy Watch, or another wirelessly-chargeable smartphone on the back. Meanwhile, both have in-display fingerprint sensors… and it's a bit faster on the OnePlus 7 Pro.
The OnePlus 7 Pro offers 128GB, 256GB, and 512GB storage models, while the Galaxy S10 sticks with 128GB and 512GB options. However, you can also increase your tally on the GS10 by slotting in a microSD card after the fact. The OnePlus 7 Pro has nothing of the sort.
Samsung's phone also has perks like Gear VR headset support and a 3.5mm headphone port. OnePlus doesn't have those either.
Verdict: Samsung Galaxy S10
Verdict: Price or perks?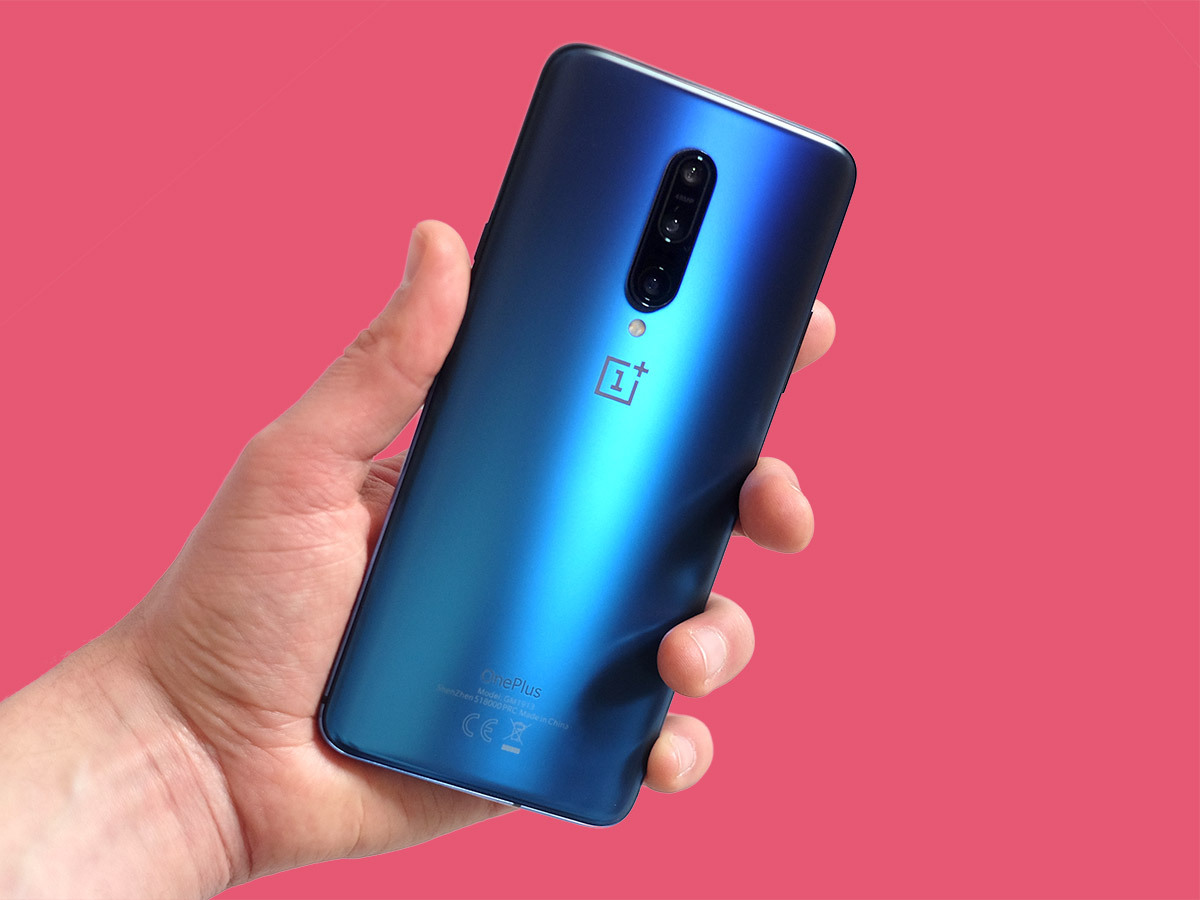 Given the £150 difference between base models here, this seemed like a result that would lean towards Samsung with its excellent and eye-popping Galaxy S10. But aside from having a clear advantage in terms of extra perks – always a Samsung selling point – the OnePlus 7 Pro matches or even beats Samsung's flagship on the other fronts.
There's still plenty of reason to consider the Galaxy S10, especially if things like microSD support, a headphone port, or Gear VR games and apps sound appealing – or if you were really, really set on having a little hole in the corner of your screen. Otherwise, however, we think the OnePlus 7 Pro is just as good if not a smidge better, and for a significant savings at that.
Winner: OnePlus 7 Pro