Samsung Galaxy S10 vs Apple iPhone XS: Which is best?
Samsung's big #10 takes the fight to Apple's flagship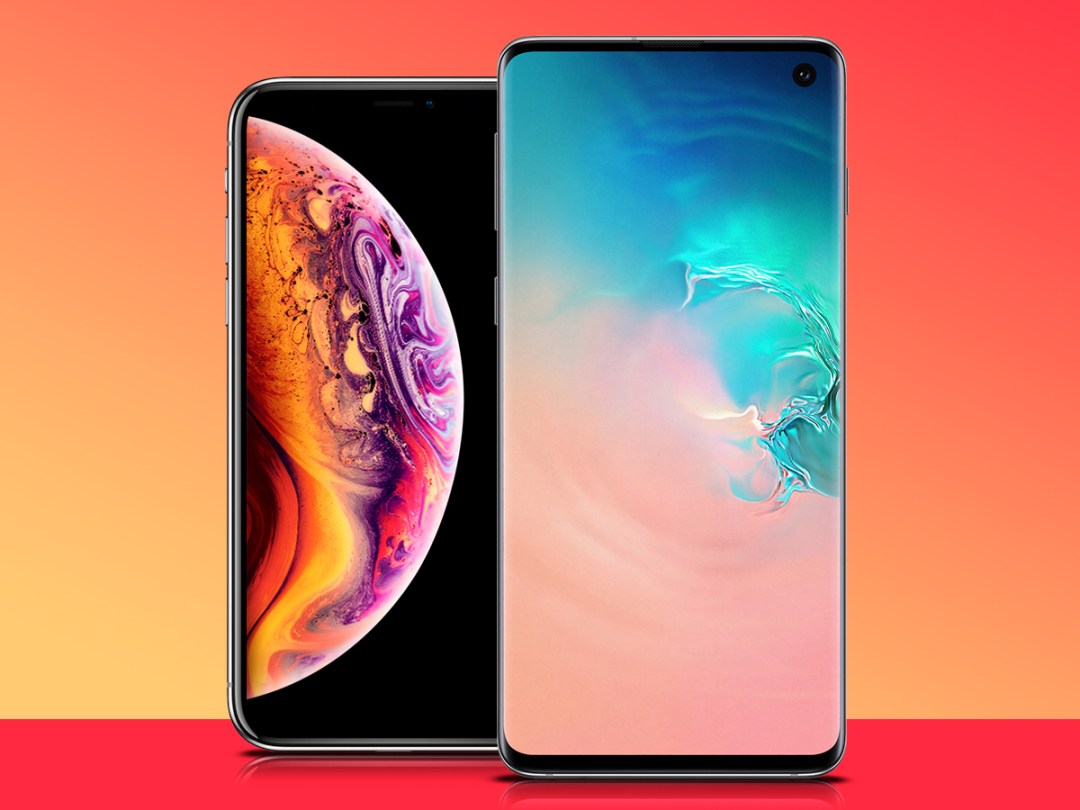 The battle between Samsung and Apple has been waged across many years and handsets, and this grudge match has been renewed with the release of the Galaxy S10.
While last year's Galaxy S9 felt a little tired compared to the fresh and new iPhone X, now it's Samsung coming out swinging with a bold new look: a dazzling display with a tiny punch-hole cutout for the camera, rather than a big notch at the top. The end result looks pretty beautiful, and Samsung has packed in a few other upgrades within the big #10.
Meanwhile, Apple went the refinement route with the iPhone XS, currently our third-favourite phone in the world. Can the Galaxy S10 reclaim Samsung's place at or near the top of the charts, or will this slick new look fall short against Apple's ultra-premium offering? Here's how this latest skirmish shakes out.
Design: Notch or punch-hole?
We're still big fans of Apple's notched design, as the incredibly slim strip of bezel all around the display makes for a really immersive screen-viewing experience. With stainless steel for the frame and Apple's trademark minimalism at play, the end result is subdued but substantial. It feels thoroughly high-end.
Even so, it's clear that Samsung has made a bold move with the Galaxy S10. Thanks to the punch-hole approach, Samsung has ditched the larger top and bottom bezel from last year's phone and delivered a more powerful face in the process. It's not as uniformly polished-looking as Apple's phone, but arguably packs more of a punch in 2019.
Verdict: Samsung Galaxy S10
Screen: Samsung vs Samsung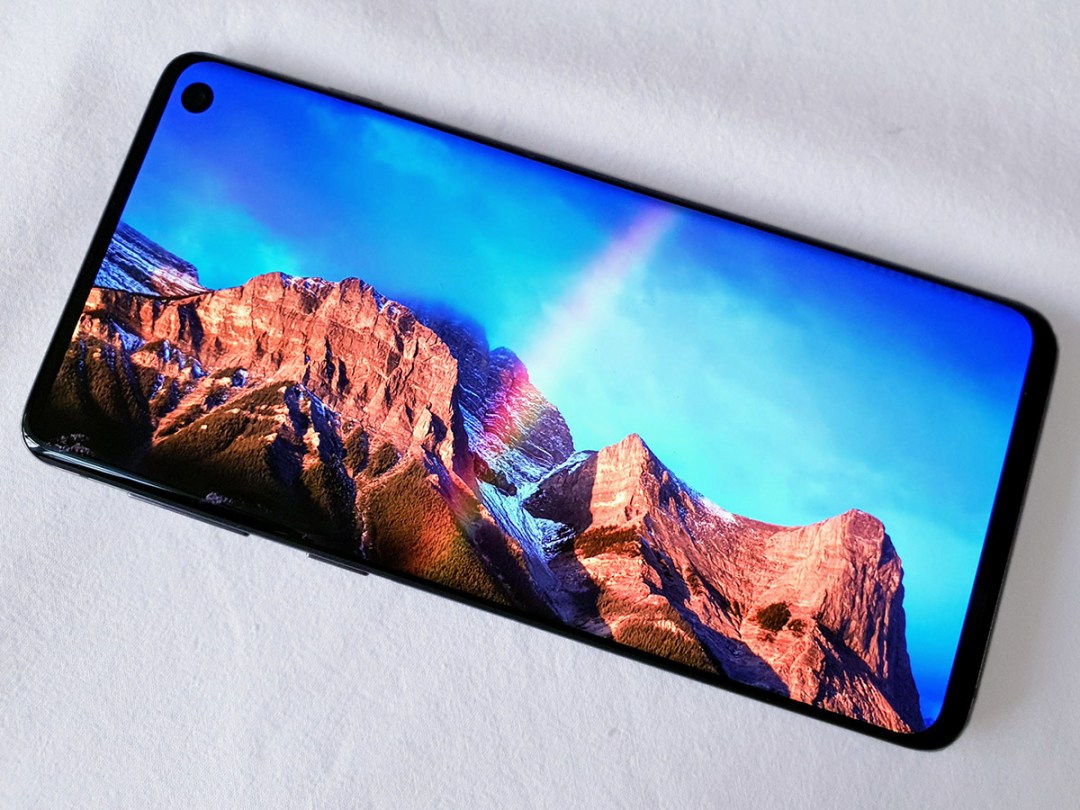 At 2436×1125, the iPhone XS screen is just a smidge higher-resolution than 1080p, but the end result looks pretty brilliant all the same. It's a bold 5.8in OLED panel that's crisp and colourful… and actually produced by Samsung, believe it or not.
Last year's curved Galaxy S9 screen was the same size, but now it's expanded out to 6.1in on the Galaxy S10… and still at a higher resolution, now stretched to 3040×1440. Again, Samsung's flagship OLED panels are always fantastic, and the company saved the best stuff for itself with this new Dynamic AMOLED Infinity-O display. It's incredibly bright and looks downright incredible.
Verdict: Samsung Galaxy S10
Camera: Sharp shooters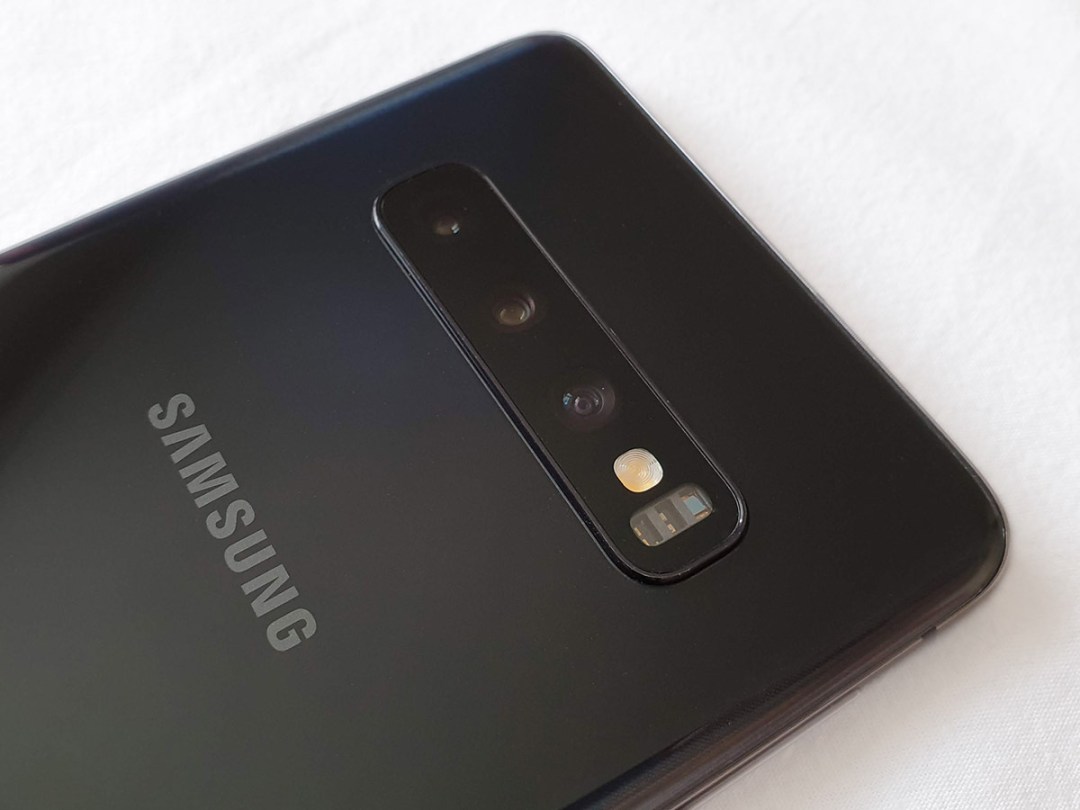 The Galaxy S9 bucked the multi-camera trend by sticking with one back camera and giving it unique dual-aperture abilities… but the Galaxy S10 goes all-in, keeping that feature while expanding out to a triple-camera setup on the back. That's a lot of camera to shoot with!
Now, the Galaxy S10 has that main 12-megapixel wide-angle lens that can swap between f/1.5 and f/2.4 settings, as well as a 16MP ultra-wide lens at f/2.2 and a 12MP telephoto lens at f/2.4. It's versatility that defines the experience, and the ultra-wide lens is especially fun to play with given the very broad look you're afforded.
Most shots look great, especially from the other two cameras, which both have optical image stabilisation onboard. Night shots aren't as great as those seen with the Pixel 3 and Mate 20 Pro's special modes, but Apple's night shots are similarly just OK.
The iPhone XS opts for a pair of 12MP shooters, with a wide-angle at f/1.8 and telephoto at f/2.4. It's an excellent setup, capable of capturing impressive detail and accurate colours, with the new Smart HDR feature combining multiple successive shots to draw out highlights and shadows. Shots routinely look great.
On the front, the Galaxy S10 has a pretty basic 10MP (f/1.9) selfie-cam, while the iPhone XS has Apple's TrueDepth system (including a 7MP camera), which packs in face-scanning 3D sensors for things like Face ID security and Animoji. It works like a charm most of the time while also taking swell selfies. The S10 also takes fine selfies, but the 2D camera can't provide nearly the same level of security.
We'd give the main camera setup a win for Samsung, but the front-facing camera with Face ID is enough of an advantage for Apple to even out this category.
Verdict: Draw
Performance: Bionic power
There's no more powerful smartphone processor than Apple's A12 Bionic. Geekbench benchmarking shows a significant advantage in both single-core and multi-core testing, and there isn't an Android chip yet that can match it.
That includes Samsung's Exynos 9820 chip that powers the Galaxy S10 in Europe, as well as the Qualcomm Snapdragon 855 swapped in for the States. Both feel plenty fast in actual use, but raw numbers still point to more power within the iPhone XS.
The Galaxy S10 definitely has a lot more RAM to play with, though, with 8GB onboard as opposed to just 4GB in the iPhone XS.
Verdict: Apple iPhone XS
Battery and perks: All Samsung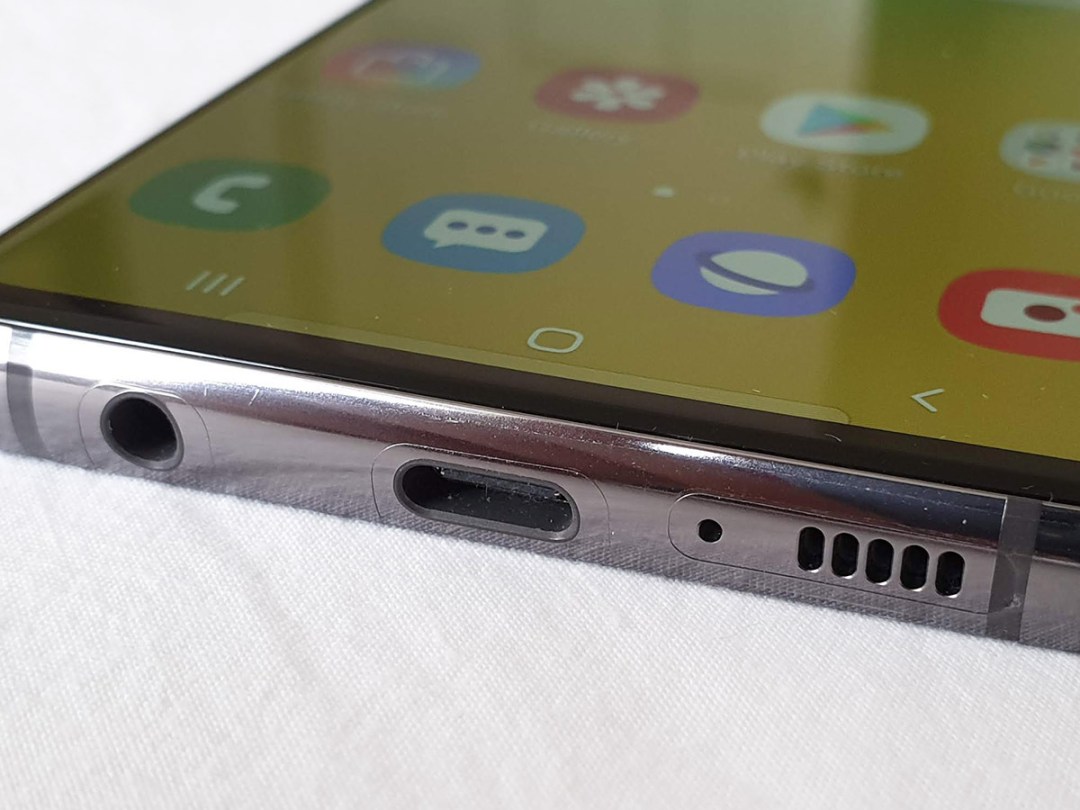 You'll get a little bit more longevity from the Galaxy S10 here, as it has a 3,400mAh pack versus the 2,656mAh cell in the iPhone XS. Apple's phone can last a full day with average usage, but isn't built to take much more of a beating from games and streaming media. The Galaxy S10 isn't worlds better, but can be a little more resilient with heavier usage.
Both phones offer wireless charging, but only the Galaxy S10 has a PowerShare reverse wireless charging feature for topping up other wirelessly-chargeable phones, or perhaps Samsung's own Galaxy Buds wireless earbuds.
In terms of storage, Samsung definitely has the advantage here too. The base model has 128GB, or you can pay to upgrade to 512GB – and in either case, you can pop in a microSD card to boost that tally. As for the iPhone XS, you can go with 64GB, 256GB, or 512GB, but there's no expandable storage in sight. Typical Apple.
While Samsung hasn't been talking much about it this time around, the Galaxy S10 indeed supports the Gear VR virtual reality headset shell, which has plenty of great games and apps available. The iPhone XS has no comparable experience.
And once more, the Galaxy S10 has a 3.5mm headphone port. The iPhone XS doesn't.
Verdict: Samsung Galaxy S10
Verdict: A new winner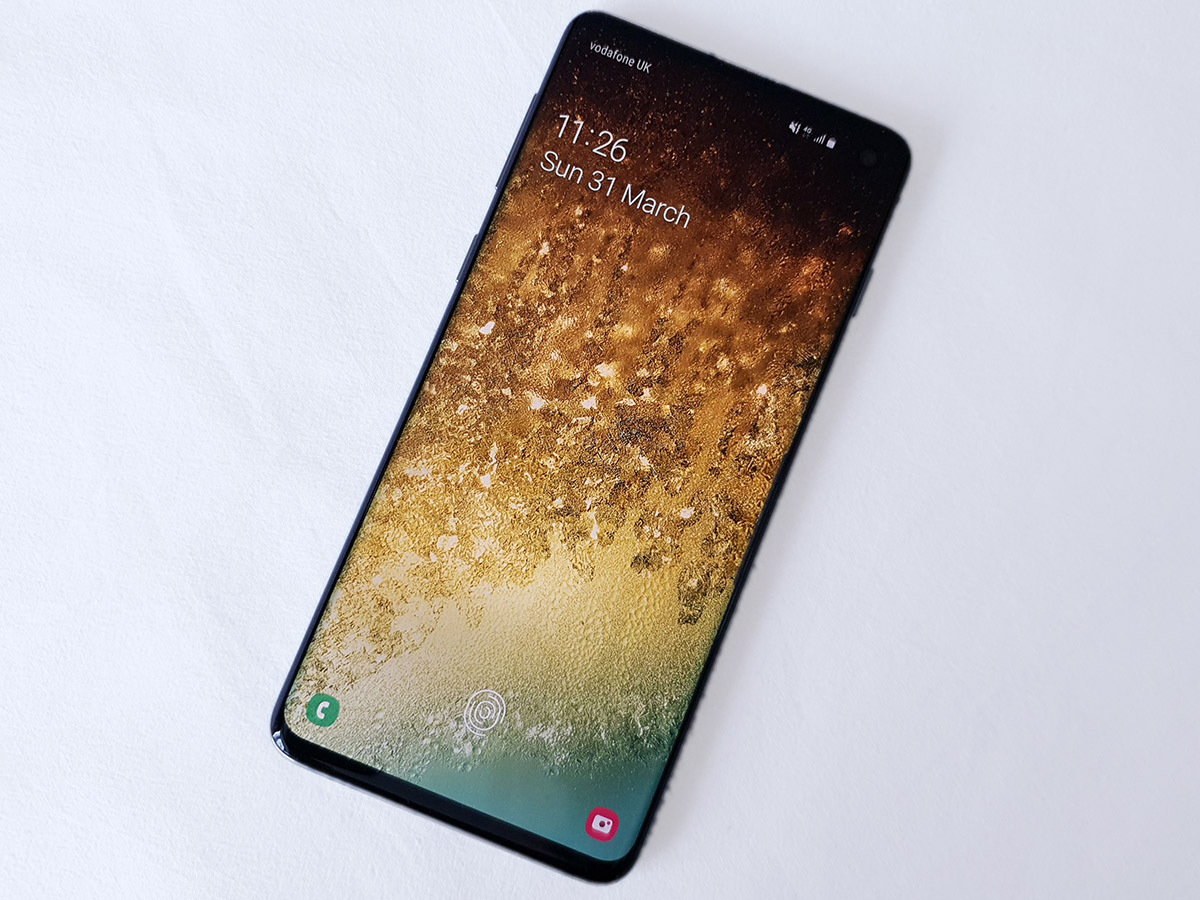 Apple's phones aren't built to withstand a category-by-category battle against Android's best, and Samsung's flagships are always packed with cutting-edge tech. But as overall smartphone experiences, you can't go wrong with either of these. They're both excellent, super-sleek powerhouses.
When price comes into play, however, we have to give the overall nod to Samsung. The £799 Galaxy S10 saves you a fair chunk of change over the £999 Apple iPhone XS, and that's on top of the myriad perks that Samsung has on offer. Unless you're an Apple die-hard, we'd point you towards Samsung's latest and greatest in 2019.
Winner: Samsung Galaxy S10