Samsung Galaxy S8 Plus vs Apple iPhone 7 Plus: Which is best?
Which plus-sized Plus is the plushest of all?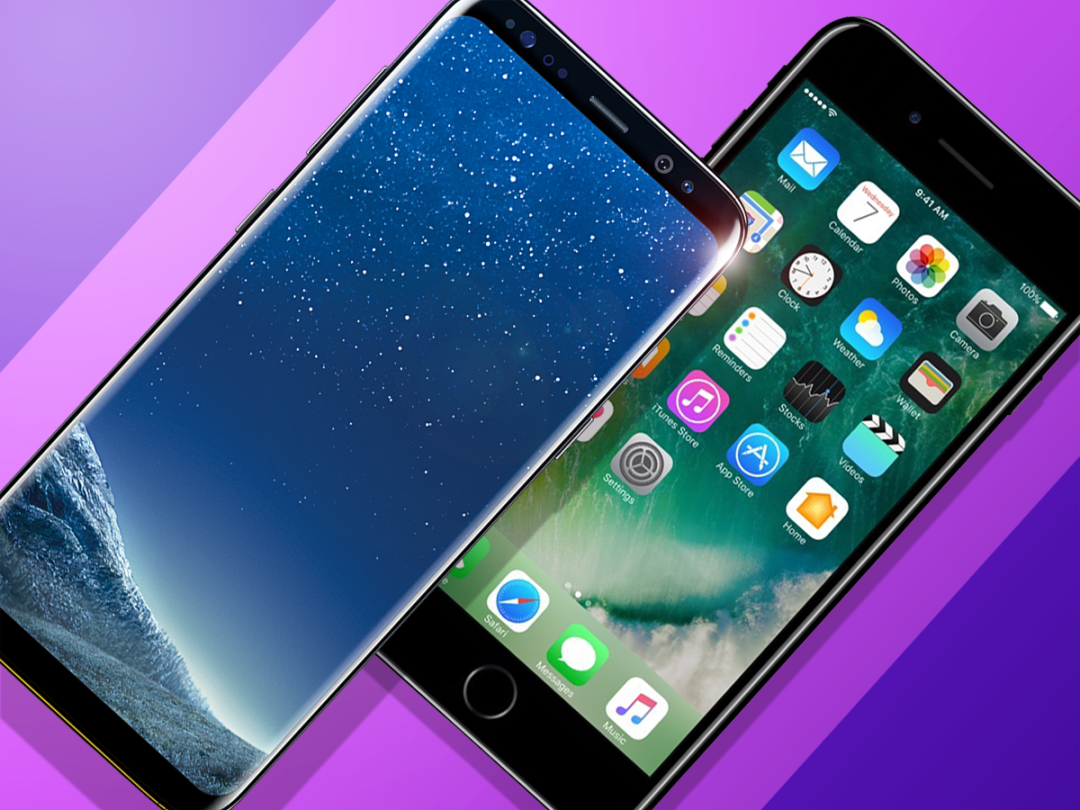 If you're buying an Apple phone today, you really ought to go with the Plus-sized model.
The iPhone 7 Plus is undoubtedly Apple's best handset to date: a super-big, super-fast smartphone with great components in nearly every respect – including that snazzy dual-camera array on the back – and the smooth and streamlined iOS 10 running the show. If you've set your heart on an iPhone, it's worth the extra splurge to get the Plus over the standard iPhone 7.
But in the world of large phones it now has some serious new competition. Samsung's Galaxy S8+ releases this week, and it has quickly vaulted to the top of our list of the best smartphones available today, sharing a spot with the standard Galaxy S8. The regular version is already a very big handset, but the Plus adds another 0.4in to the screen while keeping the sizzling design. It's a mighty device.
Still, both of these big phones occupy a space in our Top 3 right now, and both are pretty brilliant all around. But which big phone deserves to weigh down your trouser pocket in 2017? Here's how they compare, now that we've fully reviewed both.
Design: Sizzling S8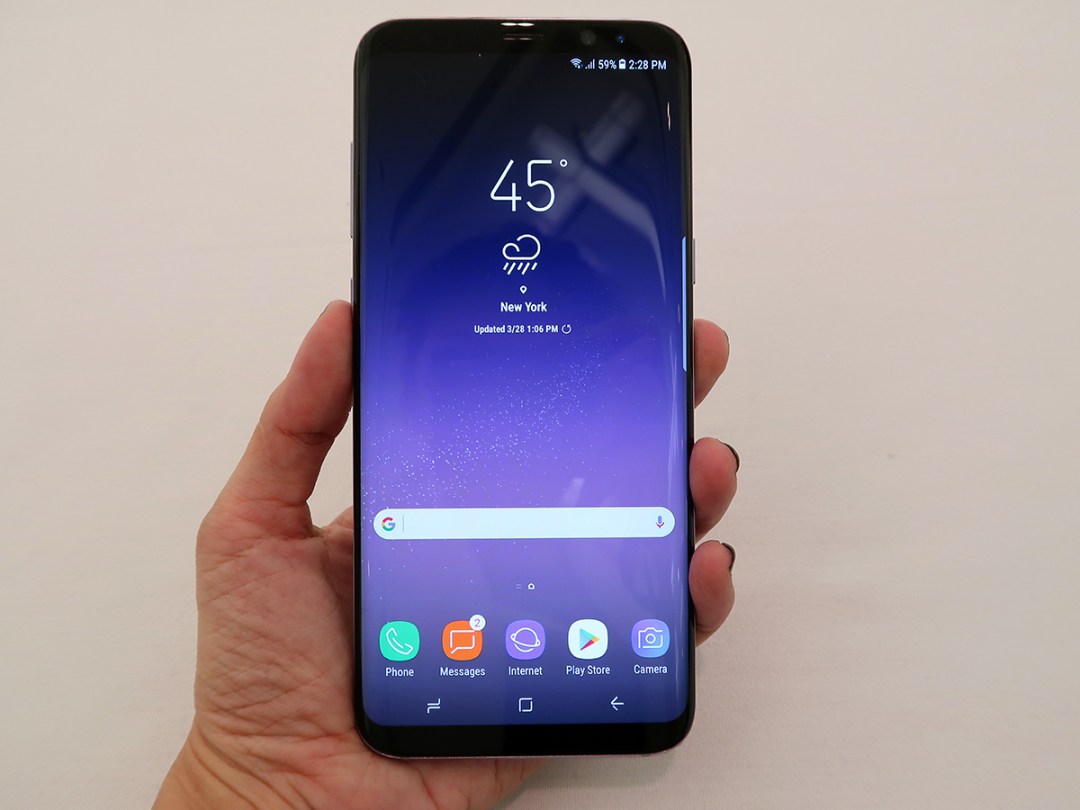 The Galaxy S8+ is absolutely identical to the regular Galaxy S8 in design, but it adds just a smidge more screen size along the way. Otherwise, it's the same jaw-dropping look: almost all screen on the front, with right and left curved sides and very little bezel on the top and bottom.
It's all glossy metal and glass, as many phones are these days, but you haven't seen a smartphone look quite this sensational. Even if you typically haven't liked curved screens, it's hard not to given Samsung props for such brilliant work here. And since the phone's screen is extra tall, the Galaxy S8+ doesn't feel monstrously large: it's just over 1mm wider than the iPhone 7 Plus, and actually somehow 4.5mm shorter.
When it comes to looks, the iPhone 7 Plus just feels rudimentary – especially after seeing and touching the Galaxy S8 Plus. It's the same basic design that Apple has trotted out for three years now, albeit with less-obnoxious antenna lines and no headphone port.
The new Product (RED) version is dazzling, the matte black is the sure pick of the bunch, and the glossy Jet Black is appealing (although scratch and fingerprint-prone), but it's hard to get excited about the old iPhone 6 form factor yet again. Apple needs something dramatically enticing for the iPhone 8, because right now, Samsung is crushing it. This is Samsung's best design to date, by far.
Winner: Samsung Galaxy S8 Plus
Screen: Samsung's superiority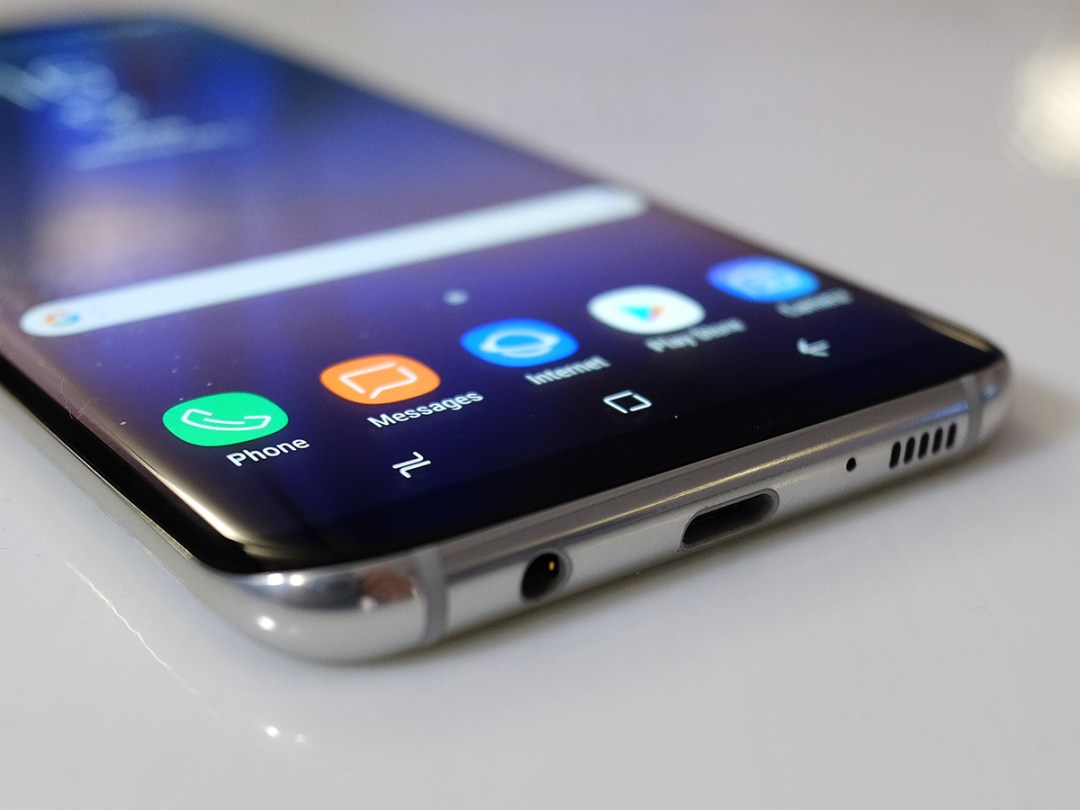 Apple's standard iPhone 7 screen is notoriously low resolution for a flagship phone today (it's 750p), despite the Retina branding, but at least the iPhone 7 Plus hits the 1080p mark. And truth be told, the 5.5in LCD panel is striking, with great colour and contrast, loads of brightness, and excellent viewing angles. There's really nothing to complain about.
Well, except that sharper Quad HD (2K) panels have become the Android flagship norm over the last couple years, and Samsung's had the best of them all. That's surely true again with the Galaxy S8+'s curved AMOLED panel, branded an Infinity Display, and it lives up to the hype.
As mentioned before, it's taller than your average phone in one hand – that's because it uses an 18.5:9 aspect ratio in landscape view, rather than the standard 16:9 widescreen approach. Even so, it remains ultra crisp and vivid, plus it has the benefit of mobile HDR (high dynamic range) support, which means compatible shows like Stranger Things and House of Cards will look downright spectacular once the Netflix app is updated.
Apple still has the big perk of 3D Touch, as the pressure-sensitive screen lets you press harder for additional interactions or to access handy menus. That's nice, but it really hasn't been a game-changer for mobile app and game design so far, let alone within iOS itself.
Winner: Samsung Galaxy S8 Plus
Camera: Brilliant either way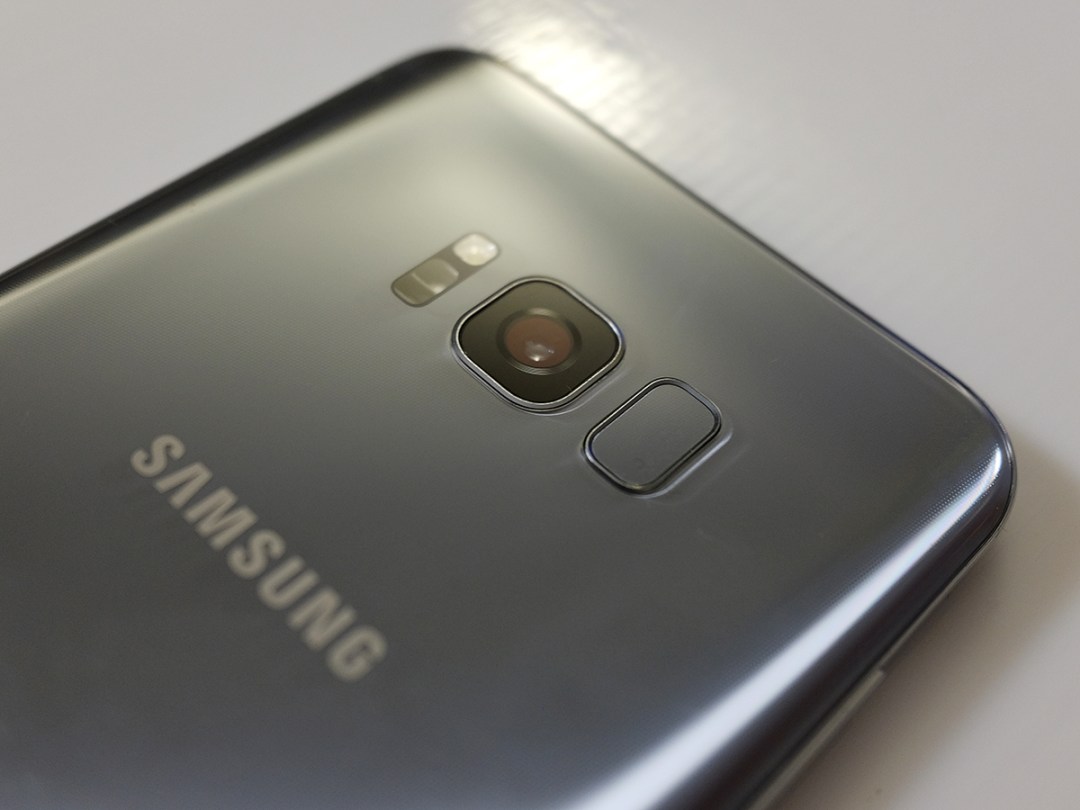 It's the iPhone 7 Plus' most obvious addition, both over the iPhone 7 and the previous Plus: the dual 12-megapixel camera setup on the back. Apple wasn't the first to try this trick, but it works incredibly well here, as you can switch to the other sensor with a tap for zoomed-in shots without losing any detail along the way.
You'll also get the great Portrait feature, which blurs backdrops for a DSLR-like look. And the wide f/1.8 aperture captures loads of light for everyday snaps, turning out some of the best photos you'll find on any smartphone.
The Galaxy S8 Plus sticks with one main camera, meanwhile, and it hits the same core specs as the one on last year's Galaxy S7: 12 megapixels with f/1.7 aperture. Given how fantastic that camera was, it's no surprise that this one's also a winner.
In fact, Samsung is using smarter software this time around to improve your results. You'll grab three separate images each time you hit the shutter button now, and Samsung's processing will reduce noise and clean up the results to minimise blur in the one final shot. So the results are even better than what you'd find on the Galaxy S7.
Now that we've put the S8 Plus through its paces, we'd say it's pretty even overall when up against the iPhone 7 Plus, as well as the Google Pixel. Any of these phones offer an amazing shooting experience, and image processing here was even a bit faster than the Pixel. But you can't go wrong with either of these devices.
Winner: Draw
Performance: No slouches
Looking for a processor that packs a punch? Well, you can't go wrong with either of these superphones, really.
The iPhone 7 Plus uses Apple's own A10 Fusion chip alongside 3GB RAM, and it handily crushed existing Android phones in benchmark testing when the phone released last September. We've seen some speedier chips put up more of a fight since, but Apple's chip still delivers dreamy graphics and swift multitasking around the efficient iOS 10.
Meanwhile, Samsung's Galaxy S8+ uses the new Exynos 8895 chip in the UK, or Qualcomm's Snapdragon 835 in some other territories, along with 4GB RAM. In either case, it's as top-of-the-line as you'll find in a smartphone right now, and you'll find blazing speeds, zero hiccups, and plenty of gaming and media bliss with Android 7 Nougat.
In terms of real-world performance, neither will disappoint. But if you're keen on raw power, well, the Galaxy S8 Plus put up a better Geekbench multi-core benchmark score than the iPhone 7 Plus in our testing. That kind of muscle gives it the slight edge here.
Winner: Samsung Galaxy S8 Plus
Battery and perks: Above and beyond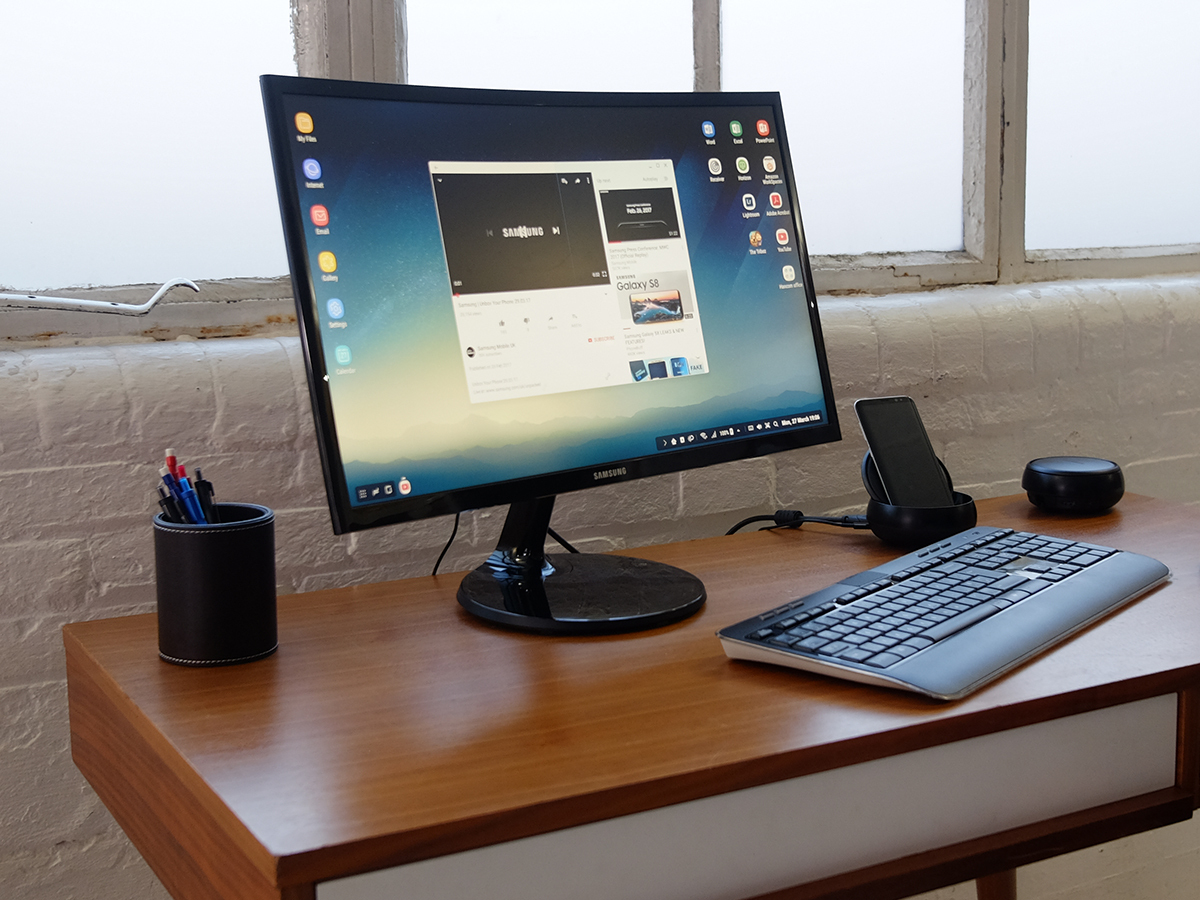 The 2900mAh battery in the iPhone 7 Plus is about 50% larger than in the standard iPhone 7, and it's hearty enough to get most users a full day of usage – although heavy game usage (looking at you, Pokémon Go) could drain you down much faster.
Compare that to the 3500mAh cell in the Galaxy S8+, which not only has a larger screen to power, but also a higher-resolution one as well. We put in full days of heavy usage without wearing down the battery completely, and even our benchmark testing impressed, with more than 12 hours of streaming video coming through before the battery took a snooze.
The Galaxy S8+ also has fast and wireless charging, neither of which Apple has embraced yet. C'mon, Apple.
As far as storage, Apple still doesn't allow for memory cards to be plugged in, so you'll either deal with the standard 32GB internal storage or pay big money for the 128GB and 256GB options. Meanwhile, the Galaxy S8+ only ships with 64GB, but you can buy a microSD card up to 256GB to massively supplement that space.
Elsewhere, the Galaxy S8+ has a handful of cool features and perks that Apple doesn't. Like Gear VR support or iris scanning for security… or the new DeX Station, which lets you use the Galaxy S8+ with an external monitor in desktop mode, and even plug in your own mouse and keyboard. None are totally essential, but VR and the PC-like peripheral can be massive benefits for the right buyers.
That said, Apple still has the best apps available. Although Android is catching up with iOS on that front, you won't find quite so many clever independent and creative apps on Google's platform. That last bit will rightly sway some folks towards an iPhone over Android, but Samsung's hardware benefits here can't be ignored. We're calling this category for the Galaxy S8 Plus.
Winner: Samsung Galaxy S8 Plus
Verdict: S8 Plus is Plus-Plus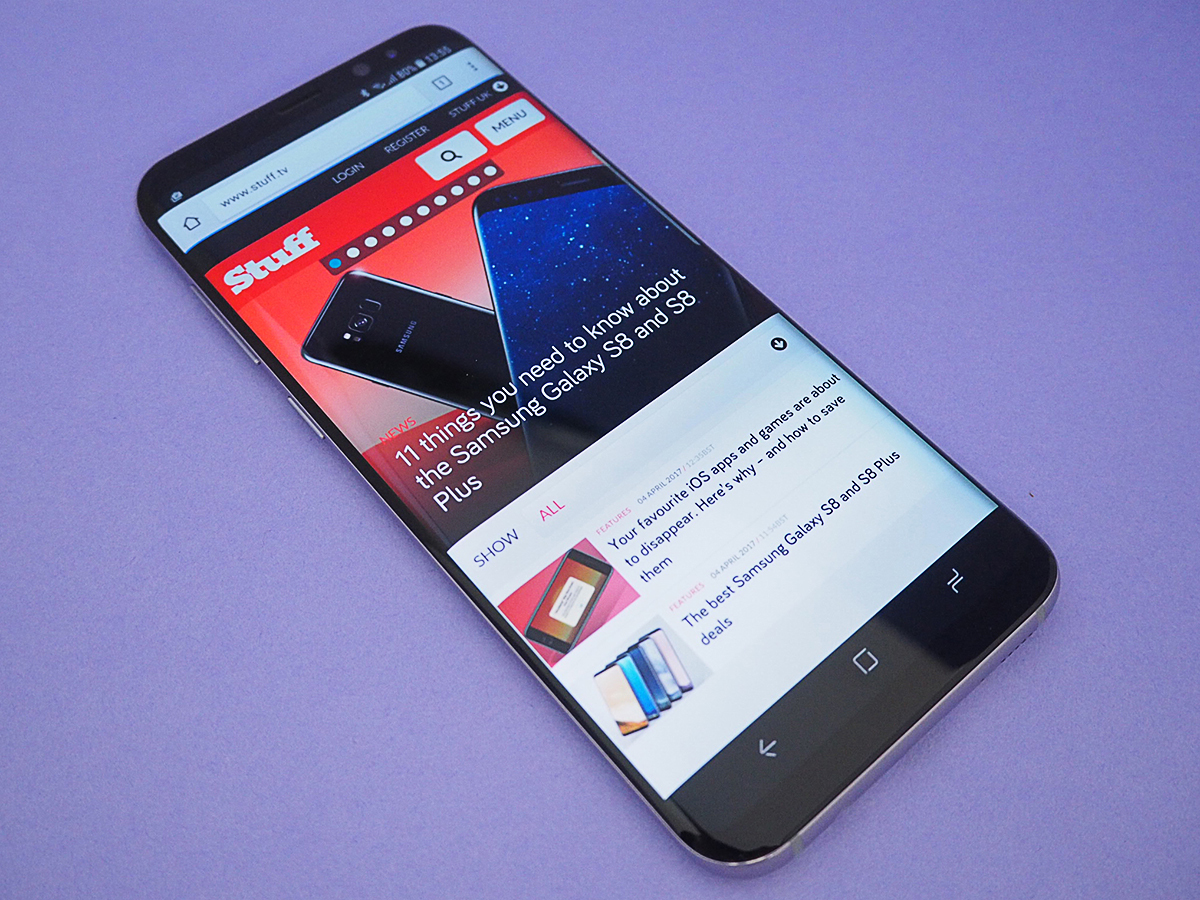 The iPhone 7 Plus is Apple's best phone to date, but aside from the fantastic camera and its benefits, the handset sort of gets there by default. It's essentially an enhanced iPhone 6S Plus, which itself was an enhanced iPhone 6 Plus.
Maybe you could say that about the Galaxy S8+ compared to the Galaxy S7 Edge and the Galaxy S6 Edge Plus, but Samsung's improvements and tweaks are more strongly felt. And the phone does and offers a lot more, although Apple still has the benefit of the fantastic iOS app and game ecosystem. Android can't quite match it, even if the gap is narrowing over time.
Samsung's Galaxy S8 Plus is absolutely the best big phone that money can buy right now, from the design to the dazzling screen and myriad perks, with blistering performance and a brilliant camera to boot. And yes, it's a step above the iPhone 7 Plus, although note that you'll pay another £60 for Samsung's super-sized phone here (£779 vs £719 for the iPhone). It's worth it.
Winner: Samsung Galaxy S8 Plus
Get the Samsung S8+ (64GB) SIM free here for £779 or on contract here