Samsung Galaxy S8 Plus vs Google Pixel XL: Which is best?
How does Samsung's super-sized new smartphone stack up against Google's own plus-sized handset?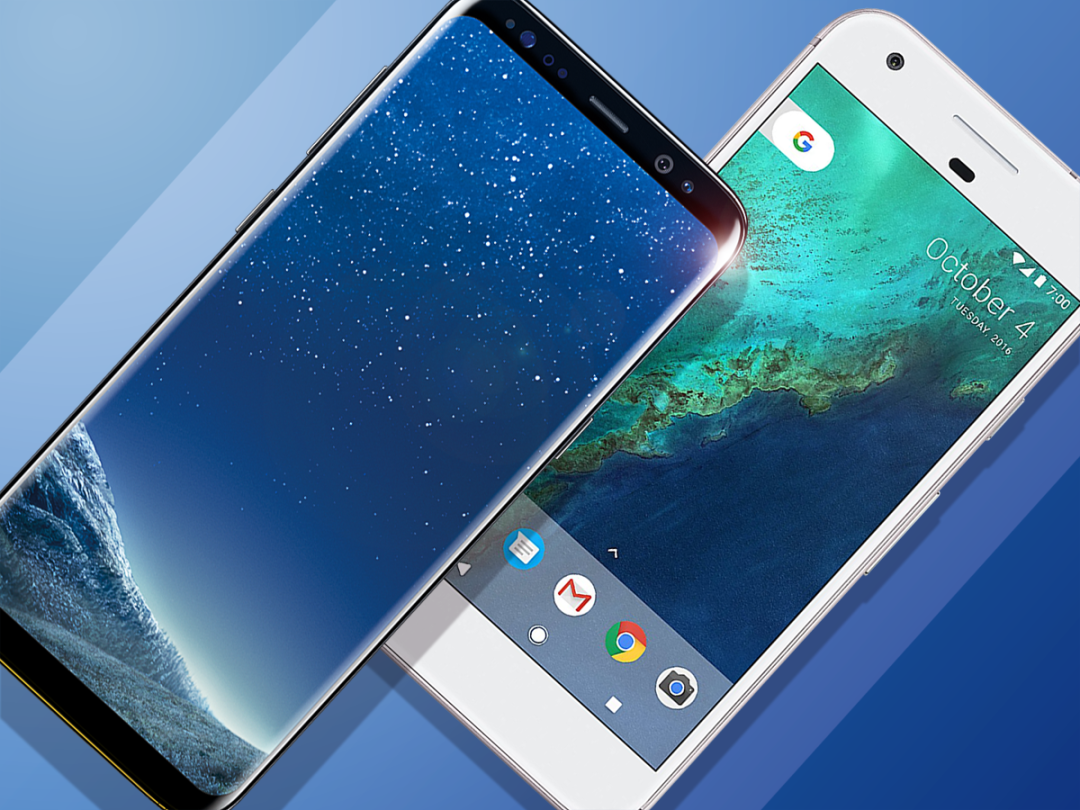 The Samsung Galaxy S8+ has one of the largest screens of any pocketable mobile device ever, as well as an impressive spec sheet and construction. It's a pretty remarkable device, really.
But where do its rivals rank against it? We're steadily ticking off the competitors, and now it's the turn of the Google Pixel XL, another Android smartphone with a plus-sized screen and Premier League specs. Time to dive in and take a closer look at how these heavyweights compare.
Design: Inspired vs tired
The Google Pixel XL, like the non-XL version, has a very iPhone 6 family look at it on first glance – albeit it's somehow far less desirable than Apple's flagship.
The wide bezels, copious bits of plastic and generally uninspired styling of this phone wouldn't be such a disaster if this was an affordably-priced Nexus device, but given that you'll have to part with at least £719 for this phone (£819 if you opt for the 128GB version)… well, let's just say it doesn't quite walk the premium walk. At least it's splash-proof, we suppose.
The Samsung Galaxy S8+ has no such problems. Metal and glass blend seamlessly into one another with clean lines and smooth curves, suggesting that not only has Samsung nailed style, it's also made something that'll feel nice in your mitt. Truly, it's the most beautiful phone we've ever put our eyes on.
There's also IP68 certification, which means you can dunk this phone in the washing up bowl for up to 30 minutes without any ill effects. We don't know why you'd want to, but you can. That counts for something, surely.
Winner: Samsung Galaxy S8 Plus
Screen: To Infinity and beyond
The S8+ has one of the largest displays ever featured on a smartphone – and yet it doesn't look or feel like a particularly big phone. That's because its 6.2in Super AMOLED 2960 x 1440 screen is taller (or wider, if you're viewing in landscape) than most phones', with an 18.5:9 aspect ratio.
It curls around the left and right sides of the phone like the Galaxy S7 Edge's screen, and due to the tininess of the top and bottom bezels, that means it covers almost the entire front of the handset; in fact, the home button isn't even a hardware button anymore. The display looks impressive, even when the phone's turned off – and that high pixel count and those rich, vivid AMOLED colours make it striking when it's on.
The Pixel XL also has a really great display – albeit one that's not quite as showy or groundbreaking. It's a regular non-curved AMOLED panel, 5.5in in size, with a resolution of 2560 x 1440, which gives it a similar level of sharpness and colour vibrancy to the S8+'s screen.
Pitted against most flagship smartphones, the Pixel XL's display would come out on top – but against the S8+ isn't most flagship smartphones. It's not a significant difference here, but Samsung's phone is just a hair more stunning in practice.
Winner: Samsung Galaxy S8 Plus
Performance: Similar skills
The Pixel XL has an impressive set of innards: 4GB RAM and a Qualcomm Snapdragon 821 quad-core processor, which run the stock, pure-bred Android 7.1 Nougat operating system like a dream. Nougat is zippy and responsive, and you can flip between apps with a reassuring slickness. And the XL won't struggle to run any app or game in the Play Store.
The S8+, being a newer phone, has a more up-to-date processor: a new Samsung-made Exynos 8895 octa-core with four cores at 2.3GHz and four at 1.7GHz, or the similar Snapdragon 835 in some regions. There's 4GB of RAM too. Samsung has its own TouchWiz skin running atop Android Nougat, but it doesn't slow things down or muck anything up.
Samsung's got the newer chips, both made with a 10-namometer process to jam in more processing power in the same amount of space, and although the real-world speed is pretty comparable here, the Galaxy S8 comes ahead in benchmark tests. It takes this category due to the extra raw muscle within.
Winner: Samsung Galaxy S8 Plus
Camera: Two superb snappers
Here's another aspect in which it's tough to see much daylight between the two phones. The Pixel XL has a 12.3MP rear camera with large 1.55-micron sensor pixels, laser autofocus, an f/2.0 aperture, 4K video recording and electronic image stabilisation, while the Samsung S8+ has a 12MP rear camera with 1.4-micron sensor pixels, laser autofocus, an f/1.7 aperture, 4K video recording and optical image stabilisation.
The Pixel XL's camera is widely regarded as one of the best in the business. The HDR+ mode helps to deliver great exposures in tricky lighting and the large sensor pixels pick up a lot of light (handy for shooting in dimly lit conditions), while the image stabilisation does an amazing job of smoothing out shake from handheld video.
The S8+ delivers a similar level of performance. The sensor pixels may be slightly smaller than on Google's phone, but that's ultimately balanced out by the larger f/1.7 aperture. Optical image stabilisation is superior to the electronic variety when it comes to snapshots, although Google's video recording has more tricks.
Looks, there's not a world of difference between these phones when you look at the overall shooting experiences. Each has its very slight strengths over the other, but overall, these are the two best Android cameras out right now – so you won't lose either way.
Winner: Draw
Battery & Perks: Samsung brings the frills
The Pixel XL has a 3,450mAh battery, which'll give you a day of normal use, and supports fast charging – but not wireless charging. It also comes with either 32GB or 128GB of storage, depending on which version you choose; there's no microSD slot, but Google automatically backs up all photos to the cloud at full size, which should help conserve storage space. There's a fingerprint scanner on the back too.
The Pixel XL also supports the Google Assistant, an AI-powered, voice-controlled personal assistant and Google's answer to Siri, Alexa or Cortana. It's clever and handy, but not the killer app it was perhaps billed as; still, Google will be tweaking it constantly, so it should become smarter with future updates.
Samsung has lavished the Galaxy S8+ with headline-grabbing features. There's not only a fingerprint reader, for instance, but an iris scanner that lets you unlock the phone with a look – and it's improved over the iteration on the ill-fated Galaxy Note 7. There's not only wireless charging, but fast wireless charging. On paper, very impressive.
The battery has a 3,500mAh capacity, so we'd expect battery life to be in the same ballpark as the Pixel XL's. On the storage front, there's a single 64GB edition – but Samsung has thoughtfully included a microSD slot, so you can boost that by a further 256GB should you wish.
There's also an AI assistant named Bixby, baked right into the phone. However, it currently lacks support for voice commands, making it pretty limited in capabilities. In time, it'll hopefully become a lot more useful.
Samsung offers a couple more nice perks for the Galaxy S8, including the ability to snap the phone into the Gear VR headset for pretty stellar mobile virtual reality experiences, plus you can use the DeX dock to generate a PC desktop-esque experience with an external monitor. Neither is a critical addition, but both can be pretty amazing extras. And they help sway this category Samsung's way, for sure.
Winner: Samsung Galaxy S8 Plus
Verdict: Samsung has the edge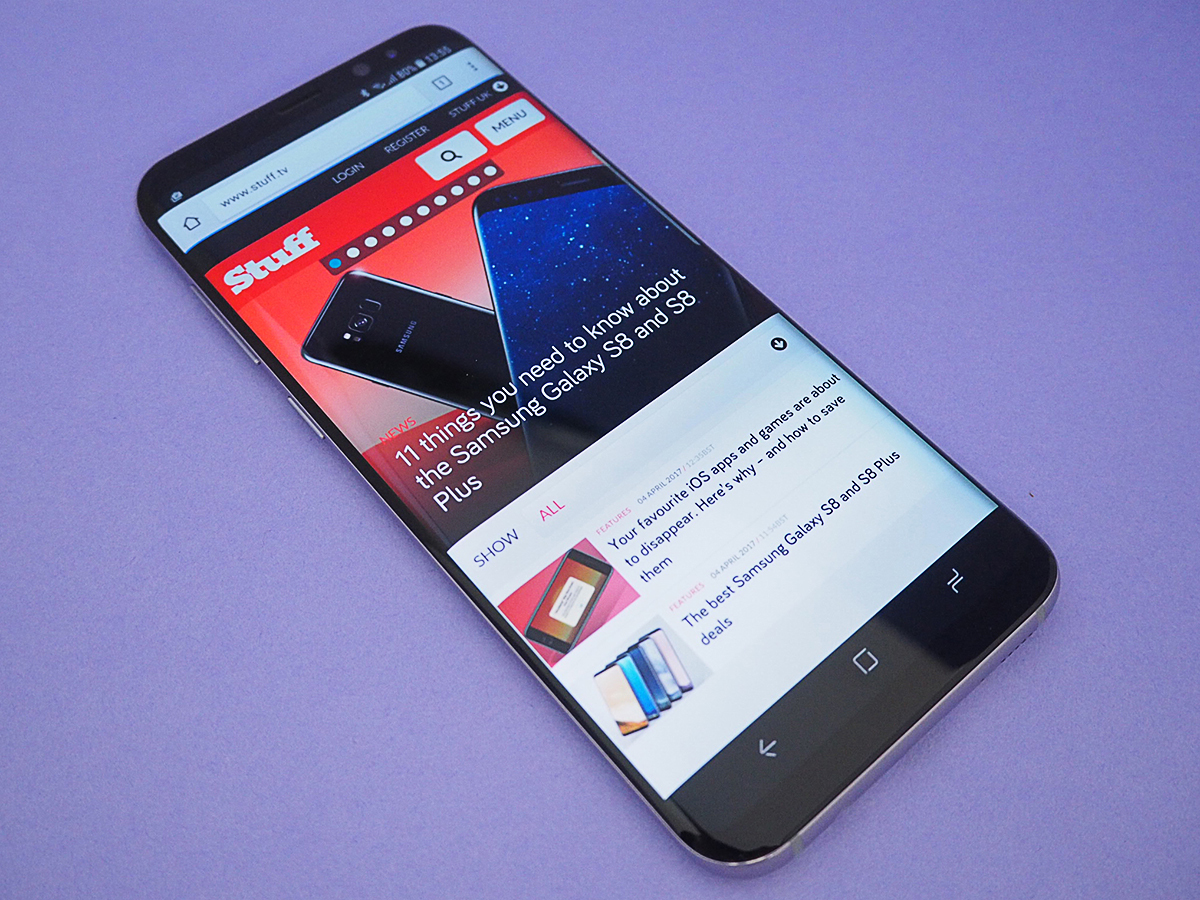 On paper, there are surprisingly few major differences between these phones. Looking at the display resolution and technology, the camera capabilities, the battery power and the processing grunt, there's no great gulf between the brand new Samsung Galaxy S8+ and the older Google Pixel XL.
But Samsung has the advantages in a lot of ways that count, from the eye-catching design to the stunning screen and plenty of beneficial perks. Sure, they act the same in some respects, but if you're going to spend big on a massive Android phone, then you'd better get the best, right? That's the Galaxy S8 Plus.
Winner: Samsung Galaxy S8 Plus
Get the Samsung S8 Plus (64GB) SIM free here for £779 or on contract here