Samsung Galaxy S8 vs Galaxy S7: What's the difference?
Samsung's latest debut is a Galaxy you'll definitely want to explore
Last year's Samsung Galaxy S7 and Galaxy S7 Edge impressed us mightily, but despite the full number bump, both were half-step revisions – like Apple's own alternate-year updates.
That's definitely not the case with the Galaxy S8. Just revealed today, the Galaxy S8 retains some of the familiar form of the last couple flagships, but ushers in a dazzling new, screen-heavy design that manages to shed some bulk in the process.
In every way, the Galaxy S8 seems to improve upon the previous model, but not every enhancement necessarily warrants an upgrade. Thinking about swapping your 2016 handset? Curious how the Galaxy S8 compares to the Galaxy S7? Let's break it down.
Design: Stunning stuff
We should get this out of the way now: there's no flat-screen version of the Galaxy S8. Curved is the new standard for Samsung, it appears, and the regular 'ol Galaxy S8 is curved on the right and left sides of the screen. Likewise, the larger Galaxy S8 Plus is identically curved.
From the back and sides, the Galaxy S8 doesn't seem dramatically different from the Galaxy S7 Edge, (save for small differences), but that changes quite a bit with the front view.
It's very minimally adorned: no physical home button and no huge Samsung logo up top. Just screen: a beautiful, extra-tall screen with rounded corners and a seamless design that seems to blend into the very small top and bottom bezel. It's beautiful.
There's still a home button: it's pressure sensitive and built into the screen. You'll see a software button on the display, even when the device is on standby. And now the fingerprint sensor hangs out on the back, right by the main camera. And yes, the Galaxy S8 still has a headphone jack.
Screen: Bigger and better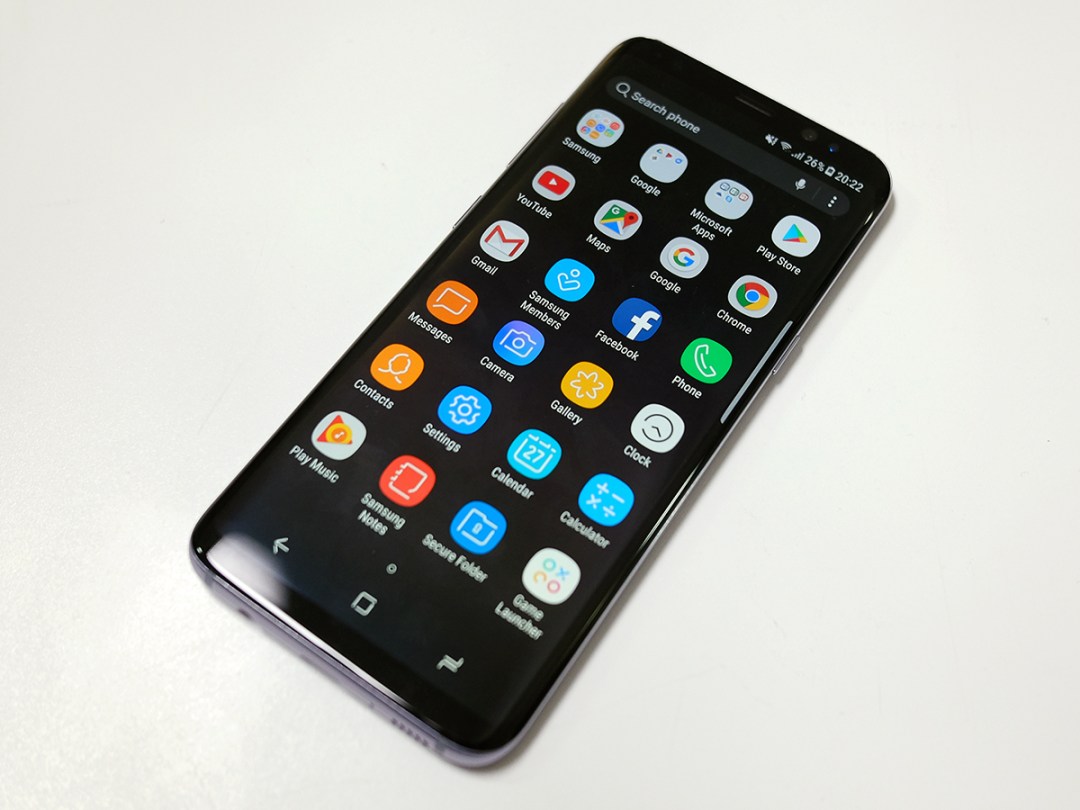 The Galaxy S7 already had the top smartphone screen on the market, and believe it or not, the Galaxy S8 seems to best it in a few key ways.
Again, Samsung's using a Quad HD resolution AMOLED panel, but now it has a taller 18.5:9 aspect ratio, as opposed to the usual 16:9 approach (when held sideways). It's the same sort of thing the LG G6 is doing, as it gives you more screen space without adding width. In fact, the Galaxy S8 sheds a few millimeters compared to the also-curved 5.5in Galaxy S7 Edge, and is also narrower than the 5.1in standard Galaxy S7.
The Galaxy S8's screen is a 5.8in panel, while the Galaxy S8 Plus bumps up to a larger 6.2in display. Both should be just as vivid and striking as last year's model, but surely more so: that's thanks to the addition of mobile HDR support, meaning compatible video and games will show more extreme variance between light and dark. Netflix and other apps will be updated to allow for mobile playback of HDR content, and it ought to really pop on that screen.
And like with the LG G6, we're really taken with the rounded edges on the top and bottom of the screen, which pair well with the curved screen and minimal bezel.
Camera: Modest tweaks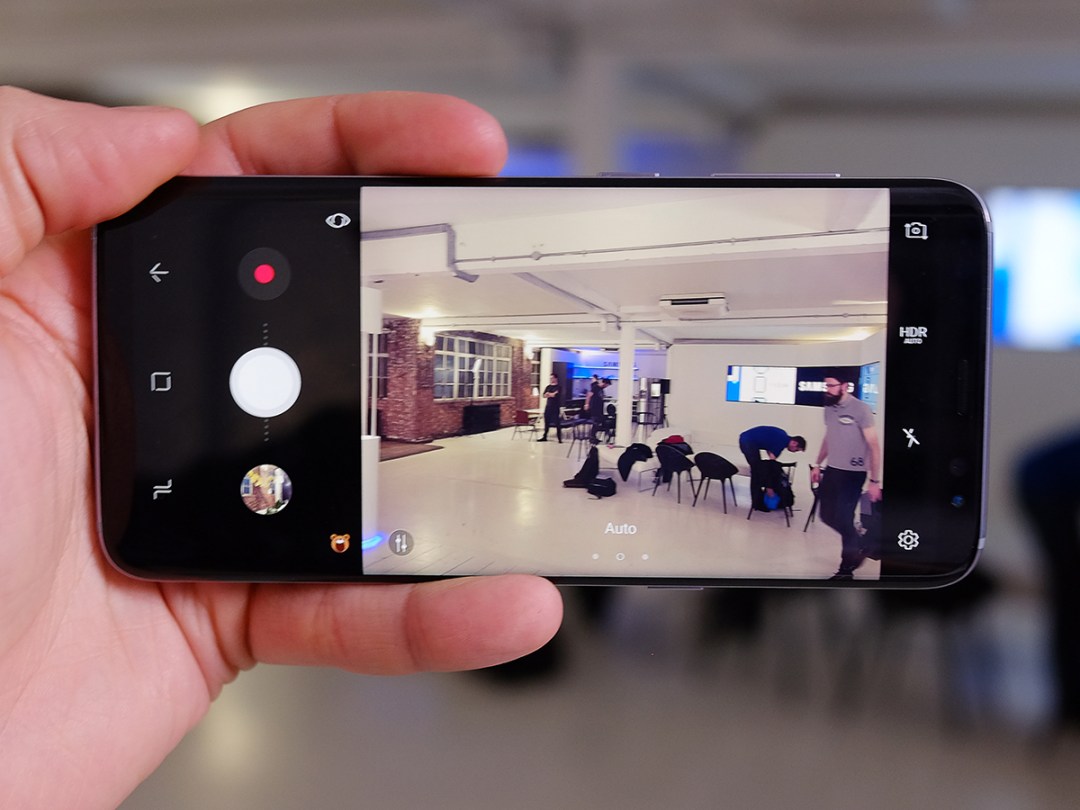 Going hands-on at an indoor event isn't exactly the best time to try out the full range of camera upgrades, so we can't share a lot from experience just yet (soon, though). However, we can give a bit of insight on what to expect.
As with last year's phone, the Galaxy S8 packs a 12-megapixel back camera with a f/1.7 aperture, which means we should see sterling snaps with good lighting, and still-pretty-solid photos in lower-light scenarios.
Samsung's bigger focus here seems to be on improving the software side of the equation, with plenty of work done in an instant to give you better results. Three shots are taken with each snap for noise reduction, pixel binning, shake reduction, and sharpening, so the end result is one hopefully spectacular image.
We'll have to pit them head to head to get a better sense of how big of a different those tweaks bring to the table, but we imagine there will be some noticeable benefit over the Galaxy S7.
Performance: More power!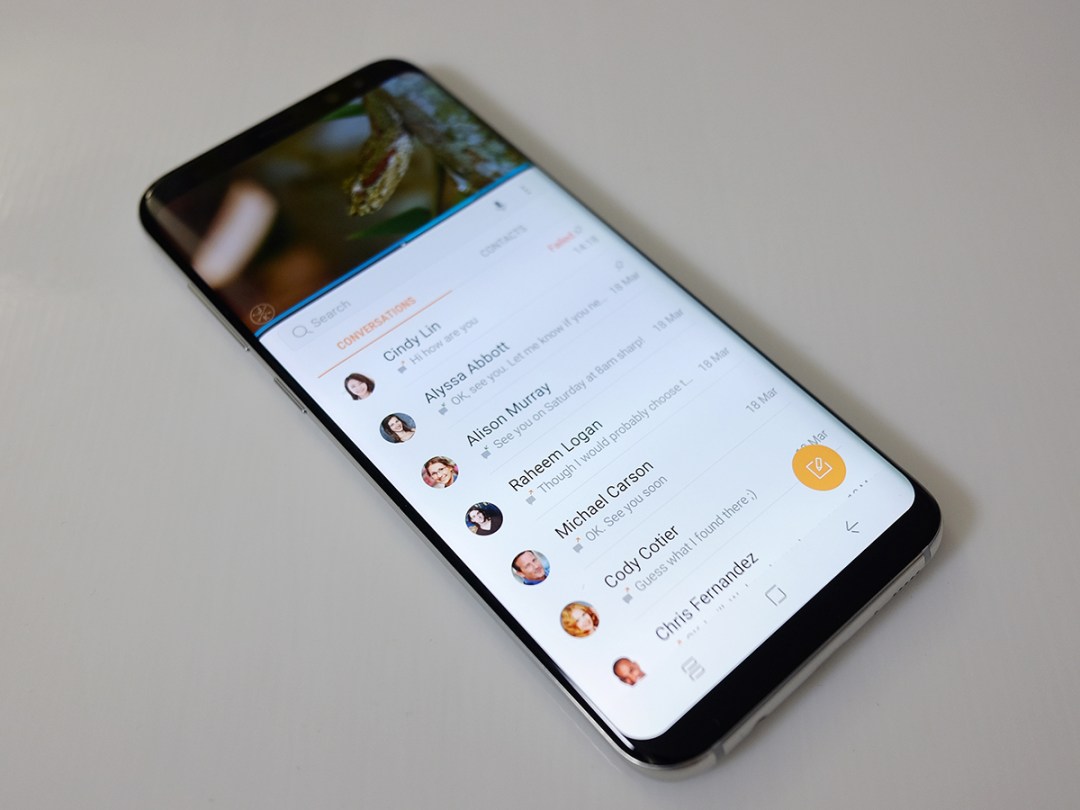 Depending on where you buy the thing, the Galaxy S8 will either come with Samsung's latest Exynos processor or the Snapdragon 835 chip – both of which are sure to be at or near the top of benchmark rankings once we get our hands on them. In either case, it'll come alongside 4GB RAM within.
Last year's Galaxy S7 models packed either an Exynos 8890 or Snapdragon 820 (with 4GB RAM in both cases), depending on region, which likewise were the best of their kind at the time.
Samsung continues to keep pace and/or set the standard for smartphone performance, and we fully expect that the Galaxy S8 will be a speed demon, taking on all app and content challenges with ease. And it'll have Android 7 Nougat running the show, so you'll get all of the latest optimizations, enhancements, and features. Well, until Android O is released.
Battery and perks: Familiar and fresh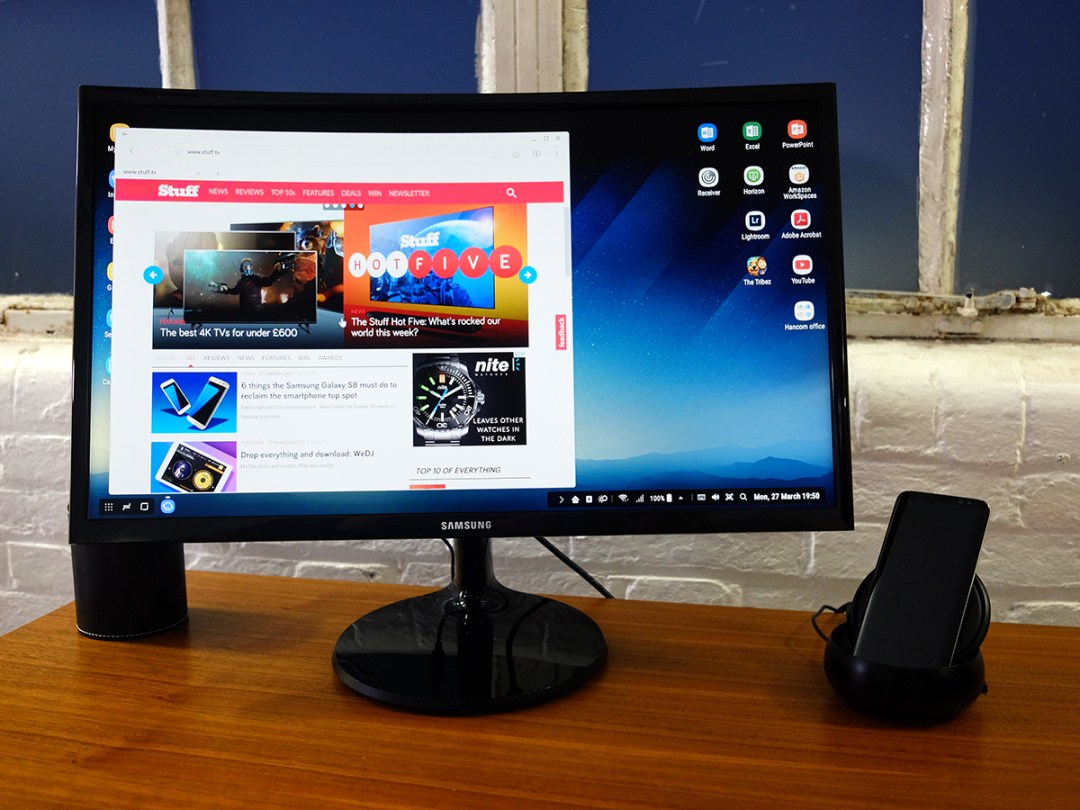 The Galaxy S8 comes with the same 3,000mAh battery pack from the standard Galaxy S7, despite the larger screen in play here, although it's a smaller battery than the 3,600mAh one in the Galaxy S7 Edge. We'll have to wait and see if that impacts battery life, but if we end up with a solid day-plus performance like the S7, we should be pleased.
Elsewhere, the Galaxy S8 ships with 64GB of internal storage and again can be supplemented with microSD cards up to 256GB. It's also IP68 water and dust-resistant, so the two big perks added back to the Galaxy S7 (after being lost on the S6) are still intact here. Phew.
A new version of the Gear VR will be released with room for the larger Galaxy S8, plus it'll have the little touch remote that we saw last month at MWC.
As far as new additions, the DeX dock is pretty interesting. Like Microsoft's Continuum on some Windows 10 phones, you can plug the Galaxy S8 into this device and run a desktop-like PC experience on an external monitor. Large-screen apps like Word feel like their Windows counterparts, and you can even plug in a keyboard and mouse.
The iris scanning security feature from the Galaxy Note 7 also makes a return visit here, and is said to be packing enhancements for even better recognition. And Samsung's new Bixby voice assistant is also coming to the Galaxy S8 and has a dedicated physical button on the left side, but it won't be ready for the UK until later this year.
Initial verdict: A new Galaxy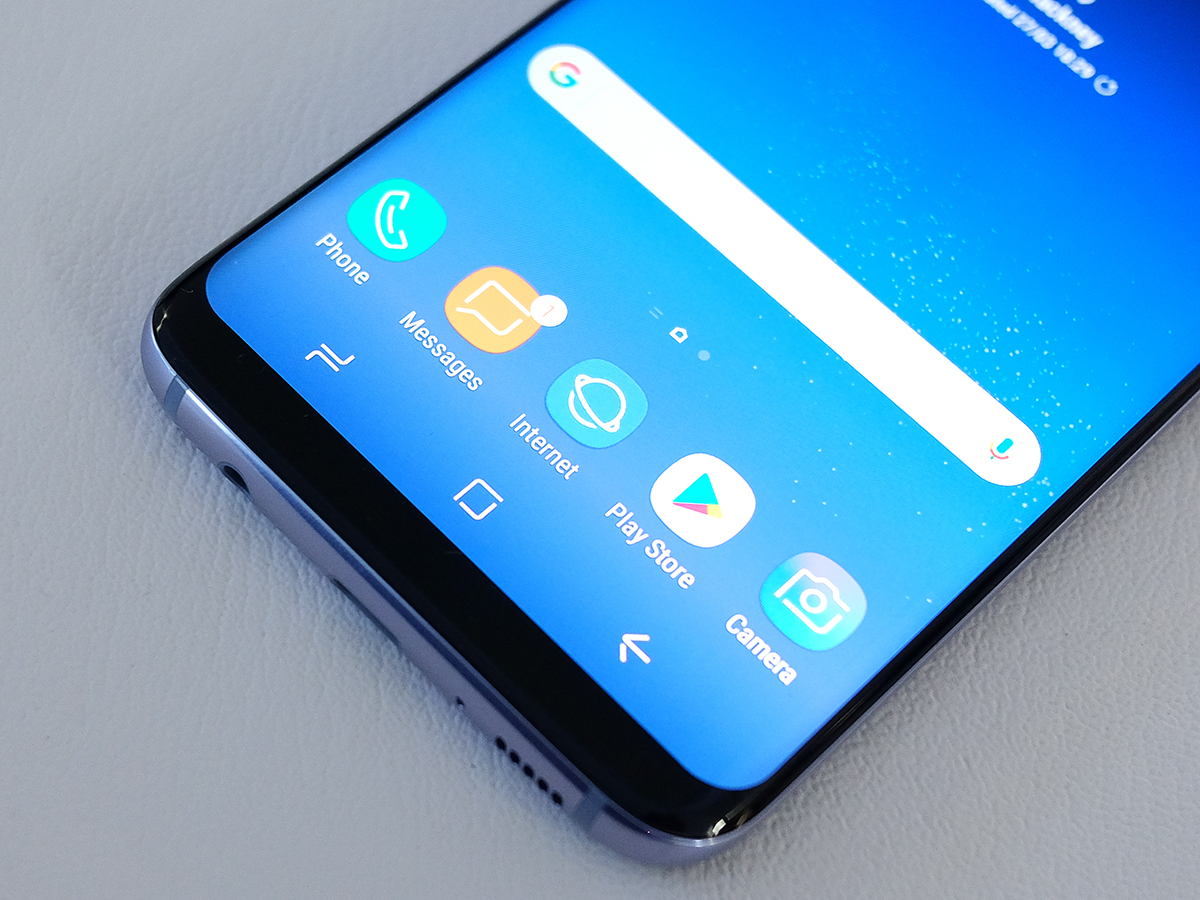 If you're wielding a Galaxy S7 right now, the temptation to upgrade must be excruciating. The Galaxy S8 dazzles with its new, screen-dominant design and curves, plus offers a massive array of perks within.
Of course, if you don't care about looks above all, then it might not be a big deal. When it comes to camera, processor, and battery life, any improvements here seem like small ones, and may not be particularly noticeable to the average user. We're impressed, but when several hundred quid are involved – the S8 will cost £689 after all – it's easier to temper the urge to upgrade.
But if you're rocking an older Galaxy phone or something else with a couple years on it, the Samsung Galaxy S8 may be the standout Android phone of this spring, if not the entire year. We'll offer a more assured verdict once we have our review units, but our first impression is all positive for now.