Sony Xperia XZ2 vs Google Pixel 2 XL: Which is best?
Sony's new-look flagship goes against Google's Android ideal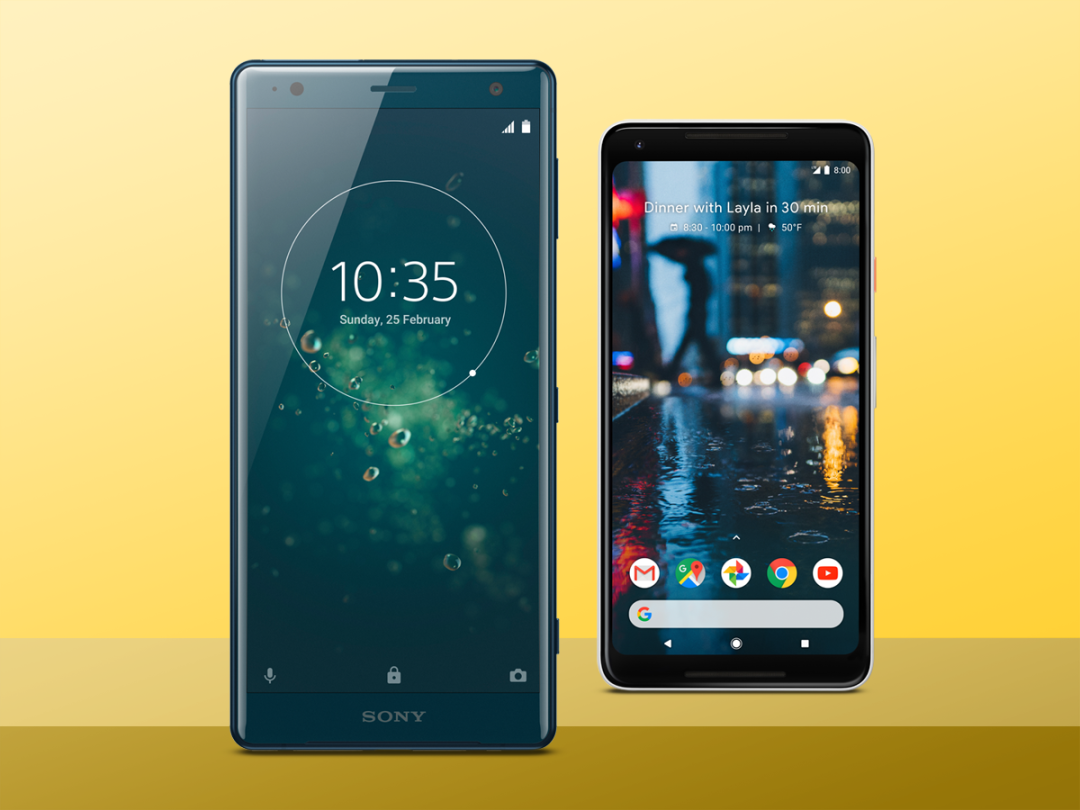 We weren't all that wowed by Google's original Pixel phones, even if the Pixel XL was a pretty sharp Android flagship – but the Pixel 2 XL is legitimately one of the absolute best phones you can buy right about now.
There are prettier phones out there, but the Pixel 2 XL is strong in all the other ways that matter, from its industry-leading camera to its processing grunt, pure Android Oreo experience, and crisp Quad HD display. Only Samsung's new Galaxy S9 is a better overall pick, but the margin is pretty small.
But as we get deeper into 2018, new challengers are here to try and shake up the rankings – and Sony has just fired its latest salvo with the Xperia XZ2. It's the company's new flagship contender, packing even more powerful innards along with a fresh look for Sony smartphones. But can it really take down Google in offering a premier Android experience?
Now that we've reviewed the Xperia XZ2, here's how this head-to-head battle shakes out.
Design: Eye-catchers?
Neither of these handsets has the kind of individual visual allure of the Galaxy S9 or Apple's iPhone X, but they're both nice-looking flagships.
The Pixel 2 XL feels a little too large, admittedly, with a bit too much bezel wrapped around that beautiful screen – but we like the curved corners on the screen. And the two-tone approach on the back, with a glass notch sitting above the main aluminum chunk, looks a lot more appealing than on the original Pixel phones.
On the other end, we have to give Sony props for finally moving away from the boxy, classic Xperia look of old, which was distinctive but… well, chunky and somewhat awkward. From the front, the XZ2 looks a bit anonymous compared to other flagships today, but it's definitely smooth and premium and we like the curved, ultra-glossy glass backing.
All told? They're different takes from the back, but we honestly like them about the same. Your preferences may vary.
Verdict: Draw
Screen: Pixel pick
Here's the one area in which Sony opted to hold back, packing in a 1080p LCD display for its extra-tall (18:9 aspect ratio) 5.7in display. It's solid, and the feat of upcoverting standard footage with HDR capabilities is neat – but it has some deficiencies. We thought the picture looked a bit soft and lacked some detail, plus the colours aren't quite as punchy as we'd hoped.
But the Pixel 2 XL packs more of a punch with its 6in Quad HD OLED panel, with impressive contrast and improved clarity. The screen doesn't have quite the same vibrance as the Galaxy S9 and there can be some discolouration at sharper angles, but this Quad HD OLED still comes out ahead in this comparison.
Verdict: Google Pixel 2 XL
Camera: Google's edge
For our money, the Pixel 2 XL houses the best smartphone camera on the market as of this writing. That's true of the Pixel 2, as well, and in both cases they just produce better shots than anything else out there.
Chalk it up to Google's software algorithms, which take the raw data from the 12-megapixel (f/1.8) back camera and work some serious magic by stitching together several shots. The results pack in an incredible amount of dynamic range, with realistic-looking colours in the end. You'll even get some dual-camera-like depth effects and bokeh blur thanks to the dual-pixel approach.
Sony's smartphone cameras have typically lagged behind the best of the best in recent years, and that's true again with the Xperia XZ2's single 19MP (f/2.0) back sensor. For still shots, we think it falls noticeably behind the Pixel 2 XL, but we say it "is still capable of great shots in certain circumstances." In strong lighting, you'll get great colours and details, but low light performance is spotty and the lack of optical image stabilisation really shows.
That said, capturing 4K HDR video with the Xperia XZ2 yields pretty great results, and Sony has an advantage with 960fps 1080p super slow-motion too; the Pixel 2 XL only goes to 120fps at 1080p. Even so, we'd rather have the best still-shooting camera on a smartphone, thank you very much.
Verdict: Google Pixel 2 XL
Performance: Power play
When it comes to sheer horsepower, newer is better in this comparison. Google stuck with last spring's Qualcomm Snapdragon 835 chip when the Pixel 2 XL came out in the autumn, while Sony's Xperia XZ2 benefits from picking up the brand new Snapdragon 845 this spring.
The newer revision promises a more efficient, speedier chip that comes ahead in benchmark testing, while both of these are equal with 4GB RAM within. Admittedly, there's no obvious difference between them in day-to-day use: they're both super speedy, and Android 8.1 Oreo is at its stock best on the Pixel 2 XL while Sony's version is a bit skinned.
We'll give Sony the win on the benchmark advantage, though, even if they feel very comparable in use.
Verdict: Sony Xperia XZ2
Battery and perks: Mixed advantages
The Pixel 2 XL goes for a higher-capacity battery than the Xperia XZ2, packing in 3,520mAh compared to 3,180mAh – but does have the larger, higher-resolution screen to contend with, as well. Ultimately, both prove to be all-day powerhouses, typically lasting 'til bedtime if you don't go too hard on 'em.
And you can top off the XZ2 by sticking it on a wireless charging pad, but you don't have that ability with the Pixel 2 XL. Both support fast wired charging, though.
When it comes to storage, the Xperia XZ2 notches another victory by offering microSD card support for expanding beyond the 64GB internal cache. The Pixel 2 XL comes in a pricier 128GB model alongside the 64GB base edition, but you can't pop in microSD cards either way.
As far as one-of-a-kind perks, the Pixel 2 XL has squeezable Active Edge sides that let you pull up the Google Assistant just by gripping your phone. It's not our most-used feature of the phone, although it's more worthwhile than the XZ2's vibration functionality, which adds rumble to games and music playback by analyzing the audio output.
Google also has Daydream VR, which offers up some fun games and apps to enjoy via the Daydream View headset shell.
Expandable storage support earns Sony the category win here, even if battery life is comparable and other perks are a mixed bag.
Verdict: Sony Xperia XZ2
Verdict: It's the Pixel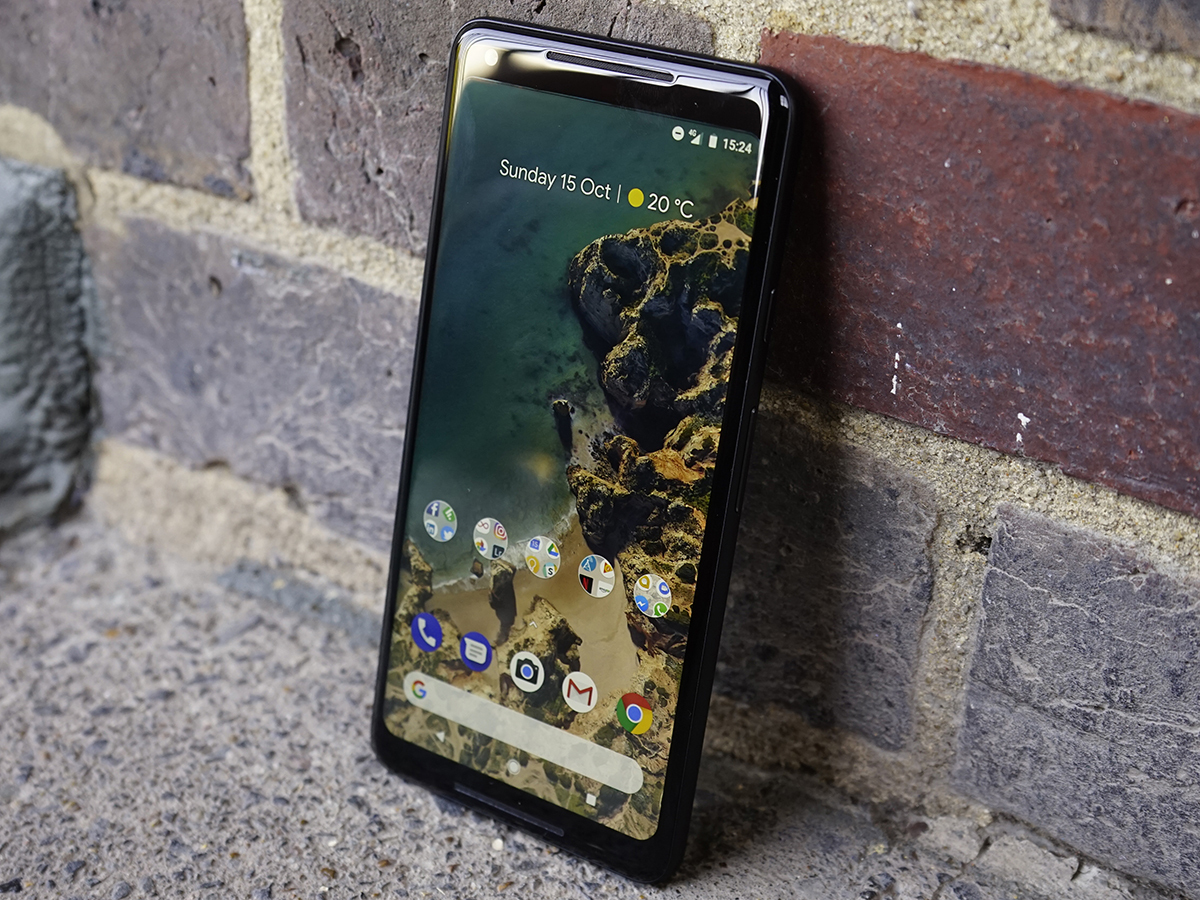 In terms of pure quality, we have to give the Pixel 2 XL the win here. Both phones won two of our categories and split the other one, but the Pixel's edges come with a significantly better main camera and a much improved display. Sony has the slight advantage of a newer processor and microSD support, but Google's difference-makers are more meaningful.
That said, there is a £100 difference between them, with the Xperia XZ2 coming in at £699 compared to £799 for the Pixel 2 XL. Even so, we think the Pixel is worth another hundred quid. Or you could snag the Galaxy S9 and just about split the difference with its £739 price tag.
The Xperia XZ2 is a pretty good 2018 flagship, but pretty good doesn't really cut it at £699 – there are enough brilliant contenders in that price range to have you second-guessing Sony's latest and greatest, and the Pixel 2 XL is definitely one of them.
Winner: Google Pixel 2 XL