What is a Micro Lens Array? The brighter telly tech explained
These tiny lenses stop your OLED telly from losing brightness. Here's how it works.
Each new telly promises to be brighter than the last, and new panels make this possible. But a new kind of telly tech makes displays even brighter, without having to design entirely new panels. Dubbed Micro Lens Array, this new telly layer adds tiny lenses on top of an existing display. The result helps the end picture look even brighter, giving you better content to enjoy.
But with such a bold claim from the new brightness boosting tech, how exactly does it work? Here, we break down everything you need to know about Micro Lens Array tech inside the latest tellies.
What is Micro Lens Array tech?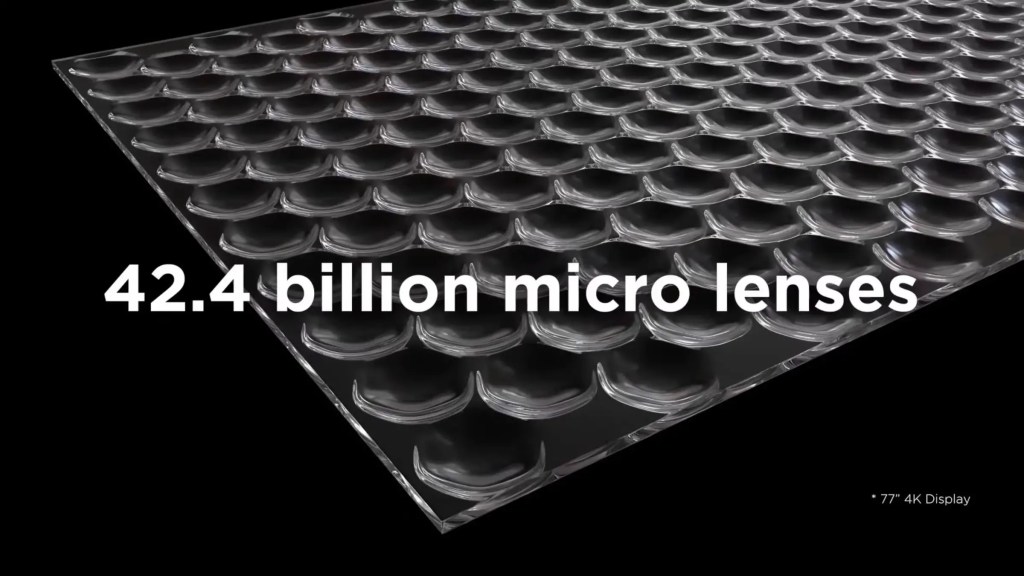 Micro Lens Array tech adds an extra layer on top of your telly's OLED display panel. This layer is made up from tiny lenses, hence the micro lens name. Thousands of these lenses are then layered on top of each OLED pixel, almost creating a stack. The idea is to position the lenses across the entire panel, to produce a brighter image.
Each of these lenses is tiny. LG demonstrated just how small they are when talking about one of its latest tellies. Each OLED pixel can fit 5000 of these micro lenses. That means that a 77-inch telly will cram in an impressive 42.4 billion of these lenses. The entire extra layer is pretty sophisticated, and involves a different manufacturing process.
How does Micro Lens Array work?
The goal of the Micro Lens Array is to make your telly brighter. But how exactly does this work? In a normal TV, reflections inside the bit of kit can lose small amounts of light. It's not particularly noticeable, since tellies still get exceedingly bright, but it means they're not as bright as they otherwise could be.
Solving this, the lenses in the Micro Lens Array essentially trap this light in. They help to reduce the loss of light from these reflections, so the display puts out more light. The end result is that you get to enjoy a brighter picture, while your telly performs to its full potential. It also doesn't require any extra power, so your telly won't draw extra amperage to brighten up its pixels. This is particularly important when it comes to running costs, and might make things more energy efficient.
Which tellies feature the new panel tech?
Since this panel tech is so new, there aren't too many tellies available with it, just yet. LG's flagship G3 OLED from 2023 includes a Micro Lens Array. And Panasonic's MZ2000 OLED model also includes the new screen layer. But for now, that's it.
Expect to see plenty of new goggleboxes debut at CES in 2024 featuring a Micro Lens Array. We know that LG and Panasonic are already using the tech, and we'd expect Sony and Samsung to follow closely behind.