Creator-friendly Asus ZenBook Pro laptops get active aero and OLED screens
Clever auto-tilting touchpad keeps new top-end ZenBook Pros cool when working flat out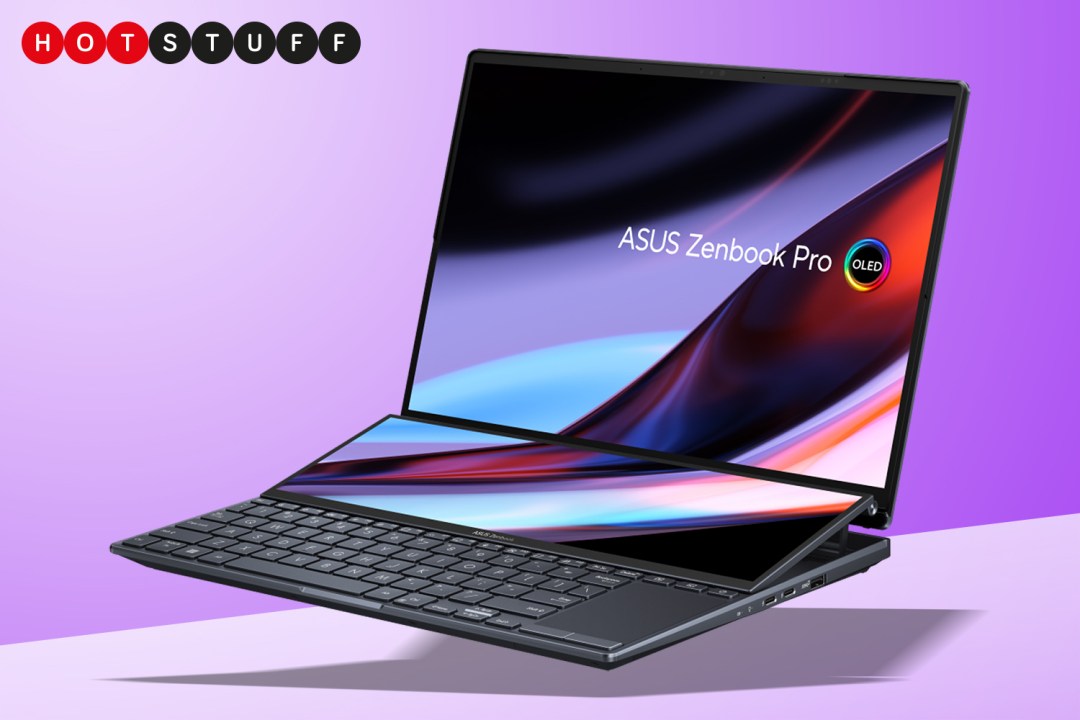 One is never enough. That's true of choc ices on a hot summer's day, and also when it comes to laptop screens – or at least it is for the Zenbook Pro 14 Duo OLED. Asus' latest premium model is packing two, and has also been taking some lessons in active aerodynamics from the world of supercars.
Essentially an updated version of the seriously cool Zenbook Duo 14 we reviewed last year, this 2022 edition swaps IPS display panels for OLED ones and adds a new tilting mechanism in the name of cooling. When the laptop is opened, the second screen raises by 20mm and tilts by 12°, putting it at a better viewing angle for working across both displays and allowing a whopping 38% greater airflow than before.
The ScreenPad second screen remains the Pro 14 Duo's killer feature. The 12.7in touch display sits above the keyboard, with a 2880×864 resolution and ultrawide 32:10 aspect ratio. The built-in software now supports external displays for even greater productivity, and it supports all the major Adobe Creative Suite apps, including Photoshop, Illustrator and Premiere Pro. If you're not all about keyboard shortcuts, the ability to change brush size, adjust layer opacity or tweak saturation on the fly should have real appeal.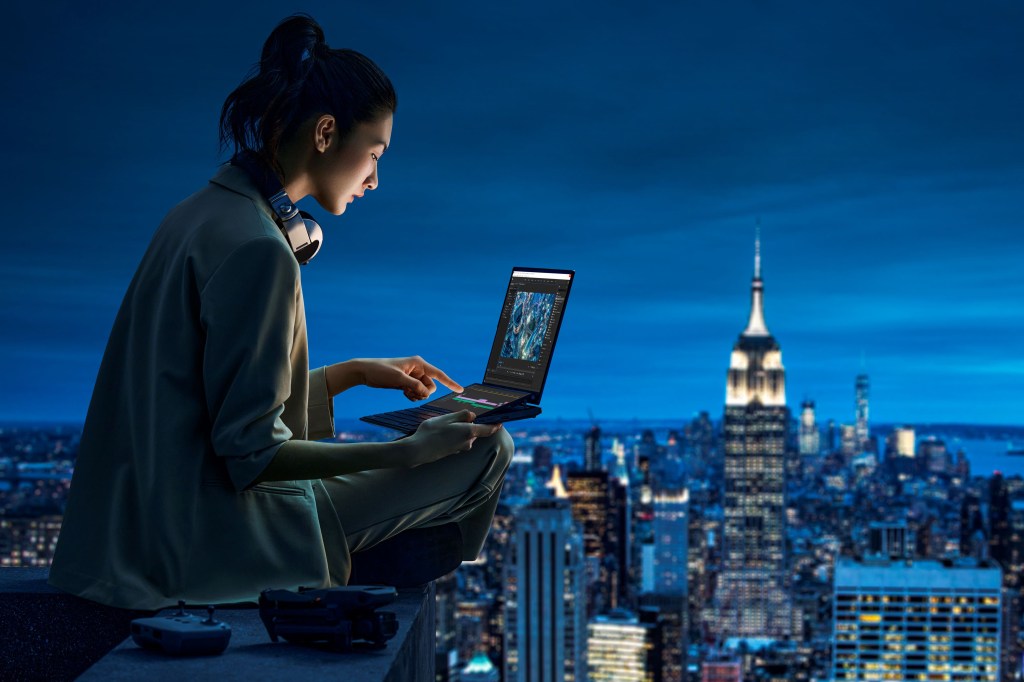 The main screen steps things up with a 2880×1800 resolution. Both have 120Hz refresh rates, cover 100% of the DCI-P3 colour space, and have been validated by colour experts Pantone. Creative pros can be reassured that the colours they see onscreen are exactly what they intended.
Inside, it's a fairly no-compromise approach for a 14in laptop. Power comes from a 12th-gen Intel CPU, paired with up to 32GB of RAM, as much as 2TB of NVMe storage, and an Nvidia GeForce 3050 Ti dedicated graphics card. On the connectivity front there's two Thunderbold 4 USB-C ports, plus a single standard USB3, HDMI output, microSD card reader and 3.5mm headphone port.
The Asus Zenbook Pro 14 Duo OLED lands in the UK later this month, with prices starting from £1300.
Less screen, more lean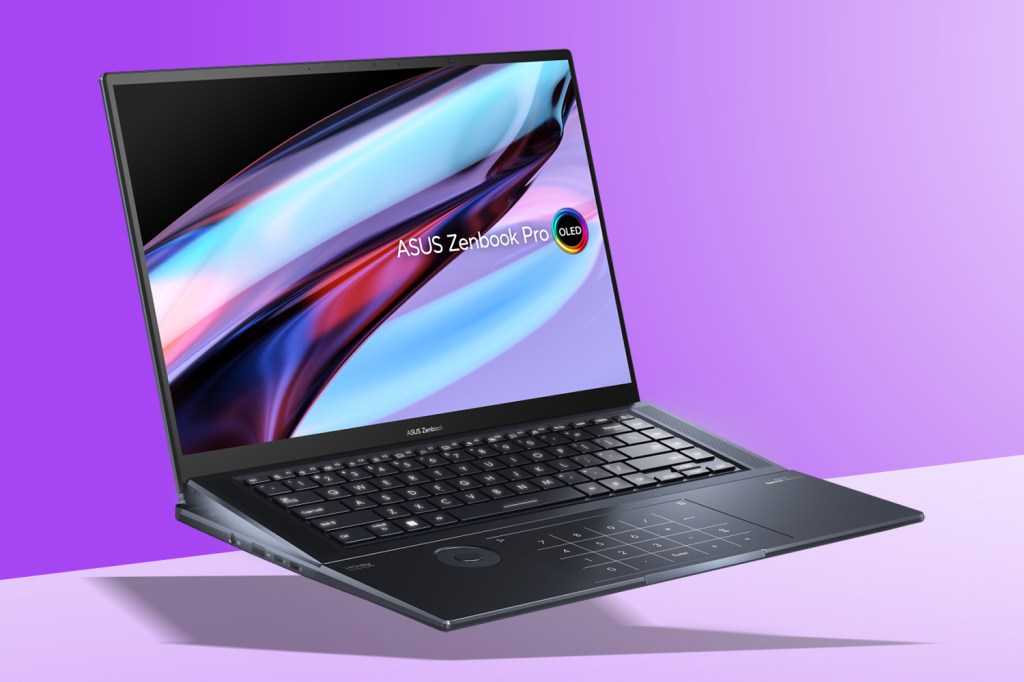 The Zenbook Pro 16X ditches the second screen, but looks set to have a promising solo career. It uses a 4K OLED touchscreen panel, with ultra-slim bezels and Asus Pen 2.0 stylus support. It's also Dolby Vision compatible and Pantone certified for colour accuracy.
The 16X also keeps the active aero. As you open the lid, the keyboard raises by 14mm and tilts by 7°, making for a more comfortable typing position and allowing 30% more airflow than the previous generation model. Asus reckons this aloe lowers the laptop's surface temperature by an impressive 7°C. The tilt also better directs sound from the built-in speakers.
That extra cooling lets the CPU (your choice of 12th-Gen Intel Core i7 or i9) and dedicated Nvidia GeForce RTX 3060 graphics chip run at a combined 140W of thermal power, which should give it a boost over rival powerhouse laptops. Expect up to 2TB of super-quick PCIe 4.0 storage, as much as 32GB of RAM, and a promised 10 hours of battery life. The whole thing is just under 17mm thick when closed, and weighs in at around 2.4kg.
Creative types should appreciate the customisable dial built into the keyboard tray, along with an oversized touchpad that doubles as a number pad. There's also per-key RGB lighting, which should keep gamers happy.
Asus has yet to confirm prices for the Zenbook Pro 16X OLED. You'll have to wait until June to get your hands on one.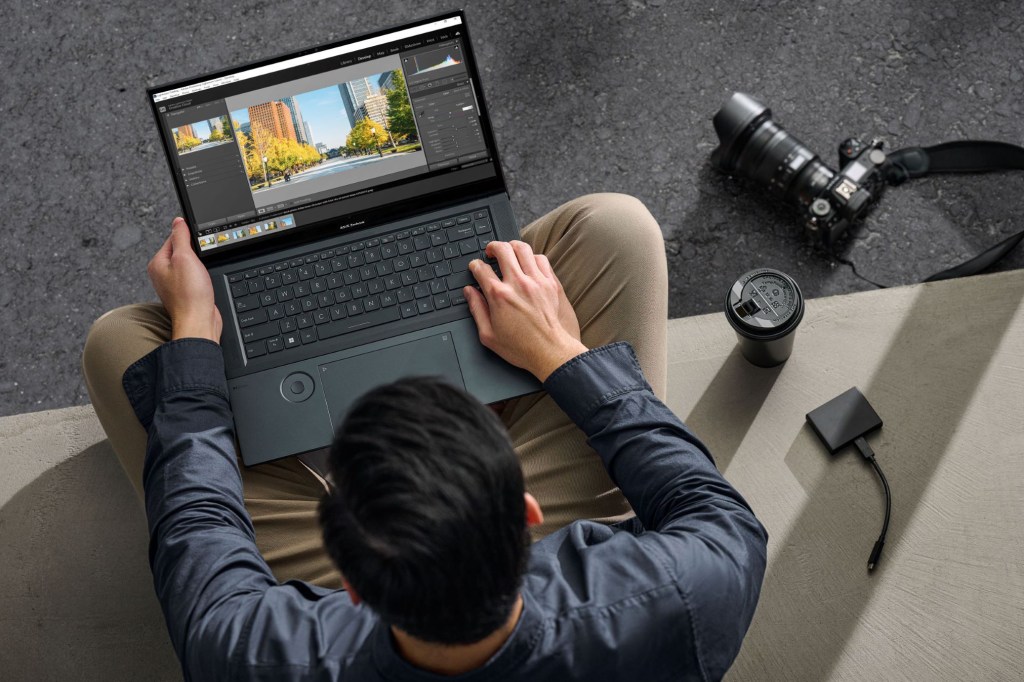 The new models were revealed alongside an entirely refreshed ZenBook line-up, which all get subtle design tweaks and a new, slicker logo. OLED screens are now basically a given across the range, as are 12th-Gen Intel Core and the latest AMD Ryzen CPUs.