The latest AMD Radeon GPUs are 1440p gaming monsters
The RX 7700XT and RX 7800XT also bring faster ray tracing and AI smarts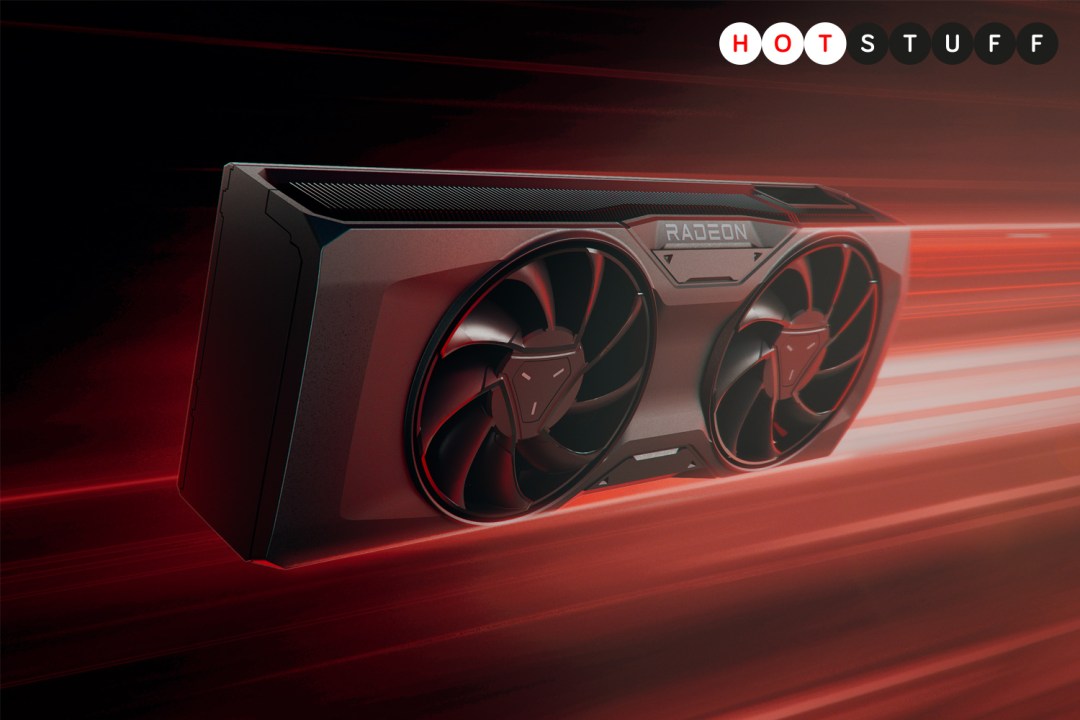 PC gamers not wanting to break the bank on a new graphics card finally have two new Team Red options to choose from. The AMD Radeon RX 7700 XT and RX 7800 XT are purpose-built for 1440p gaming, comfortably the most popular gaming monitor resolution right now, and have also picked up a few tech tricks from the top-tier 7900 series.
Announced at Cologne's Gamescom show, the two new GPUs are set to go head-to-head with Nvidia's GeForce RTX 4060 Ti and RTX 4070 when they go on sale in early September. Both use AMD's latest RDNA3 graphics core, which promises big performance gains over the last generation, especially when it comes to fancy effects like ray tracing.
The more mainstream RX 7700 XT is packing 54 compute units, 54 second-gen RT accelerators, and 108 AI accelerators. They're usually clocked at 2171MHz, but can boost to 2544MHz. It will ship with 12GB of GDDR6 memory, accessed through a 192-bit bus, for a substantial 432GB/s of bandwidth. That should give it an edge over Nvidia's 4060 Ti, which might be available with 16GB of VRAM, but makes do with a 128-bit bus.
Further up the chain, the RX 7800 XT gets 60 RDNA3 compute units, 60 RT accelerators, and 120 AI accelerators running at 2124MHz, with a 2430MHz boost maximum. A healthy 16GB of GDDR6 VRAM is accessed through a 256-bit bus, which works out at 624GB/s of bandwidth. Again, that's more than a 12GB Nvidia RTX 4070 can muster with its smaller 192-bit bus.
What does that translate to in terms of performance? 1440p gaming at 60fps, with all settings maxed, in some of the most demanding current games, including Hogwarts Legacy, The Last of Us Part 1 and Star Wars: Jedi Survivor. In the recent Call of Duty: Modern Warfare 2 remake, AMD says gamers should expect 106fps from the RX 7700 XT, and 127fps from the RX 7800 XT – 31% and 23% improvements respectively over the RTX 4060 Ti 16GB and RTX 4070.
According to AMD's benchmarks an RTX 4070 still takes the lead over the RX 7800 XT in certain titles, including Doom Eternal and Dying Light 2 with ray tracing enabled, so it's not a total victory – but the gap is much wider between the RX 7700 XT and the RTX 4060 Ti. Only three of the 20+ games tested ran better on Nvidia hardware – and even then only by less than 10%. (Also remember these are AMD's tests, rather than independent ones).
Those AI accelerators also promise 2x performance increase compared to last-gen RX 6950 XT in tasks like Stable Diffusion image generation.
Both GPUs have a 2.5-slot, twin-fan reference design, but board partners may put their own spin on things with extra fans or blower-style cooling. Each includes DisplayPort 2.1 support, and has AV1 hardware encoding for game streamers and video creators. AMD's SmartAccess memory also promises up to 40% frame rate gains for anyone also rocking a modern AMD CPU.
Gamers will be able to order both cards from the 6th of September. The RX 7700 XT is set to retail around $449 (roughly £350), while the RX 7800 XT should set you back $499 (about £400), although board partners may demand a premium for factory overclocked cards. There'll be a free copy of Bethesda's long-awaited sci-fi RPG Starfield included with each card, too.
Those prices compare favourably to both the RTX 4060 Ti 16GB, which currently costs $499, and the RTX 4070, which typically ranges between $599 and $699. However, Nvidia is reportedly getting ready to cut prices in response to AMD's new arrivals.
Team Red also used its Gamescom appearance to reveal the latest version of its FidelityFX upscaling tech. Super Resolution 3 adds Fluid Motion Frames, which use deep learning to create new frames in between the ones rendered by the GPU. According to AMD, performance can be boosted by as much as 4x at high resolutions. It's smart enough to disable itself during rapid mouse movement, so image quality doesn't take a smeary dive, and pulls motion data from games that have FSR support to intelligently generate frames.
The feature will fall under the AMD Hypr-RX banner, a one-button tool heading to the AMD Adrenalin display driver software. It'll include a latency-busting Anti-Lag+ mode, so you can use it in multiplayer games where reaction times are crucial, and there'll be a native resolution mode that preserves more visual fidelity while still boosting frame rates.
AMD reckons Cyberpunk 2077 typically runs at 92fps on an RX 7800 XT at 1440p, with 50ms of input latency. Turn Hypr-RX on and the frame rate climbs to 120fps, while latency drops to 27ms. Fortnite and Shadow of the Tomb Raider show similar improvements.
It'll land next year, and will support all DX11 and DX12 games, although games without FSR support can't supply motion data and so won't deliver the same image quality. Forspoken and Immortals of Aveum are first in line to get the tech, with a bunch of big-name releases set to add it later, including Space Marine II and Black Myth Wukong.