Vertagear 800-series gaming chairs blend comfort with customisation
PC-controlled RGB lighting and posture-saving lumbar support
Racing-style gaming chairs are a staple of Twitch streams and esports events worldwide, but not all bucket-backed thrones are equal. Some put looks ahead of lumbar support – not what you want if you'd like to avoid back pain in later life. The Vertagear 800-series line wants to protect your posture, and look good while doing it.
The new 800 range, which includes the SL3800 and SL5800 for those up to 6ft/250lbs and PL4800 and PL6800 for anyone up to 6ft8/400lbs, come with ContourMax, the firm's bespoke lumbar support system. Underneath a layer of memory foam there are four rubberised plastic muscle relaxers, which flex and contour to match your back's shape and movement.
It's partnered with a wide, waterfall-style seat that's supposed to evenly distribute lower body pressure, and stuffed with air tunnels to provide plenty of cushioning for your backside. The whole thing is wrapped in environmentally friendly materials made from recycled coffee grounds, which should also help stop smells from worming their way into the fabric. Silver-coated embroidery promises antibacterial properties, too.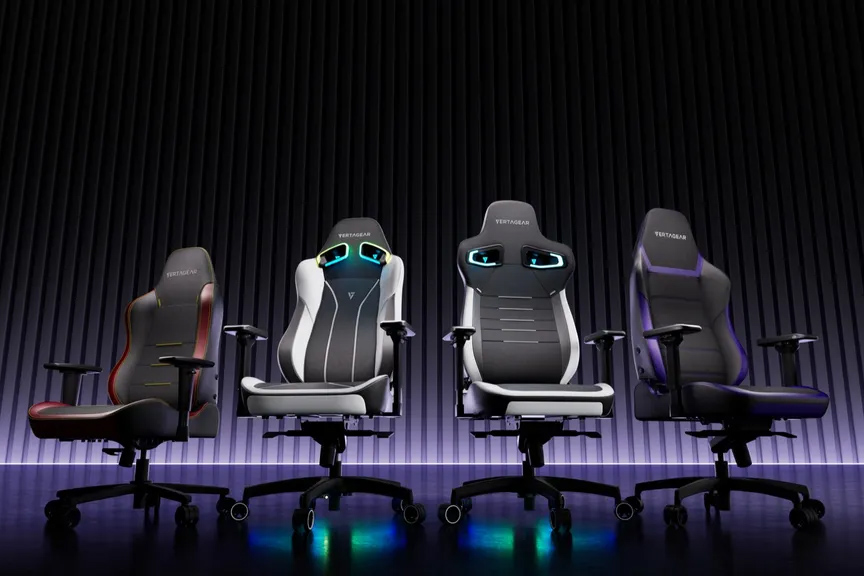 There's no shortage of colour options, with Carbon Black, Midnight Blue, Midnight Green, Midnight Purple, Burgundy Red and Black & White all up for grabs.
That not bespoke enough for your tricked-out gaming space? The SL5800 and PL4800 also play nicely with Vertagear's PC-controlled RGB lighting kits. These optional add-ons feed off a rechargeable battery pack and illuminate the backrest behind the head, on the front and back sides, as well as the central V logo (which can be swapped out for a customised one). Down-firing LEDs can light up the floor around the chair, too, but you've got to be all-in on RGB to want it: the top kit and bottom kit cost an eye-watering £230 each.
The Vertagear 800-series is on sale now directly from the Vertagear website and Amazon US, and should be appearing on Amazon UK in the coming weeks. Prices start from £330/$380/€380.