5 things you need to know about Philips TV & audio right now
Say hello to the OLED+935 and much, much more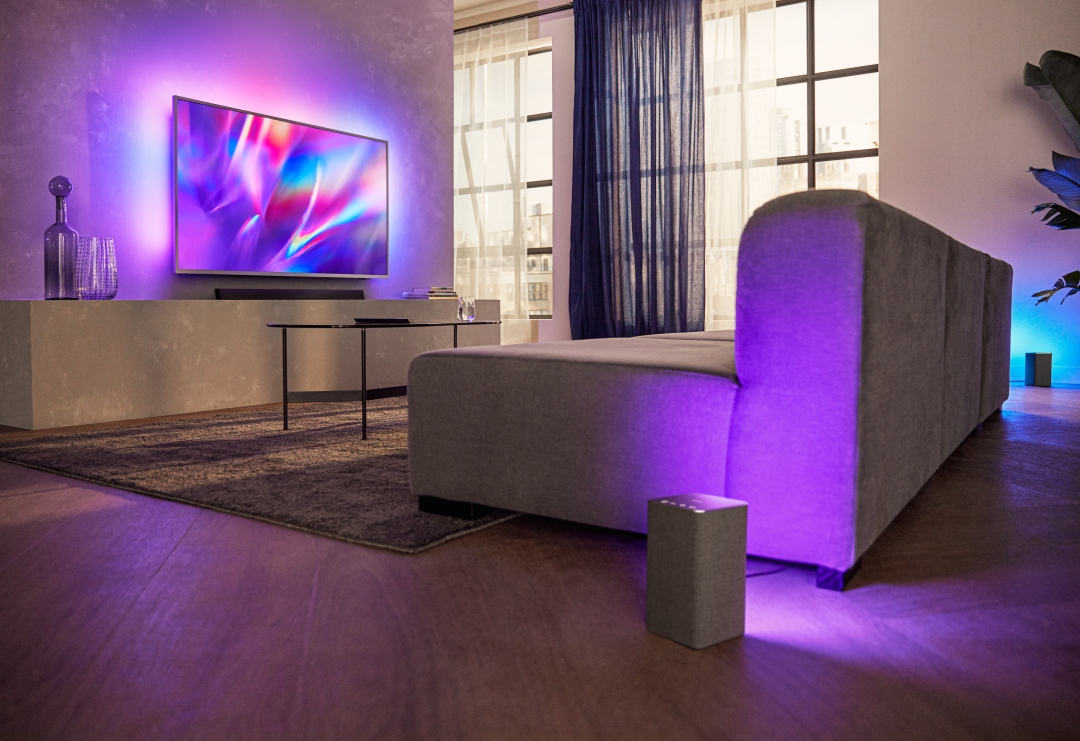 It's pretend IFA week here at Stuff, which means even though Europe's biggest gadget show is taking place in Berlin, plenty of brands have side swiped this year's event due to Covid and opted to do their own thing online – and that includes Philips TV and audio.
Quick recap: Philips TVs are the ones with Ambilight LEDs on the back, awesome picture processing on the inside, and if you're lucky/flush enough, Bowers & Wilkins sound round the front. That now includes the new OLED+935 model, which comes in a new compact (ish) 48in screen size.
Philips is also responsible for the Fidelio audio brand, which has just made something of a comeback with the X3 studio-grade headphones finally on sale as of yesterday. Joining a slew of other earphone and headphone announcements are a selection of soundbars and a multiroom speaker system. Let's dive in.
Philips OLED+935
It's fair to say we're unashamedly smitten with Philips' OLED TVs, so while the all-conquering OLED+984 currently sits atop our top ten TV list, it could be about to be toppled by one of its own – the OLED+935.
Launching this month in 55in and 65in variants, with a 48in to follow in October, the OLED+935 features a new 4th gen P5 processor with a dedicated AI chip to bring greater realism and a more natural picture to whatever you're watching on the box.
The OLED+935 continues to be one of very few sets to offer support for all of the major HDR formats with the new P5 AI+ processor claiming to offer better overall HDR performance – including for HLG and both HDR10 & HDR10+ sources – while also improving Dolby Vision encoded dynamic HDR content using a special Dolby Bright Mode. The only real disappointment is the lack of any support for next-gen gaming, such as variable refresh rates and 4K playback at 120Hz.
Bowers & Wilkins is in the mix, providing a multi speaker 3.1.2 sound system with Dolby Atmos Elevation speakers covered in Kvadrat acoustic fabric. Dolby Atmos Elevation gives extra scale, height perception and immersion to the audio reproduction of films, games and sports broadcasts. Engage movie mode and the TV will even take non-Dolby Atmos content and give it some three-dimensional polish.
Four-sided Ambilight makes the OLED+935 a glower and a shower, sporting a new wellness feature with sunrise and sleep mode functions ensuring you benefit from illuminations even when you're not watching TV. Elsewhere, there's a backlit remote wrapped in Scottish Muirhead leather, Android TV 9 taking care of the UI, plus Google Assistant built-in and Works with Alexa capabilities.
The all important pricing? You'll pay £1800 for the 48in, £2000 for the 55in and a leap to £2700 for the 65in.
Philips soundbars
You won't find Bowers & Wilkins sound on every Philips TV, so the company has called on its Fidelio division to deliver two soundbars, including one with detachable speakers.
The Fidelio B97 (£999) is a 7.1.2 multi-channel configuration soundbar featuring Dolby Atmos Elevation drivers and Philips Fidelio's Surround-on-Demand technology, with Dolby Atmos, DTS:X and IMAX Enhanced certification.
Surround-on-Demand allows the B97 to include two detachable wireless speakers that function as part of the left and right channels when connected to the main bar or as dedicated left and right surround channels when separated from the bar and placed elsewhere in the room. Clever.
The B97 system features 17 drivers (for reference the monstrous Sennheiser Ambeo only has 13) including an 8in bass driver mounted in a separate wireless sub-woofer. Altogether that produces 500W of power from the full system and 240W from the soundbar alone.
As well as all the necessary HDMI 2.1 cable connectivity, there's Bluetooth, Apple AirPlay and multiroom DTS Play-Fi tech, which we'll come onto shortly. Google Assistant and Amazon Alexa also make an appearance.
The Fidelio B95 (£799) drops things down to 5.1.2 without Surround-on-Demand, but still manages to pack in 14 drivers including two angled up-firing Dolby Atmos Elevation units and a 8in wireless subwoofer.
Overall power is 450W with 240W for the soundbar alone, and pretty much all other specs are the same as the B97, including all the necessary Dolby, DTS and IMAX certification, and oodles of connectivity options.
For something altogether more affordable, Philips is releasing no fewer than seven other soundbars between now and the end of November, from the £69 B5105 to the £599 B8905.
Philips multiroom
Watch out Sonos, the Philips TV & Sound Wireless Home System uses DTS Play-Fi tech to bring together a bundle of different speakers and soundbars in the Philips' range and turn them multiroom.
This includes the W6505 and W6205 wireless speakers, five soundbars in the more affordable 8000 series, the Fidelio B95 and B97, all 2020 Philips' Android TVs, and 2019 TVs with a forthcoming firmware update.
The vertically orientated W6205 with 40W of power and the larger, horizontally orientated W6505 with 80W of power both include Ambilight LEDs that work in tandem with an Ambilight TV and can be stereo paired.
Draped in dark grey acoustic cloth with a metal top, both speakers cover Bluetooth, Google Chromecast and Apple Airplay connectivity, plus access to Google Assisant, Amazon Alexa and spoken activation for Siri with iOS devices. Both launch in the final quarter of 2020.
Philips earphones
Arriving a smidge sooner in October are two new pairs of true wireless earphones with active noise-cancellation.
The T8505 come with 13mm neodymium drivers, Bluetooth 5.0, Google Fast Pair for Android devices, a background noise awareness feature, tap controls, and voice assistance via Google Assistant or Siri.
Battery life comes in at six hours (five hours with ANC) and an additional 18 hours with the wireless charging case or USB-C, where you can whizz to one-hour playback with a 15 minute power boost. The buds are also splash proof with a rating of IPX4 – perfect for outdoor use.
The T5505 are virtually identical when it comes to specs, save for smaller 8mm drivers, five hours playtime (4.5 with ANC on) and 15 in total with the wireless charging case.
Philips headphones
Active noise-cancelling over-ears haven't been forgotten either, with the flagship Fidelio L3 coming in time for Christmas and the marginally more affordable H9505 arriving in November looking to build on the excellent PH805 from last year.
The Fidelio L3 (£299) include a four-mic Hybrid ANC system, claiming to offer maximum noise cancellation without changing the timing & musicality of the headphone's playback, which remains the same whether the system is on or off.
The 'L' in L3 might as well stand for luxury, thanks to an outer metal headband wrapped in Muirhead sustainable leather and a soft leather covered inner cushion. The smooth-covered ear-cups – in a circular shape for "better comfort and acoustic performance" – are suspended by an open aluminium frame.
Inside are 40mm bespoke drivers featuring a unique three-layer construction of damping materials and polymer usually found in high-end studio cans. Bluetooth 5.0 is joined by aptX HD and Hi-Res Audio playback via a supplied detachable audio cable.
Touch, tap and swipe controls, Google Assisant compatibility, 35 hours playtime (30 with ANC on) and 15-minute USB-C quick-charge option complete the package.
The H9505 (£249) are a lightweight and foldable alternative for travel (remember that?). Innards include 40mm neodymium acoustic drivers and wide band wireless sound with the option of hi-resolution sound quality via the supplied detachable line-in audio cable.
There's Bluetooth 5.0 combined with Google Fast Pair, Google Assistant or Siri voice assistance, and 20 hours playtime whether ANC is on or off.