Asus Transformer All-in-One: the world's largest tablet
New desktop/tablet hybrid features a detachable 18.4-inch screen and dual Android and Windows 8 operating systems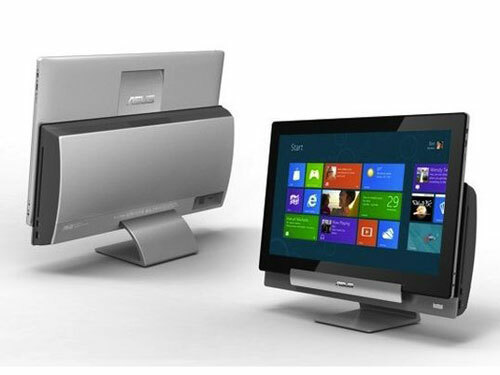 Asus has gone and done it: it's made an 18.4-inch tablet. While we'd ordinarily dismiss such a huge device as a pointless "look at me" exercise, the Asus Transformer All-in-One (or AiO) has an excuse: it's really an iMac-style one-piece desktop, first and foremost – the screen can just be removed if desired.
Unveiled today at Computex, the AiO also runs two operating systems, booting either to Windows 8 or Android depending on your preference. According to Engadget, Windows 8 is the "default" OS, and you switch to Android by pressing a button – presumably when you want to pick up that giant screen and retreat to the sofa.
The AiO wasn't the only tablet Asus revealed. There was also the Taichi, a thin-and-light Windows 8 laptop with a sleek exterior which, when the device is closed, becomes a touchscreen. When open, you can also switch this second screen on so that two people can view the same image while sitting on opposite sides of a desk. It will come in 11.6 and 13.3-inch varieties and yes, it's a bit mental.
Then there's the Asus Tablet 810, an 11.6-inch slate with Windows 8 and a new "Clover Trail" Intel Atom processor. It'll be compatible with a special dock that adds a QWERTY keyboard and extends battery life.
Then there's the Tablet 600, a 10.1-inch mode with an Nvidia Tegra 3 processor. And finally, the Asus Transformer Book, a Windows 8, Ivy Bridge-based notebook with a removeable touchscreen. It'll come in 11.6, 13 and 14-inch sizes, all of which have full 1920 x 1080 HD resolutions.
Phew. There's no word on pricing or availability for any of these devices yet.
[Via InfoWorld]
Corning unveils flexible Willow Glass