Borderlands Legends coming to iOS
A portable version of the console game Borderlands will be coming to iOS in October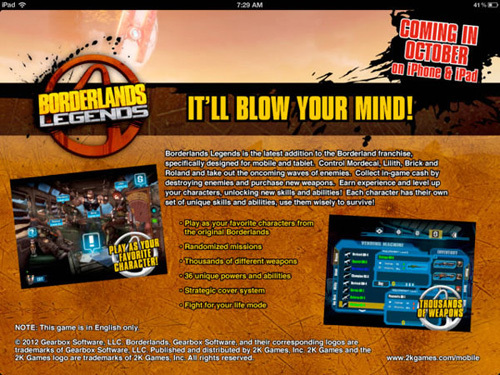 For those of you who just can't get enough of Borderlands on Xbox and PS3, you'll be pleased to hear Gearbox Software will soon be releasing an iOS version for your portable action needs. A leaked advert posted on the Gearbox forum thread shows what is purportedly an advert for Borderlands Legends.
From the description, it sounds as if you'll be tasked with repelling waves of enemy attacks in 'randomised' missions using 'thousands of different weapons' as well as 36 unique powers and abilities, the likes of which you unlock with experience points garnered from killing alien scum.
A cover system to keep you from sustaining damage is also mentioned in the advert, hinting at a third-person view perspective – although we wouldn't discount the first-person one used in the console games just yet. Then there's a 'fight for your life' mode and the ability to control Mordecai, Lilith, Brick and Roland, all the main characters from Borderlands.
Borderlands Legends will be available sometime in October on iPad and iPhone. There's no price yet, but we'd expect it to be pounds, not pennies. And no, we haven't see details of an Android version.
You might also like: Apple iPad 4 leaks begin