Bose ups the ante in TV sound
I've just been watching and, perhaps more importantly, listening to a bold new entry into the TV market from Bose. You'll know them for their popular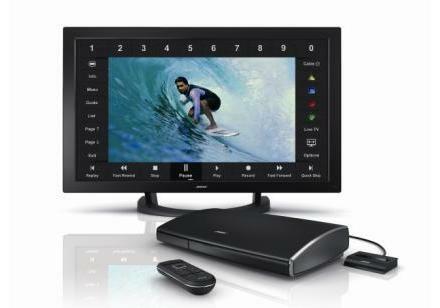 I've just been watching and, perhaps more importantly, listening to a bold new entry into the TV market from Bose. You'll know them for their popular music systems that put out a surprising amount of low-end thunk from compact dimensions.
So what happens when you put that "waveguide" tech inside a TV? You get the Bose Videowave, the company's first TV and one that might change the way other telly makers think about sound.
This 46in, 1080p LCD display has six compact woofers that pump bass around a twisting tube cavity behind the panel and out through a port in the bottom, while an array of smaller speakers disperse the higher frequencies left and right.
The demo was impressive, with a wide sound field and far more bottom end than you have the right to expect from a flatscreen. Then again, it's not the flattest of screens. The clever sonic plumbing makes it much deeper than many of the latest LCDs.
The system uses a separate control console that connects to your Blu-ray player, console, etc and feeds just one cable to the display for a neat setup.
To simplify things further there's a new "click pad" remote that controls those sources via a minimal set of buttons that command a contextual on-screen menu (and it does that via RF, so everything can be hidden out of sight).
The Bose Videowave system will be available in the UK from 14 October for £6000, including setup and calibration.