Call of Duty: Black Ops 2's multiplayer mode exposed
Scorestreaks to replace killstreaks and livestreaming to come to the fore in Treyarch's upcoming shooter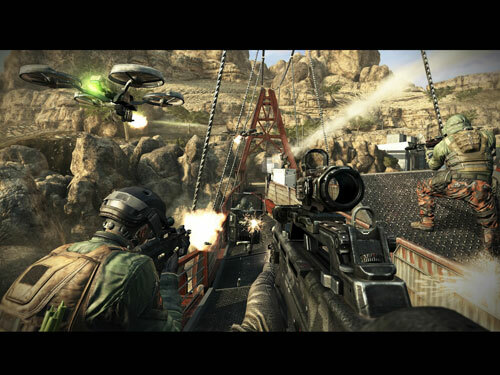 Call of Duty: Black Ops 2 developer Treyarch has just lifted the lid on the upcoming first-person shooter's multiplayer mode – and there's some unexpected stuff there.
Having briefly shown us the multiplayer in motion with last week's trailer, Treyarch has now revealed that killstreaks (which rewarded players with powerful bonus attacks and the like for slaying a certain amount of enemies without dying) are being replaced by "scorestreaks". The idea is to reward you for every positive action you pull off, not just kills – so flag captures, assists and even protecting your teammates using a riot shield will all contribute to a streak.
Streak rewards include flying drones, heavily-armed robot tanks and a turret that emits microwaves to slow down any enemy that comes close.
Then there's the livestreaming feature, allowing you to broadcast your Black Ops 2 games live over the Internet. It'll be available for both console and PC gamers, and shouldn't require any extra features (although you can use a USB camera if you want to be in shot yourself along with the footage).
Call of Duty: Black Ops 2 goes on sale in November.
[via Kotaku]
LG Optimus Vu finally going on sale
New video! BMW goes for green with its C evolution E-scooter
Scent capturing printer could make for some interesting postcards