A decade of iTunes
As Apple's online store hits the ripe old age of 10, we look back at the major milestones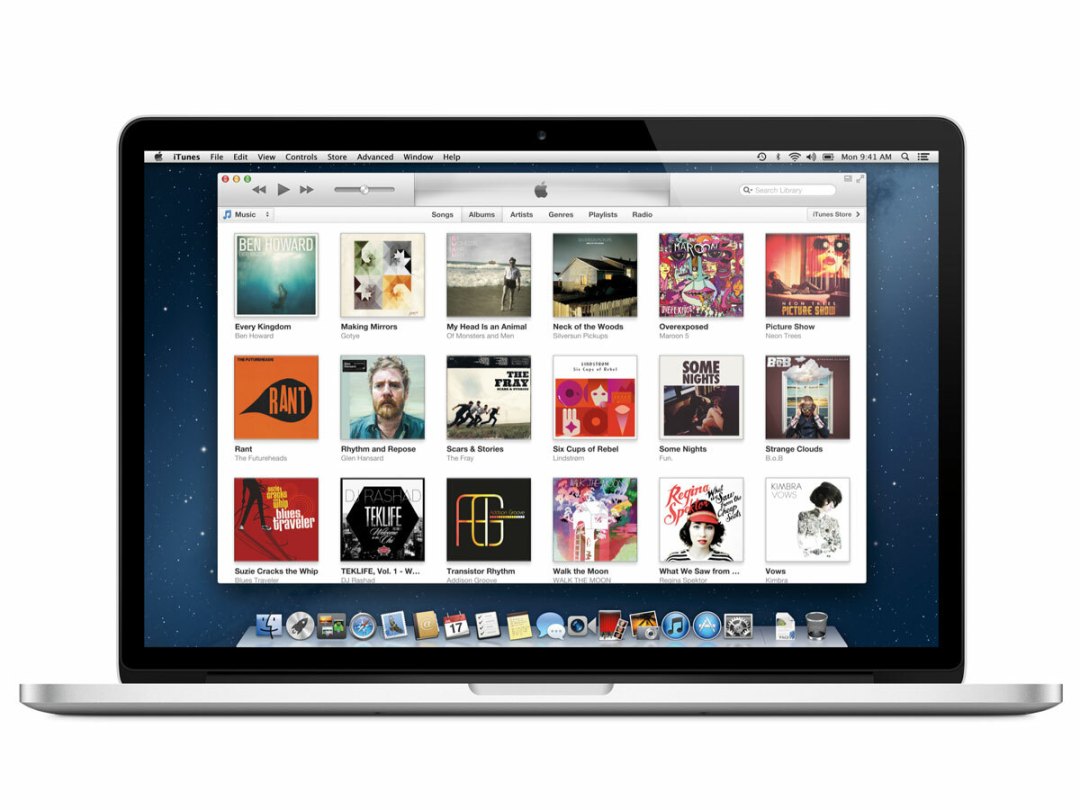 On April 28th, the iTunes Music Store hits the ripe old age of 10. Yes, we find that quite hard to believe too – but it's the truth and it makes us feel very old indeed. Anyway, we thought it'd be a good time to hop in the time machine and take a trip through the Music Store's history, stopping off at some major milestones on the way. Belt up.
28 April 2003

The iTunes Music Store goes live in the US. There are 200,000 songs available for download, costing 99 cents apiece. On day one, U2's "Stuck In A Moment" is the top-selling track and Beck's Sea Change the top-selling album. Over a million songs are sold in the first week of operation.
8 September 2003
Song downloads hit the 10 million mark.
16 October 2003
iTunes lands on Windows, allowing non-Mac users to purchase songs through the Music Store and sync them onto their iPods.
Top-selling song of 2003: "Hey Ya" by OutKast
Top-selling album of 2003: On and On by Jack Johnson
15 March 2004
The 50 millionth song is downloaded.
15 June 2004
The iTunes Music Store lands in the UK, Germany and France.
12 July 2004
The downloader of the 100 millionth iTunes song, Kevin Britten, wins himself a PowerBook, iPod and a voucher for 10,000 more tunes. Lucky Kev.
10 August 2004
There are now over a million songs available in the store.
26 October 2004
iTunes comes to a raft of other European countries: Austria, Belgium, Finland, Greece, Italy, Luxembourg, the Netherlands, Portugal and Spain.
2 December 2004
The US's friendly neighbour to the north Canada finally gains access to the Music Store, eh.
Top-selling song of 2004: "Vertigo" by U2
Top-selling album of 2004: How to Dismantle an Atomic Bomb by U2
10 May 2005
iTunes arrives in Denmark, Norway, Sweden and Switzerland.
Podcasts arrive in the Music Store, bringing cut-price audio education, LOLs, entertainment and more to the world.
18 July 2005
500 million songs have now been downloaded. That's half a billion, folks.
4 August 2005
Japan gains access to the Music Store.
7 September 2005
Apple launches the iPod Nano to replace the iPod Mini. It goes on to become the best-selling MP3 player of all time.
12 October 2005
TV shows (available one day after they air) and music videos are now available through the iTunes Store. These launch alongside the fifth generation iPod – the first to support video as well as music.
25 October 2005
Australians bid "G'day" to the iTunes Store as it launches Down Under.
Top-selling song of 2005: "Gold Digger" by Kanye West
Top-selling album of 2005: X & Y by Coldplay
23 February 2006
One billion songs sold.
12 September 2006
iTunes becomes less and less a Music Store as films go on sale for the first time.
6 December 2006
Kiwis do the Haka (probably) as the iTunes Store arrives in New Zealand.
Top-selling song of 2006: "Bad Day" by Daniel Powter
Top-selling album of 2006: How to Save a Life by The Fray
The iPhone is announced alongside news that two billion songs have now been downloaded on iTunes.
9 January 2007
Films on iTunes suddenly get a lot more appealing: the first Apple TV is launched.
21 March 2007
Apple introduces "Complete My Album", allowing you to, er, complete your albums by buying missing tracks at a discounted price.
29 March 2007
A blow is struck for platform neutrality as EMI's entire back catalogue goes DRM-free on iTunes.
2 April 2007
Apple moves into the education market with iTunes U, which allows universities and other educational institutions to control and distribute audio, video and PDF content to students via iTunes.
The iPod Touch is launched, becoming the first iPod able to access the Store directly.
30 May 2007
Apple displays a whole lotta love for Led Zeppelin, as the veteran rock band's back catalogue appears at the Music Store for the first time.
Top-selling song of 2007: "The Sweet Escape" by Gwen Stefani
Top-selling album of 2007: Back to Black (Deluxe Edition) by Amy Winehouse
5 September 2007
iTunes is now the leading music retailer in the US.
13 November 2007
A landmark moment as iPhone 3G is launched – and alongside it the iTunes App Store. The are only 500 apps on sale, but users of iPhones and iPod Touches download 10 million apps in the first weekend.
3 April 2008
In an effort to aid music discovery, Apple introduces Genius, which recommends songs based on the music you like. It's OK, we guess.
11 July 2008
The first HD TV shows appear on iTunes.
Top-selling song of 2008: "Viva la Vida" by Coldplay
Top-selling album of 2008: Viva la Vida by Coldplay
9 September 2008
Sensible people around the world rejoice as every song on iTunes goes DRM-free.
16 October 2008
Movies are now available to buy and rent in HD.
Tequila shots all round as the iTunes Store finally arrives in Mexico.
6 January 2009
There are now over 100,000 apps available at the App Store.
Top-selling song of 2009: "I Gotta Feeling" by Black Eyed Peas
Top-selling album of 2009: Only By The Night by Kings Of Leon
19 March 2009
Apple introduces the iPad alongside iBooks and the iBookstore.
4 August 2009
10 billion songs have now been downloaded from iTunes.
4 November 2009
iTunes Ping, a social network for iTunes, is launched. It's underwhelming, nobody really uses it and Apple quietly shutters it just over two years later, replacing it with Twitter and Facebook integration.
iTunes bags one hell of an exclusive by making the entire Beatles back catalogue available for the first time.
Top-selling song of 2010: "Love the Way You Lie" by Eminem & Rihanna
Top-selling album of 2010: Recovery by Eminem
27 January 2010
10 billion apps have now been downloaded from the App Store. People just love apps!
10 February 2010
Apple launches iCloud, allowing you to sync iTunes downloads between all your iOS devices.
Latin America finally joins the party as iTunes launches in 15 countries including Brazil, Argentina and Chile.
Top-selling song of 2011: "Party Rock Anthem" by LMFAO
Top-selling album of 2011: 21 by Adele
1 September 2010
Hong Kong, Singapore, Taiwan and nine other Asian nations get access to the iTunes Music Store.
16 November 2010
Russia, India, Turkey and South Africa are among the latest batch of countries to join Team iTunes Store.
Top-selling song of 2012: "Call Me Maybe" by Carly Rae Jepsen
Top-selling album of 2012: 21 by Adele
22 January 2011
A staggering 40 billion apps have now been downloaded from iTunes.