Exclusive! Smartphones with second E Ink reader displays incoming
Stuff met up with E Ink at IFA and they showed us the future of low-power screens on mobiles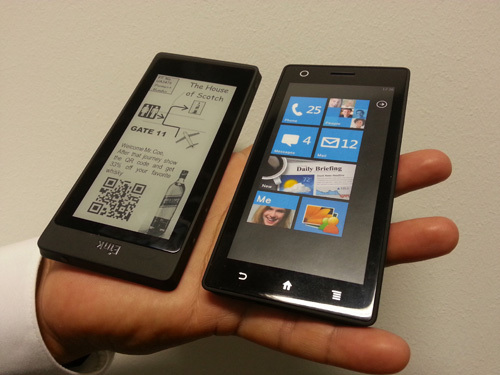 Smartphones will soon have more than one screen, with a low powered ebook reader on the rear. This is what E Ink has exclusively told us in a quiet meeting room at the IFA trade show in Berlin.
"Why do I want two screens?" you may ask. Because E Ink displays – featured in the likes of Kindle and Nook readers – are so low power and super thin they're ideal for reading on your phone without using much battery.
t's also a great safety net as you can leave an image on the screen, even after your phone dies – perfect for displaying, say, an airline ticket when your phone's running low on juice.
E Ink's prototype has only just been shown to mobile manufacturers but the response was good. One anonymous mobile phone company is working on installing the second screens already. They also told us Apple has been sent the displays – iPhone 6 with free ebook reader screen anyone?
HTC Accord Windows Phone 8 handset leaks
5 new Philips things that made us happier today
Asus Vivo Tab and Tab RT – hands on review