Gibson Firebird X – world's most gadgety guitar?
Rock Band suddenly looking less appealing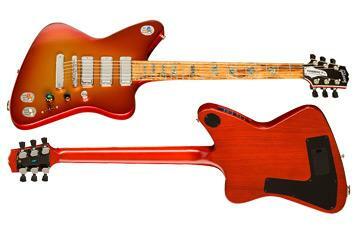 The aspiring rocker has to spend hours a day with a guitar in his laps, gradually learning the whereabouts of notes, painstakingly committing to memory the formations of chord fingerings and fretting about, well, fretting.
Now he has even more to get his head about, thanks to Gibson's Firebird X, the world's most gadgety guitar. As well as automatic tuning, previously seen on the company's Robot guitars, it comes with a suite of effects built in. As well as the standard pickup selector, volume and tone controls, the Firebird X has an 11 position rotary knob for selecting effects such as echo, reverb, compression, distortion, modulation, and EQ.
There are also switches for mixing effects signal strength and changing between standard and piezo (acoustic-sounding) pickups. And it has Bluetooth for wireless pedal switching.
It's the most gadgety guitar we've seen, and since the price is being witheld for the time being, it could yet turn out to be one of the most expensive. The limited run will be available from December 11 2010.
More from Stuff.tv
– 25 most iconic guitars of all time
– 25 most iconic computers of all time
– Next Big Thing – SIM-less phones
– 5 of the best Halloween apps
– Sony Ericsson PlayStation Phone
– JooJoo 2 to be Android-based
– Video Review – Windows Phone 7