Guitar Hero: Warriors of Rock set list unveiled
Get ready to do wrestle your plastic instrument into submission as Guitar Hero unleashes some new tunes to bring out your inner rock god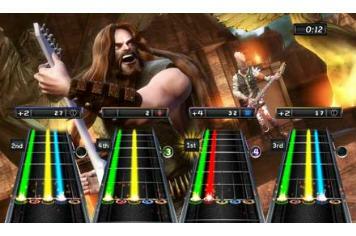 Prepare your virtual plectrum, throw up the horns and get ready to strum a plastic guitar peripheral like you've never strummed a plastic guitar peripheral before – we've just been slipped the deets on the set list for the next Guitar Hero instalment Warriors of Rock.
The set list includes a number of classics that have never had the Guitar Hero treatment before: Dire Straits' Money For Nothing; Kiss' Love Gun; Queen's Bohemian Rhapsody; The Offspring's Self Esteem; and Def Leppard's cock-rock spectacular Pour Some Sugar On Me.
There are also tunes by Linkin Park, Muse, Jane's Addiction, Dragonforce, Avenged Sevenfold and My Chemical Romance. You can view the full trailer at Games On Net.