Hands on – Tesla Roadster Sport
It has 6,831 lithium ion power cells storing 56Kwh of energy, can accelerate from 0 to 60mph in 3.7 seconds and has a motor that spins at up to 14,000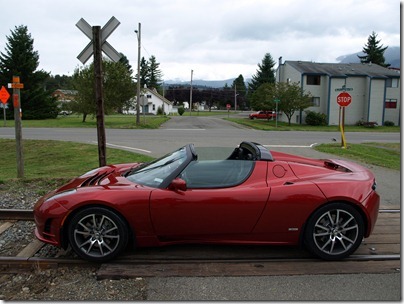 I took the Sport for a spin today around Seattle and the experience was nothing short of awesome. On the motorway, the power of the all-electric, whisper-quiet Sport feels virtually limitless. The accelerator pedal provides a direct line to rollercoaster-like acceleration but the Sport is never wanders out of control, sticking to rain-slick streets like glue, even around corners and over potholes.
A high-tech display unit provides instant feedback of your drive, covering speed (of course), horsepower, amps drawn from the liquid-cooled battery pack and that mind-bending acceleration. There are no gears, clutch noise or exhaust roar to distract you – just a sexy sci-fi whine that winds up as you increase the current.
But it's on city streets that the Sport really shines. With 288 horsepower and 295lbs-ft of torque instantly available from a standing stop, the Tesla smokes away from traffic lights and zips through traffic with incredible precision. Add immensely powerful regenerative braking and it's as though you are simply being teleported from one junction to another.
There are a few niggles, of course. The iPhone dock is a bit plasticky and, if you do have to put on the soft top, the car feels a bit claustrophobic. For an £87,000 car, the fittings also lack luxury polish.
But if it's acceleration, handling and eco-friendliness you're after -as well as the most happy thumbs-up from passers-by since Lady Godiva – the latest Tesla Roadster Sports isn't just the best electric car on the market, it must be high on anyone's shortlist for the most enjoyable vehicle ever made.