HTC One (M8) – all your questions answered
You've read our review, but we haven't stopped testing HTC's new superphone. So - what do you want to know?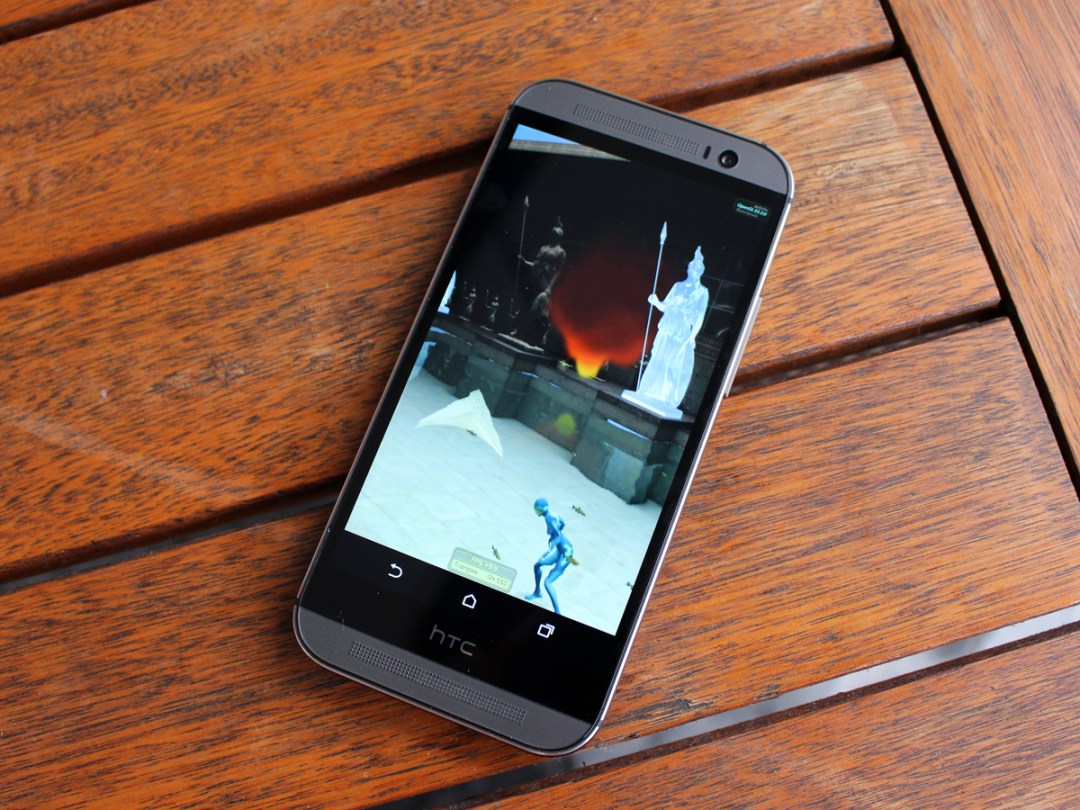 The HTC One (M8) is the best smartphone on the planet. And we've tested it to within an inch of its life. But if you're thinking about buying one, you'll want to know everything there is to know about this metal masterpiece. 
That's why we've gathered all your social media questions here in one place, making inquisitive Stuff readers wildly (OK, mildly) famous in the process.
Get in touch on Facebook, Twitter, Google Plus or email with any more HTC One (M8) questions. Stuff is at your disposal.
UFocus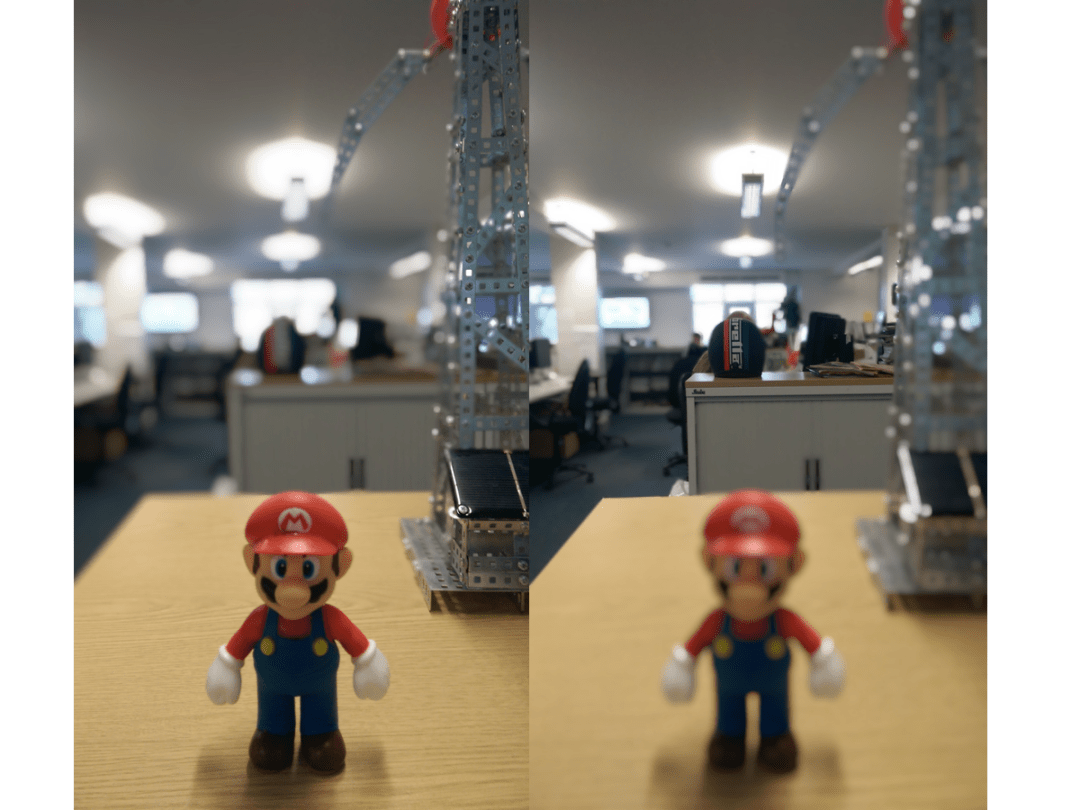 What does the HTC One (M8) do that's actually new and innovative? Or is it just an update? – Ross Hanson (@azraeel), Twitter
What's the biggest difference to the M7? – @MrScatterbrain, Twitter
The original One was so great that it finally had me defect from iPhones, is there sufficient difference to warrant an upgrade? – Michael Cogley (@employeeofapple), Twitter
Excellent questions, Missrs. Hanson and Scatterbrain. And of course our HTC-loving "employee of Apple". The one feature we haven't seen on a smartphone before is UFocus – that's the ability to refocus photos after you've taken them, so you can change the subject of your image after you've taken it. We're impressed that the One (M8) has bottled the Lytro camera's superpowers in its depth sensor camera. Lytro was an excellent idea but it was an expensive standalone camera with a tiny screen and limited appeal.
The Galaxy S5 boasts a similar feature, albeit thanks to software trickery, so we'll be putting the two head to head when we get an S5 to test – based on our S4 and HTC One comparisons, the Samsung should have the stronger camera overall with more detail than One (M8)'s four UltraPixels can offer.
Elsewhere, the microSD support, tweaks to BlinkFeed and Extreme Power Saving mode are all useful additions to the original HTC One. It feels like more than just an annual update – the changes are meaningful.
More info on UFocus would please me greatly. – Ben Stinson (@bunjiweb), Twitter
How good is the UFocus capability? Gimmick or worth it? – Matt Targett, Facebook
Like to see some photos with the new depth of field "Bokeh" effect. – State of Emergency (@SOE_MUSIC), Twitter
Definitely more than a gimmick, chaps. Tapping to refocus provides a new way to get creative with your snaps. It's not useful for every image, and to get the best results, you'll end up staging shots (like our office Mario, above). But it's fun to play around with and we're sure you'll use it.
Word of warning: you won't be able to use UFocus with any shots you've zoomed in to take. There, we've told you.
MIcroSD Support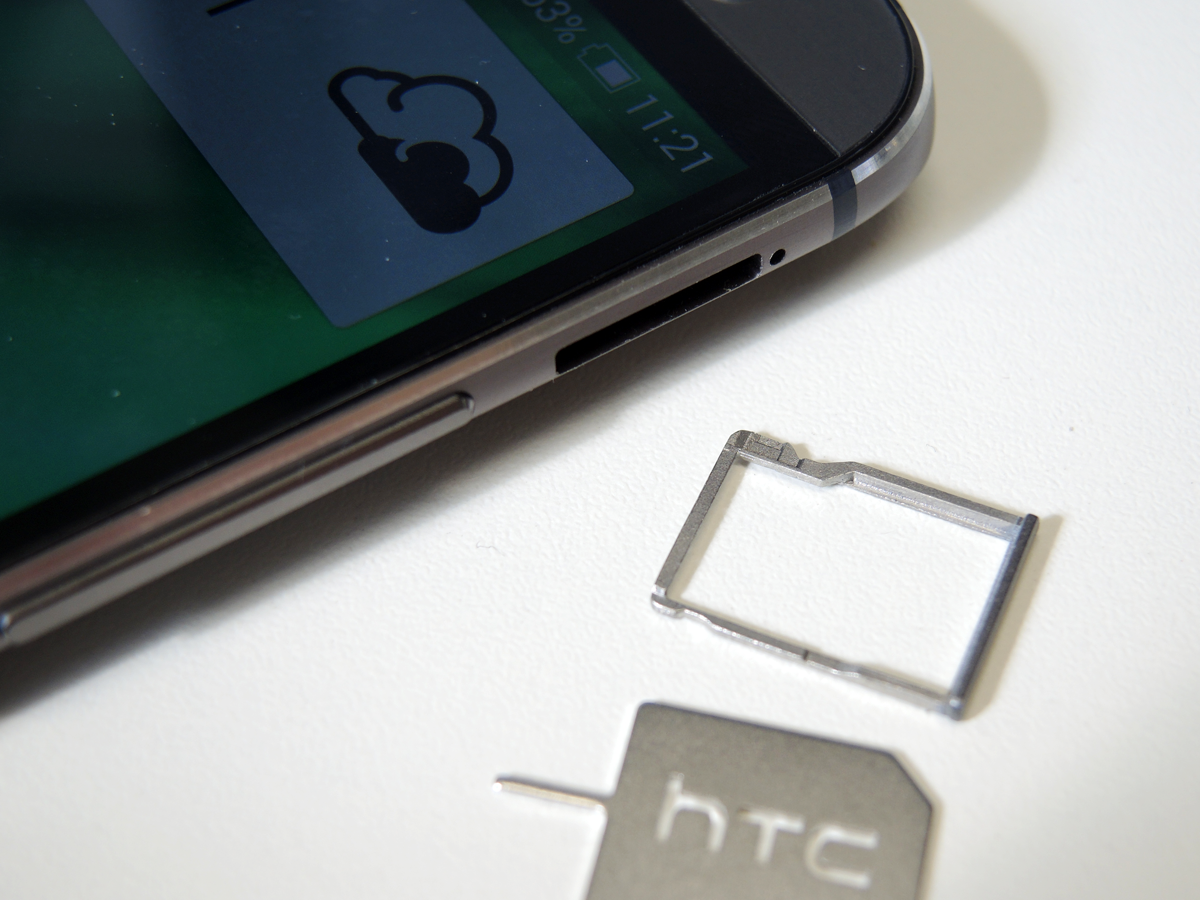 What's the largest microSD card it will take? – Mark Williams, Facebook
The One (M8) will work with 16, 32, 64 and even 128GB microSD cards. The built-in storage comes in 16 and 32GB flavours – about 6GB is taken up by the system.
If you're wondering where the microSD card goes, it's the new drawer on the right hand edge of the HTC, above the volume rocker, symmetrical with the nanoSIM drawer.
Can third party apps be saved to the microSD card? – Yossi Grosskopf, Facebook
Yes third party apps can be saved to a microSD. HTC says this does depend on the apps but you can track where everything is saved under 'Apps' in Settings with lists for downloads stored on the device and externally.
Battery Life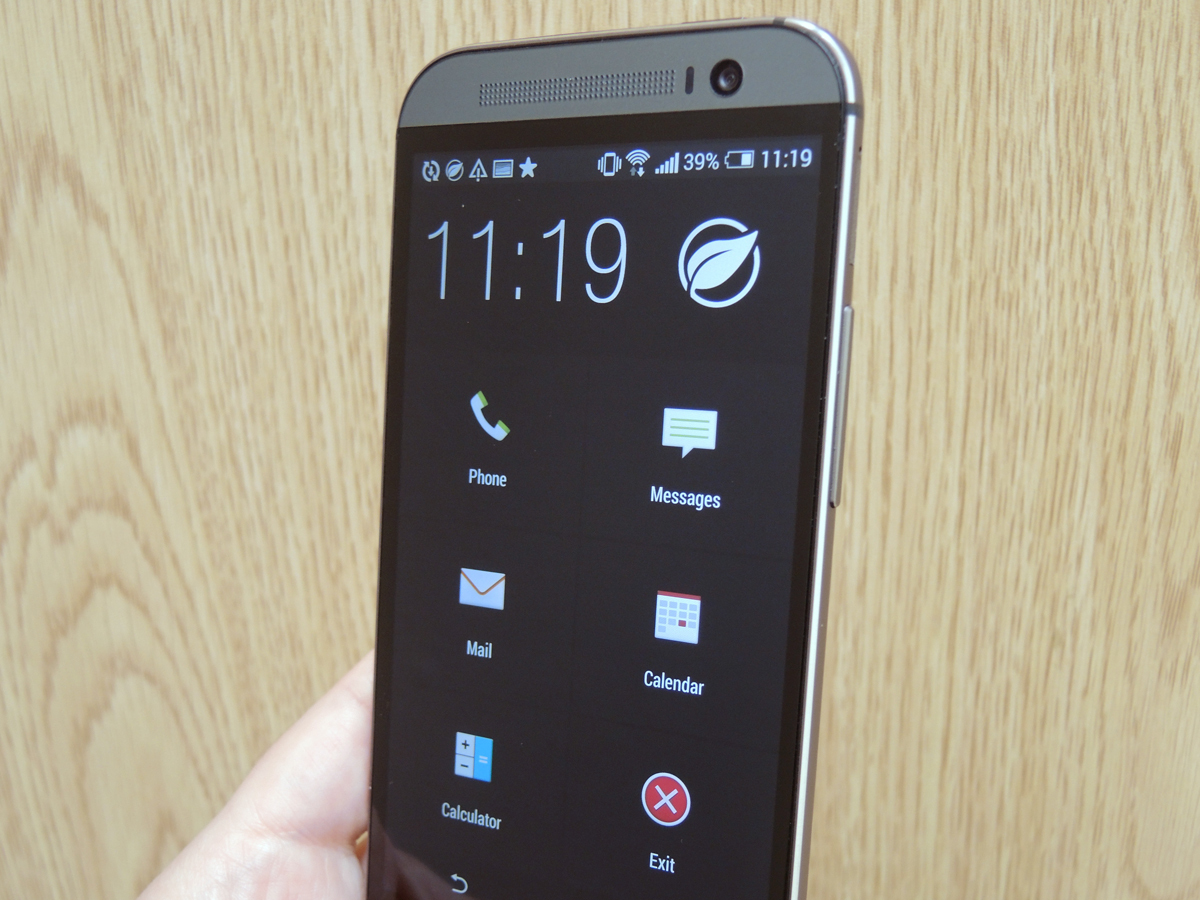 Battery life! – Hoonam Naini, Facebook
We've deduced there's a question in your brief message Hoonam. And it's a good'un.
The One (M8)'s 2600mAh battery is only slightly better than its predecessor's. It lasts a day or a day and a half if used carefully. In our battery rundown test (HD video, Wi-Fi on, half brightness) it dropped just 6% an hour, matching the LG G2 – so if its video playback you're after, you're in luck.
If you're a HTC One owner hoping for a real boost in battery, you might be disappointed. That said, the Extreme Power Saving mode (pictured) can be set to automatically switch on at 15, 10 or 5% – it kills data when the screen's off and nixes everything apart from key apps (calendar, phone, messages). At 5% that gives you a claimed extra 15 hours of use, and in our experience, the battery barely budges while the device is in this mode.
HTC Versus The World
Should I get one to get away from the iPhone 5? – Alex Nicolson (@ANicolsonphoto), Twitter
iOS still has the best apps and the iPhone 5s still offers the smoothest smartphone experience on the market, but we think you should do it, Alex. Our reviewer Sophie jumped ship from the iPhone to the HTC One and isn't going back. Bigger screen, live widgets, BlinkFeed, UFocus and microSD expansion – plenty of reasons the HTC trumps the iPhone. One caveat – the iPhone has a more consistent main camera, so it does depend in part on how important phone photography is to you.
Is there a big speed difference versus the HTC One? Jason Smith, Google Plus
The One (M8) is powered by a Snapdragon 801, not the 600 in the One – but the original HTC ran smoothly to begin with. Performance alone isn't a reason to upgrade, both HTC handsets do a beautiful job of running Android. According to the AnTuTu scores, the One (M8) is on top of the smartphone charts for now with a score of 36419 and it's a beast for gaming.
Is it better than a Galaxy S5? – Julian Garlinge (@julesg73), Twitter
We don't want to call that one yet, Julian. But the S5's release date is mere weeks away so we'll be pitting these two heavyweights against each other very soon. For now, take a look at how they square up in our HTC One (M8) versus Samsung Galaxy S5 weigh-in.
Is it better than…
Yes! It's the best smartphone money can buy.
For now.
BoomSound
Side by side video of BoomSound volume levels please Ben Stinson (@bunjiweb), Twitter
You win the Most Demanding Question Prize Ben. HTC One up top, HTC One (M8) below. The quality on Vine isn't amazing but you should be able to hear the difference in volume.
Click the volume button in the top left to have a listen.
MISC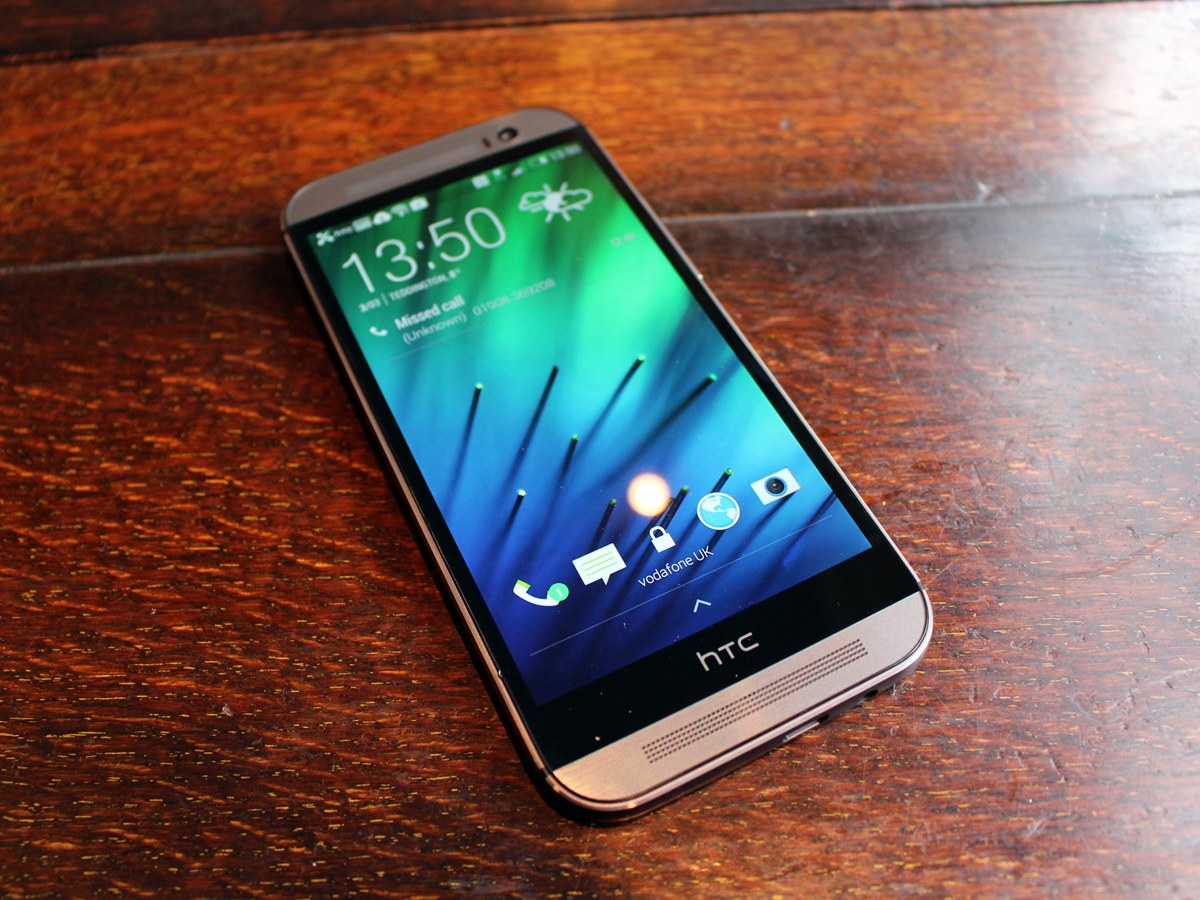 Why the hell is the bezel/chin so MASSIVE? David Pye, Google Plus
David – we agree. It's a tall phone with some wasted space on the front – the G2 with its barely there bezels would suit you. But it looks beautiful and it's still impressive engineering considering there's a bigger 2600mAh battery under the hood too.
Another reason the 'chin' looks so big is that there's no capacitive buttons anymore, there's onscreen Android buttons instead. Personally we reckon this is prime thumb-resting space.
What does it smell like? John Slater, Google Plus
Smells like a machined metal unibody to us, John. With a hint of a whole company's hopes and dreams captured and piped into that smartphone body.
And notes of jam donut. Oh wait, that'd be the jam donut.
Where and when can I get the UK version of the dev device? Martyn Haigh, Google Plus
We take it you mean the Google Play edition, Martyn. Read more info in our news story but previous Google Play editions haven't made it to the UK. We'll ask HTC and update the story for you.
Sense 6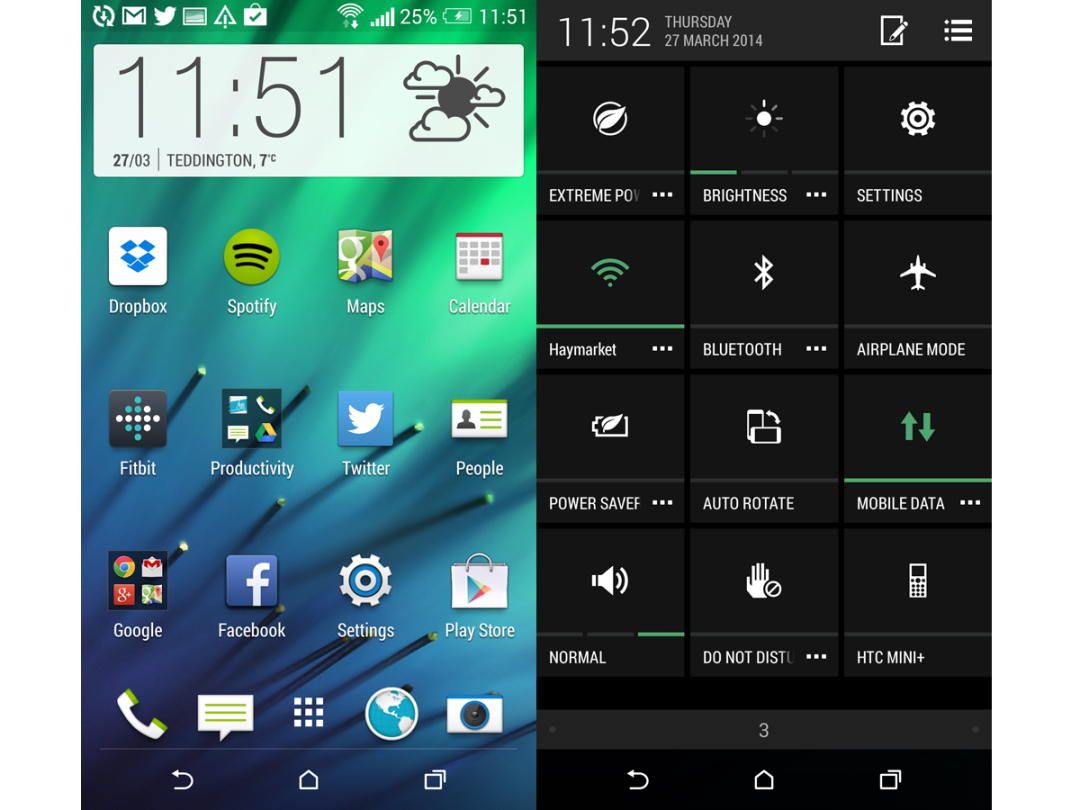 How close to the Nexus experience is this? Have they messed around with Android much? Andrew Bradley, Google Plus
Not too much, Andrew. Sense is one of our favourite Android skins, precisely because it doesn't meddle unnecessarily, and it's sleeker and slicker than ever. Some icons have been subtly redesigned but it's very similar to previous iterations of Sense. The only thing that might annoy you if you like stock KitKat is BlinkFeed, its scrolling news and social feed. It can't be turned off but it can sit quite nicely to the left of your main homescreen.
The main differences between Sense 5/5.5 and Sense 6 are the onscreen buttons, as you would get on a Nexus, the new ability to change the colour "theme" of the UI and updates to what can be included in BlinkFeed. Now Fitbit progress and Zoe Highlights, for example, can show up here too.
You can always install a custom launcher on the One (M8) too but we doubt you'll need to.