Icon – Ciclotte exercise bike
An exercise bike? Are you trying to say I'm fat or something? Of course not, you're just big-boned. Yes, the Ciclotte is an exercise bike – but y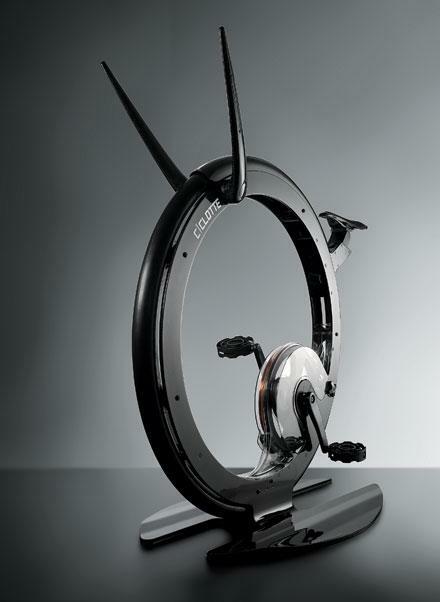 An exercise bike? Are you trying to say I'm fat or something?
Of course not, you're just big-boned. Yes, the Ciclotte is an exercise bike – but you won't find one down at your local Fitness First. Sculpted from carbon, steel and glass fibres, this is more suited to the home of an F1 driver or a 50th-floor Manhattan bachelor pad. It has a four-speed epicycloid system, which uses a rotating copper ring and four magnets to create a magnetic field for you to pedal against.
So what's with the name? It sounds like a type of pasta.
There you go again, thinking about food. You're not far off though. Ciclotte is an Italian invention – home of Milanese fashion houses and the finest pasta this side of Luigi's on the High Street – so it's no wonder they felt the need to combine style with exercise. That's why it has the look of sleek minimalism rather than functional tedium.
I didn't realise unicycles were trendy these days…
That's probably why you haven't been on the cover of Vogue. What the Italians say, goes. You'd probably rather a set of boring handles than that pair of carbon fibre horns, wouldn't you? Don't worry though, the touchscreen control panel should sate the geek in you. Plus it comes in full carbon, silver or purple, so you can match it to your Prada trainers and Armani gym kit. Fantastico.
£6800 | www.ciclotte.com
MORE ICONS
Icon – Eclipse TD712z Mk2 Black
Icon – Olympus Pen E-P2 Silver