Just because they could – £100,000 Nikon fisheye lens
This vintage Nikkor lens is the world's most extreme wide-angle lens. And it comes with an extreme price.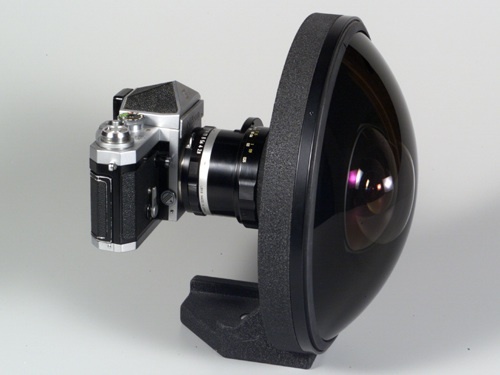 We hope your DSLR is ready to feel pretty inadequate. The British Journal of Photography has unearthed a ridiculously rare and ridiculously wide-angle Nikon lens on sale at Gray's of Westminster, London for £100,000.
The Fisheye-Nikkor 6mm f/2.8 lens has an incredible 220 degree angle of view, meaning this giant piece of kit can see behind itself. The lens weighs in at 5.2kg with a minimum focussing distance of 25cm. The one that Gray's have in stock is in mint condition if you're interested and you get a slip-on lens cap and rugged metal case thrown in for your money.
This is one rare piece of vintage glass – launched at the Photokina trade show in 1970, you could only get one of these lenses by special order even when the Fisheye-Nikkor first went on sale in 1972.
What exactly you'd use that wide-angle for, we have no idea. But if you're tempted, hit up the boys at Gray's before a Nikon-mad enthusiast beats you to it.
Facebook earns 75p per quarter from each of its 900m users
Viral of the week – what it's like to be a dog toy
Next Big Thing – interactive kitchen