Kobo Vox colour e-reader unveiled
Cheap tablet, or fancy e-reader? We like a good identity crisis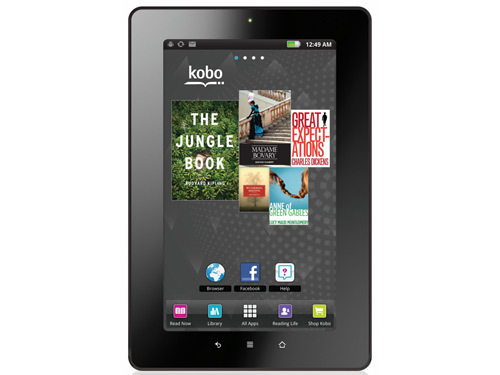 WHSmith has beefed up its Kobo e-reader offering with a 7in colour slate complete with Android 2.3 (Gingerbread) and Wi-Fi, hot on the heels of its e-ink Kindle rival, the Kobo Touch. If you're holding out for a Mirasol colour e-ink display, you'll be disappointed but Kobo has done its best to protect your peepers with an anti-glare, 1024 x 600 resolution LCD screen.
At £170 you might not have high hopes for specs – and it seems Kobo has scrimped on the 800Mhz processor and outdated OS. But a big draw is access to the 2.2m strong, Kobo e-book store in colour – we're talking comics and graphic novels – and the seven hours battery life isn't too shabby either. And following in Spotify and The Guardian's footsteps, the Kobo Vox will let you update Facebook with details of what you're reading – the first e-reader to get the social network treatment.
The Kobo Vox is in stock now on WHSmith's website but the Vox's browsing and multi-tasking skills will need a good testing before any Christmas wish lists are drawn up. Since Amazon is dragging its heels about releasing the Kindle Fire in the UK, will you be picking up Kobo's rival colour e-reader? Tell us on Twitter.
You may also like: WH Smith liberates ebook readers with Kobo Touch