Leica M9-P Edition Hermes hands off
This is what £18,000 worth of seriously limited edition Leica looks like – Mickey Mouse gloves at the ready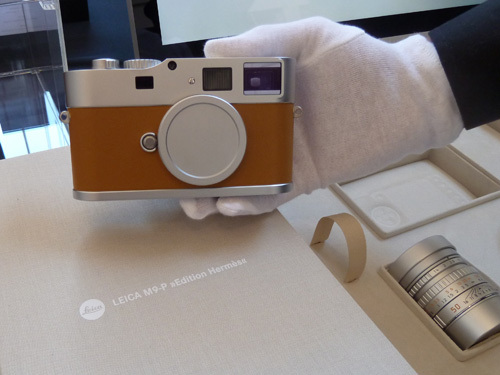 We weren't actually allowed to touch this limited edition Leica M9-P today – it's the only 'Edition Hermes' in the UK out of a grand total of 300 in the world. And obviously we look like the kind of people to drop, drown or gun down expensive gadgets.
But we were given a quick demo of the camera's main 'style' features, after salivating over the beautifully shot Making Of video, and since we couldn't take snaps with it, Leica kindly let us take plenty of photos of this £18,000 digital rangefinder.
The regular M9-P sells for just shy of £6,000 so why all the extra pounds for this one? That would be the special silver-chrome design and Veau Swift (whatever that is) calfskin leather supplied by French fashion house Hermes.
This has been wrapped around the camera's body and used for the shoulder strap that Leica's throwing in for free with the set.
In essense this is the M9-P in a new frock but designer Walter de'Silva (whose day job includes working on Bugattis and Bentleys) was really allowed to go to town with tweaking the looks of this special edition. He's made the top and base plates all minimalist with new shutter speed dial, multi-function dial and shutter release.
There's no hotshoe up top and none of the swirly Leica writing that you'll see on the rest of the M series – the USB slot and frame selector lever have also been axed from the front and sides. You do get a dedicated serial number though and a limited edition number, just so you know you're part of the Leica/Hermes club.
The lens has also been redesigned to match the camera's body– this is the silver-anodised Leica Summilux-M 50mm f/1.4 ASPH lens that comes with the standard set available in May.
If you really want to push the boat out, there's a three lens set out in June that's limited to only 100 sets in the world – giving you 28mm, 50mm and 90mm options as well as a Hermes camera bag. But at £36,000 a pop you might have to sell that boat, and everything else you own.
Not that we think anyone has got this far still thinking they can afford a Leica M9-P Edition Hermes but if you're interested in the camera's specs, look no further than the M9-P's credentials. There's an 18MP sensor on board, 2.5in LCD display with sapphire crystal, scratch-resistant covering round the back and compatibility with most M series Leica lenses.
Drop us a line if you get one.
Leica announces X2 compact camera