Leica X2 hands on
You could buy ten budget compacts for the same price as an X2 but they'll never compete with the Leica's looks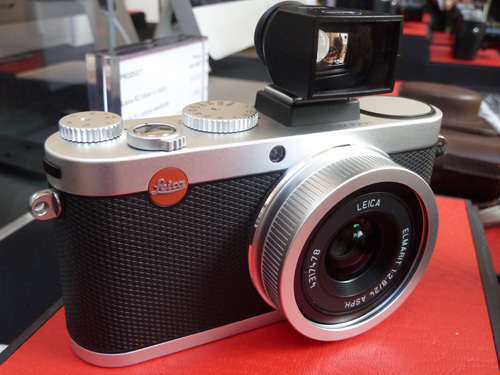 Did you fall in love with the Leica X1 two years ago? Well prepare to weep as the sequel is here and this high end compact is sexier and speccier than the first time round.
This is the kind of camera you want to immediately sling around your neck and pose with – glorious retro touches like the circular pop-up flash and dedicated ISO and white balance buttons have been combined with an impressive 16.2MP APS-C CMOS sensor that's a step up from the X1's 12.2MP offering. This is going to be a hard one to walk away from.
The X2 is rocking a Leica Elmarit 24mm f/2.8 fixed lens (which equates to a 35mm focal length) as well as shutter speed and aperture dials that'll be familiar to long-time Leica fans. All in all the X2 doesn't look too dissimilar from the X1 – it comes in silver or all-black versions and a 2.7in LCD display completes the set-up round the back.
The hand grip accessory, which you can buy separately for £92, makes the X2 feel more like a DSLR (it's chunky enough with dimensions of 124 x 69 x 51.5mm) as do the choice of optical and electronic viewfinders to mount on the Leica cam's hotshoe. The 36mm Bright Line Viewfinder is £269 and the EVF 2 is £360 so best leave some pennies for these additions when you're doing your luxury sums. 
Manual control is simple once compact camera users get used to the Leica way – no prodding and swiping through touchscreen menu upon touchscreen menu just to change the aperture here. Another difference from the X1 is the X2's new and improved 11 point autofocus system which we found to be quick off the mark in our short hands on, just as it's been billed.
It didn't take long for us to remember that it's not in fact an all-singing, all-dancing DSLR though – no zoom, no swapping lenses and no HD video shooting.
We've no doubt the Leica X2 can take some brilliant snaps. Colours on the test shots we took today looked beautifully accurate and those extra pixels over the X1 should ensure detailed images. Plus Leica reckon your snaps won't suffer from extra noise thanks to the big sensor.
Available from May for £1575, the Leica X2 isn't exactly value for money. But look out for a full Stuff.tv review soon to see if we think the X2's photo skills, eye-catching abilities and all-important red dot are enough to tempt you away from a more versatile DSLR or compact system camera.
Leica M9-P Edition Hermes hands off
Parrot ZIK touch-controlled NFC headphones out July
5 of the best crazy vehicles