Loewe shows off Invisible 46 transparent TV at IFA
Invisible TV alert straight from the front line at IFA. We're putting a mirror behind ours so we can see our mug through movies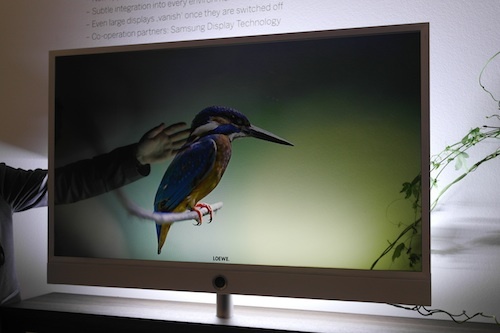 Loewe has been teasing its transparent TV prototype, the Invisible 46, at IFA and it's rather taken our fancy. A row of bright LED lights behind the display of the demo unit we saw makes the picture in the lower half in particular look great, despite the fact that someone's casually waving their hand behind the screen.
It almost goes without saying that the Invisible 46 is super slim with the same Loewe styling as lines like the Individual. The screen will 'vanish' when turned off and Loewe reckons this means we'll soon be freeing our TVs of their shackles and placing them in all sorts of positions around the house, with plants or artwork behind the screen.
What's more likely to become reality sooner rather than later are the ideas for use in shops and businesses as a next-gen way to run campaigns or display video and information.
Though the panels themselves are made by Samsung, we're told that the transparent tech itself is Loewe born and bred. And since it's at the "prototype" stage rather than just talk, we could see the Invisible 46 in the next year or two. Or not, as the case may be.
Loewe Reference ID decks out your TV in personalised materials
Exclusive! Smartphones with second E Ink reader displays incoming
More gadget launches and hands on reviews from IFA 2012