Next Big Thing – liquid touch sensors
Disney Research's new technology Touche takes touchscreens to a whole new level with liquid touch and body interfaces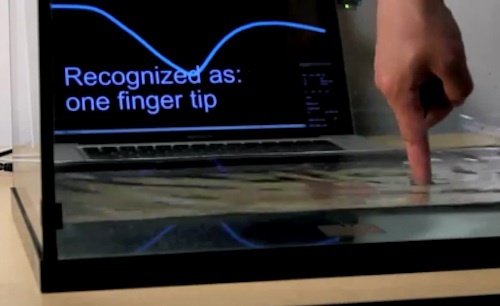 Watery smartphones? Sounds dangerous.
Touche is touch sensitive tech that's like the capacitive display on your smartphone but has tons of applications – from rigging up your doorknob to know when you're grasping it with your whole hand or shutting the door with one finger to passing electrodes through water with Touche recognising when there's a fingertip below the surface and when you're whole hand is submerged.
Clever – but when will I use it?
The Disney/ Carnegie Mellon team has come up with loads of cool uses – from an alt click gesture on smartphones where you pinch the back of the handset as well as the screen to bring up menus to body controlled MP3 players. Tap your arm or press two fingers together to send pre-programmed frequencies to the gadget so it knows when you want to skip a track or control the volume – it might not need a screen, and you won't be trailing wires.
I want a go, I want a go.
Fraid you can't as this is just a research bod's pipe dream for now although here's hoping some top dogs at Apple or Samsung want to get involved with Disney Research's crazy ideas. Read the whole damn research paper over at Disney Research or watch the vid below for more futuristic applications and experiments – closing the door will never be the same again.
Viral of the week – Wicked Lasers "LaserSaber"
Samsung Galaxy S3 – ultimate gaming setup
5 of the best action figures