Nikon Coolpix S1100pj projector cam – official details and photo gallery
Check out all the details for Nikon's projecting point and shooter, plus the Coolpix S5100 low-light compact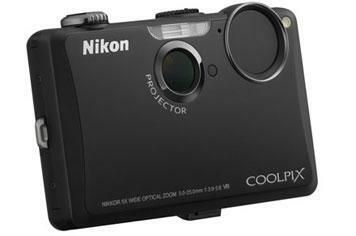 Following the release of some basic info via a German camera mag, Nikon has today announced more details of its new S1100pj projector cam.
First off, it's 40 percent brighter than its predecessor (now 14 lumens, to be exact), which means impromptu slide-shows don't need a room with blackout blinds anymore.
Most significantly, you can attach it directly to your PC or Mac via USB to show off your media, rather than just playing files off the camera, so a bit of guerilla cinema is certainly on the cards.
To spruce up your holiday snap slideshow, there is a selection of animations, background music and slide transitions. You can even scrawl "handwritten annotations" to your images as you project them.
With all that talk of projection, its easy to forget that it's still a very capable camera too. There's a 14.1MP sensor, 5x zoom, and LCD touchscreen on the back, plus a number of in-camera editing modes for a bit of post shoot tweaking.
You'll be able to get your hands on one from 16 September, but the price is higher than originally expected, coming in at £350 with a choice of black or green.
Joining the S1100pj is the S5100 compact. Its 12.2MP sensor, vibration reduction, enhanced Motion Detection and flash control system combine to make it a low light specialist. It will also shoot video in 720p HD. Release date and price TBC.
Nikon S1100pj
Nikon S1100pj
Nikon S1100pj
Nikon S5100
Nikon S5100
Nikon S5100