Overade folding bike helmet: the commuter's dream
Do you ride about town without a helmet like a daredevil because of storage issues? A safety saviour cometh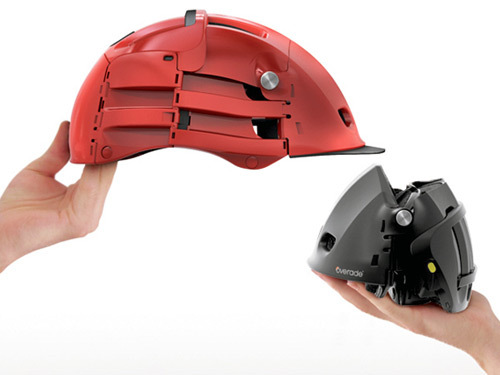 Wear a bike helmet and you have to carry it around, don't wear one and you may not be carrying anything ever again. It's a tough dilemma, or at least it was. Now, French designers 360 Agency have created the Overade, an attractive folding helmet that offers your bonce as much bounce protection as a conventional lid.
Looking like something Tony Stark cobbled together for his Iron Man armour, the Overade's  ideal for cycle commuters – chaining your helmet to your bike is one way of avoiding having to carry the thing about, but when it comes to shared bike services this isn't an option. The Overade won't fit in your pocket or anything, but it squeezes down to a bag friendly handful – ideal for urban riders.
The transforming helmet will go into production this year – and we expect it'll probably cost as much as a reasonably priced bike.
You may also like
Next Big Thing – sell your rubbish
Just because they could – 999 player FPS game sets world record
Court keeps Samsung's original Galaxy Tab 10.1 banned in Germany