Philips 9000 Series channels Wii and moths' eyes for 'ultimate telly' status
New smart TV system, new Wii-style remote, plus the good old Ambilight all wrapped up in a sweet new design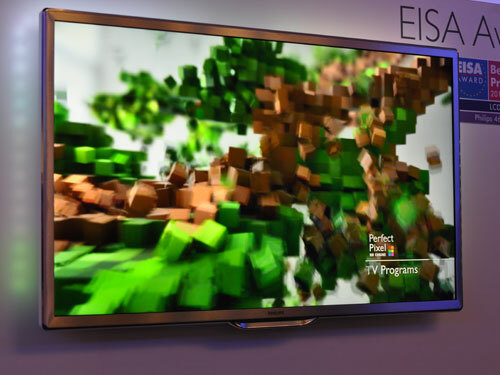 A few months ago we weren't sure Philips would be doing TVs any more. Now, under the stewardship of the 5-month-old TPVision, the brand's gone and released its highest-spec set ever.
The 46in and 60in 9000 Series (PFL9707) TVs have all the Philips tech we've come to love: three-side Ambilight Spectra XL, which uses LEDs to cast a glow around the screen on to the wall behind, and the Moth Eye Filter, which increases screen contrast for more dynamic images. Along with Micro Dimming Premium and Bright Pro technologies, this apparently provides a frankly ludicrous 150,000,000:1 contrast ratio. In theory at least, that's good.
Then there's the new stuff: a revised smart TV system running slick and fast on a dual-core processor, which provides access to AceTrax, Blinkbox, iPlayer and more, plus a Twitter overlay that lets you comment and gives Zeebox-style commentary on whatever TV show you're watching.
To simplify navigation, Philips bundles this  Wii-style pointer remote with a QWERTY keyboard round the back. There's an updated version of the MyRemote app for iOS and Android, which allows control of the set, but also lets you stream whatever's on screen via Wi-Fi (a system called 'Smart Screen'). Essential for cup-of-tea-during-match moments.
Philips also showed off the dashing, design-led PFL6900 series, which comes in 42in and 47in models. Like the PFL9707, it packs Ambilight and Smart Screen, and has a 2D game mode like Sony's SimulView that allows two players to get a full-screen multiplayer experience using 3D active-shutter glasses.
No prices yet, but both sets will be in the UK later this year.
Toshiba U920T – another sliding ultrabook
Lenovo ThinkPad Tablet 2 hands on review
Amazon Appstore launches in Europe – Kindle Fire 2 incoming?