Samsung Galaxy Tab 2 7.0 hands on review
Find out what's so next-gen about this 7in Sammy tablet as we go hands on at the Samsung European Forum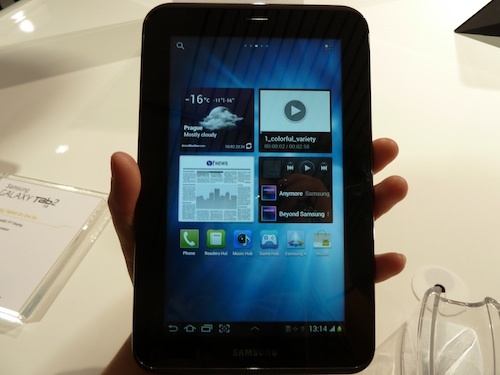 Samsung Galaxy Tab 2 7.0 – Build
Samsung's next-gen tablet is making its first appearance as a 7in slate and even if we're not convinced we'd choose a Galaxy Tab this size, the new rounded form makes it much more friendly to one-handed use. When the Galaxy Tab 2 (7.0) shows up in 'selected markets' (including, we hope, the UK) in March it'll be joining the Galaxy Tab 7.7 and 7.0 Plus. This one has a fetching metallic grey back but design wise, it's pretty similar to what we've already seen.
Samsung Galaxy Tab 2 7.0 – Screen
The 1024×600 LCD screen won't trouble the Galaxy Tab 2's Super AMOLED HD siblings from what we saw during our brief encounter and we'd be surprised if the Galay Tab 2 7.0's price doesn't reflect this dip in specs. So while this might not be your first choice for watching movies, the display is by no means to be sniffed at – text looks sharp and all but pixel perfectionists should be satisfied.
Samsung Galaxy Tab 2 7.0 – OS
One of the big selling points of the Galaxy Tab 2 7.0 will be that it'll come running Android 4.0.3 (Ice Cream Sandwich) straight out of the box come March. The Galaxy Tab 2 we fondled was sometimes laggy to unlock or while booting up the hubs but on the whole, the 1GHz dual-core processor (and 1GB of RAM) coped just fine with Ice Cream Sandwich-flavoured multi-tasking.
Samsung Galaxy Tab 2 7.0 – Hubs
Sammy seems to be more concerned with adding useful touches to the TouchWiz and Ice Cream Sandwich combo than bumped-up spec with the Galaxy Tab 2 7.0. Now you've got three easily accessible hubs – Music Hub, Reader Hub and the new Video hub – to launch you into your digital world.
The Video hub has 1000 movie and TV titles to rent or buy and we reckon it'll easily take on similar entertainment offerings from Sammy's competitors. Plus the Galaxy Tab 2 7.0 is one of the first tablets to get in on 'allshare play', Samsung's entertainment-sharing set-up – we had a quick demo and it's a promising rival to Apple's AirPlay.
Samsung Galaxy Tab 2 7.0 – Camera
The Samsung Galaxy Tab 2's 3MP rear facing camera takes surprisingly decent snaps with fairly realistic colours, though we should point out that it's hard to be an exact judge under the unflattering lights of a convention centre. There's also a VGA snapper on the front that's good enough for video calls. There's nothing mind-boggling about the Galaxy Tab 2's particular box of tablet tricks, but if Samsung can price it right, it could cut a clear path into the jumble of budget tablets out there. Our full review will be the judge of that, though. Watch this space.
You may also like
Bowers & Wilkins pumps up the volume on revised Mini Theatre series