Sanyo unveils three Full HD Xacti camcorders
Sanyo's Xactis once rode high in our camcorder Top 10, but have recently been squeezed into a no man's land between dirt-cheap Flips and more advanced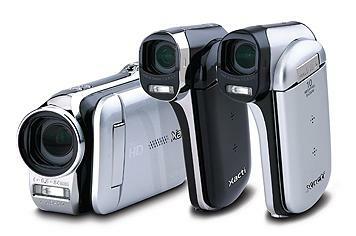 Sanyo's Xactis once rode high in our camcorder Top 10, but have recently been squeezed into a no man's land between dirt-cheap Flips and more advanced HD cams. But looking to make them relevant again are three new 'dual cameras': the VPC-GH1, VPC-CG100 and VPC-CG20.
All three have the same Full HD video and high-quality image stills as their predecessor, the HD2000, with the CG100 and CG20 also sporting the same phaser-loving pistol-grip style – leaving the GH1 looking on jealously with its old-school horizontal chassis.
A 285-degree rotating LCD makes them versatile little critters, particularly as you can snap high-resolution stills even while shooting video up to 14 megapixels (or 10 megapixels in the case of the CG20).
Built-in face chaser technology keeps the subjects of videos and pictures in focus at all times, while the Xacti GH1 and the Xacti CG100 boast a 12x double-range zoom, extending the optical zoom of the camera without any loss of quality.
There's also a built-in mini HDMI port allowing you to view footage on a high-definition TV, while all three models also support Eye-Fi-SD cards for wireless data transfer to a computer.
Available from March, the Xacti GH1 will be on offer in pink, blue and silver for £230. Also £230 is the CG100, which comes in black, wine red and white, while the CG20 will cost £180 in either pink, silver or black. Look out for a hands-on soon.