Sony NEX-5R hands on
A NEX 5n-a-like that plays nice with apps? Yes please. We peer down the lens of Sony's latest compact system snapper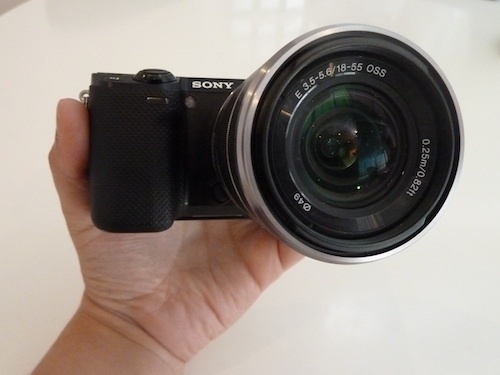 If you're a fan of the images that the beefy APS-C sensors in Sony's NEX series tends to take, you might be as taken in with the 5R as we are: pretty much the same sturdy build as the 5N but with a whole host of added extras.
There's no optical viewfinder here – you're in compact system camera territory now – but you do get some improvements to the layout of the manual controls over the NEX 5N, like the one touch movie button for instance and the new Function button and thumbwheel. Great if the menu system of the 5N left you huffing and puffing trying to get the right shot.
The next big improvement is the autofocus which worked like a dream for us in our brief demo – continuous autofocus will even work in the 10fps burst mode.
Another helpful addition is the 180 degree-tiltable LCD touchscreen display which will automatically countdown to an auto-portrait shot when propped up and turned to face you. Don't be shy now.
Wi-Fi wise it's a similar set-up to other connected cameras but we think easy sharing to Android and iOS devices, email and Facebook etc will easily become the norm in the next year or two.
More exciting is the PlayMemories camera apps store which will have a mixture of free and paid for apps when it launches in mid-October. Obviously it's not live yet but we did have a play around with some of the filter apps and we think this will keep the Instagram generation happy enough.
So not a huge departure from its predecessors in terms of design but we like the extra manual functionality and we're itching to have more of a play with the sharing and editing features – noise reduction in an app anyone? The NEX 5R will be compatible with eight lenses and bought with an 18-55mm lens it'll cost you £670 from October.
You might also like
Sony takes the wraps off the Xperia T
Asus announces Vivo Tab Windows 8 tablets