Sony Xperia Z Ultra – hands on review
We try to wrap our hands around the most powerful smartphone in the world: the humongous 6.4in Sony Xperia Z Ultra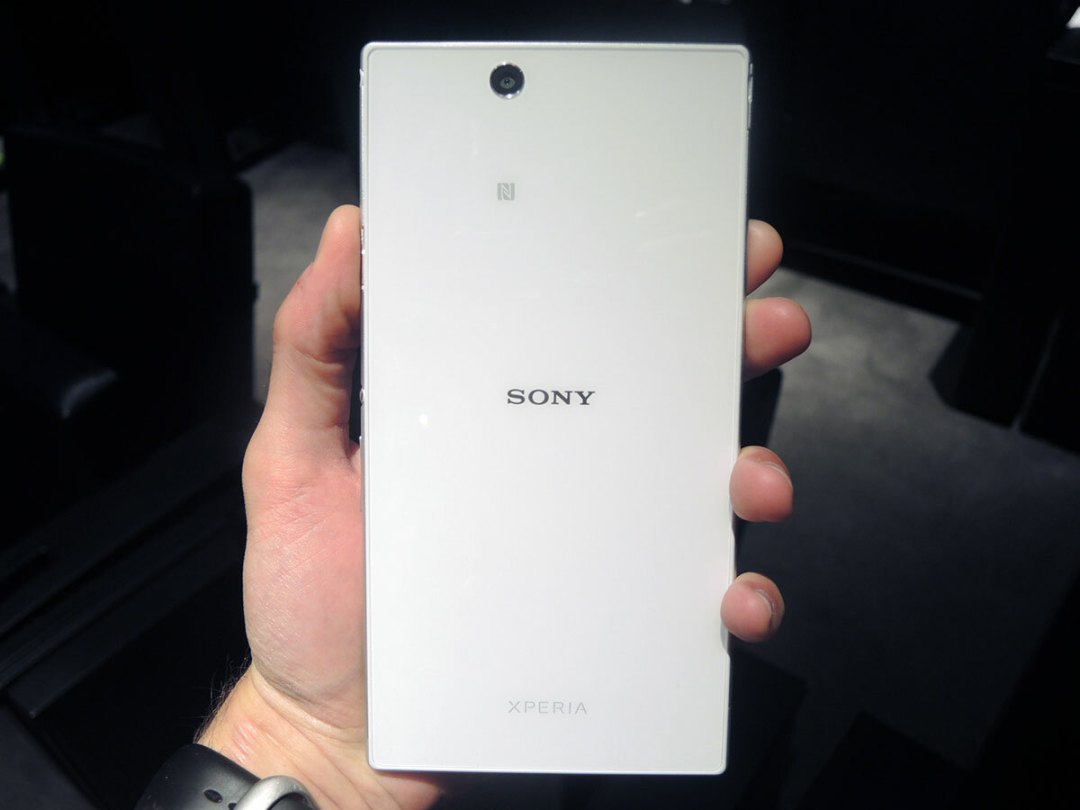 The Sony Xperia Z Ultra is Sony's answer to a growing breed of devices which blur the line between tablet and smartphone.
It's blurred the line so much, in fact, that we can barely see it all. Figuratively speaking of course, because this thing is just huge. Here's how our hands got on with the Sony's smartphone Goliath.
Design and build: did we mention it's big?
It's going to be hard not to overuse the word 'big' here, because the Xperia Z Ultra is very, very big. It's all thanks to its borderline tablet-sized 6.4in 1080p screen, and holding the Xperia Z Ultra feels like cradling something in between the Xperia Z and Xperia Tablet Z. The iPhone 5 looks like a child's plaything next to it.
Its extremely thin 6.4mm aluminium and glass body actually feels quite comfortable in the hand, partly due to its svelteness, and partly due to the quality of materials used.
There's no creaking or flexing to be found, and the build quality of its Xperia brothers is definitely present. Holding the Xperia Z Ultra side-on makes us feel like slicing up a few pieces of well-thrown fruit, but it'd be a shame to dirty such a nice looking device.
The Xperia Z Ultra features the same waterproof powers as its Xperia Z phone and tablet counterparts, which means it's harbouring cleverly hidden micro SIM, micro SD and micro USB ports, all of which are squirreled behind flaps in the surrounding brushed metal aluminium band.
There's also a magnetic charging port which can be used with an optional docking station to charge the handset as well as providing a comfortable angle for watching movies or turning the Xperia Z Ultra into a huge alarm clock. It's a nice feature we wish more manufacturers would include in their handset designs.
Screen: a six-inch stunner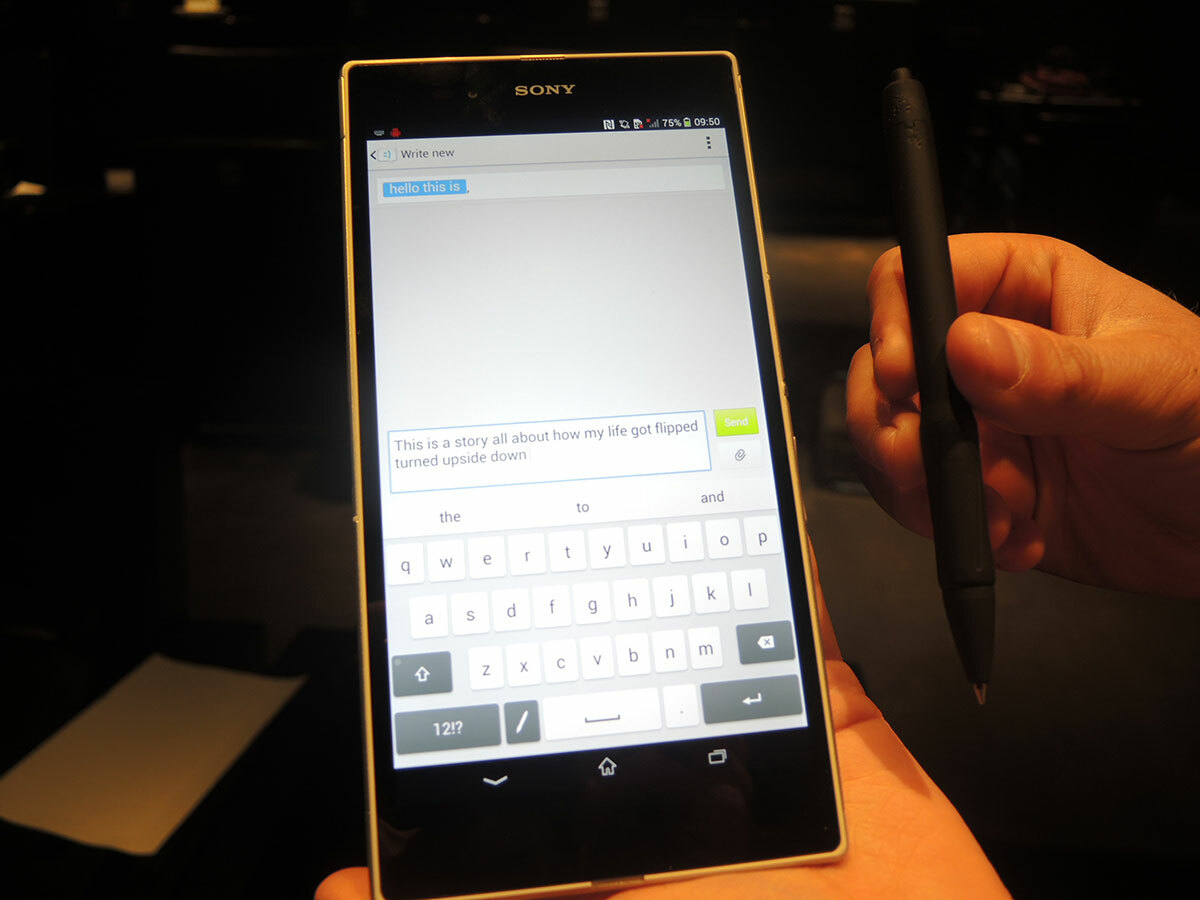 The screen is of course the standout feature of the Xperia Z Ultra, and it doesn't disappoint. Despite having a lower ppi count in comparison to its smaller full HD rivals, our eyes simply didn't notice a difference, and icons, pictures and movies look crisp, clear and bright, with vividly natural colours. That could be down to Sony's Triluminous Bravia screen technology and X-Reality engine, but either way, our eyes were impressed.
Not only that, but we can also confirm that the screen does indeed work with a normal Biro – no dedicated stylus required. Sony tells us that this techno-witchcraft is possible thanks to a very thin 'sensor-on-lens', though we're not sure what that is or how it can magically work with anything from a biro to a fountain pen. Anything pen-shaped at all, in fact.
Still, work it did, though we found that we had to press a little harder than we liked at times to get the pen nib to register. The screen also feels almost sticky when using a pen, though that could be down to the ink residue on the Biro nib. All in all, we'd rather use a pencil to stay on the safe side, despite the promised scratch resistance.
There's still a little dullness in colour from wide viewing angles, but it's not as pronounced as with the Xperia Z. We'll get a review sample before the September on-sale date, so stay tuned for our full verdict.
Two hands work better than one
The Xperia Z Ultra will seem massive even to phablet veterans. Cleverly, though, typing with one hand is made easy by the Ultra's one-handed keyboard layout, which shrinks things down to a manageable size on either side of the screen. Dragging the status bar down with a single thumb was impossible, mind you, to the point where we we on the verge of muscle spasms.
This will definitely be a two-handed phone for most people, unless you snap up an accessory like the Smart Bluetooth handset – a tiny 'companion phone' module which lets you make and receive calls as well as listen to music. Here we commend Sony for not suggesting we just get a Bluetooth headset.
Using it as a phone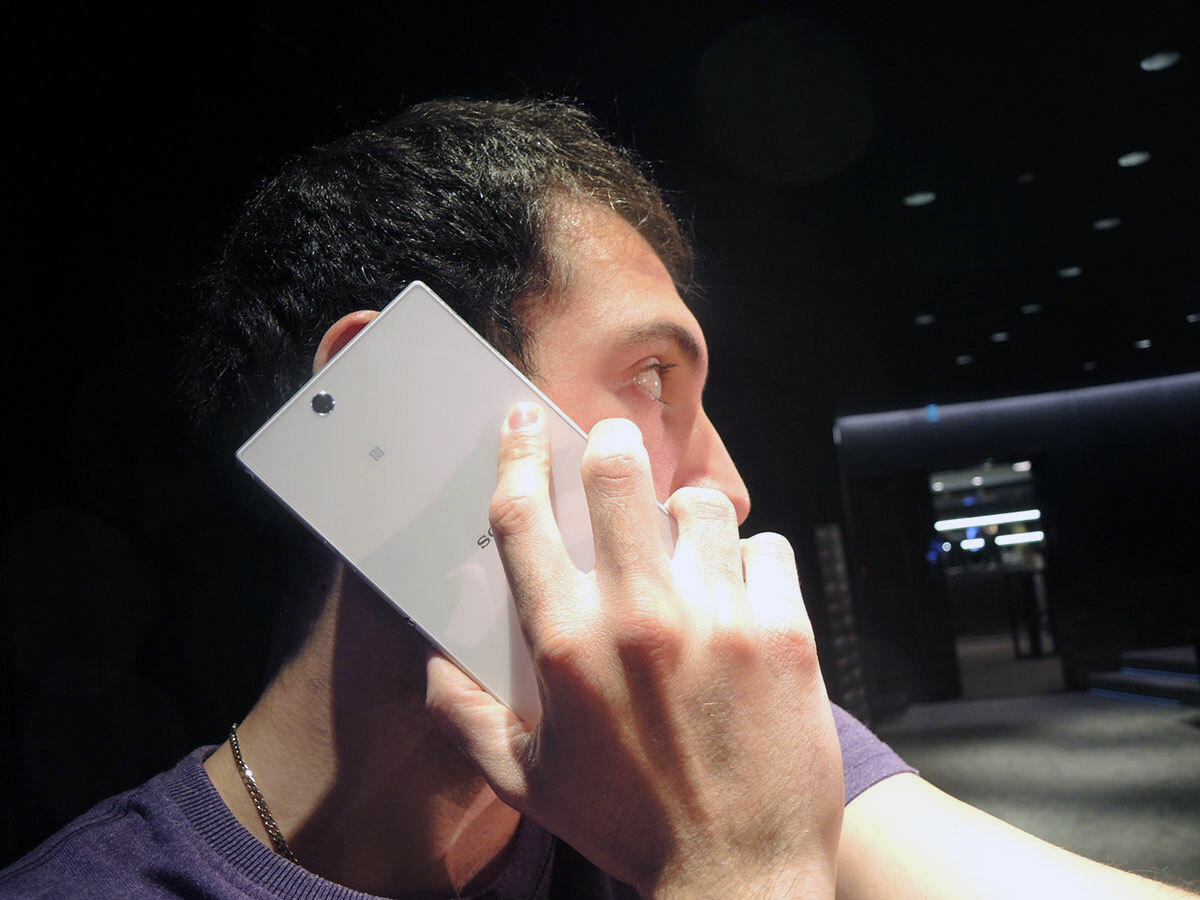 Don't. Seriously, don't. Look at the picture above. Do you want that to be you? Of course you don't. Get the Smart Bluetooth handset for goodness' sake.
Pocketability: jeans are A-OK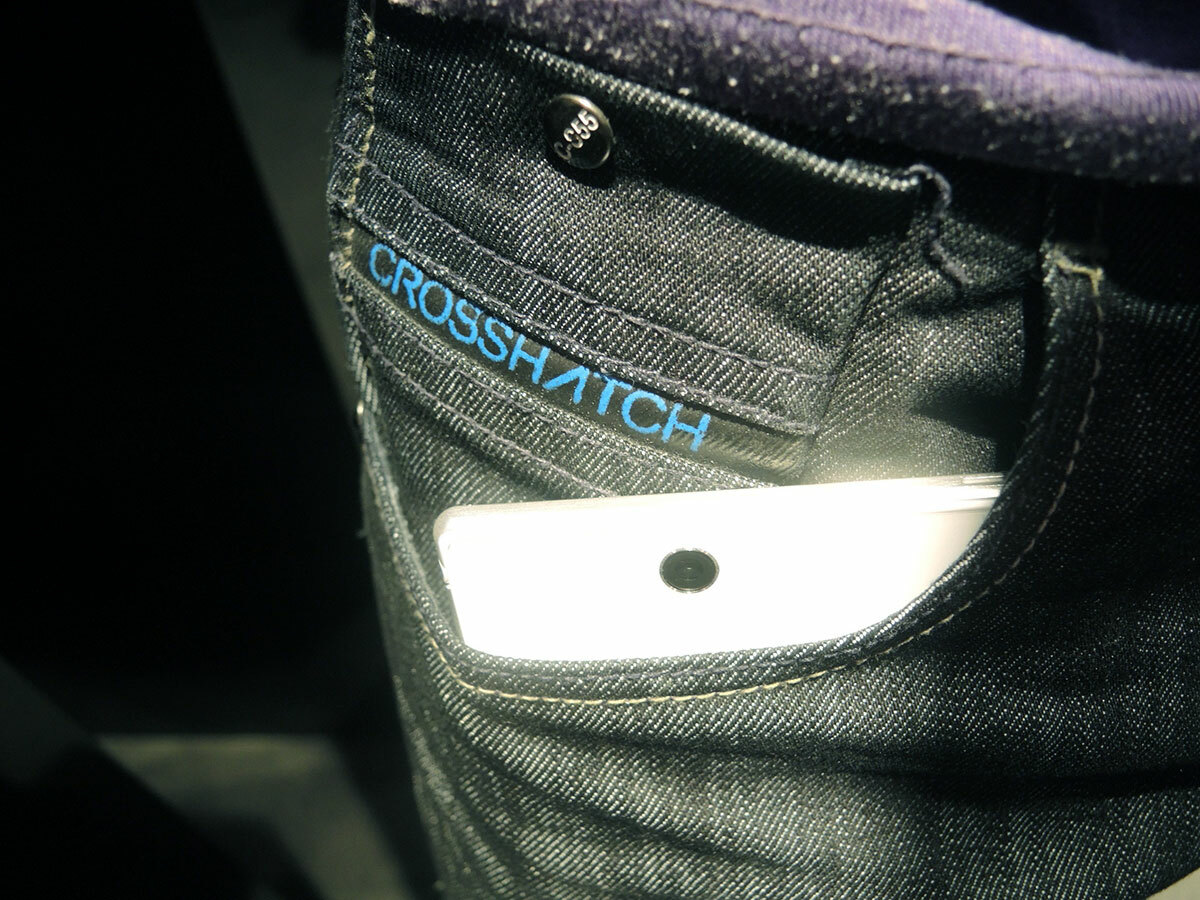 Yes, the Xperia Z Ultra does fit in regular jeans pockets. Quite comfortably in fact, thanks to its thin body. We managed to pull off a few squats without any denim ripping, though we paid for it with a few odd looks.
You will feel it dig into your hips on occasions though, like tying up your shoes or taking stairs two at a time. But it's definitely not a deal-breaker, unless you're wearing circulation-cutting skinny jeans, in which case, we're truly sorry.
Power: this thing flies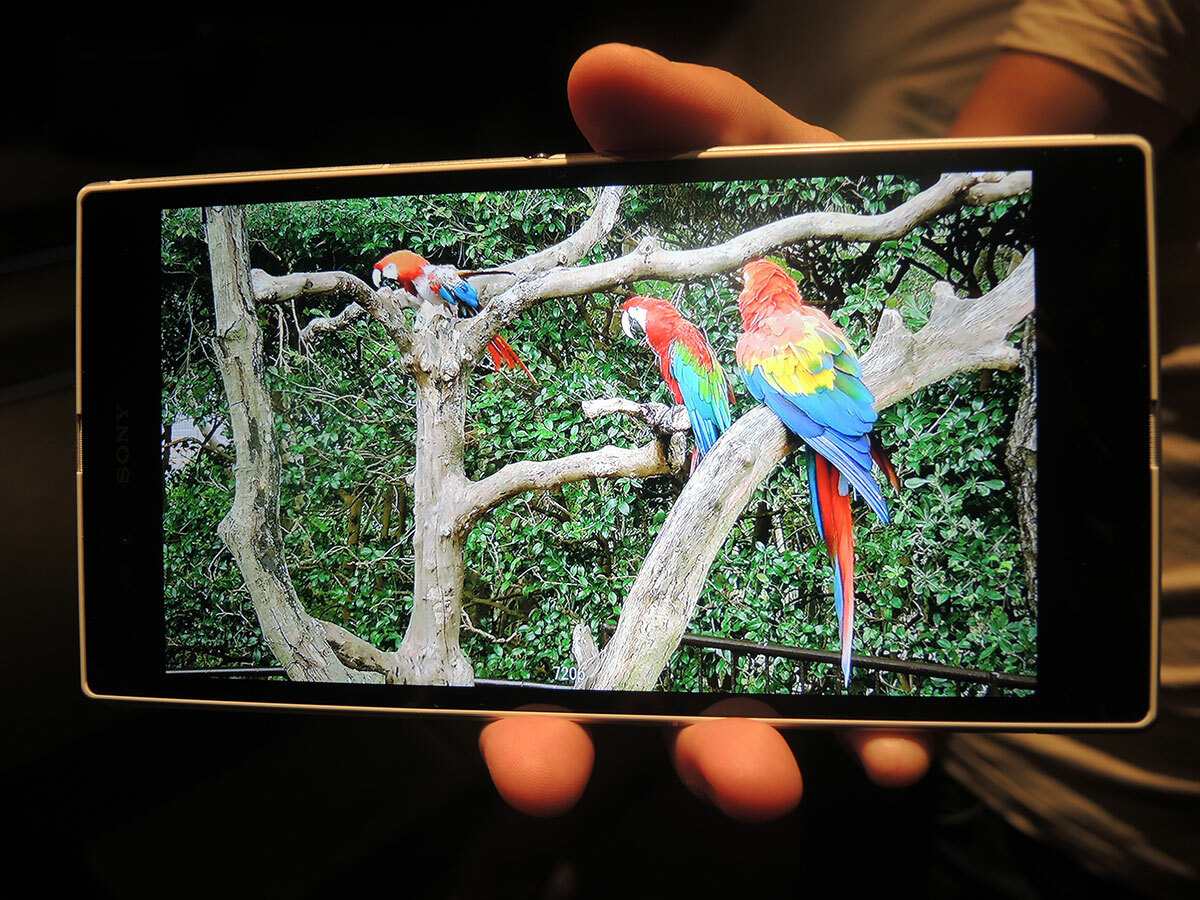 We didn't have time to put the Xperia Z Ultra through its paces with any intensive games or benchmark tests, but it handled the HD movie trailers that we tried without a hitch. It's packing Qualcomm's powerfull Snapdragon 800 quad-core processor which runs along at a frankly ridiculous 2.2GHz. That makes the Xperia Z Ultra the fastest phone in the world at the time of writing, though we'll again have to wait till our full review to see how it stacks up to the stiff competition.
Camera: not flashy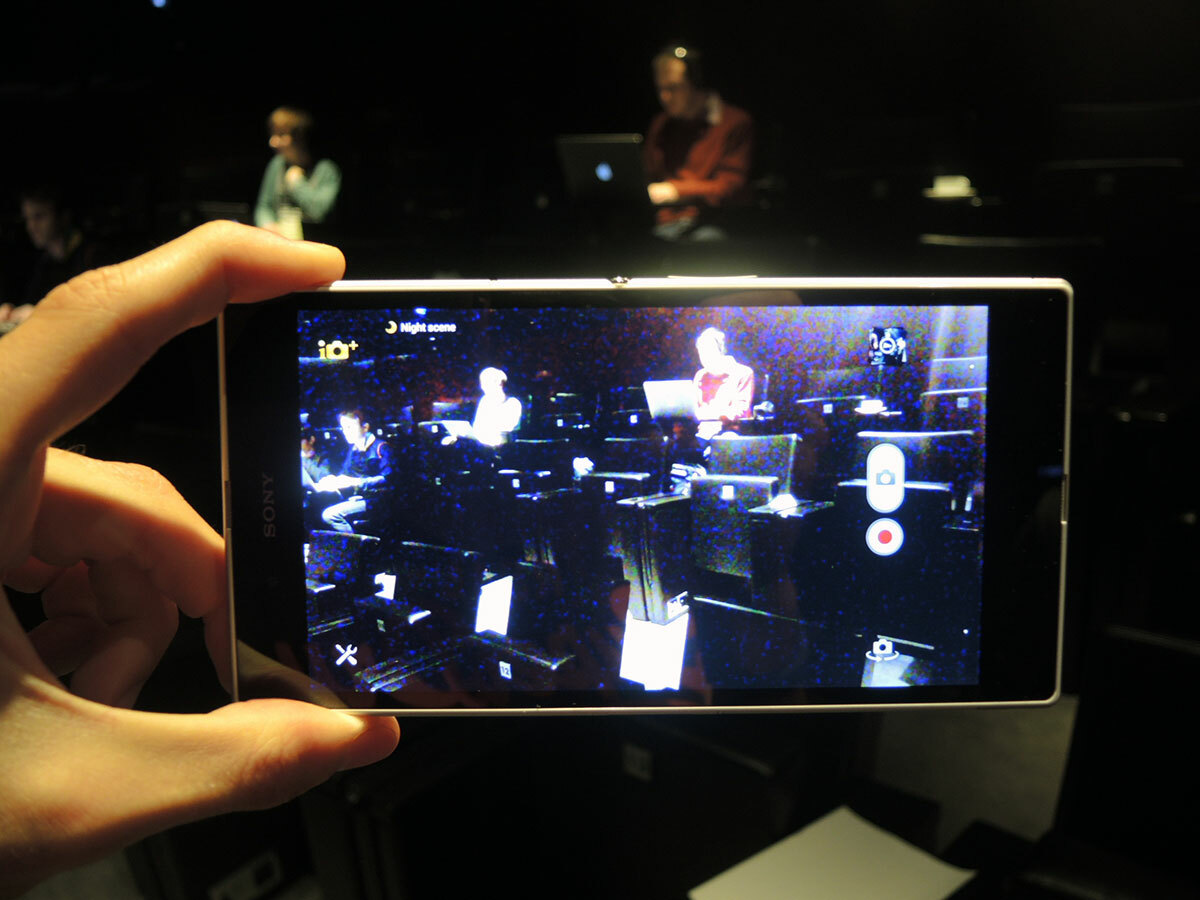 We had very little time in the hands-on mayhem to take the camera for a proper spin and couldn't transfer images to a PC to properly assess how good the 8MP snapper on the Xperia Z Ultra really is. Photos reviewed on-screen seemed perfectly decent, with the intelligent auto mode detecting the low light conditions of the product demonstration area we were in without a hitch. That's good news, as there's no LED flash to throw light on the situation.
You'll definitely want to use two hands when taking shots with the Xperia Z Ultra, too, as its likely to take a spill onto concrete due to its sheer vastness. And there's a whole lot of glass there to shatter.
Initial verdict: get excited, phablet fans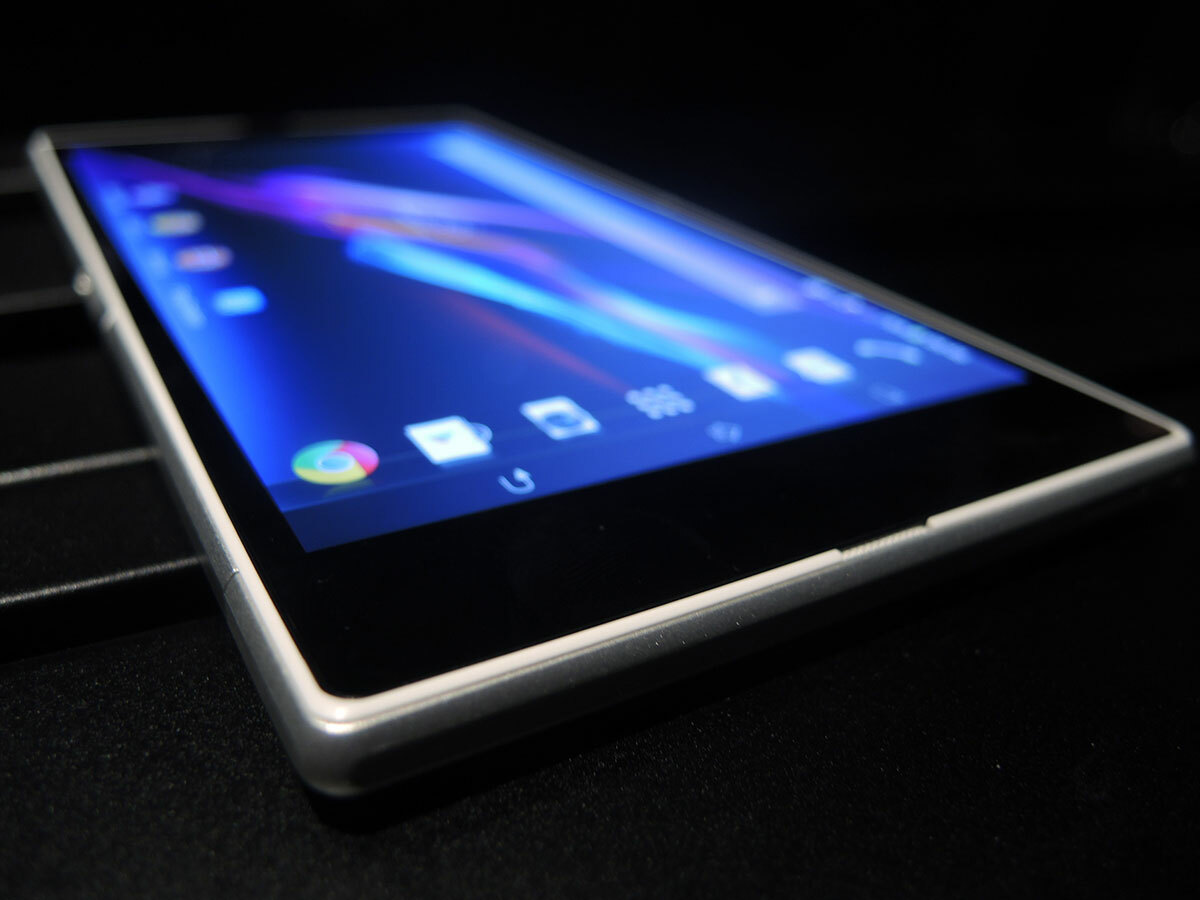 The Sony Xperia Z Ultra is just 0.6in short of matching the screen size of tablets like the 7in Google Nexus 7. Having said that, it still feels like a phone, perhaps due to its insanely thin body and gorgeous design.
But make no mistake, this is a phablet, and a massive one at that. It might not make babies cry and buses crash when you take it out of your pocket, but you'll pay for its gorgeous screen with questionable ergonomics that even its neat one-handed keyboard can't fix.
Overall, the Sony Xperia Z Ultra looks set to be a very impressive do-it-all device, with a killer spec sheet to boot. It could very well usurp the Samsung Galaxy Note 2 as our phablet of choice. One thing's for sure, you won't want to miss out on Stuff's full review.