Sony's A55 and A33 pop up with fast focus tricks
Latest Alpha cams come with Translucent Mirror Technology. Wait, come back... it's not as dull as it sounds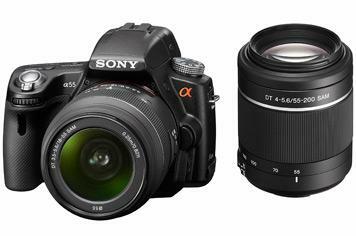 Sony's rolled out a couple of new cams in its Alpha range – the A55 and A33 – and both are claiming some pretty cool focussing tricks.
The 16.2MP A55 and 14.2MP A33 are stuffed with Translucent Mirror Technology, an optical system that lets the camera hold tight focus even in motion. That means that while shooting in continuous burst mode (10fps on the A55, 7fps on the A33), the autofocus should keep things sharp, even when the subject moves.
A more likely use for the on-the-fly AF skills is video – both cams will shoot at 1080i, and Sony is bragging that it's the "world's first quick AF Full HD movie shooting." We don't dispute it's cool, though Full HD might be a bit of a stretch, given that spec.
Regardless, it's exciting stuff for amateur snappers with an eye on some fast motion they'd like to keep sharp. They'll be able to pick up the A55 and A33 next month. Prices to be confirmed.
UPDATE Prices are in…
A33 standard kit (18-55mm lens)    £650
A55 standard kit (18-55mm lens)    £750
A560    £600
A580    £700
More on Stuff.tv:
Nikon D3100 rolls off the line
Canon IXUS 1000 HS marks 10th anniversary
Nikon Coolpix s1100pj projector cam details and gallery
Fujifilm's big zoom FinePix HS10 arrives