Stuff takes the Renault Twizy for a test drive
Meet the Renault Twizy – the offspring of a Smart car and a golf buggy. But is it electric? Or just a shocker?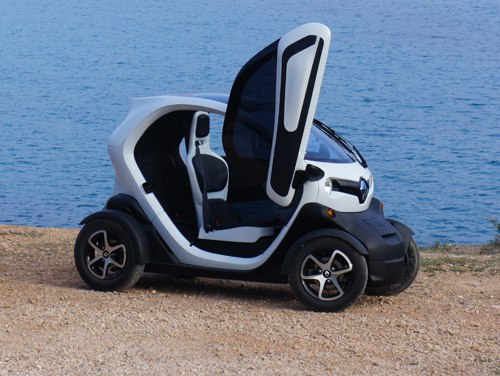 It's not very often that an outlandish concept car makes the transition from prototype to fully-fledged product. Take the Citroën Lacoste concept, for example. Things are a little different for the rather unconventional and sci-fi inspired Twizzy.         
According to Renault, the Twizy is the ultimate urban mobility solution. As it's classified as a heavy quadricycle – or UDO (unidentified driving object) – and is one hundred per cent electric, it's certainly suited to life in the city.
Admittedly, an exposed two-seater with a top speed of around 55mph and a 60 mile range doesn't sound like the acme of automotive desire – but we couldn't resist when Renault invited us to Ibiza to take the Twizy for a test drive.
As you've probably noticed, Renault has chucked conventional car design out of the window. In fact, there are no windows on the Twizy – making it look like the product of an ill-advised union between a golf buggy and a Smart car.
For the most part, it's a solitary driving experience, although there is space for two – providing they're not six feet tall and don't mind a bit of breeze. The seats are arranged in tandem formation, with the passenger straddling the driver's seat. Great for kids (or dogs) – but probably not a comfortable long-haul ride for adults. Getting into the back seat isn't the easiest of propositions either – but once in, it's comfy enough for a short haul ride.
In place of a petrol engine sits a rear-mounted 17hp electric motor, powered by a lithium-ion battery that takes three and a half hours to charge from empty.
It's not just the Twizy's carbon footprint that's small – at around 450kg and 1.24 metres wide, it's around 30cm narrower than a Smart ForTwo. It can turn in an astonishing 3.4 metres and its compact dimensions make it easy to park.
The charging equipment sits at the front – and to save you the the hassle of worrying about battery longevity, you rent it rather than buy it, with prices starting from £45 a month. As the Twizy is exempt from the congestion charge and road tax, this is your only real expense.
With just three buttons on the dashboard – drive, reverse and neutral – the Twizy doesn't require much skill and is incredibly easy to drive. Its construction felt a lot more solid than expected as it effortlessly zipped around, and we were suitably impressed by its stability and confidence when it came to handling corners. But the Twizy's suspension isn't up to much – it's particularly painful when combatting potholes and speed bumps. A little more travel in the suspension would have gone a long way.
Regenerative braking kicks in when you lift off the accelerator, pumping power back into the battery – so the stop and start hustle of city driving actually becomes beneficial for your range. Warning: you may find the distinctive whine of the electric motor – which gets progressively louder as you gain speed – a little grating. Or you can just think of it as audible feedback to let you know how hard you're working that motor.
A particularly glaring omission is the lack of windows. Instead, Renault has kitted the Twizy with impressive scissor doors that have been seemingly cut in half. On the sunny streets of Ibiza, this isn't a problem – the UK climate, however, won't be nearly as kind to its drivers. Annoyingly, this also means there's nothing to stop passing pedestrians from leaning in (as we learned while waiting in traffic) – not to mention it increases the chances of being attacked by a wasp.
The Twizy would be an awful lot more desirable if windows were an optional extra. The beauty of a convertible is that you can put the roof up when it starts to get cold – the most you can do with the Twizy is pop on a fleece and hope the heavens don't open. Oh, and did we mention there's no heater?
Minimalism is the name of the game on the inside – which is probably a good thing given you're open to the elements. The Twizy's thinly-padded plastic seat adjusts back and forth, but that's it; there's no height or wheel adjustment and the backrest's angle is fixed. The dashboard consists of a simple digital display, which shows speed, remaining range, battery life and how hard you're working the motor.
That aside, it's pretty bare – other than two small dash-mounted 8.3 litre glove boxes – one of which is lockable; the other houses a 12v socket with a USB port to plug in your sat nav or iPod to play music through its speaker system. Practicality hasn't been completely ignored, though. An optional 50 litre bag, which slots into the passenger seat is available if required – just don't expect to fit in your weekly grocery shopping.
Far from dull, Renault's new electric runabout is a car with real character – and it's certainly the most unusual car we've ever driven. It makes for an incredibly fun drive and even though Renault's turned its back on traditional car design, the Twizy combines the safety and confidence of a car with the convenience and cost of a scooter – providing a unique approach to the future of transportation.
You can even add your own touch with a choice of wheel, graphics and doors. With a bit more attention paid to the suspension, enough luggage space to cater for more than just a basic shop and a little more refinement in the motor noise (and, er, some windows), the Twizy would be even better. And the price? The Twizy starts from £7,000.
Want to see it in action? Check out our video review.
You might also like
HP Envy 14 Spectre video review