Tesla Model S gets 17in tablet dashboard
The future was a TV in every room, now it's going to be an LCD in every car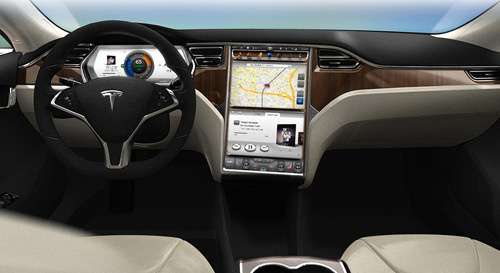 Tesla is best known for pioneering the sexy, fast electric supercar with its Tesla Roadster Sport, but now it's offering a more affordable option for the rest of us in the form of the Tesla Model S. Apart from being able to deliver up to 300 miles on a charge and offering a 0-62mph acceleration in 5.6 seconds, all while providing luxury and looks – it also comes with a 17in tablet display built-in.
This stunning 17in display is the control hub for the entire button-free car: music, maps, internet and system controls can all be accessed from here. Common controls like temperature and volume remain on the bottom of the screen at all times for instant access, while commands like opening the panoramic roof can be performed with a simple swipe.
The internet is accessible through a dedicated browser, and the Model S is kitted out with a 3G connection as standard. Maps provide clear navigation with weather, traffic and charging information all updated live. Music controls allow you to stream the radio or connect a music device with Bluetooth or one of four USB ports.
Tesla says the Linux-based OS, which they built from scratch, will also support third party apps meaning potential for growth in any direction. So with touches like door handles that retract into the body for aerodynamics, a key that stores you temperature and mirror preferences for auto alignment on entry, and a charge rate of 62 miles per hour, will you be shelling out the US$57,400 for the Model S when it's released next year?
[Source: cnet.com]
You may also like