UPDATE: Apple iPad Mini review round up
We venture out to see what all the other gadget experts think of the new iPad Mini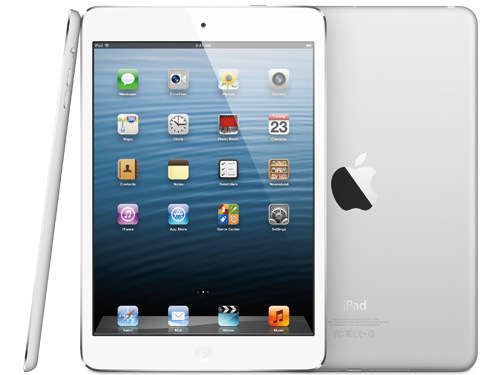 UPDATED WITH FULL REVIEWS: If you haven't already read our in-depth iPad Mini review, then shame on you. Check it out, then come back and see what the rest of the tech world makes of Apple's shrunken wonder-slate. Read our review already? Then dive straight in…
The Telegraph's Shane Richmond found that the iPad Mini's "sacrifice in screen size from a 10-inch tablet is balanced out by the more convenient size", although having used a Retina Display iPad and iPhone for so long, "the iPad Mini just looks a little blurry".
Charles Arthur from The Guardian lavished the iPad Mini's sleek and light design with praise, stating that it "feels like it isn't really there" and that you won't get tired of holding it, unlike the heftier 653g which can cause pretty moderate 'tablet arm' syndrome. It's a real condition, honest.
Engadget's Tim Stevens reckons that "Mini owners might have to make do with some resolution envy, but at least they won't be lacking in any other regard", echoing the general sentiments that bar its lower ppi screen, the iPad Mini is a sleek and desirable device.
Joshua Topolsky from The Verge rates the iPad Mini as an excellent tablet and he wouldn't change the iPad Mini's app selection, design, reliability or battery for a higher res display. Coming from a self-proclaimed Google Nexus 7 lover, that's healthy praise indeed.
UPDATE: iPad Mini full review here
Read our iPad Mini, iPad 4 and Google Nexus 7 reviews for our detailed impressions of this year's festive heavy hitters.
We've written plenty on Apple's new iPad Mini – from the hands on review, to the iPad Mini versus Nexus 7 and Kindle Fire. So we ventured out from the hive mind of Stuff tower to see what the rest of the world thinks of Apple's smallest ever tablet.
Charles Arthur of The Guardian reckons, "the price may prove a barrier for potential buyers considering it against its rivals". At £270 for the iPad Mini, when the Google Nexus 7 is just £170 and the Amazon Kindle Fire is only £130, that's a very fair point – even if the iPad Mini's quality build and 7.9in screen puts it almost in a class of its own.
But Jason Jenkins, editor of CNET UK, forecasted a bloodbath in the smaller tablet market citing how long Apple spent during its presentation comparing the Mini to the Nexus 7, "there is a real chance one of its rivals could take its dominant tablet market share away."
But the iPad Mini offers, over its rivals, "a screen large enough for complicated computing tasks," while that thin bezel allows it to be operated one handed, says The Telegraph's Christopher Williams.
The LA Times comments, "Investors appeared to be disappointed, sending Apple's shares down US$20.67, or 3.3%, to US$613.36 on Tuesday," and indeed, "Apple's stock has now fallen 12.4% since it released the iPhone 5 on Sept 21st".
Engadget rightly points out the iPad Mini as a tactical move. "Naturally, Apple's pushing the smaller form factor as a boon for those who adore ingesting text on digital screens, further advancing its iBook and education initiative".
Apple set a low price for both tablets and ultrabooks when the iPad and Air were released. Now, as Gizmodo Australia points out, "charging so much more for a product that's not clearly so much better is a major step backwards for Apple".
Talking about that thin bezel that apparently makes reading websites easier, Pocket-Lint's Stuart Miles reflects, "it is strange considering that's not what Apple told us was best for the iPhone 5".
You may also like
Apple iPad Mini vs Google Nexus 7 and Amazon Kindle Fire HD
iPad Mini and iPad 4 will hit EE's UK 4G network