Apple HomePod review (2nd gen, 2023): better all round but rivals are plentiful
Can the new HomePod do enough to shake off the problems of its predecessor?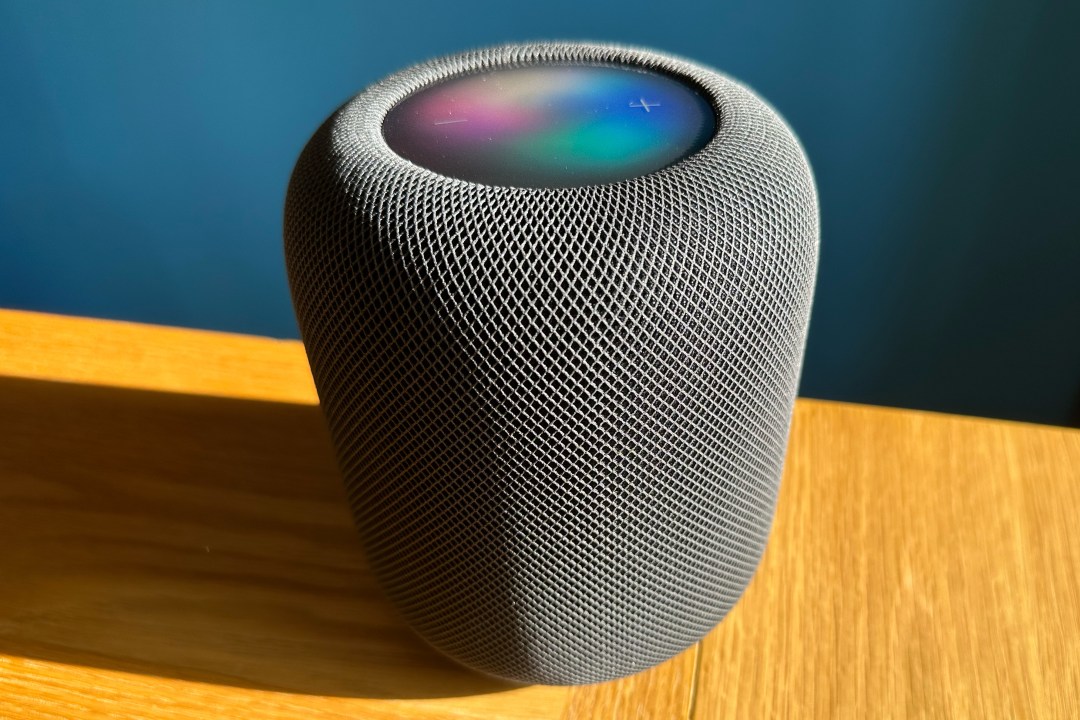 Apple's forays into home audio have had patchy success. The 2006 iPod Hi-Fi was a $349/£249 oversized iPod dock that lasted 18 months. The original HomePod was a $349/£319 Siri-powered speaker that debuted in 2018 and was discontinued in 2021 after selling a few million units. The sound quality of both was great, but they both had a flaw; they were too expensive.
The 2020 $99/£99 HomePod Mini, however, has been a success for smaller spaces, despite Siri's limitations which we'll come onto later in this review.
So what of the 2nd generation of the larger HomePod, rumoured for quite some time and now finally here? The main thing to note is that it has only got slightly cheaper at $299/£299. And it's also rather similar to the original HomePod, which Apple appeared to discontinue because it didn't sell many units.
So the question is, why is this HomePod better than the previous version and why Apple chosen now to release a very similar speaker to its predecessor?
Design
The HomePod 2nd generation is available in white as before but now the darker version is midnight, not charcoal. In reality this just means it's more black than grey.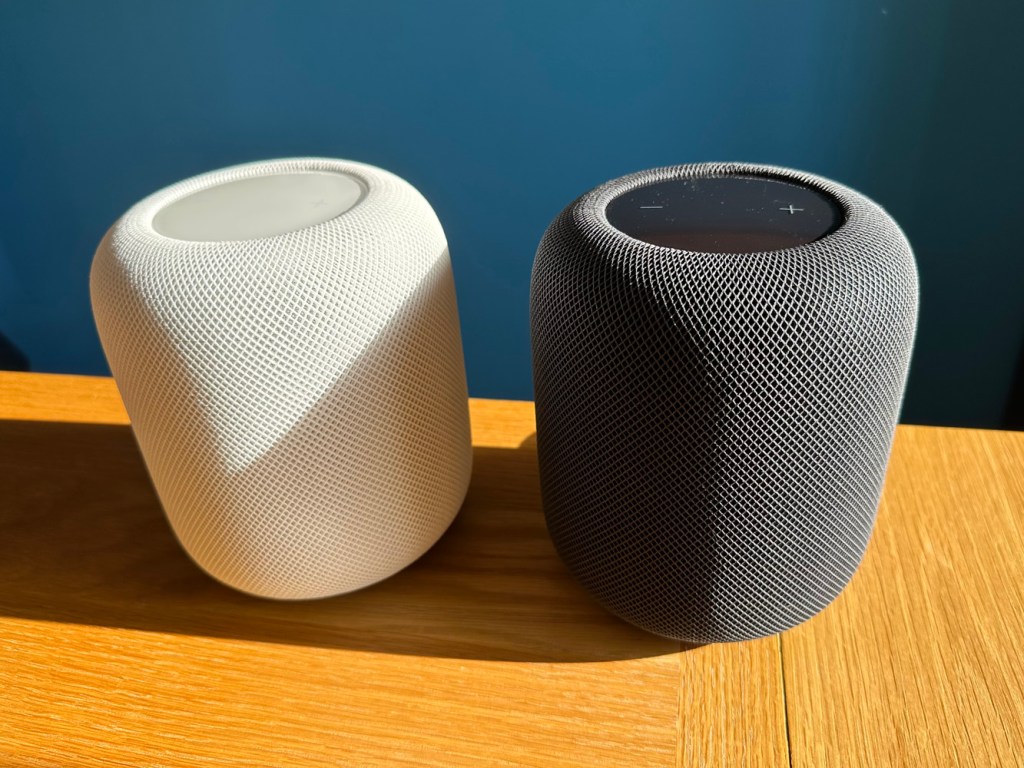 While the design is broadly similar to the previous HomePod, the materials have been made more environmentally friendly, with 100 percent recycled fabric in the darker speaker mesh, for example.
Apple has, however, changed the base of the HomePod after several users reported marks appearing on wooden surfaces with the original and leading to some people even selling HomePod coasters (aka a coaster?!).
On the top there are touch controls; volume up and down buttons, while a series of taps in the middle will control your music: one tap for play or pause, two for next track and three for previous track. The excellent tap to play feature is present and correct and so if nothing is playing, you can get a mix of your top tracks really easily. Say "Hey, Siri", the entire panel glows. It's quite compelling. There's no mute button for the mics, though.
The HomePod's audio setup is quite different with a 4-inch woofer that can move the diaphragm up to 20mm. There are five tweeters around the base. HomePod can set up depending on the environment it's placed in thanks to beamforming, while there's an internal bass-EQ mic for further adjustment of the bass. There are four mics on top to hear you (yes, you can use it as a speakerphone). The whole system runs on Apple's S7 chip which is the processor originally used in the Apple Watch Series 7 based on the A13 Bionic from the iPhone 11.
Setup and the Home app
Setup is really easy in the Home app and updates will be automatically downloaded if ready. Wi-Fi information and association with your Apple ID transfer automatically from your iPhone. You can also choose whether to enable notification announcements – called Personal Requests. You won't want to do this if your HomePod is in a shared space, but they won't work unless your devices are with you, connected to your home network anyway.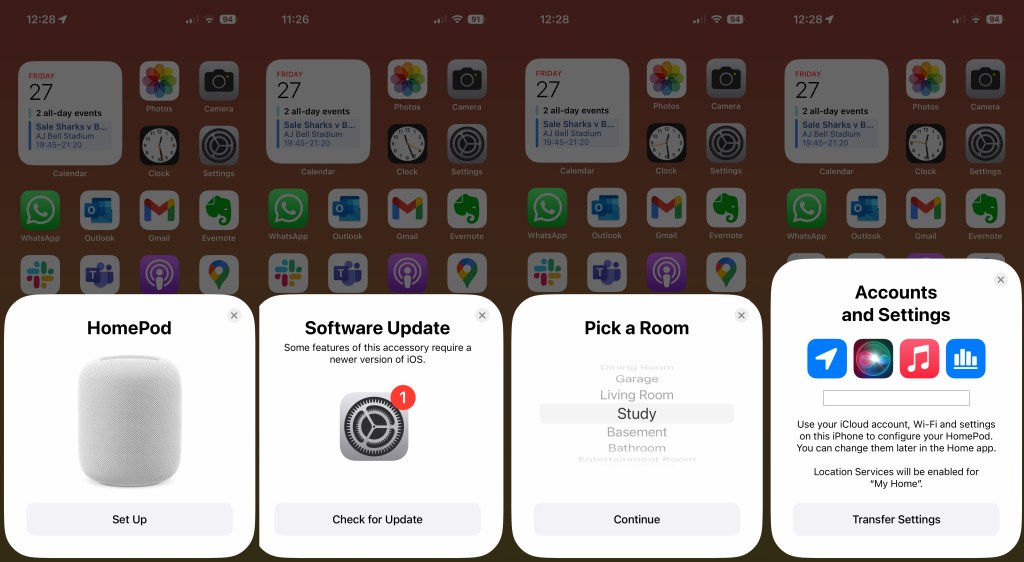 The integration with the Home app on iOS, iPadOS and macOS is very deep and you can manually set alarms and timers and control music from your phone. You can, of course, AirPlay to HomePod, too (as before you can't connect with Bluetooth). And it's AirPlay you'll need to use for some services such as Spotify and BBC Sounds (you can configure HomePod to use Pandora or Deezer natively, but not Spotify funnily enough). Most radio stations play fine from TuneIn, but BBC ones don't – which sounds like it's down to the BBC not using TuneIn, rather than anything else. Still, it's annoying.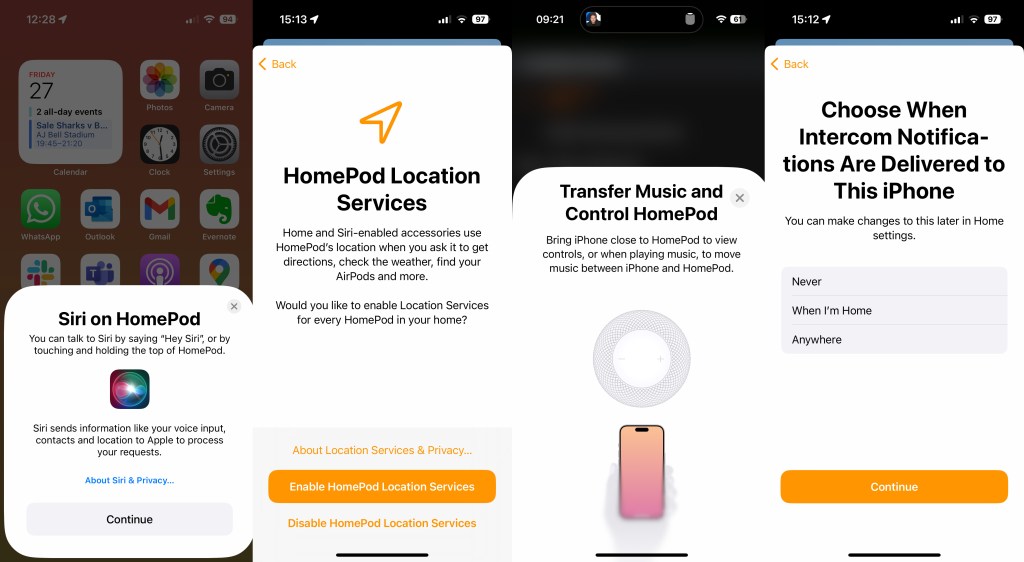 The Home app is able to integrate all your smart home devices using the HomePod as a hub and Matter support is a welcome addition here. It's not so important at present, but it will be going forward. In a future update, HomePod will also be able to warn you on your phone if you're away and an alarm goes off at home. The device also includes temperature and humidity sensors so you can include these within automations in the Home app – our thermostat is HomeKit enabled, so we can set it to up the temperature depending on that.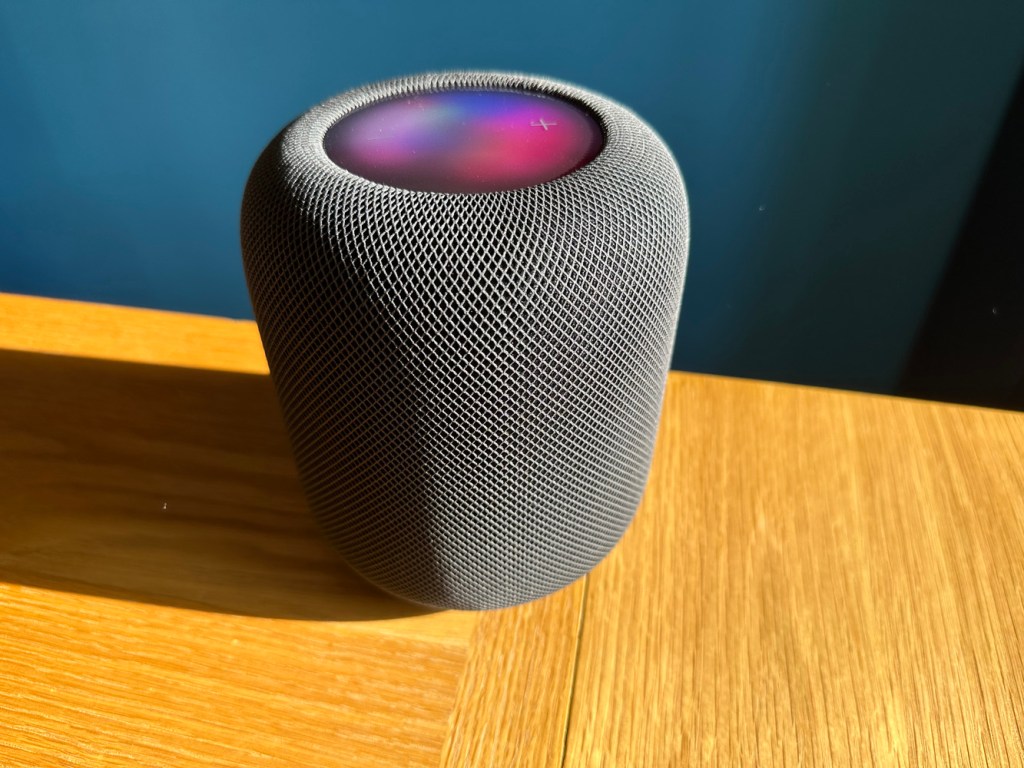 Music and audio
Let's make no bones about it – the HomePod's audio setup is excellent. Bass is terrific (you can reduce it if you want) and the clarity only gets a little overwhelmed at the very top end of the volume spectrum – but it's small margins. However, the HomePod isn't as beefy in terms of its room-filling capability as the Amazon Echo Studio which is a tour de force of loud. Side by side, there is no comparison. In many ways, that's to be expected because the $199/£189 Echo Studio is a larger unit. But it is also significantly cheaper than the HomePod, as is the also-Alexa-equipped $199/£199 Sonos One which can also kick out a fair racket. Google's Home Max has gone the way of the Dodo but it, too, smashed it out of the park with its audio prowess.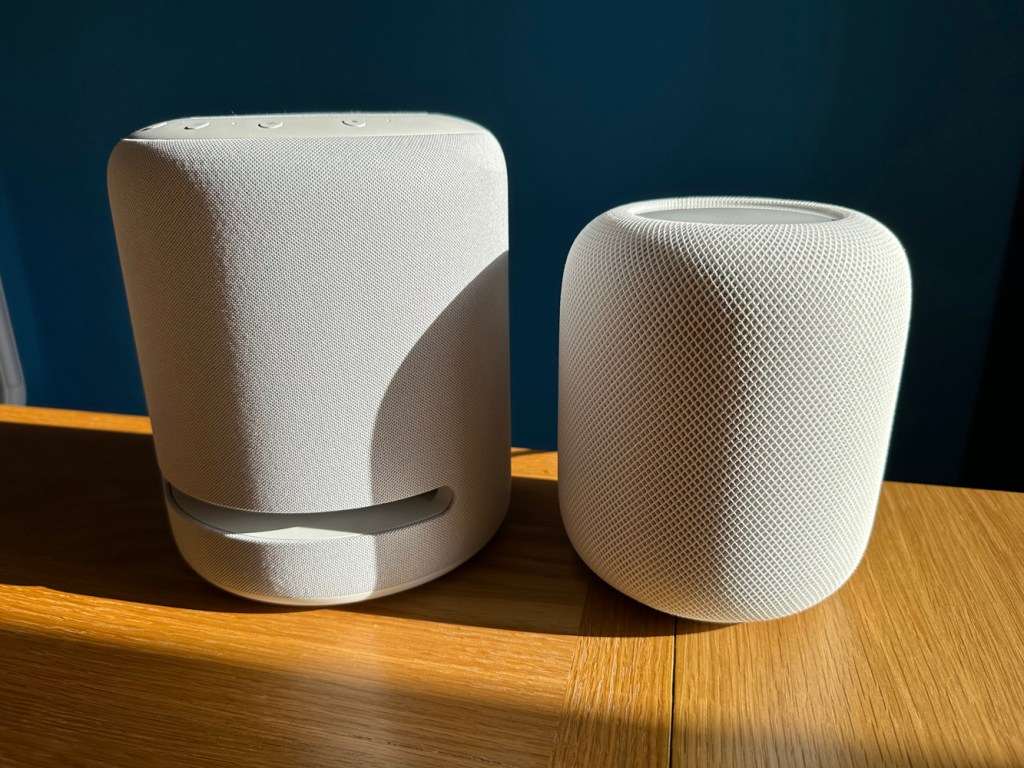 Stereo pairing with another HomePod provides an immediate, clear step-up in sound quality and the affect is very compelling – it's a lovely sound. Using multiple HomePod devices as a multiroom system with AirPlay 2 is also excellent, especially if you have, say a Sonos soundbar in your living room. You can also directly connect HomePod to Apple TV 4K should you wish. AirPlay is flexible and great, but it is slower to react than Spotify Connect.
As well as the core setup, what is new this time around is the addition of support for Apple Music's spatial audio (Dolby Atmos Audio). Tracks default to Dolby Atmos versions where present (although we had a couple of times this didn't work) and the quality of them is breathtaking, just as it is with Amazon Music HD on the Echo Studio. Through Atmos mixes we're starting to get entire new representations of classic tracks, while new music is making use of the format's possibilities.
Siri, Intercom and handoff
It's easy to criticise Apple, of course, but we firmly believe that Siri is worthy of criticism. It's a useful assistant because it's integrated so deeply into iPhones, iPads and Macs but it clearly has not had the development resource you'd expect. Siri has been in the iPhone for 11 years. It should be leading the way, but lags behind Amazon's Alexa and Google Assistant in terms of capability and natural language recognition outside of commands involving core Apple apps.
Siri on HomePod has definitely improved since the first version, which had some fundamental issues. And, if you are asking straightforward commands for smart lighting, news, for weather, for music and alarms and so on, it will do the job for you. But people have come to expect more from their smart speakers. You can ask some simple stuff such as "Hey Siri, who's top of the Premier League". But if you ask a more open ended question like "who is the most successful manager of all time", Alexa will tell you. Ask Siri on HomePod the same and you get: "I've found some web results, I can show you if you ask again from your iPhone". Our nine year-old was not impressed. The issue there, of course, is that the person talking to Siri on a HomePod might not have an iPhone.
Siri also isn't great at working out which device you're talking to and often your iPhone can trigger instead of your HomePod. That's understandable in many ways since you are likely to be. One area it does impress in is with multiple users and being able to recognise them.
Handoff – which debuted on the HomePod Mini – is one of the smartest features of the HomePod. Using the U1 chip, you can transfer audio to and from the HomePod using your iPhone. And that includes phone calls. It works so well and it's the perfect demonstration of how Apple's tight integration of software and hardware can work in a much better way than rivals. Nothing playing? Bringing your phone close to your HomePod will bring up recommendations, which is ace.
HomePod (2nd gen) verdict
This latest HomePod picks up where the first one left off and as such is a brilliant speaker for audio. But, as before, there are caveats. You'll need to have an iPhone. You'll need to keep it to the basics with Siri. And almost certainly, you'll need to be an Apple Music subscriber (Deezer and Pandora are options as discussed).
It's possible to use it with Spotify through AirPlay, but we'd recommend an Echo or a Sonos One in that instance. The HomePod sound quality is, once again, superb – especially in a stereo pair – but you really want to be sure you need to spend that extra $100/£100 over and above its rivals.
The HomePod's key problem is not that it's a poor device – that could not be further from the truth. This is a brilliant speaker and Apple loyalists won't be disappointed. Plus we shouldn't estimate its importance to the smart home with Matter and Apple Home, or how good Handoff is.
No, the key problem is that for every part of the HomePod's core experience, there are equivalent or better options available.
Stuff Says…
The second-gen HomePod is an all-round improvement and once again sounds brilliant. But Siri still lags behind and rivals are plentiful.
Good Stuff
Similar, great design
Sound quality terrific
Handoff is simply brilliant
Deep integration with OS
Bad Stuff
Still rather expensive
Rivals are plentiful
Siri not as natural as other assistants
No native Spotify support
Apple HomePod (2nd gen) tech specs
| | |
| --- | --- |
| Processor | Apple S7 |
| Audio | 4-inch woofer, five neodymium tweeters |
| Connectivity | 802.11n Wi-Fi, Thread, Bluetooth 5.0 (not for audio), UWB chip |
| Colours | Midnight, white |
| Dimensions | 168x142mm |
| Weight | 2.3kg |