Audio Pro Drumfire review
Roar fire crew
The Audio Pro Drumfire is one of the most absurd wireless speakers we've ever tested and we have no idea how this thing has gone so largely unnoticed, because it's a) very big and b) very, very… very loud.
It's a disastrous proposition during a national lockdown because to get anywhere near its maximum 300W limit you really need the neighbours to be out, or better still residing in the next postcode. And deaf. Although to be fair if they're not yet, they soon will be.
Digressing for a moment, news reaches Stuff HQ that loud music played by neighbours is the single most complained about noise issue in the UK and that residents in Brighton are likely to be most perturbed by decibels, closely followed by Belfast. 
For the fewest complaints – and your best chance of deploying a Drumfire at full tilt – you'll want to move to the Norfolk Broads.
We recently reviewed Ultimate Ears' Hyperboom, which was also big, loud and lots of fun, but with 71 fewer watts and Bluetooth-only wireless connectivity, in reality it's a young Simba to the multiroom Drumfire's Mufasa.
You could reasonably consider the 300W Naim Mu-so Qb 2nd Generation (£749) or 450W Naim Mu-so 2 (£1299) its closest competitors, and both are certainly vying to be King of the Pride Lands, but unlike the Audio Pro Drumfire neither can be stereo paired. 
Although, we've so far been too frightened to test this for fear of reprisals from Neighbourhood Watch. 
Design: Kooky stackhouse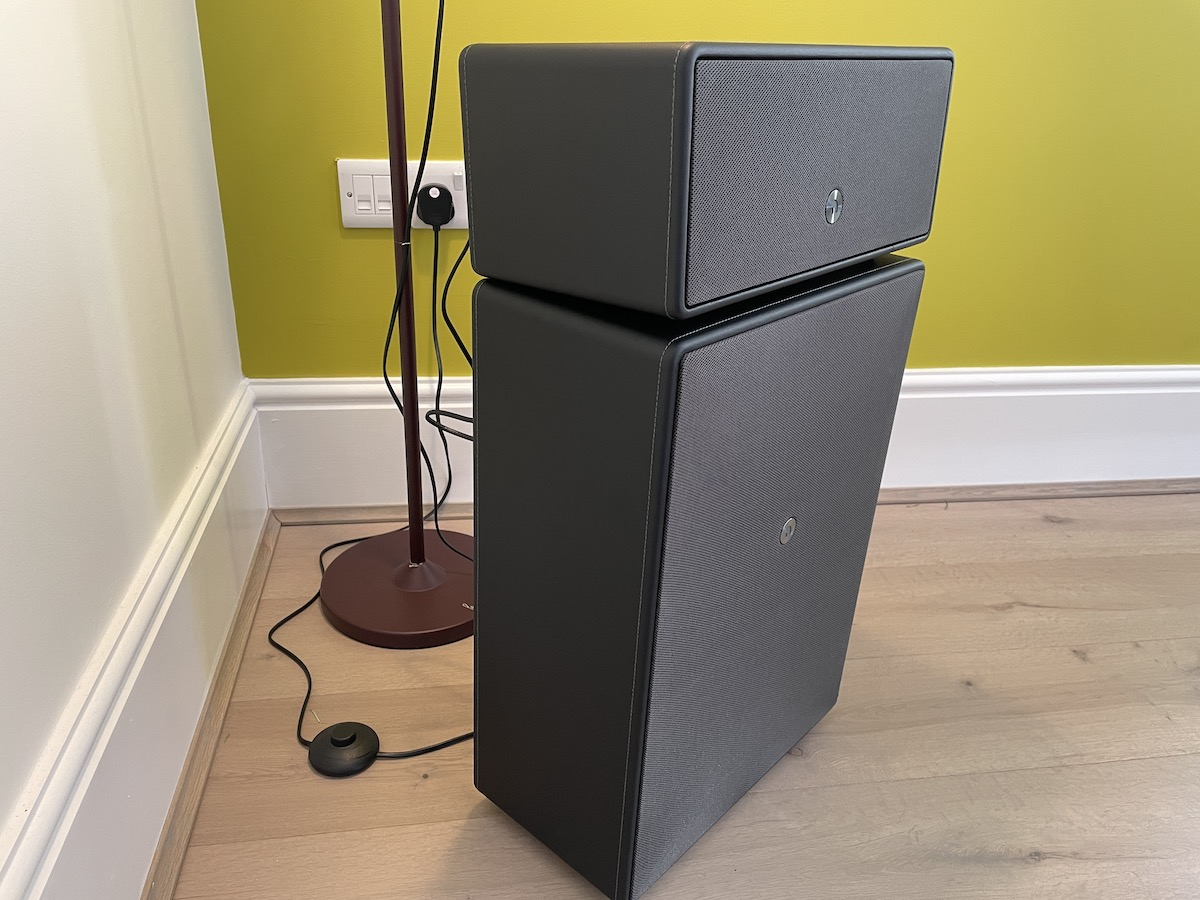 Looking like a luxury guitar amp stack, the Audio Pro Drumfire is actually two devices-in-one, both wrapped in faux leather with hand-stitched threads, an aluminium control panel and accents.
It's beautifully conceived and a sophisticated statement piece when placed in a corner. The lower half is home to an 8in long throw 200W subwoofer with phase and crossover controls. The top half is a Class D amplifier with two 1in textile dome tweeters and two more long throw woofers, this time 4.5 inches each. Forget roars, that's a lot of woof.
That top unit is a separately sold speaker in its own right. It's called the D-1 and costs £350, and if we were being brutal we'd say it feels a bit flat on its own, which is just as well because to buy it without the subwoofer would be heinous. Like cannoli minus the filling.
Both units are individually powered, so you'll need two plugs, and then connected to each other by cable with the angled D-1 resting neatly on top. Round the back you'll find an Ethernet port and RCA inputs primed for adding a turntable, CD player or DJ controller.
A proper button control panel covers you for source selection, Bluetooth pairing, volume, Wi-Fi presets, play, pause, power, and a 3.5mm aux input. Finally, the Audio Pro Drumfire is available in black, grey/silver, or white with charcoal speaker fabric.
Features: Something in the air
There's no denying the Audio Pro Drumfire is hugely versatile when it comes to connectivity, but there are one or two caveats.
First the good. Choose between Bluetooth, Apple AirPlay, Works with Alexa, Spotify Connect, in fact support for most major streaming services. Play content from a computer or NAS drive, and as mentioned you can connect a turntable, CD player or DJ equipment should you wish.
It'll support MP3, WMA, AAC, FLAC and Apple Lossless file formats and there are four Wi-Fi presets for going straight to your favourite radio station or playlist with a one button press.
Multiroom is also supported through the Audio Pro app, so the Drumfire can be grouped to play in a stereo left/right setup or all together. In all of the aforementioned scenarios the Drumfire connected without delay, even rapidly latching onto Apple AirPlay straight from a mains power up. Good stuff.
As for the caveats, there's no Chromecast built-in, you only get Bluetooth 4.0 and original Apple AirPlay, not AirPlay 2. That means any multiroom wizardry has to be handled by the Audio Pro app.
As a consequence, you forfeit the option to mix and match speaker brands as part of a multiroom setup through iOS or Android, although the Drumfire does remain listed as a speaker you can individually control. Oh, there's no remote either, not that we were remote-ly bothered.
The Swedes at Audio Pro say all future devices will be Apple AirPlay 2 and Chromecast compliant, but for now if you were planning for the Drumfire to be part of a multi-coloured swap shop of speakers, you'll have to rethink things or track down a discontinued Chromecast Audio, Apple Airport Extreme or risk a third party solution.
Performance: Knock your socks off, knock your socks off, honey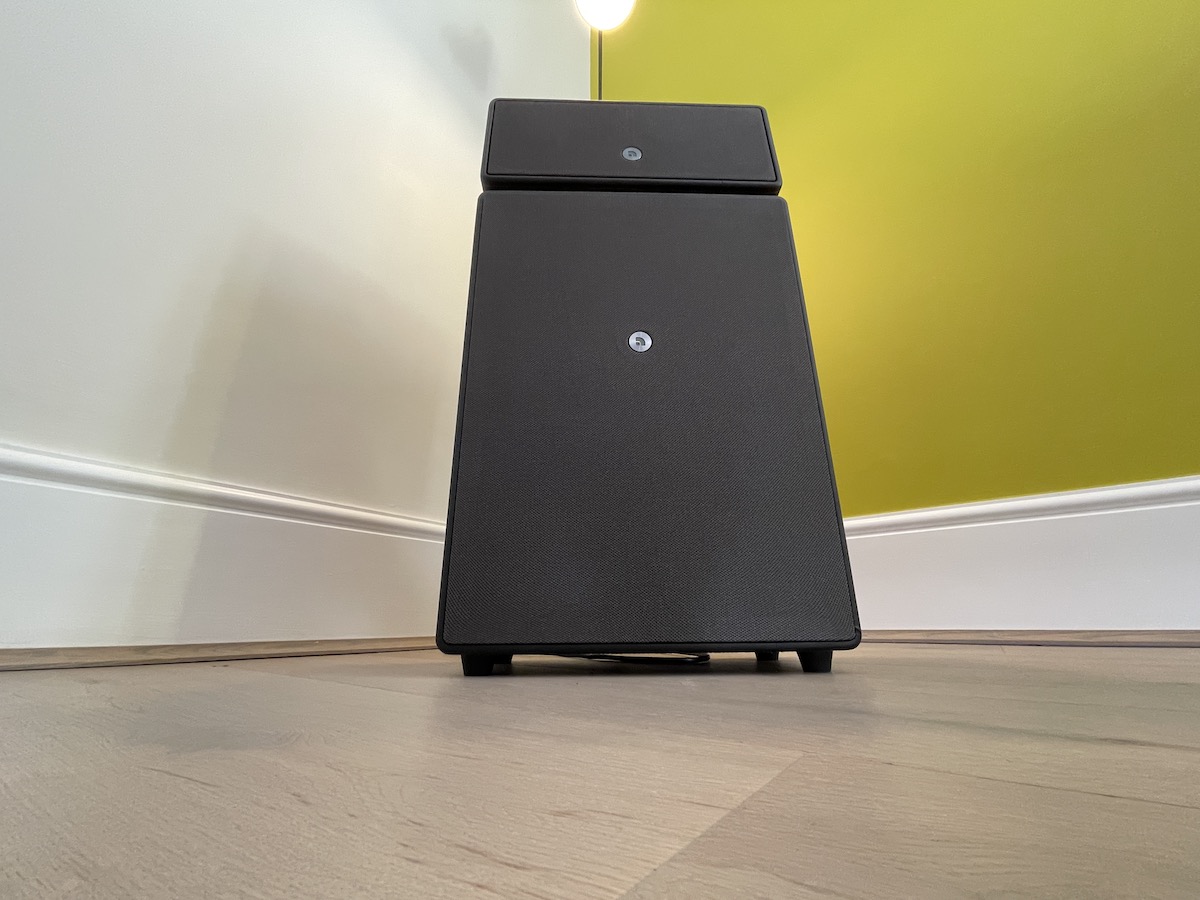 Multiroom conundrums are all but forgotten the first time you fire this thing up. Hand on heart this is the loudest, most belly rumbling speaker stack we've clapped ears on outside of a gig venue. Pair two and you'd have a genuine PA system on your hands, it's truly that colossal.
Presence with poise, plus big, spacious beats and bass show this is a speaker that's very comfortable in its own skin. Frequencies are clean when they need to be and downright demonic when turned up to the max. Don't be surprised if next door erect a 'for sale' sign soon after.
You'd be doing the Audio Pro Drumfire an injustice not to play 'Angel' by Massive Attack and Daft Punk's Homework truly comes to life too, where the detail is all but as important as its knockout punches.
We couldn't help but delve in to Solid State Logic 1, the KLF's much-publicised recent contribution to the world of streaming, and quickly descended into a one-man lockdown rave having only had so much as a glass of vino rosso, such is the power of this thing.
For moments of calm, you'll be reassured to know the Audio Pro Drumfire can do subtle when it wants to as well. 'Long Ways to Go Yet/Gollum's Song' feat. the spellbinding Emiliana Torrini sounds as ethereal as ever as her vocals play beautifully with Howard Shore's incredible composition.
Word of warning: Don't feel disappointed or underwhelmed if you're not getting quite the same goosebumps we did the moment you unbox. The Audio Pro Drumfire definitely needs running in first, but once it has settled, oh my, you're in for such a treat.
Verdict: Audio Pro Drumfire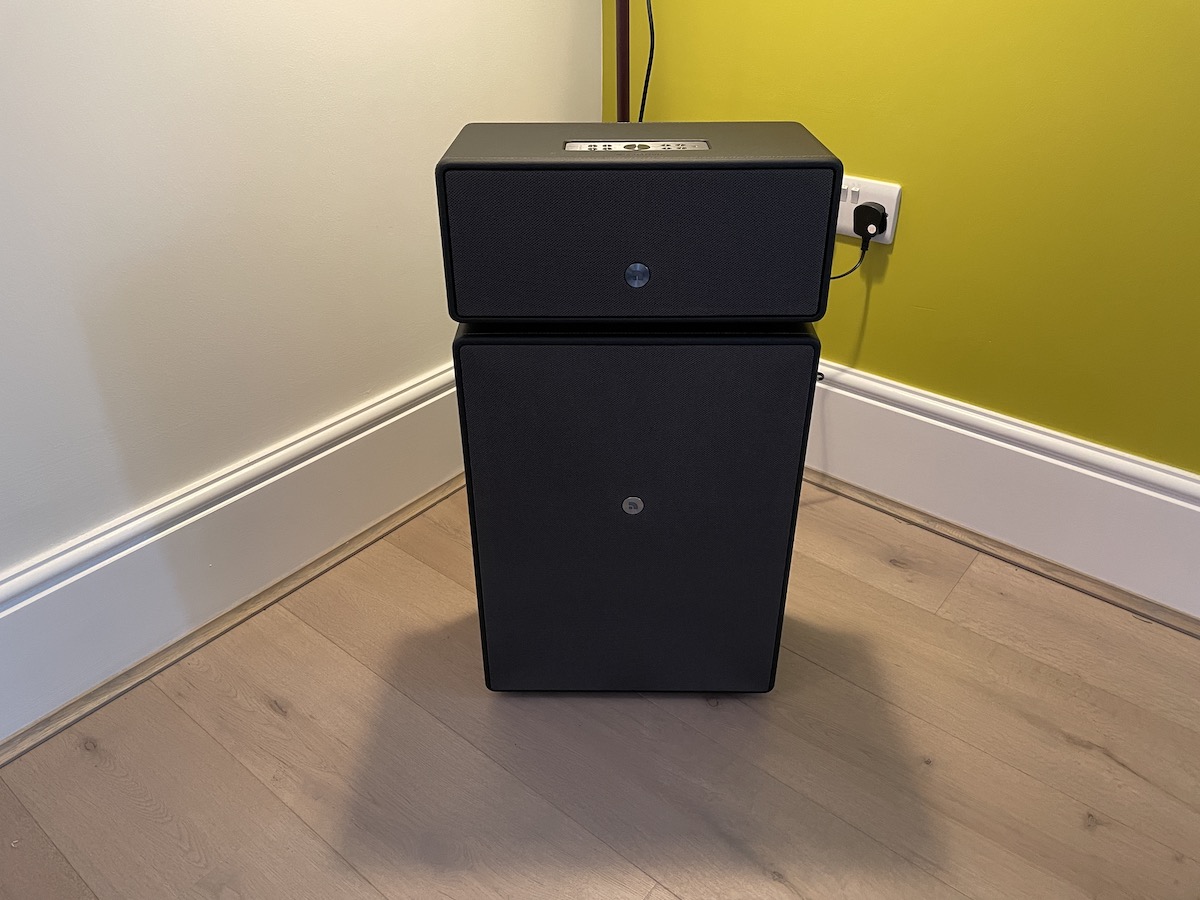 It would take a heartless git not to award the Audio Pro Drumfire full marks, and while it loses some ground on multiroom awkwardness, the overall package is so outstanding we're minded to say this is the best wireless speaker we've heard for under £800.
It certainly looks the part, undeniably sounds it, offers bags of connectivity and the mere option of adding a second one fills us with as much excitement as it does trepidation – once out of lockdown we might give it a go, but for now we'll err on the side of neighourly empathy.
The Competition
Tech specs
| | |
| --- | --- |
| Audio | 300W Class D amplifier 2x 1in tweeters, 2x 4.5in woofers, 8in woofer |
| Compatibility | Android, iOS |
| Connectivity | Bluetooth 4.0, Wi-Fi, Apple Airplay, RCA, 3.5mm aux, Ethernet |
| Dimensions | Dimensions 650x 520x190mm |
| Weight | 16.55kg |
Stuff Says…
Possibly the most absurd and grin-inducing wireless speaker ever made
Good Stuff
Excellent build quality
Outrageous performance
Large source selection
Bad Stuff
No Apple AirPlay 2
No Chromecast built-in
Only Bluetooth 4.0