Bowflex VeloCore Bike review: smart and unique
An exhilarating home workout experience that doesn't come cheap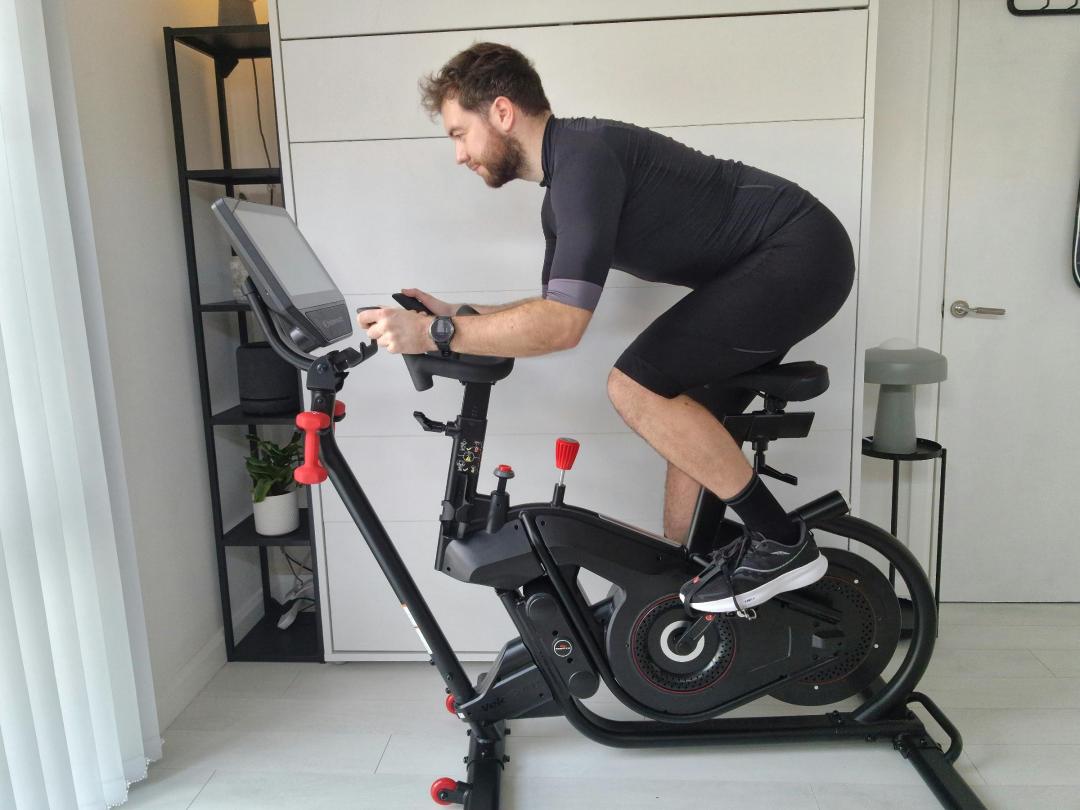 If you're remotely interested in fitness, you've probably heard of Bowflex. The Canadian training equipment brand is perhaps best known for its SelectTech 552i, the popular adjustable dumbbell that proved highly sought after during lockdown.
But there's more to Bowflex than free weights. The firm flogs a whole arsenal of fitness equipment – from treadmills to multigyms – each with the potential to transform an inadequate home gym into a pro boutique studio of dreams.
Adding to that line-up, Bowflex recently launched the VeloCore Bike, a smart and connected home gym must-have, which recently made headlines thanks to its unique design that's like nothing else on the market. And why? It has the ability to lean side to side, emulating real road cycling while working your core as you pedal away.
But does it live up to its hype? We've been test-riding the bike for the past few weeks to find out. Here's what we found…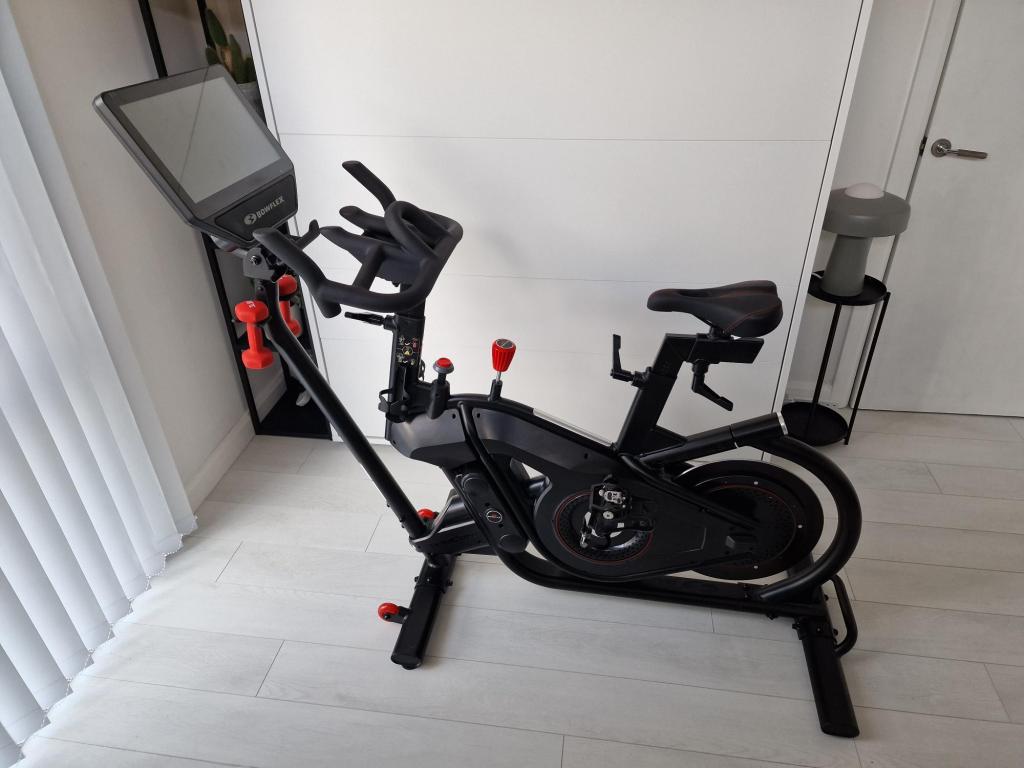 Price and availability: more than a Peloton
Want to be a proud owner of a Bowflex VeloCore Bike? It'll cost ya. The cheaper model with the smaller 16-inch screen has a $1,799/£1,999 while the larger 22-inch version has an RRP of $2,199/£2,399. Yup, that's more than the cheapest Peloton Bike+.
In the UK, there are only two official retailers in the UK where you can buy Bowflex's VeloCore Bike: Fitness Superstore or Powerhouse Fitness.
The somewhat reassuring thing about the VeloCore Bike, though, is that it comes bundled with a free one-year subscription to JRNY (the brand's on-demand fitness platform), which usually retails for $199.99 (around £160), though it's currently $150. This is considerably less than what you'll pay for Peloton's respective platform subscription over the course of a year.
At $44/£39.99 per month (or you can save per year at $129). By comparison, JRNY has to be paid in one go but amounts to just $11/£13 monthly, so Bowflex is cheaper in the long run, especially if you're planning to own an exercise bike for years to come. And yes we did the maths: you'd save around $300/£320 per year owning a VeloCore Bike over a Peloton.The Bowflex VeloCore Bike is shipped free of charge from either of its two UK retailers. And at £2,000 a pop, that's a bloody good job. Still, that doesn't mean the assembly is covered, too. Oh, no. Much to our horror it arrives flat-packed. If you want to skip that part it'll cost you an extra £95 courtesy of Fitness Superstore's assembly service.
Design and build: sleek and solid
During assembly, we were struck by the Velocore Bike's robust build quality. It's certainly a heavy-duty bit of kit. Not only does it feel strong and solid, but it has a great sharp finish that oozes juicy high-endness.
Self-assembly isn't bad. It can be done by one person and won't take more than two hours. It's all pretty straightforward; we barely looked at the instructions.
Not that we're accusing Bowflex of copycat-ing, but the VeloCore Bike sports the same colourway as Peloton's illustrious smart bikes. You know, the use of deep black metals juxtaposed with dazzling red accents. Sure, we've seen it before, but it works. And we like it. Any home gym would look the part with this bike standing proudly inside.
The big question, however, relates to size. Does it take up as much space as a Peloton? We're afraid to say yes, it does, and then some. The 16-inch model measures 151.8 x 61.2 x 140.4cm (compared to the Peloton Bike+'s 149 x 58 x 149cm dimensions) but then you have to take into consideration the bike's leaning tech, which means you'll need the extra width space measuring at least 123cm if you want to take full advantage of it.
There's more than just a pair of pedals and a bike frame to gorp at here, though. There's a high-definition touchscreen attached so you can follow on-demand spin classes or real-world cycling routes via Bowflex's JRNY platform. As mentioned earlier, this comes in either 16- or 22-inch versions, the latter of which is more expensive, and the former of which features in this here review. The screen is joined by some built-in Bluetooth speakers, two water bottle canisters and a media rack to park your phone on while pedaling away. The bike also comes with a pair of 1.5kg dumbbells, which are satisfyingly stowed in a pair of forks under the display console.
And before we move on to performance, we must commend Bowflex for the VeloCore Bike's impressive 2-in-1 pedal design. On one side you have toe baskets for those who don't like wearing cleated cycling shoes and on the reverse, you'll find SDP clips for those who do. Smart stuff, and – continuing the theme of comparing everything to Peloton – something Bowflex's big US rival doesn't have.
Performance: lean into it
While the prospect of a leaning exercise bike sounds cool, there's always the risk it won't quite live up to the hype. The great news is that the VeloCore Bike's leaning tech works exceptionally well in practice. In fact, it far exceeded our expectations.
But how does it work? Well, there's a lever that sits just above the resistance knob, which – once pressed, will release the bike from your standard "stationary mode" to the more innovative "leaning mode". This lets you lean from side to side during your ride, emulating a more authentic feel of flying around corners like you would a real-life road bike.
It feels great during operation. It offers enough resistance while you're in the saddle to ensure you feel safe without falling and, on top of that, you can feel your core working as you try to stabilise yourself – just like Bowflex claims. Even after a short 20-minute ride, you'll feel like you've worked your abs as well as your legs… and ass.
You don't have to use the leaning feature if you don't want to, though. You control it, and you can turn it off if you prefer. Simply lock it into "stationary mode" by pulling up the lever. Still, you'd be pretty crazy to buy this bike and not make use of this feature. After all, it's what makes the BowFlex VeloCore Bike one of the most interesting and exhilarating exercise bikes out there.
Besides the leaning tech, the VeloCore Bike feels very stable underfoot, with the pedalling mechanism proving reassuringly smooth throughout any workout, even when you're spinning your legs like the clappers. The 100 magnetic resistance levels on offer via the shiny red knob smack bang in the middle of the bike's frame also prove beneficial. They're responsive but not too sensitive, which is just what you need when you're following a dedicated spin class workout, for example.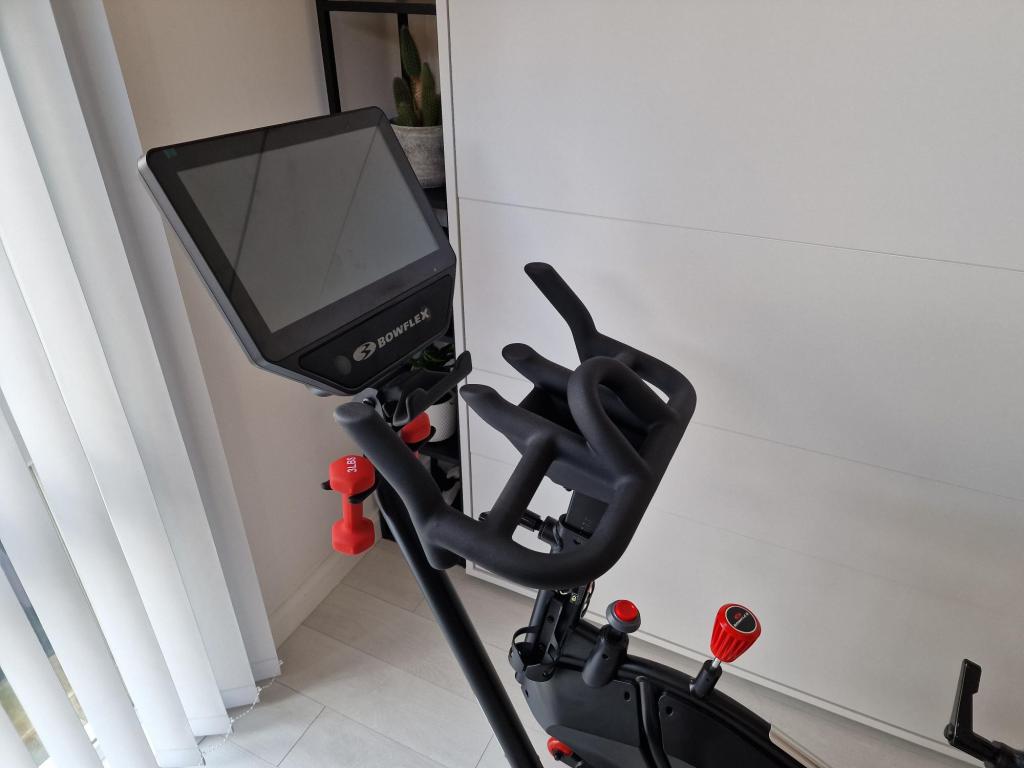 Fitness platform: on a JRNY
The Bowflex VeloCore Bike ships with its very own on-demand fitness platform, called JRNY (short for "journey", natch), which is free for a whole year. This features an array of cycling workouts, from more regimented spin classes to more freeing real-world cycling routes that you can pedal through at your own pace. There's also the option to log into Zwift via the platform, although you'll need a separate account for this. And if you're in the mood to binge on some TV instead of working out, the VeloCore Bike lets you do both as you can even sign into your Netflix or Disney+ accounts in the dashboard and catch up on some box sets while you work up a sweat. Why the hell not?
And just like Peloton's respective platform, JRNY features more than just cycling workouts. If you fancy a rest from the saddle, you can jump off and use the screen to follow a host of other exercise types, such as yoga, pilates, and on-demand strength classes.
The special thing with JRNY, though, is that it measures your fitness levels and – using the data it receives from your workouts – will suggest exercises it thinks will push you to work harder so that you always feel challenged. A lovely use of AI, if you ask us.
There's certainly lots on offer on this platform, but don't expect the same production value as that you'll find on Peloton. Classes are good but nowhere near as engaging or fun, in our opinion. Like all things in life, you get what you pay for.
Bowflex VeloCore Bike verdict
The Bowflex Velocore Bike is a super innovative smart exercise bike that offers a cycling experience like no other. But it is worth the hefty £2,000 price tag? Bearing in mind that JRNY is an expansive platform that can be continually updated, and costs significantly less than Peloton's offering, we're inclined to say yes. If you're a lover of road cycling and you've got the space to spare at home (as well as the cash), then we'd not hesitate in recommending this bike to anyone, providing they'll get their use out of it.
Stuff Says…
If you've got the space and dosh to spare, the VeloCore Bike is certainly worth a punt. The smart and unique bit of home gym equipment offers a fitness experience like nothing else out there.
Good Stuff
Unique and fun leaning feature
Solid build
Realistic cycling experience
JRNY platform represents great value
Bad Stuff
Expensive
Requires a lot of space
Self-assembly (setup an additional cost)