OnePlus Pad hands-on review: staying the distance
A tablet from OnePlus - but does the OnePlus Pad do enough to stand apart from the rest?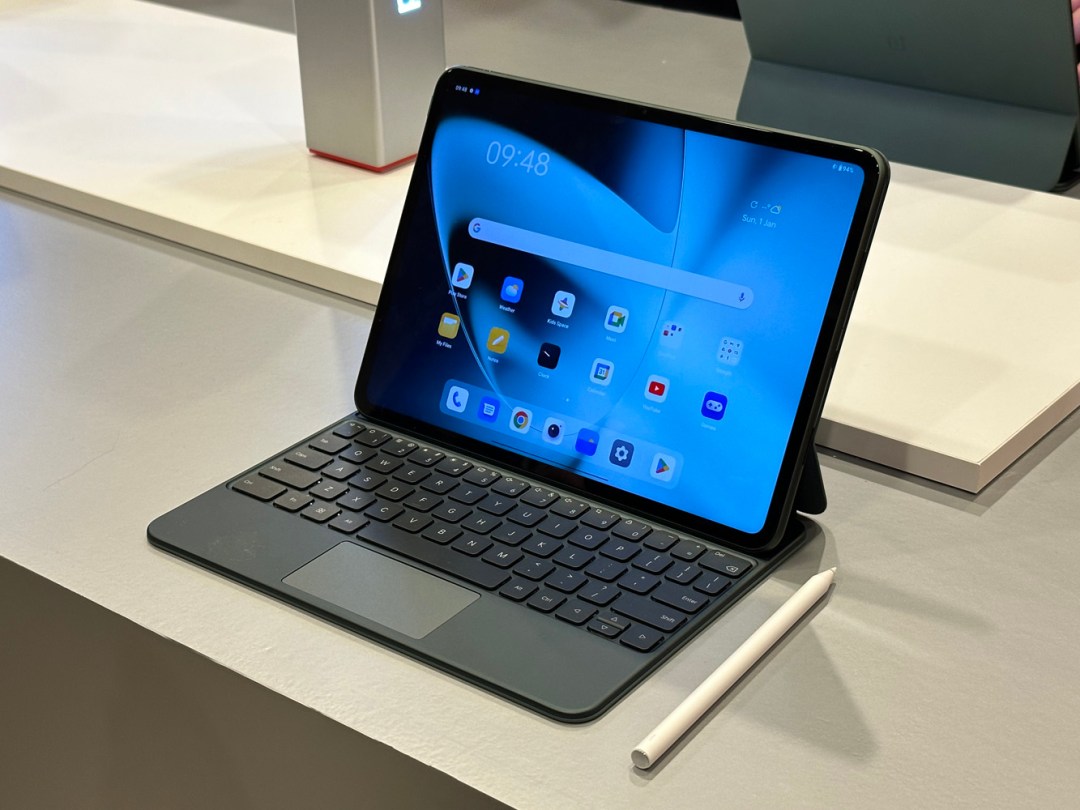 As well as the launch of the OnePlus 11 Concept, we've also been able to get hands-on with the 11.6-inch OnePlus Pad tablet at Mobile World Congress 2023. Unfortunately we still don't know when it will be available or how much it will cost, which is pretty damn important. Here's our hands-on OnePlus Pad review.
Now, let's be honest, this Android tab doesn't do an awful lot to stand out in terms of the aluminium design, but you can see why OnePlus has launched it as part of its wider ecosystem of devices that include its watch and even TVs in some territories.
The 'halo green' tablet is also really rather slim at 6.5mm with a thin 6.7mm bezel around the 7:5 ratio screen giving around 88% screen-to-body ratio. OnePlus proclaims the aspect ratio as an 'industry first' that's able to show more content on screen than on rival tabs.
It's a tiny bit on the heavier side of similar tablets by around 50g (compared to the Samsung Galaxy Tab S8 and 9th generation Apple iPad) but we didn't feel that detracted from the experience at all.
Design aside, OnePlus Pad also has a few tricks up its sleeve. There's a chunky-sized battery at 9510mAh, meaning it'll cope with being left on standby for up to a month – impressive. Continuous battery life is set at around 14 and a half hours of video playback. Charging is fairly quick, too – not at the same level as the top OnePlus phones, but the 67W charge will juice up in around 80 minutes.
The Pad also comes with a magnetic keyboard case and a stylus – called OnePlus Stylo – that magnetically attaches to the side of the tablet.
The Dolby Vision HDR-capable screen is particularly impressive. It's bright (500 nits), has a 2800×200 resolution and fast 144Hz refresh rate.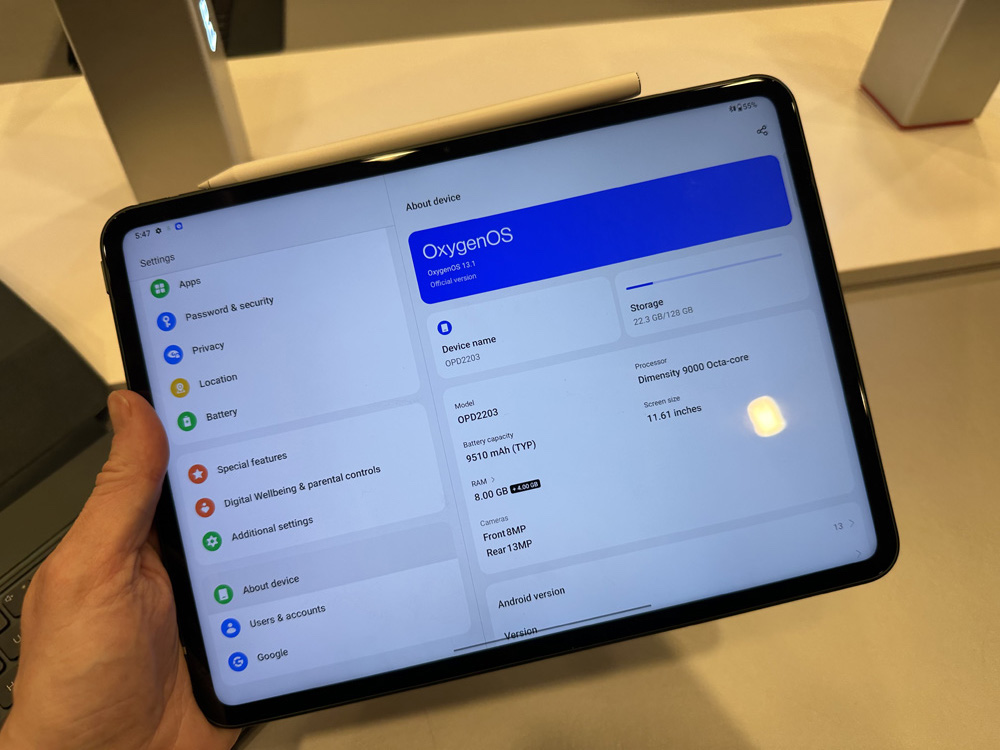 It's powered by the MediaTek Dimensity 9000 meaning it's powerful, too. You can also choose up to 12GB of memory as well and OnePlus claims this means you can use up to 24 apps simultaneously.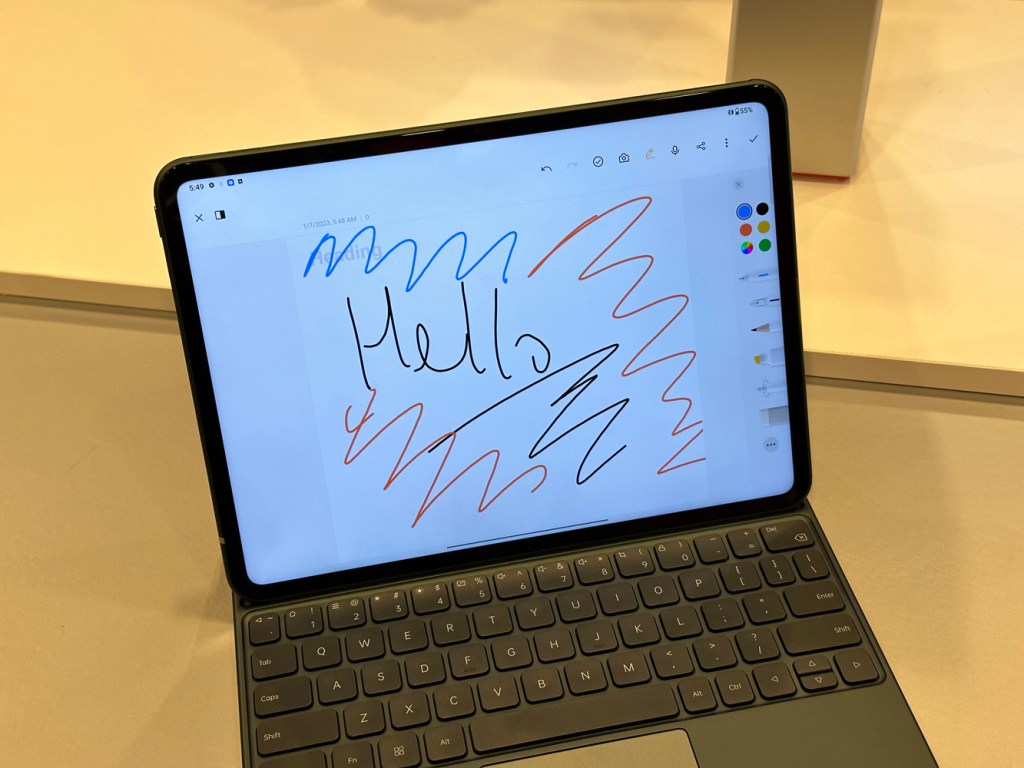 The quad speakers are Dolby Atmos enhanced and there's some intelligence that knows what direction the screen is orientated and switches around the sound automatically.
Surprisingly, OnePlus Pad doesn't have its own cellular connectivity, instead relying on your OnePlus phone. This does make things simpler (and, presumably, cheaper, too).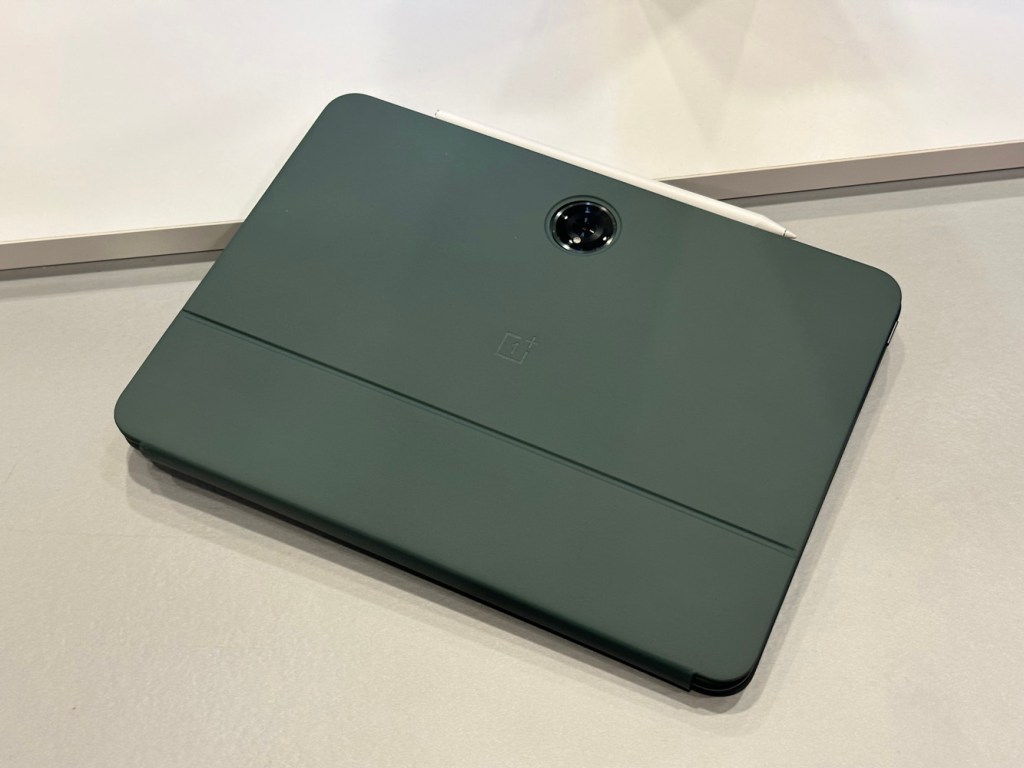 Early verdict
The OnePlus Pad seems like a winner – but it all hinges on how much it costs. It won't win any awards for the design, but there's plenty to recommend, especially the display and battery life. We're looking forward to being able to give a full verdict in our final OnePlus Pad review in due course.