OnePlus Pad review: clean slate
OnePlus had the best part of a decade to perfect its 'flagship killer' smartphones. Can the same approach work on a tablet at the first time of asking?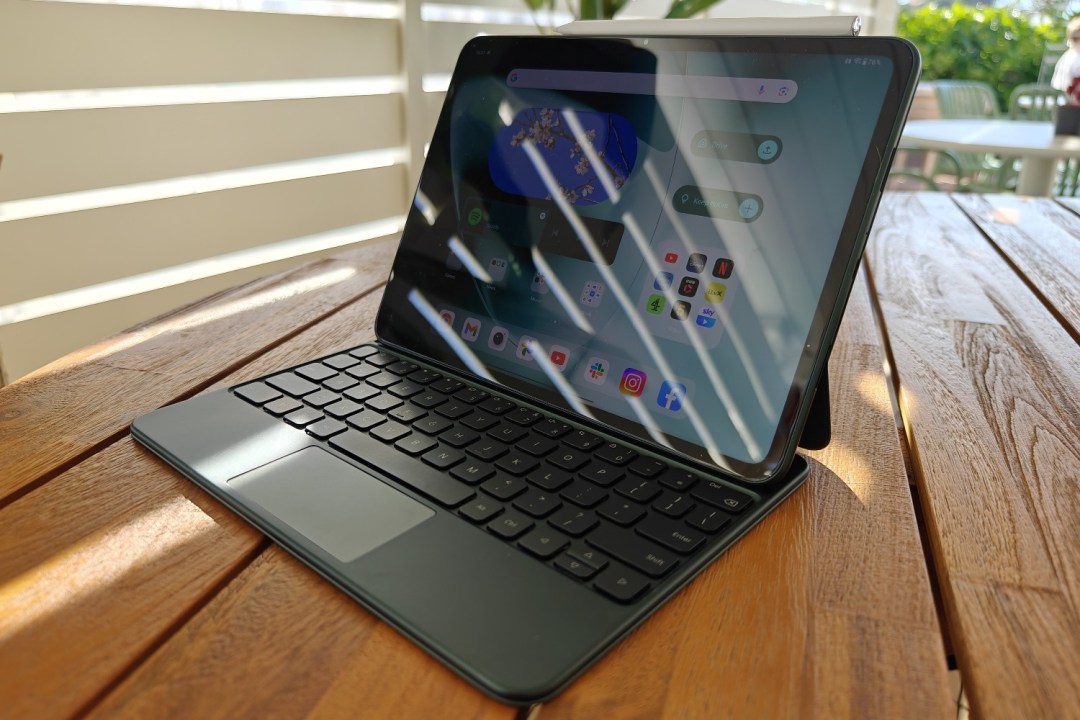 You need more than just powerful hardware to succeed in the tablet world. As Apple and Samsung have proved, it's all about the ecosystem – something that few rivals have been able to deliver on quite the same scale. The OnePlus Pad is next in line to try, a debut slate launching with a slew of productivity-minded accessories and software optimised for the big screen.
The firm hasn't forgotten lessons learned from its smartphone success, including flagship-grade internals and keen pricing: the OnePlus Pad undercuts the latest iPad while also packing in more storage, a bigger battery and larger, higher resolution screen. A 144Hz refresh rate ensures buttery smooth motion, too – something Apple reserves for the pricier iPad Pro.
Unlike Apple's home-grown software though, OnePlus has to rely on Android, which historically hasn't quite felt at home on larger screens. Google has made efforts to change that recently – does the OnePlus Pad arrive at exactly the right time for tablet fans after an Apple alternative?
Design & build: mean in green
With 2.5D glass set into a cambered unibody frame, the OnePlus Pad looks just like a top-tier tab. The screen bezels might not be the skinniest, but they're even on all four sides and give you something to grip on to.
The fetching Halo Green colour on the rear has been inherited from the OnePlus 11 phone, and is a lot easier on the eyes than boring black. A subtle circular pattern expands out from the camera bump, which is positioned so you'll struggle to obscure it in either landscape or portrait modes.
The lighter coloured panel at the top/right edge looks like a fingerprint sensor, but is actually a magnet for holding the optional OnePlus Stylo digital stylus. Biometric security is limited to facial recognition using the front-facing selfie cam. It was usually quick enough to detect our mug before we'd had time to tap in a passcode.
A set of pogo pins on the bottom edge supply power and data for accessories, which are currently limited to the official OnePlus Magnetic Keyboard cover.
This isn't the lightest 11in slate at 552g, but a svelte 6.5mm thickness means it's perfectly comfortable to hold one-handed. The 7:5 screen aspect ratio is somewhat unique in the tablet world, and feels very book- or magazine-like when held vertically.
Screen & sound: picture this
At 11.61in, the LCD screen is the ideal size middle ground between portability and readability. It looks wonderfully crisp at 2800×2000, and the 144Hz refresh rate ensures eye-soothingly smooth scrolling.
It can't match the inky deep blacks and impeccable contrast of an OLED panel, but videos still look impressively impactful and colours are handled with the finesse we'd expect from a high-end tab. A 500 nit peak brightness is also respectable, and enough to make Dolby Vision HDR content look suitably vibrant.
The unusual aspect ratio is ideal for side-by-side working on multiple apps in landscape mode, but isn't so great when it comes to streaming video. 21:9 content in particular has absolutely giant black bars, and even the more common 16:9 format gives up a fair bit of screen space to letterboxing. That does put a dent in the OnePlus Pad's multimedia abilities, which are otherwise top notch.
The Dolby Atmos-approved stereo speakers, for example, are smart enough to know which way round your holding the tablet, and swap the left and right channels accordingly. They get plenty loud and produce well-balanced audio, which doesn't distort when you crank it. You'll need Bluetooth headphones for any personal listening, as there's no 3.5mm headphone port.
Performance & software: a good start
There's no doubting the OnePlus Pad's day-to-day performance. Its MediaTek Dimensity 9000 CPU is a beefy enough chip to run single apps all but flawlessly, and it won't balk at split-screen multitasking thanks to the 8GB of RAM.
Most apps open in a flash and run perfectly smoothly, but isn't a graphics powerhouse. 3D games won't always benefit from the 144Hz display, and may need to dial the details back to get the absolute best frame rates. That said, demanding games like sci-fi gacha RPG Honkai: Star Rail are still perfectly playable.
More important is how easy OnePlus' version of Android is to get around. It started out as a phone OS after all, so took some much-needed app and interface updates before it felt at home on bigger screens.
The biggest addition is a taskbar at the bottom of the homescreen, which puts a handful of your favourite and recently used apps within easy reach, macOS-style. You can't display it over any currently running apps, though, so it's not a huge boon for multitasking.
Split view is more useful: a two-finger swipe down from the top of the screen nudges your current app to one side, letting you open another to sit alongside it. The split can be anything you like, too – not just 50/50. Two apps at once just not enough? OnePlus lets you add a third, floating window, which can be dragged around the screen and resized so as not to block your view of the apps underneath.
Google has overhauled most of its major apps with tablet-friendly layouts, and the few pre-installed OnePlus ones make great use of the screen space too, but it's a shame many third-party apps still force portrait mode on you. It's not hard to spot where OnePlus has simply ported features from its phones, either: the widget shelf only fills the centre of the screen, instead of all of it.
Ultimately OnePlus has played it safe, while rival Samsung has gone much further with customisation for its Galaxy Tab range – and is all the more usable as a work device for it.
Accessories: the write stuff
It might be a £149 extra on top of the cost of the tablet, but the OnePlus Magnetic Keyboard is well worth the cost of entry for getting actual work done. The full-size QWERTY keys have a good amount of travel for such a compact 'board and are surprisingly springy, so it's easy to type on at speed.
It draws power from the tablet, and pairs automatically after a second or two whenever you dock it to the magnetic pogo pins. There's no backlight, so it's not amazing for low-light work, but the built-in touchpad beneath it is a welcome alternative to the touchscreen when editing documents – once you get a hang of Android's click-and-hold highlighting.
Note-takers should grab the £99 Stylo digital stylus instead. It magnetically clings on to the tablet to charge, detects how much pressure you're applying and is wonderfully responsive. Artists will want something more advanced than the built-in Notes app, though.
Battery & charging: rapid gains
OnePlus hasn't skimped on battery capacity, finding room inside the Pad for a substantial 9510mAh cell. That's a fair bit more than you'll find in the equivalent iPad, and the Dimensity silicon isn't a major power drain. Expect to manage a day and a half of work and web browsing between top-ups, or around 12 hours of video if you're more into box set bingeing.
Standby battery life is excellent, too. We've not had our review unit long enough to test the firm's claim it will last a month simply slung in a drawer, but left overnight it barely drops a few percentage points.
When you do need to charge it, you'll need to supply your own power brick, as OnePlus doesn't include one in the box. The Pad supports 67W top-ups over USB-C, but keep in mind that's through a SuperVOOC charger – not the more common USB PD. OnePlus phone owners will be fine, though.
A full charge takes under 90 minutes, which is ahead of anything you'll get from Samsung or Apple.
Cameras: pics in a pinch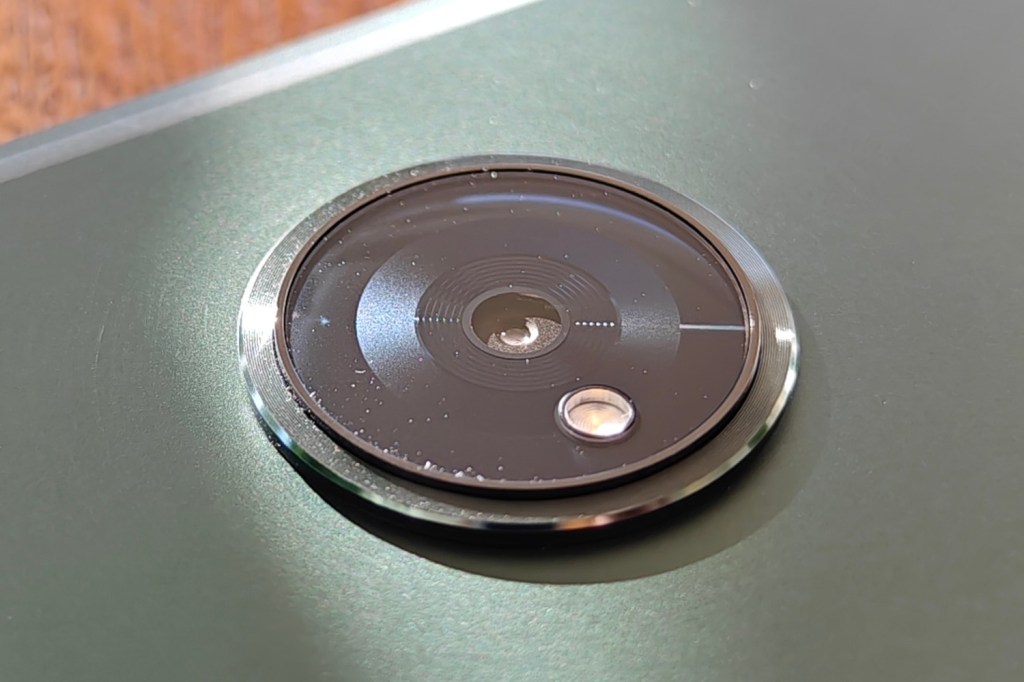 Tablet cameras are rarely much cop, but the OnePlus Pad's 13MP rear snapper is a decent enough performer in good light. While it won't replace your smartphone, there's lots of detail on display and auto HDR helps balance highlights with shadows.
Pay closer attention and you'll spot overly aggressive sharpening, along with a fair bit of image noise in the darker parts of scenes, but not significantly more than any other tablet that'll set you back this kind of cash.
The camera app's 2x zoom toggle is entirely digital, but it does a pretty good job given the pixel count. Things do take a step back at night, so you're still going to want your phone for any low-light shooting. It'll record 4K video too, but you can't pick a frame rate; footage is limited to 30fps.
Up front, the 8MP selfie cam is just fine for Zoom calls and the like.
OnePlus Pad verdict
The OnePlus Pad delivers precisely what its maker is best known for: potent and good-looking hardware that gets impressively close to the class leaders, only without the premium price to match. Black bars aside, a vibrant display and energetic sound make it a great multimedia slate, while the optional keyboard cover and stylus are perfect for productivity.
Android still has a ways to go before it feels totally at home on a tablet, though. OnePlus hasn't customised the OS to the same extent as market leader Samsung, so it falls behind on usability and multitasking ability – and both take a distant second place to the iPad and iPadOS as potential laptop replacements.
As an occasional work machine that can otherwise entertain, though, the OnePlus Pad is a valiant first effort.
Stuff Says…
It won't truly worry the iPad, but this is still a fully-featured first attempt tablet for work and play
Good Stuff
Sharp, colourful screen copes well with split-screen use
Sleek styling and great accessory line-up
Consistently good battery life and fast charging
Bad Stuff
Big-screen take on Android could be slicker
Aspect ratio means lots of letterboxed videos
One storage option and no microSD expansion
OnePlus Pad technical specifications
| | |
| --- | --- |
| Screen | 11.61in, 2800×2000 LCD |
| CPU | MediaTek Dimensity 9000 |
| Memory | 8GB |
| Storage | 128GB |
| Cameras | 13MP rear, 8MP front |
| Operating system | Android 13 w/ OxygenOS 13 |
| Battery | 9510mAh w/ 67W charging |
| Dinemsions | 258x189x6.54mm, 552g |