Turtle Beach Stealth Pro review: extra edge as you play
The Turtle Beach Stealth Pro is a pricey headset ideal for gamers that want the best
Turtle Beach has a strong reputation for providing gaming headsets that cover a wide variety of budgets and needs. Its Stealth range is the more premium label with its wireless options dominating this field. That's where we come to the latest — the Turtle Beach Stealth Pro. Weighing in at nearly twice the price of its nearest sibling, the Turtle Beach Stealth 700 Gen 2 Max, it's one of the pricier gaming headsets you're likely to come across.
This headset promises to do it all with Turtle Beach touting it as its highest-performing gaming headset yet. It aims to provide you with great sound while you play atmospheric single-player games, offering the edge while listening out for footsteps in Fortnite, and even pairing nicely with your phone for anything else too. It'll even block out any distracting sound via active noise cancellation. But does it succeed at all these things? And is it worth that hefty price tag?
Comparison
Picking out the best gaming headset is a tricky proposition at times. There are dozens out there so the best starting point is to think about your budget. It's clear that the Turtle Beach Stealth Pro is right at the top end of anyone's budget. This isn't a headset for casual gamers or someone that tends to prefer to use their built-in speakers or soundbar. Previously, something like the Astro A50s hit this kind of price but it's since dropped significantly.
For the most part, dedicated gamers are eyeing up products like the HyperX Cloud Alpha Wireless at just under $200/£200 mark with budget players satisfied with wired solutions like the Astro A10. Here, Turtle Beach has built on the success of its Stealth 700 Gen 2 with mostly everything looking better but at a hefty price. It's aimed at those where money is no object.
Design & build: solidly dependable
The Turtle Beach Stealth Pro doesn't reinvent the wheel with its looks. It's a weighty headset that's a strong mixture of premium leatherette, soft-touch plastic, and memory foam cushioning. The metal-reinforced headband and frame don't clamp to the top of your head too tightly with pull-out adjustments ensuring you can figure out the right fit for your head.
For spectacle wearers, it's reasonably comfortable too. You'll need to spend a moment to get things lined up just right but it soon becomes instinctive when you put them on. Also, unlike many other gaming headsets, you can easily swivel one ear cup around so you can rely on just one while taking in what's going on around you.
It's a fairly heavy headset but it's not uncomfortably so. Instead, it has the heft of something that's expensive.
On one side are buttons for power, Bluetooth, and Superhuman Hearing mode, while the other side has a wheel that can adjust volume or be remapped to your needs. There's also a slot for attaching a mic that is easily hidden away by a piece of plastic to keep things sleek. Buttons aren't immediately intuitive but you get used to which does what, and the wheel is great for volume adjustments.
Features & battery life : packed to the rafters
The amount of features the Turtle Beach Stealth Pro offer is breathtakingly long. We'll get into further detail about he 50mm Nanoclear drivers and active noise cancellation further down, but there's still plenty to marvel at here. Available in two versions – Xbox and PlayStation – the Xbox version will work with Xbox consoles as well as the PlayStation 4 and 5, Nintendo Switch, PC/Mac, and your phone or tablet. Alternatively, the PlayStation one will work with everything but the Xbox so you can instantly see which version is best for multiplatform players. Pairing is simple with Bluetooth 5.1 available for your phone, PC, or Mac, while a 2.4GHz transmitter does the work for the consoles.
Said transmitter is small and will easily fit on your TV stand or similar. It has an extra USB-A charging point if you want to plug in a controller or other devices to charge up. It also doubles up as the home of the second battery pack that can be swapped out as needed. We got about 10-12 hours of battery life depending on the settings we chose. That may not be as hefty as some rivals but you'll need the wireless transmitter plugged in to use it anyhow, so you might as well recharge the second battery while you're there. Also, a 15-minute charge gives you back three hours which should suffice for those times you've lost track of time.
The Stealth Pro's 2.4GHz wireless connection is flawless. Wandering out of the room for a moment wasn't an issue and not once were there any problems with it syncing up.
One key feature for any Turtle Beach headset is its Superhuman Hearing mode. Basically, it elevates the sound of footsteps and other subtle noises as you play. It's a curious one because it always feels a little gimmicky but a quick toggle between options means you can see which works best for you and your ears. Via the app, you can choose presets based around gunfire too as well as manually tweak its effect.
Sound quality and noise cancelling: alarmingly crisp
The Turtle Beach Stealth Pro are very crisp. While most gaming headsets are fairly bass-heavy, the Turtle Beach Stealth Pro are more subtle. It makes games like Dead Space Remake far more unsettling than before. Every rattle of a fence or a gradually creeping footstep is distinctive and moody. Turtle Beach's use of hand-selected and matched 50mm Nanoclear drivers sounds like marketing spin but whatever they've done, sounds good.
Even with default settings, it's an excellent-sounding headset but there are plenty of options for getting things just how you like them via the Turtle Beach Audio Hub app. This is a headset that really isn't just for gaming with music sounding crisp and clear at all times. Separate settings for Bluetooth connectivity mean you can arrange music how you like it on your phone, while having different adjustments for your next Fortnite session.
Volume levels can also be cranked up high far past the level we felt comfortable at. There's little need to go too high either with the Stealth Pros packing excellent active noise-cancellation. It's not quite on the level of some of the best headphones like the Sony WH-1000XM5 but in a gaming context, it's fantastic. A slider with a dozen options means it can be adjusted as needed depending on the noises around you. It adds to the immersion well.
For talking to your teammates, there's a choice of two mics. If you weren't planning on talking, there are two concealed mics that work reasonably well. It's not fantastic for clarity but it does the job. Far better is the detachable boom mic. It does a great job of cancelling out background noise while keeping your voice clear as you instruct others.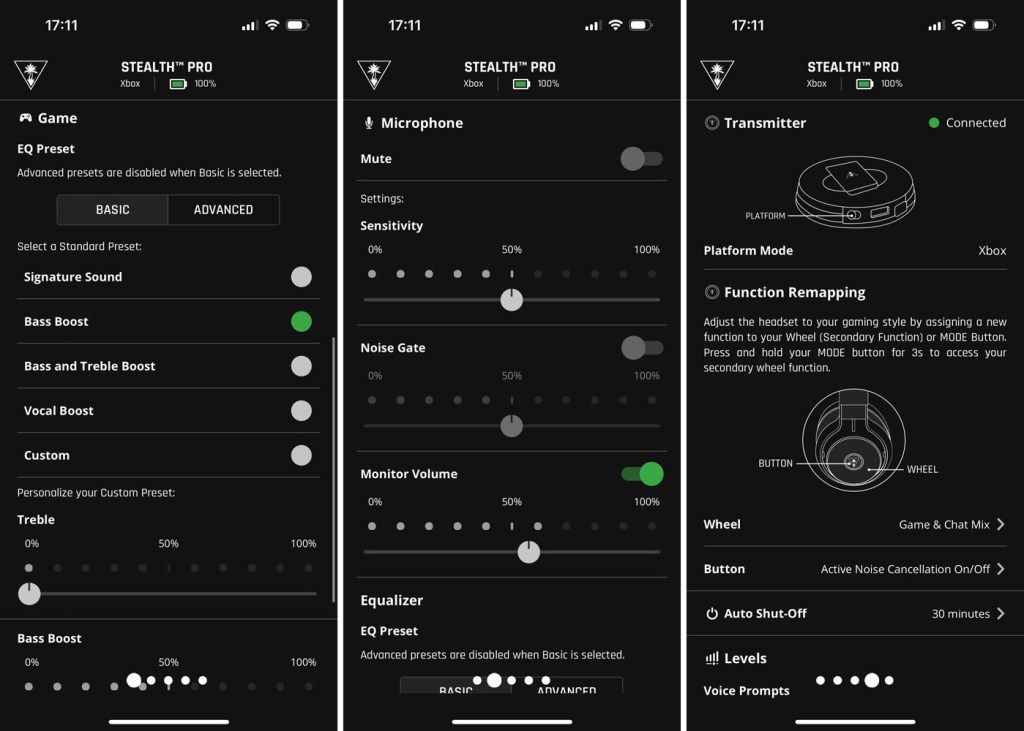 App interface: so many options
The Turtle Beach Audio Hub app is near overwhelmingly in terms of its options. Available for phone or computer, it's ideal for someone that likes to adjust every little fine detail. For going, you can choose from EQ presets, opt to boost the bass or treble, or it's possible to adjust things measure by measure to your specific likings.
The same goes for listening via Bluetooth which is why the Turtle Beach Stealth Pro is a reliable option for music fans as well as gamers.
Other settings include being able to change the level of Superhuman Hearing one experiences (recommended) as well as mixing in the game sounds and chat levels appropriately too. The mic can also be adjusted for sensitivity and monitoring volume.
Being able to get into the nitty gritty of things is enticing but unlikely to be necessary for everyone, further than a few minor adjustments. It's good to see such functionality available though with being able to adjust the physical functions on the headset also very convenient.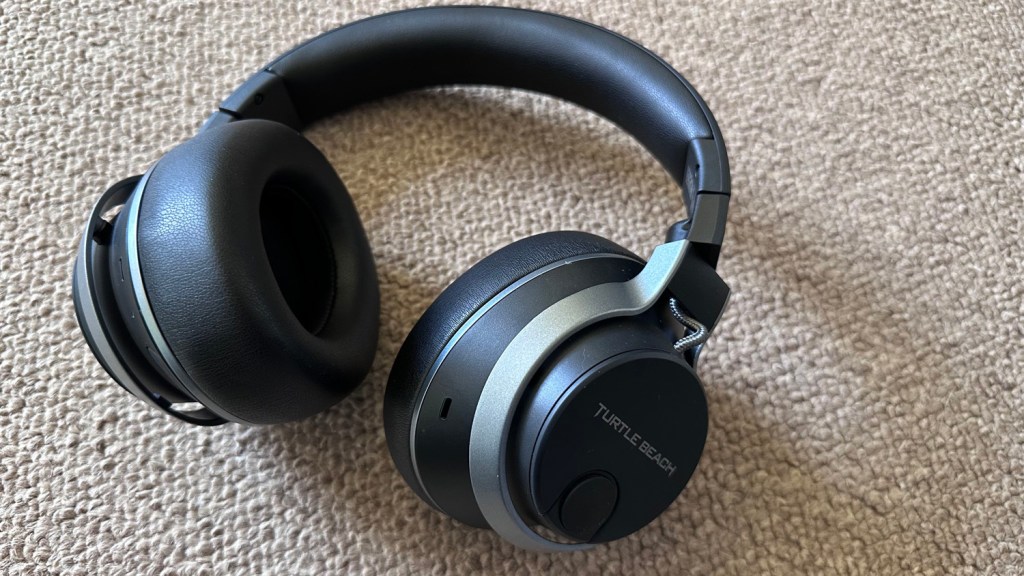 Turtle Beach Stealth Pro verdict
With crisp sound and every option anyone could ever want, the Turtle Beach Stealth Pro is an exceptional headset. As it should be at a premium price. It'll work well with all your devices and even double up as a great pair of cans for listening to music.
However, it is expensive, even for a high-end gaming headset. To be picky, 10 hours per battery at this price isn't great either although it wasn't too inconvenient in actual use thanks to the transmitter dock.
More importantly though, many people simply won't need the level of adjustability that's available here. You could spend a very long time getting things just how your ears like things to sound. In reality, most people will take out of the box and enjoy what's here, regardless.
For someone who wants to know they have the ultimate in gaming headsets, the Turtle Beach Stealth Pro is undoubtedly top of the pile now. That doesn't mean it's essential for everyone though.
Stuff Says…
Fantastic audio quality and extensive options mean the Turtle Beach Stealth Pro earns its high price tag, but it will be overkill for some.
Good Stuff
Fantastic sound quality
Very comfortable to wear
Excellent ANC
Extensive device support
Bad Stuff
Almost too many settings
Battery life is a little weak
Expensive
Turtle Beach Stealth Pro tech specs
| | |
| --- | --- |
| | |
| Drivers | 50mm Nanoclear drivers |
| Microphone | Boom arm, detachable. Two enclosed mics |
| Connectivity | 2.4GHz, Bluetooth |
| Battery life | 10-12 hours |
| Dimensions | 21.69 x 9.5 x 24.31 cm |
| Weight | 413g |