Amazon Echo (2017) vs Amazon Echo Plus: Which should you buy?
Two Amazon Echos, one decision. Which should get your hard-earned cash?
You didn't think Amazon was going to just sit back and watch the Apple Homepod and Google Home gain ground on its territory, did you?
Of course not. After a great first year in the UK, Alexa's now got a new home and we're all invited to the house warming. Not one, but two in fact, with a pair of new speakers launching ever-so-handily in time for Christmas.
With new designs, better sound and smarter features, there's plenty to be excited about in the new Echo (2017) and Echo Plus. But what's the difference between them? And which should you buy? Read on for all the answers…
Amazon Echo (2017) vs Amazon Echo Plus: Design
The standard Echo has had something of a makeover in its 2017 guise. It's now smaller with a homelier feel, for those put off by the original's more business-like exterior. This means six different finishes to fit in with your décor – choose between differently coloured fabrics and woods, or a chrome version that sticks to the Echo's more industrial roots.
The Echo Plus, on the other hand, wears its design heritage like a badge of honour. It looks almost identical to the current Echo, save for the addition of chrome to the previous colour options of black and white.
Both retain the original Echo's small footprint, so whichever you choose, you should be able to find space for it – although note that the Plus is a fair bit taller and very slightly thinner than the Echo.
Winner
Design a subjective thing, and we didn't mind the design of the original Echo. But on pure design grounds, the ability to choose between a range of finishes as well as colours has to give this to the Echo (2017).
Amazon Echo (2017) vs Amazon Echo Plus: Sound quality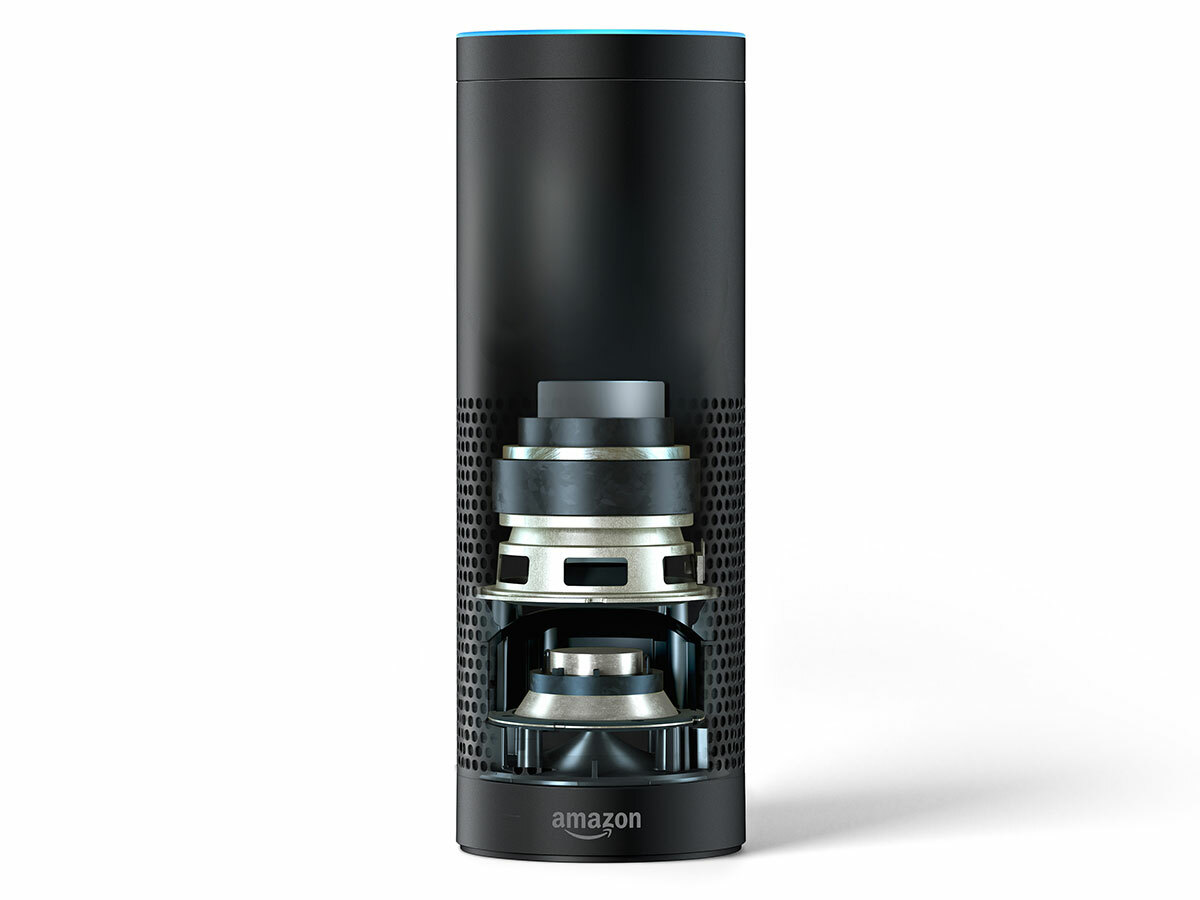 If last year's Echo had any Achilles' heel, it was its sound. It wasn't bad, it just wasn't up to scratch with other wireless speakers at its price.
Amazon has put a stop to that this year, with both new speakers getting a sound upgrade. Owing to its changes on the outside, the Echo (2017) gets an all-new speaker design on the inside too, with a new dedicated 0.6in tweeter and a 2.5in downward-firing woofer for bass rumbles aplenty.
The Echo Plus however, has a better performance still, with a slightly bigger 0.8in tweeter and the same 2.5in woofer. There's also enhanced 360-degree omni-directional audio, which should mean a crisper, clearer performance no matter where you are in the room.
Both make use of the audio wizardry from Dolby, with top-notch processing keeping everything sounding as they should. In short, both should sound better than the old Echo, but the Plus will probably sound best of all.
Winner
We need to give these pair a good listening to before we decide just how good the Plus audio upgrades are on the Echo (2017). For now, they certainly sound promising, and so this round goes to the Echo Plus.
Amazon Echo (2017) vs Amazon Echo Plus: Features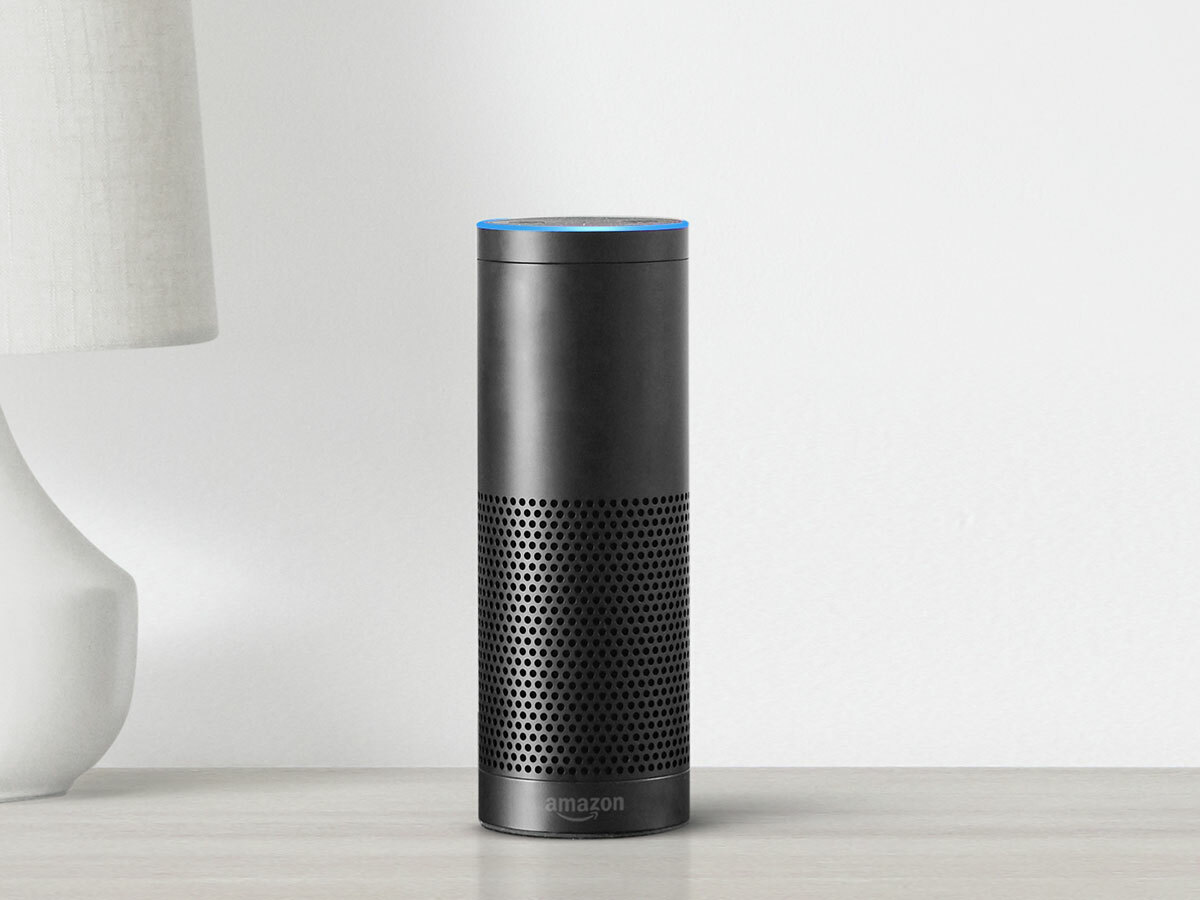 As part of Amazon's big announcement, Alexa also got a whole lot of new tricks added to her locker – tricks that both of these speakers make the most of.
These include Echo-to-Echo (or Alexa app) calling and messaging between friends, hands-free speakerphone capabilities and more extensive, more conversational smart home skills.
They both also make use of second-generation far-field technology, which helps improve wake word processing. That means Alexa should hear you shout her name, even above the noise of dinner time.
So far, so same-y. But this is where the Echo Plus pulls out its trump card: it features a built-in smart home hub to make it the one-stop-shop for hooking up all your smart home devices, quickly and easily.
Just say "Alexa, discover my devices" and it'll dig out all the connected lights, thermostats, plugs and whatever else is on your network so you can control them directly. New to all this smart home stuff? The Echo Plus will also come with a Philips Hue lightbulb thrown in to get you started (while stocks last).
Winner
A lot of great stuff is offered by both speakers, but the Echo Plus pulls ahead with its extra-clever smart home smarts.
Amazon Echo (2017) vs Amazon Echo Plus: Price
Considering the original Echo started out at £149.99, it's a great move from Amazon that you can now get either of these new devices for less than that.
The Echo (2017) drops down to £89.99 for some finishes and £99.99 for the rest, while the Echo Plus still manages to take a tenner off with its £139.99 price tag.
That's a £40-50 price difference for the improved sound of the Echo and extra smart home capabilities – not forgetting that free Hue lightbulb of course.
Winner
Both prices seem add-to-basket reasonable, especially considering they're both cheaper than the original Echo. However, getting all the smarts of Alexa and a better performance than before at a sub-£100 price is something not to be sniffed at. The Echo (2017) gets the nod here.
Amazon Echo (2017) vs Amazon Echo Plus: Which should you buy?
Which Echo should end up in your Amazon shopping basket will ultimately depend on how serious you are about smart home.
If you know your Hue from your Hive, or like the idea of using your voice to control the goings on of your household, it looks like the extra £50 you'll spend on the Echo Plus will be entirely justified – especially as newbies can kick-start their smart home journey with Hue in the process.
More interested in Alexa's own abilities, such as voice-activated playlists, timers, web searches and weather reports? You'll probably find yourself happy enough with the standard Echo (2017) and the £50 left in your pocket.
Of course, we're still yet to see just what Apple has to offer from its Homepod, and Google Assistant is fast improving too – particularly through an increasing number of third-party speakers and its own Google Home device.
Is that a smart speaker battle we smell heating up? You bet.