The best multiroom music systems
For years, Sonos has been the undisputed king of multiroom hi-fi. Can any of these newcomers pinch its crown?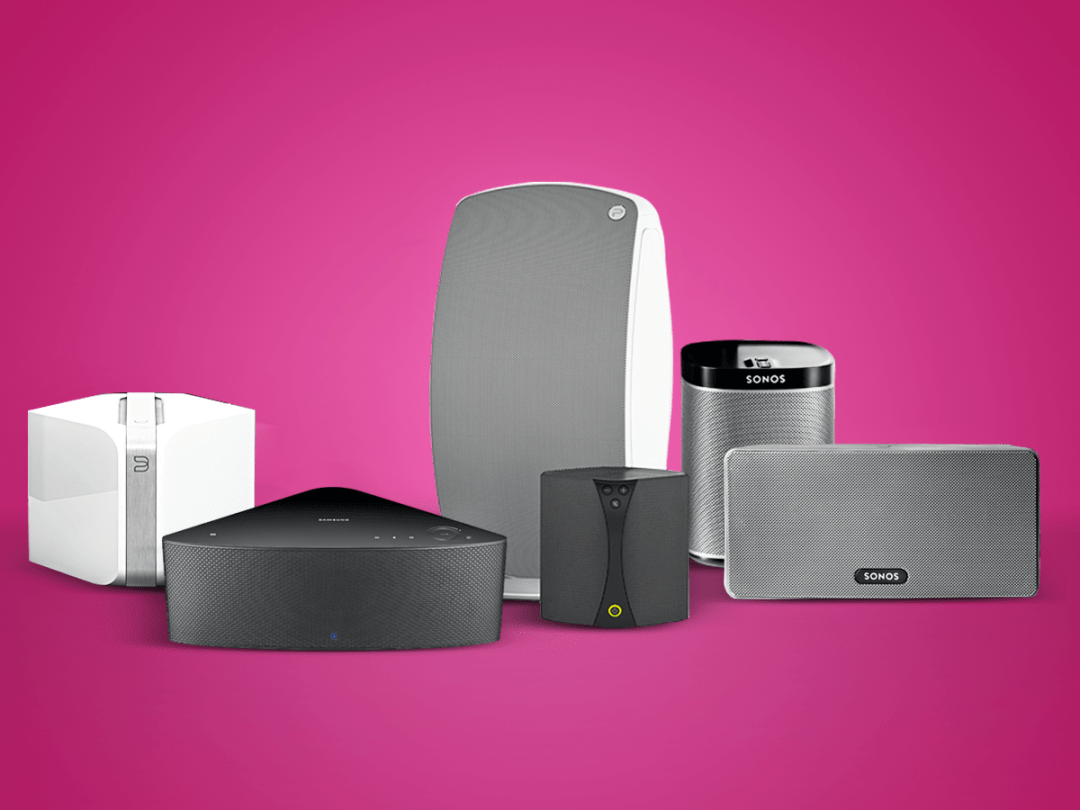 It's never been easier to get into multiroom music.
With prices becoming ever more wallet-friendly, you no longer need to mortgage your house in order to kit it out with a wireless speaker in every room. And two in the kitchen.
But which brand should you go for? An established name such as Sonos? A big brand like Samsung? A smaller, but well-regarded choice such as Pure? An upstart such as Bluesound? 
Well ponder no more. We've tested all of the best options and we'll tell you what we think about them if you'd care to read on…
Bluesound (from £400)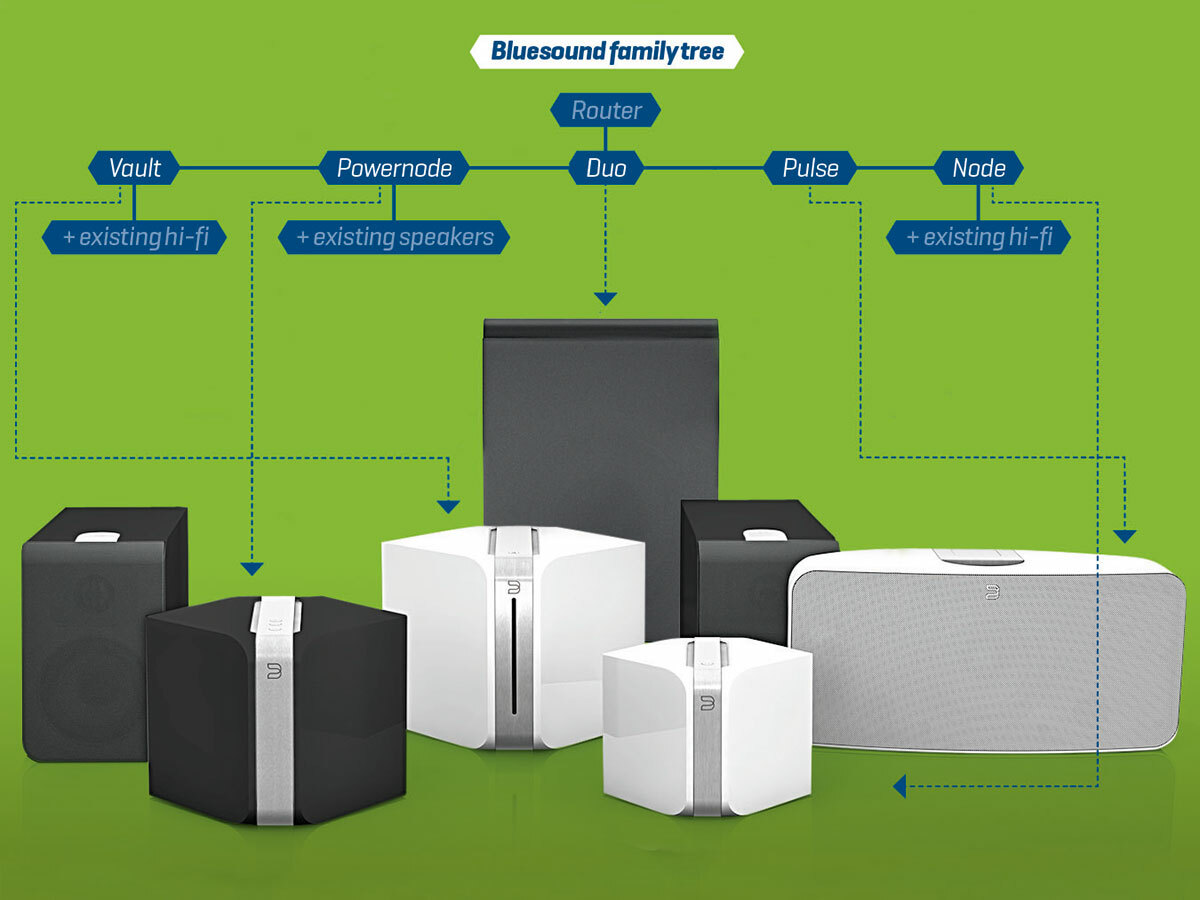 What's the story?
You might not have heard of Bluesound, but this new company has some serious tech heritage. Set up by many of the same brains behind respected British brand NAD, this is a system that is all about putting sound quality first, with support for hi-res files up to 24-bit/192kHz. That's even better than CD quality, and means you get to hear the music just as the artist intended it.
This is a big deal for audiophiles – it's one of the only multi-room systems offering this support. The five-strong Bluesound family aims to fill every sonic situation – from ripping to storage to playback – but at a starting price of £400, it's much pricier than its rivals.
Any good?
Setup is slick and easy, and unless you own the CD-ripping, 1TB-packing Vault (£600), which needs to be hardwired, the system is happy to run on your wireless network. Control of all players and services is dead easy through the Bluesound app, and support for the Tidal CD quality music service is awesome. You'll want to make sure your connection is strong enough first.
You control what's playing where via an app, and browse any music on your home network or online via streaming services such as Spotify, Tidal and Qobuz. But of course, what's really important is how it all sounds, and the Bluesound system is on top of its game. Hi-res recordings are understandably more detailed and dynamic than you'll hear from online streams and MP3s, but it's not picky – anything you play through it has the same full-bodied presentation that works with all genres.
The Duo (£900) and Pulse (£600) both have built-in speakers, but pick the Node (£400), or the Powernode (£600), which requires a separate pair of speakers, and there's still a strong family sonic signature that's punchy, expressive and powerful with a rich but precise bass and a refined treble. Bluesound isn't cheap, so if your multi-room motives stretch no further than streaming from Spotify, your money may be better spent elsewhere. But if you have a NAS drive full of hi-res music, or like the idea of getting one, this is the best-sounding multi-room system you can buy.
STUFF SAYS
The greatest challenge to Sonos yet seen, and the best option for audio nerds
✭✭✭✭✭
Pure Jongo X (from £50)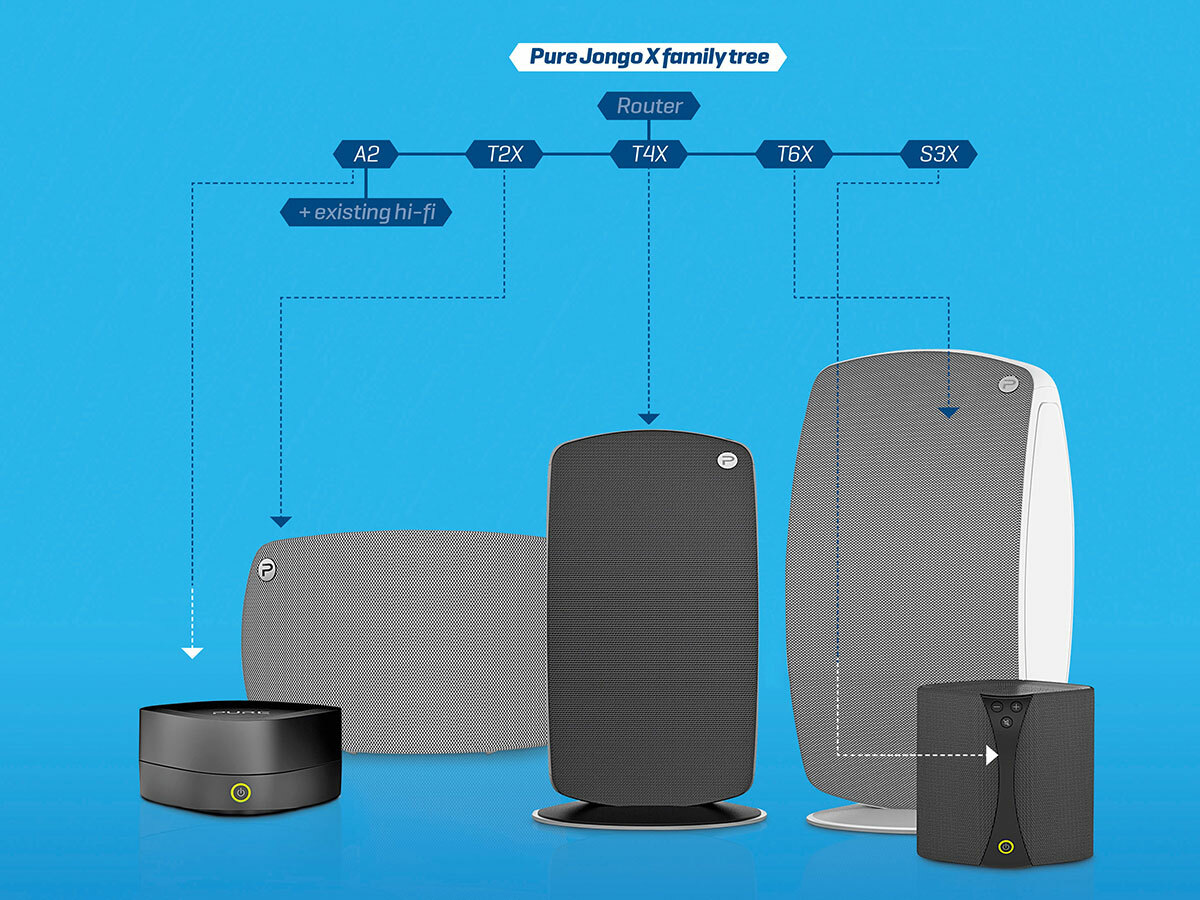 What's the story?
Pure's Jongo system was one of the first to take on Sonos, but with a more affordable price tag. Now in its second year, it appears to have done a bit of growing up. Gone are the colourful grilles, and in their place is a simpler, more mature, monochromatic look. There have been changes internally too, including a major audio update, improvements to the user experience and app, and the introduction of Caskeid Bluetooth multi-room functionality.
It's also the most affordable option by quite a margin, starting at just £100 for the smallest T2X speaker. If you're upgrading your existing hi-fi it's even cheaper: only £50 for the A2.
Any good?
The newly updated Pure Connect app makes a great first impression, with step-by-step instructions bringing Sonos levels of simplicity. Where it does begin to get a little tricky is in the way Pure Connect doubles up as both the control app for your multi-room system and local music, and the home of Pure's own streaming service – which, if you're not a subscriber, can just get in the way. You can't access any other streaming services through Pure Connect either – you have to use the speakers' Caskeid Bluetooth functionality and control the music from your app of choice, which feels disjointed.
Using this method is a little more limited than just streaming through Pure Connect, too – you can't play different songs through different speakers. Sound-wise, the Jongo family is certainly not short on power, though for the most balanced presentation you can reach into the EQ settings and knock the bass down a notch or two. This doesn't affect its up-front and energetic character, which is enjoyable and hugely listenable, but overall, there's a touch more refinement and clarity needed to challenge the best. At this price, though, there's little to complain about. If you're on a budget and want a flexible system, the Pure Jongo setup should definitely be on your list.
STUFF SAYS
Sing with us: Jongo, (um) Jongo, its really quite affordable for your audibles…
✭✭✭✭✩
Samsung M Series (from £160)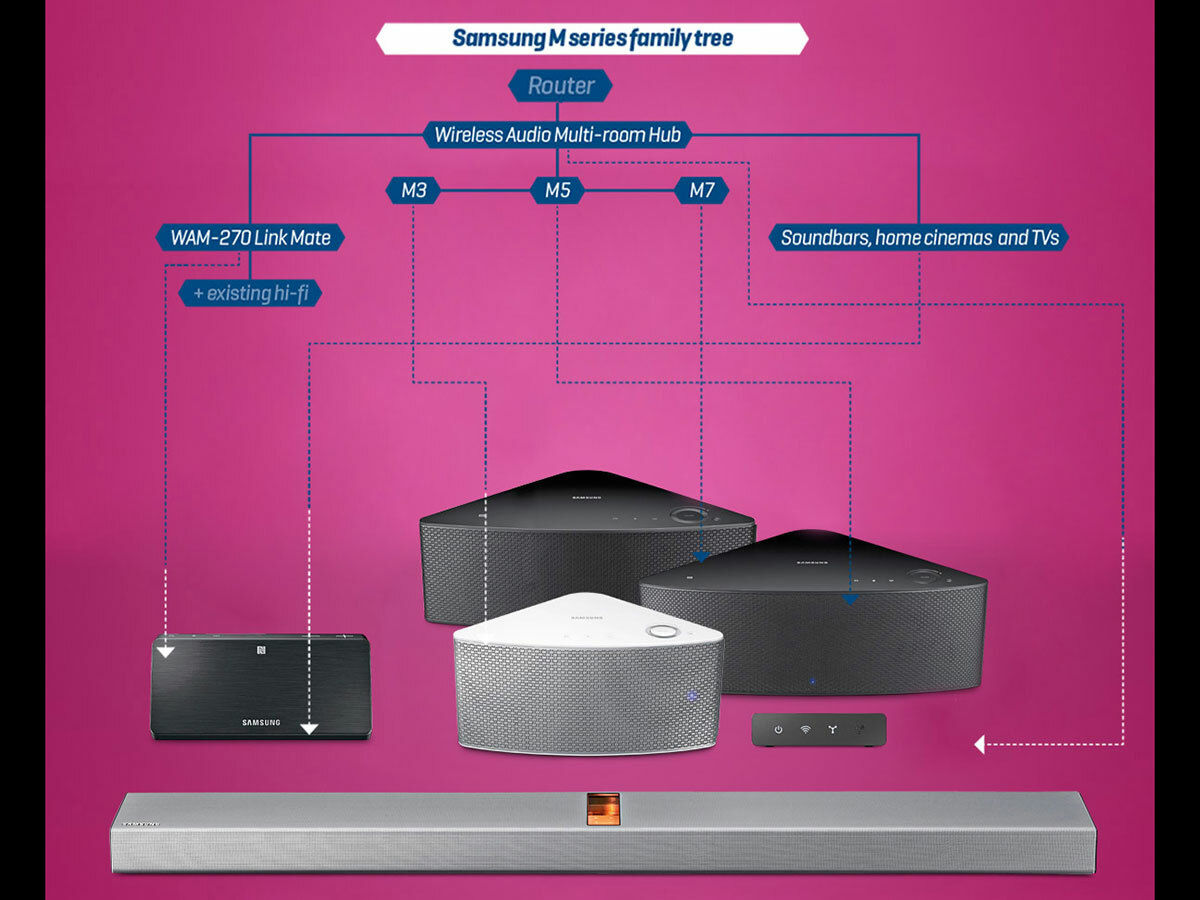 What's the story?
It was only a matter of time before Samsung took a punt at multi-room audio. The three all-in-one speakers have the same triangular design that allows them to be used either laid flat or stood upright. There's also the WAM-270 Link Mate (£260) for connecting to any existing hi-fi, and even some of Samsung's new soundbars, home cinema systems and TVs can link up with the system.
You will need to buy the £50 wireless Hub, which hardwires to your router, but otherwise, prices for the various components undercut the Sonos equivalents. With NFC, Bluetooth and DLNA connectivity included, there's even a spec advantage.
Any good?
Setting up is simple and, as with every other system, there's an app to act as the control centre, offering an easy user interface for browsing your music and deciding what's playing where. It's not quite as seamless as Sonos just yet, with local and online music sources not working together seamlessly enough to feel as though you own all of the music there is. Not only are you unable to build a playlist with a mix of local and streamed music, but you can't build and save playlists using streaming services at all.
You'll have to have those prepared in advance. File compatibility is pretty good and hi-res music is supported up to a point too, offering playback of files up to 24-bit/96kHz. It will actually play tracks of a higher quality, but they're downscaled on the fly so you don't get all of the extra fidelity. The mid-sized M5 speaker (£230) is our favourite, offering the best balance across the frequencies, particularly when compared to the larger M7 (£330).
The new M3 (£160) provides an even smaller solution with a cheaper price tag. Whichever speaker you opt for, we found bass tighter and sound better dispersed when they're standing up, but it's worth having a play around yourself. It is a shame Samsung hasn't quite managed that strong family sound across its range like Sonos has, but it's not far off.
STUFF SAYS
This is mighty impressive, we're already excited about the second generation
✭✭✭✭✭
Sonos (from £170)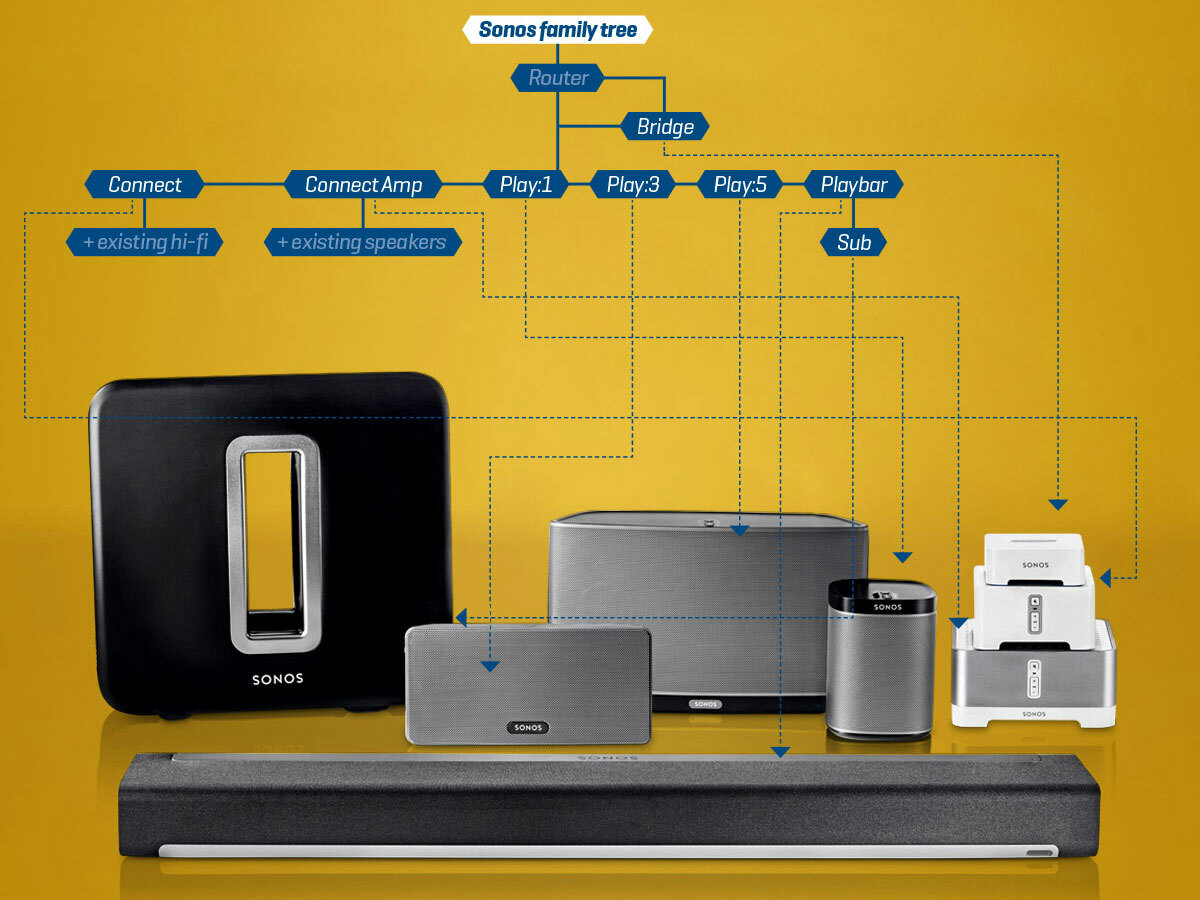 What's the story?
When it comes to multi-room audio systems, Sonos has pretty much single-handedly shaped the market into what it is today – so much so it's hard to know if it even truly existed before Sonos did. For years it's set the bar for design, sound quality and ease of use, and for the most part has been left largely unbothered by any of its competition… at least until recently.
As a system, it has two big things going for it: breadth of choice and simplicity of use. In the time its rivals have needed to play catch-up, it's been able to launch a huge range of products and get on side with a long list of streaming services, not to mention really nailing the usability side of it all.
Any good?
Sonos's experience shows. With eight main products in its line-up, it has the majority of situations covered, whether you're starting from scratch or just want to add multi-room to an existing hi-fi. This means you can buy into Sonos from £170 (for the Play:1 speaker), with the comfort of knowing that this is a system can grow with you, whatever your needs and budget. It only takes minutes to get up and running and a recent update means the system will work entirely on your home wi-fi, though you might consider a Sonos Bridge (£40) or the wi-fi-enhancing Boost (£80).
The supporting app and user interface have been honed to near perfection. Support for streaming services is the best out there, meaning you can move seamlessly between over 40 services and any music stored on your home network. There is one limitation: Sonos only supports up to CD-quality files, so anything higher than that simply won't play. Those with a penchant for hi-res will need to look elsewhere.
When it comes to performance, Sonos offers rich, well-balanced character that makes for an engaging listen. It can't compete with Bluesound's level of detail, but there's still plenty of insight up for grabs here. The original and still the best for most people, Sonos remains a thoroughly stylish option.
Read our in-depth review of the Sonos multi room system here.
STUFF SAYS
The challengers are stronger than ever, but Sonos still comes out on top… for now
✭✭✭✭✭